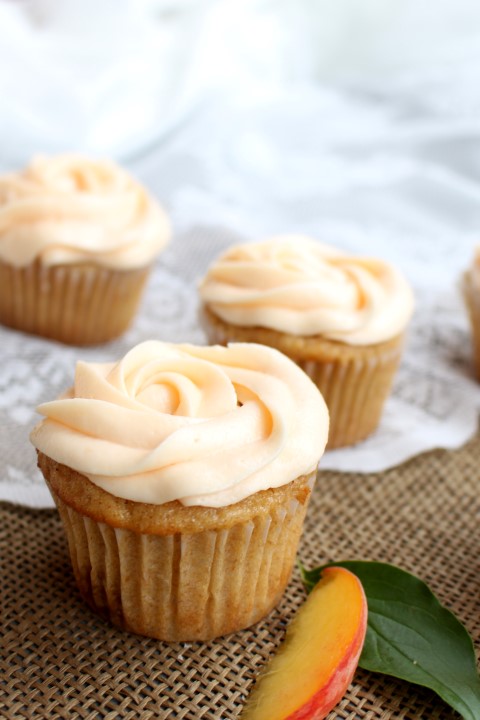 Happy Monday to each of you. I hope you all had a relaxing weekend and are ready for a productive week. We enjoyed a weekend with out of town guests that included a bonfire, lots of food and great weather. I'm loving summer. This morning I was able to plan out my blogging and personal goals for the week. Nothing makes a better start to a Monday than knowing where I'm headed the rest of the week. I have some exciting recipes and posts I can't wait to share with you, starting with this one. These Brown Butter Peach Cupcakes rank up there as one of my favorite cupcakes ever.
Peaches have to be my absolute favorite fruit to eat fresh in season and I'm starting a love affair with browned butter. It is tempting to substitute it in every recipe calling for plain old butter. That rich, nutty flavor is enchanting, and is perfect paired with a sweet, juicy peach.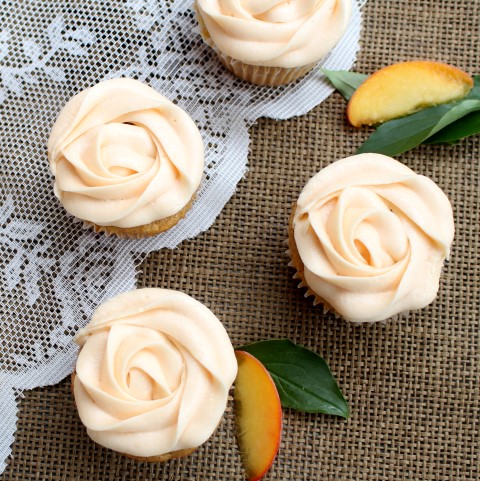 Even though I love the juicy, fresh flavor of a good peach, that flavor is hard to use in baking. It's a mild flavor that easily gets lost in the sugar and butter. My first attempt at making these cupcakes with peach puree ended in failure when the overflowed the cupcakes tins and lacked any peach flavor at all. After further experimenting, I added chunks of peach into the batter along with the peach puree, this gives a burst of peach flavor in each bite and highlights the peach flavors in the batter. Again there is a bit of peach puree in the frosting, but it only leaves a hint of peach flavor behind. Though it is a perfect compliment to the tender cupcake. When frosted in a rose pattern, these cupcakes make a perfect desert for summertime showers and brunches.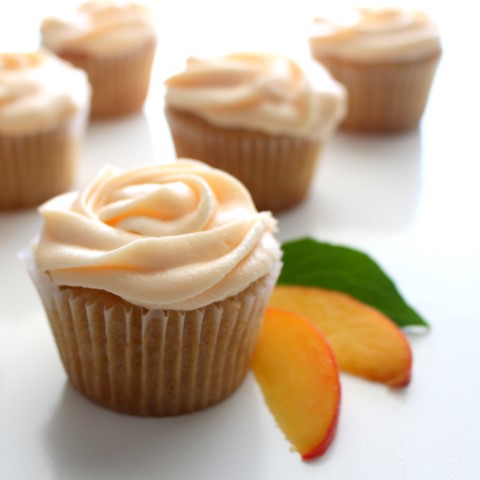 Brown Butter Peach Cupcakes
Ingredients
For the Cupcakes
¾ cup butter
1 cup peach puree*
1 cup packed brown sugar
½ cup white sugar
½ tsp vanilla
2 large eggs, room temperature
2 cups all purpose flour
2 tsp baking powder
½ tsp salt
½ tsp cinnamon
2 cups finely diced peaches
For the Frosting
½ cup butter, softened
4 oz cream cheese, softened
½ cup peach puree*
1 tsp vanilla
5-6 cups powdered sugar
Instructions
Brown the butter in a small saucepan over medium heat, stirring occasionally. Remove the butter from the heat and pour into a separate heat proof bowl to stop the browning. Cool completely.
Preheat oven to 325 F. Whisk together the brown butter, peach puree, brown sugar, white sugar and vanilla. Beat in eggs. In a separate bowl, mix together the flour, baking powder, salt and cinnamon. Gently stir into the large bowl along with diced peaches, mixing until just combined.
Fill lined cupcake tins ¾ full. Bake for 20 minutes or until the spring back when lightly touched. Cool completely on wire racks.
To make the frosting, beat together butter and cream cheese until fluffy. Beat in peach puree and vanilla. Add enough of the powdered sugar until a piping or spreading consistency is reached. Spread or pipe onto cooled cupcakes
*To make Peach Puree, heat 3 cups of diced peaches, 1 T lemon juice, 1 T water and 1 T white sugar in a saucepan over medium heat. Bring to a boil and let it simmer for 5 minutes, stirring frequently. Remove from heat and let cool to a warm temperature. Blend in a blender until smooth. Cool completely before use.
Recipe adapted from
Two Peas and Their Pod
.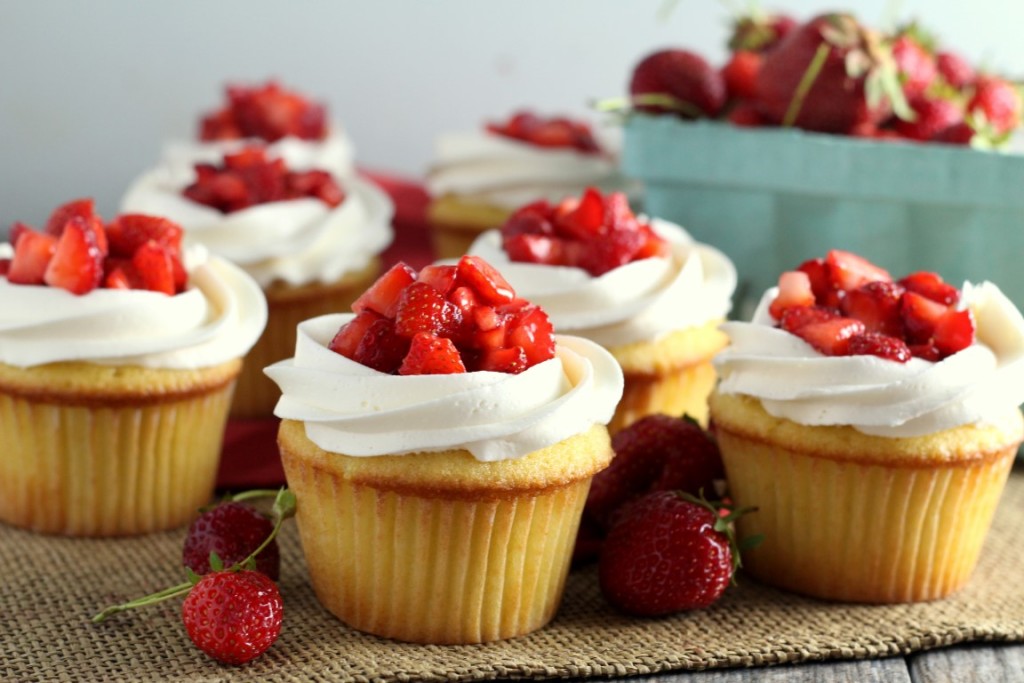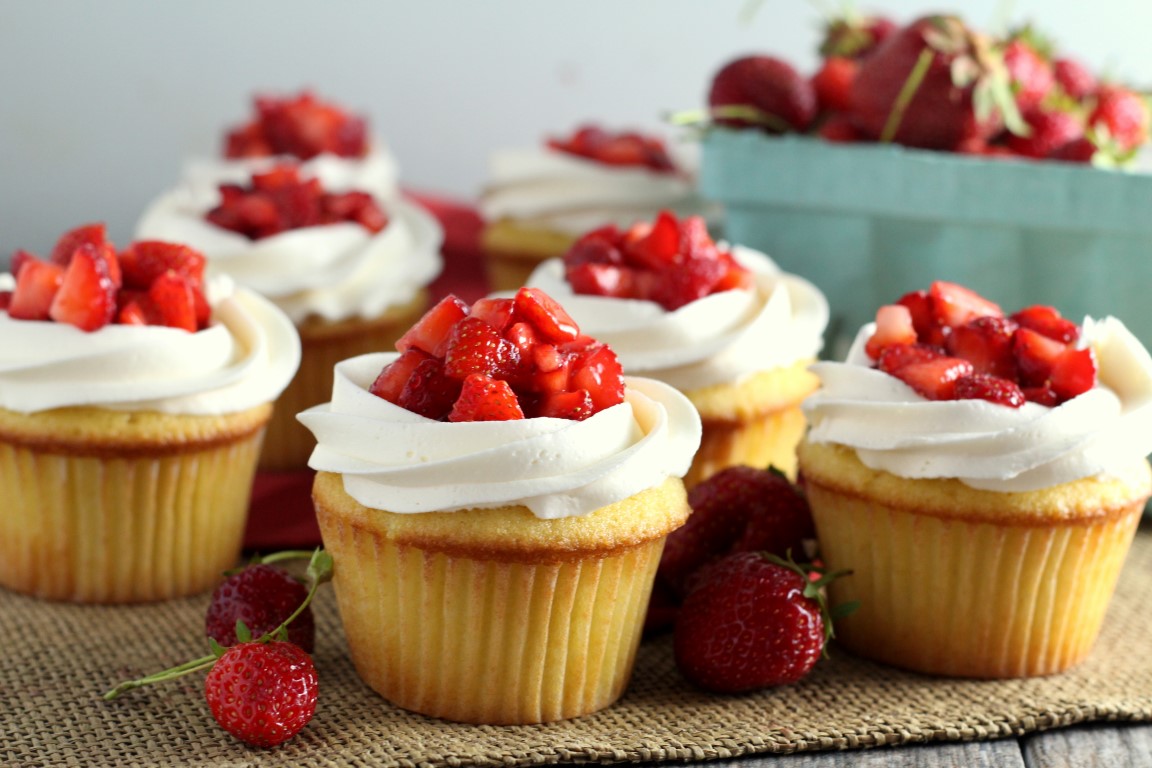 Browned butter and peaches make these cupcakes with a tender, moist crumb perfect for summertime celebrations.