Soft and Chewy Oatmeal Raisin Cookies are a classic recipe for oatmeal cookie lovers. This old fashioned oatmeal cookie recipe with raisins is just like Grandma's.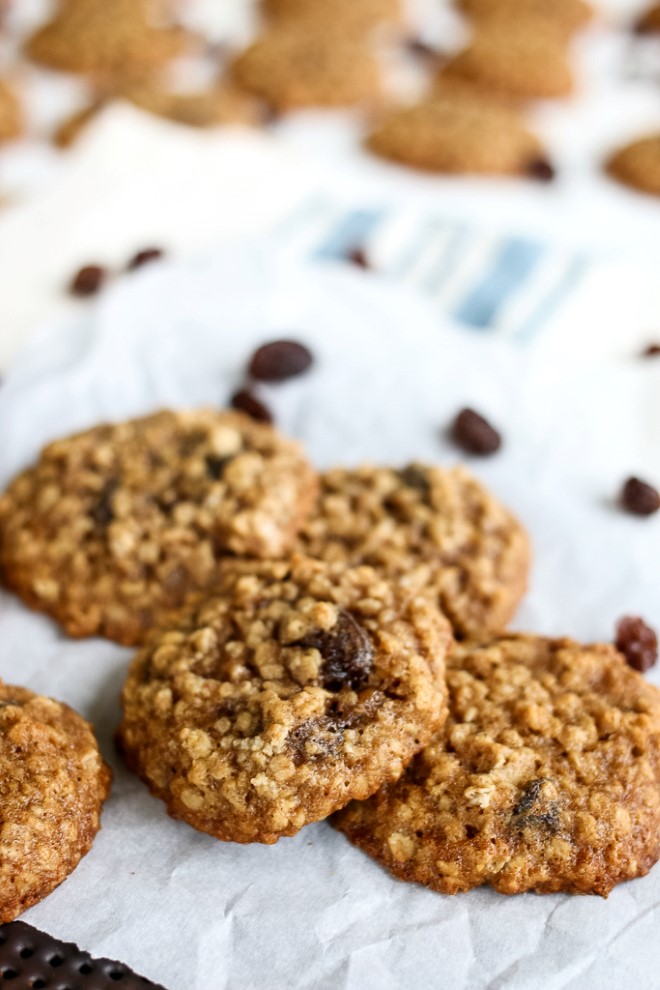 So I know some of you will look at this recipe with disappointment, but others will be excited for this old fashioned classic. Raisins have made me sad before when I was expecting chocolate chips, but I know these are one of my dad's favorite cookies and I've met plenty of other people who love them too. So when I make this recipe, its usually for other people.
I prefer my oatmeal cookies with chocolate chips. So for you chocolate chip lovers, be sure to check out my Brown Butter Chocolate Chip Oatmeal Cookie Recipe. It's my favorite oatmeal cookie recipe.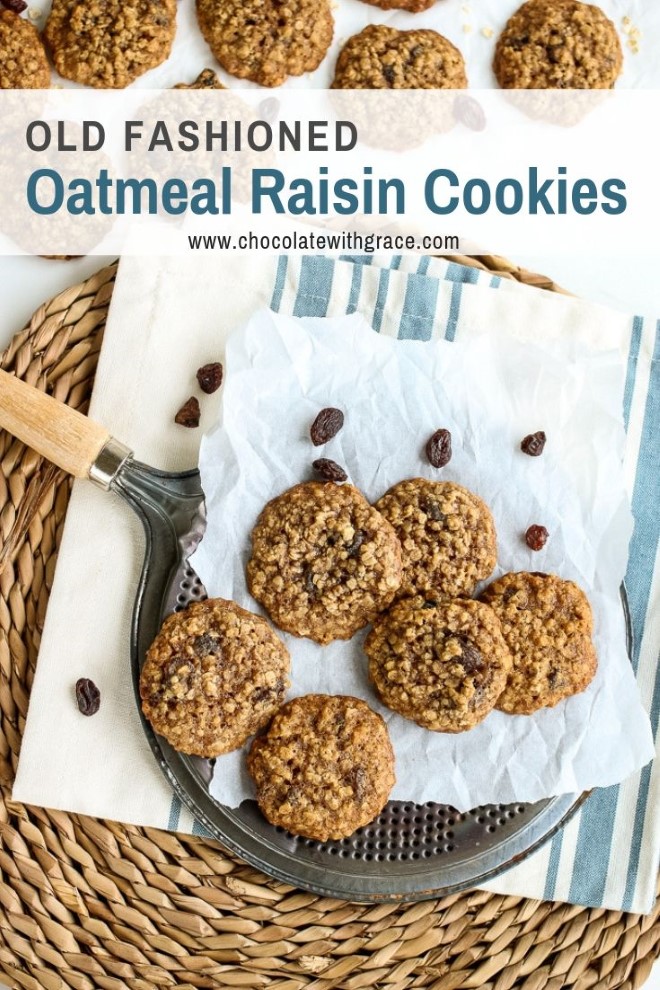 Oatmeal Raisin Cookies
This post may contain affiliate links. Please read my disclosure policy.
Oatmeal raisin cookies are a classic dessert that's well loved by many. The combination of oats, raisins, cinnamon, and nutmeg give you a delicious flavor you can savor. Similar to chocolate chip cookies, eating oatmeal raisin cookies always brings back great childhood memories of spending time with family and enjoying a tasty dessert.
The best oatmeal cookies are warm, soft, and chewy while being packed with fresh raisins.
This recipe takes less than 30 minutes to complete and makes enough cookies to feed the whole family. Even though they're usually gone in one evening at my home, they also store nicely so you can eat them over a few days or longer.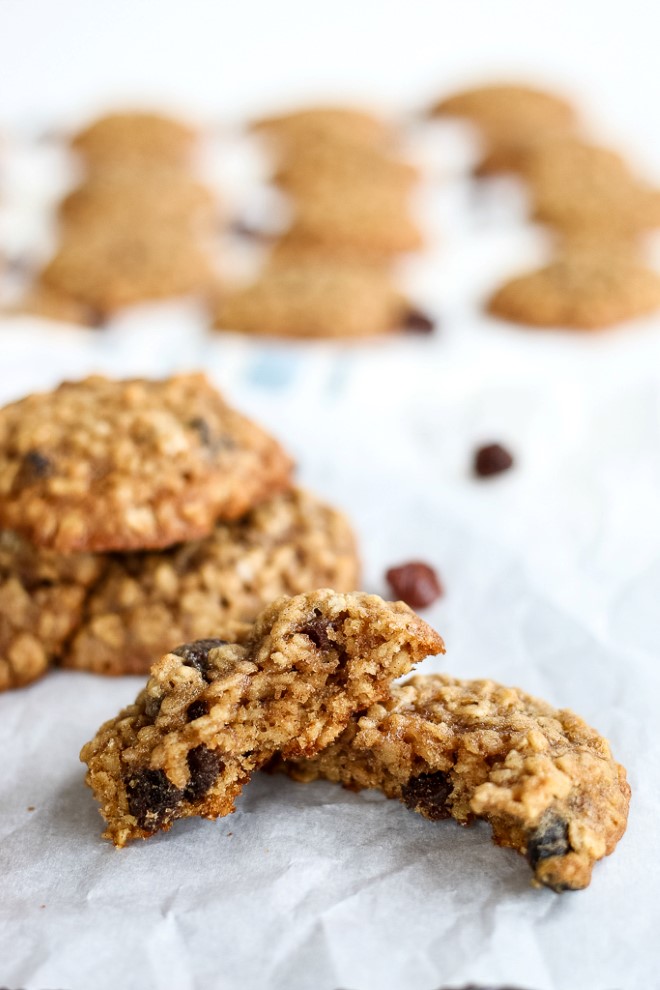 Oatmeal raisin cookie ingredients
The ingredients for this recipe are simple but pack tons of flavor. You'll just need a few pantry staples, this recipe probably won't require a trip to the grocery store.
You want to start with oats. Most oats will do, but we prefer quick cooking oats. Next, you will need raisins. You want to make sure your raisins are very fresh, so they pack the most flavor for your cookies. Old raisins can be stale, but you could bring them back to life by soaking them in water for 30 minutes first.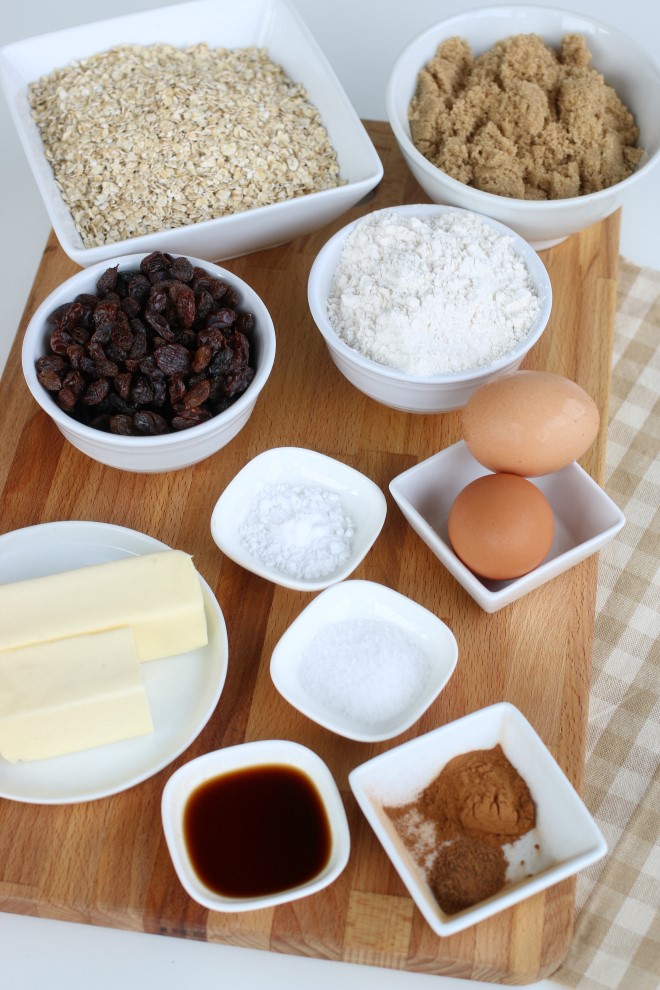 You will also need brown sugar, nutmeg, cinnamon, salt, and vanilla extract to give your cookies the taste you love. Butter and eggs are another necessity. If you prefer vegan oatmeal raisin cookies, you can opt for a dairy-free butter and vegan egg.
Flour and baking soda are the final ingredients. All-purpose flour will work just fine, but if you want a gluten-free version, you can replace it with any gluten-free flour of your choice.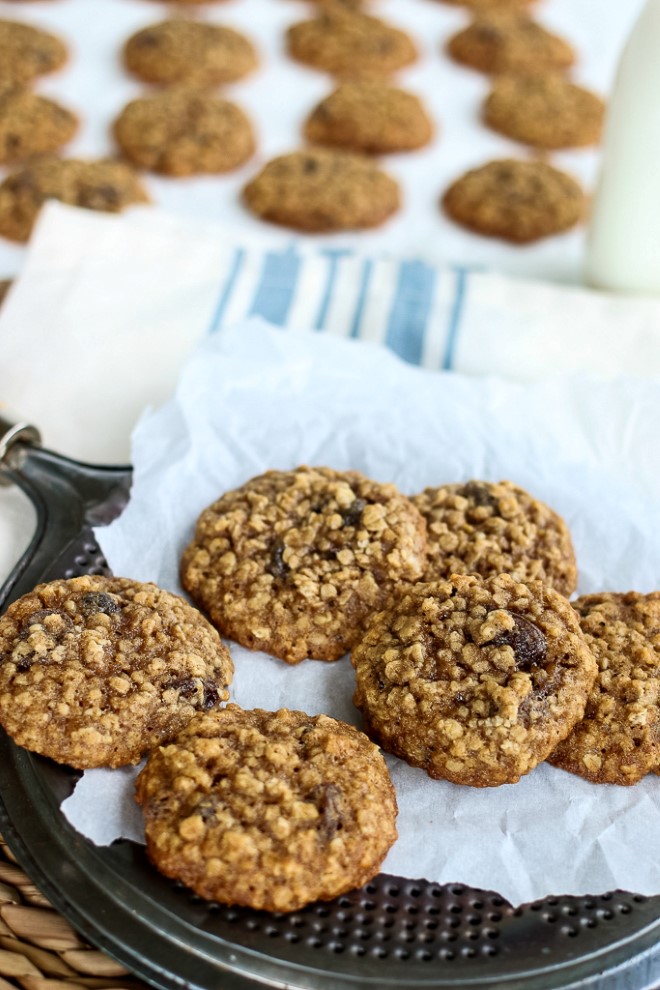 How to make oatmeal raisin cookies
I love making these cookies because the ingredients are simple, and the instructions are easy to follow.
Start by gathering the tools you need. This recipe calls for a large mixing bowl, a small mixing bowl and a set of measuring cups.
Preheat the oven to 350 degrees Fahrenheit. Then, grab your large mixing bowl and add your flour, baking soda, salt, cinnamon, and nutmeg. Set the flour bowl aside and get a smaller mixing bowl. Soften your butter and add it to the smaller mixing bowl along with the brown sugar. To that same mixing bowl, you will add the eggs and vanilla extract. Be sure your eggs are room temperature.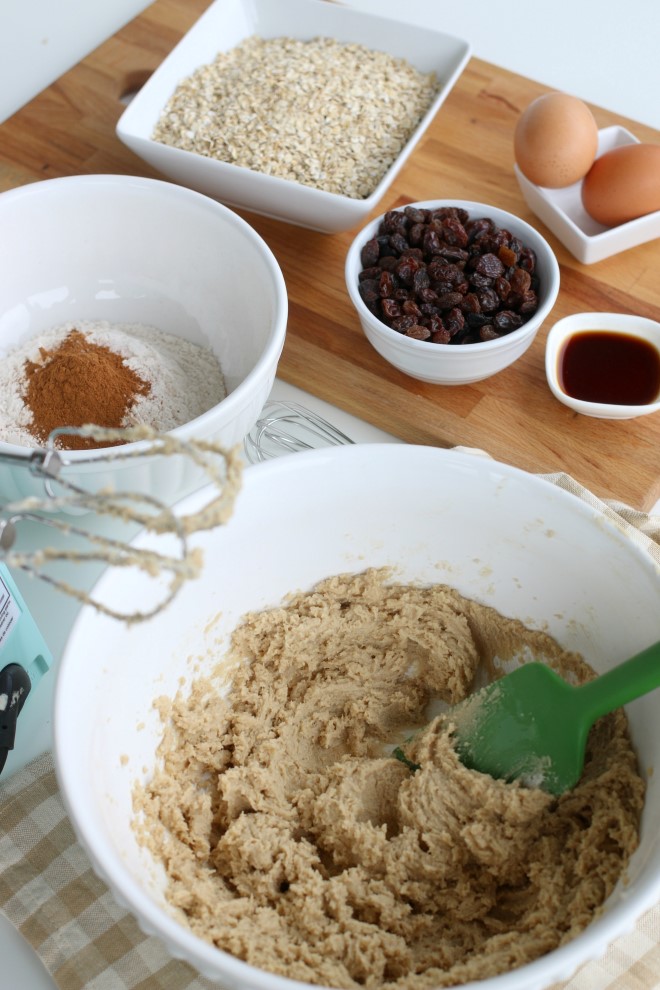 Now, take a couple of tablespoons of the flour mixture out of the large mixing bowl and set it to the side. This will be used later to coat your raisins. Next, you will gradually mix together your wet butter mixture with the dry flour mixture still remaining in the large bowl.
Now that all of the flavors are merged together, you can add oats to your mixture.
Next, you will mix your raisins and the flour your set aside. Mix them together until the raisins are fully coated in flour. Now add your flour covered raisins to the large mixing bowl.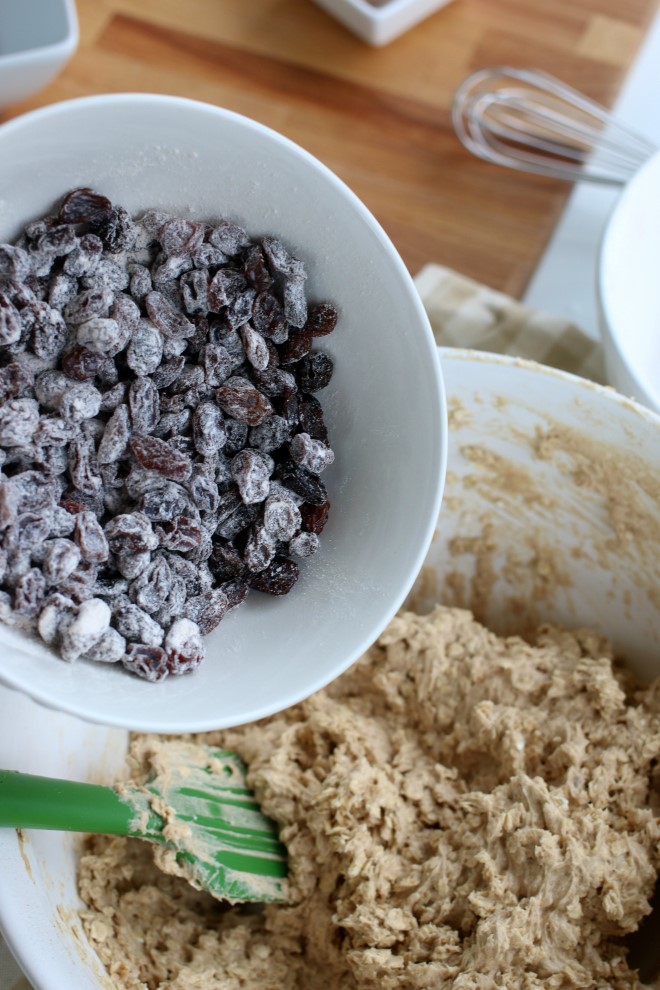 Now that all the hard work is done, it's time to make your cookies!
Drop cookie dough balls onto a baking sheet and bake your cookies for 8-10 minutes or until they are golden brown and done all the way through.
Once they bake, give them about 5 minutes to cool on a wire rack. This gives them time to set correctly, and cool enough for you to enjoy all of the flavors.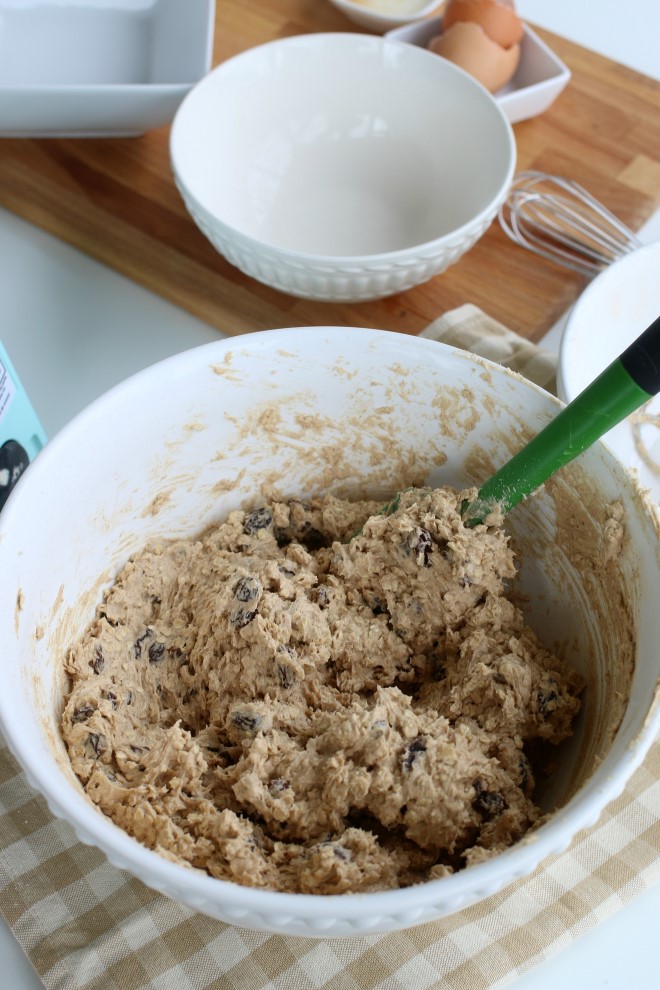 Now it's time to taste this delicious treat!
If you don't finish all of these oatmeal raisin cookies on the first day, place them in an airtight container to keep them fresh.
If you're into fun twists on classics, try these caramel stuffed oatmeal cookies or these chocolate dipped coconut oatmeal cookies. I also have a White Chocolate Cranberry Oatmeal Cookie recipe that is delicious, especially in the fall.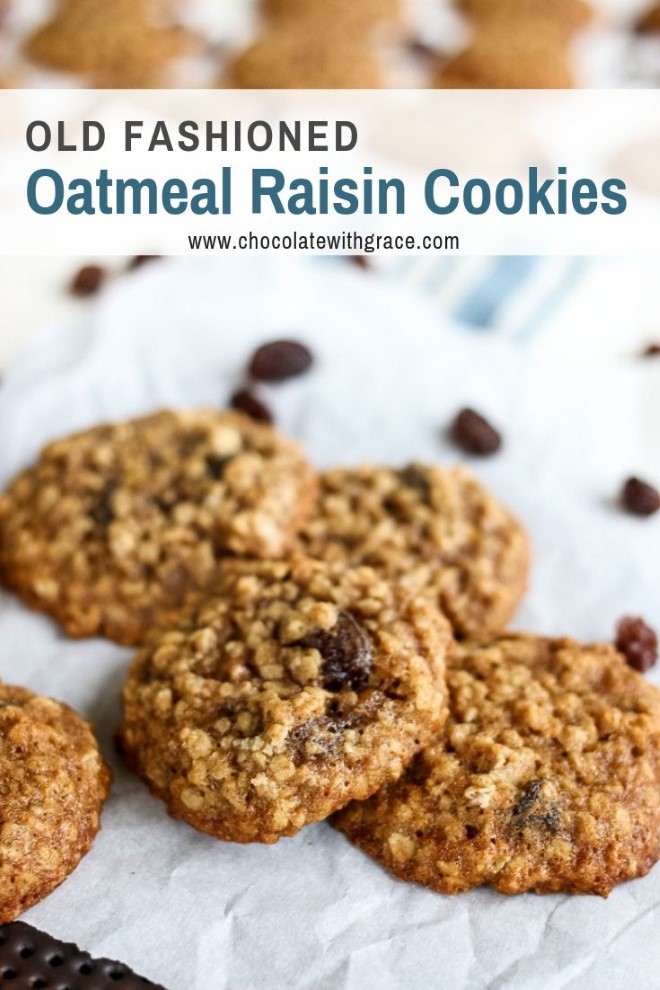 If you make this recipe, let me know how you liked it. Leave me a comment below or give it a rating in the recipe card. Happy Baking!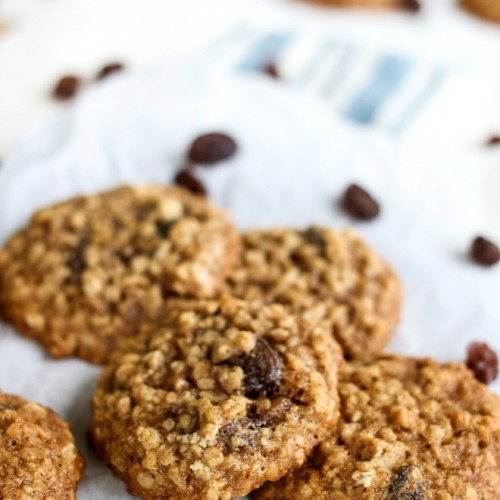 Oatmeal Raisin Cookies
Soft and chewy Oatmeal Cookies with Raisins are loade with raisins and oats. A classic cookie recipe just like grandma made, not fancy, just delicious.

Ingredients
1

cup

flour

¾

teaspoon

baking soda

½

teaspoon

salt

1

teaspoon

cinnamon

¼

teaspoon

nutmeg

¾

cup

butter

1 ⅓

cup

brown sugar

packed

2

large eggs

room temperature

1

teaspoon

vanilla extract

2

cups

quick cooking oats

1

cup

raisins
Instructions
In a large bowl, stir together flour, baking soda, salt, cinnamon, and nutmeg. Set aside.

In a mixing bowl, cream together butter and brown sugar. Add eggs and vanilla

Reserve a couple tablespoons of the flour mixture to coat raisins. Gradually add dry mixture to wet mixture. Stir in oats.

In a small bowl, combine reserved flour mixture to raisins. Stir in raisins. Beat until well combined

Drop by teaspoonfuls onto the cookie sheet

Bake for 8-10 minutes or until golden brown and center is baked. Let cool on the cookie sheet for 2 minutes before transferring to a wire rack to cool.

Store cookies in an airtight container
Notes
If you make this recipe, let me know how you liked it. Leave me a comment below or give it a rating in the recipe card. Happy Baking!
Nutrition
Serving:
1
g
·
Calories:
77
kcal
·
Carbohydrates:
9
g
·
Protein:
1
g
·
Fat:
4
g
·
Saturated Fat:
3
g
·
Polyunsaturated Fat:
1
g
·
Cholesterol:
21
mg
·
Sodium:
92
mg
·
Sugar:
7
g