Chocolate and coconut are combined with caramel popcorn to make quick and easy treats that everyone loves.
Caramel popcorn is mixed with melted marshmallows, coconut, and chocolate chips and is pressed into a pan for a quick treat to satisfy your sweet tooth.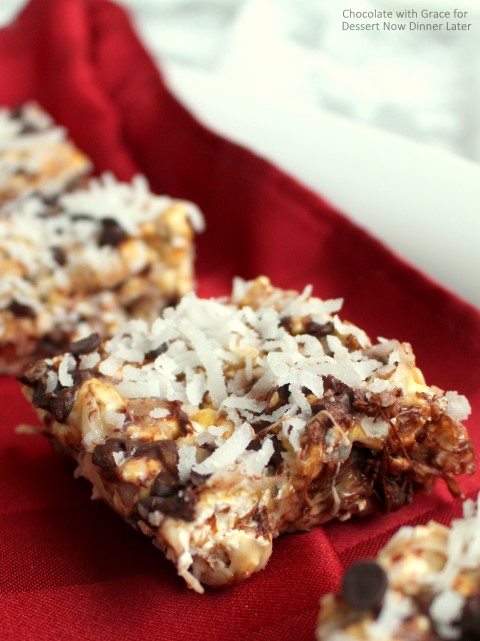 With Thanksgiving right around the corner, I'm sure all of you are planning your menus and deciding what to make. Since holiday recipes can be so time intensive, I'm sharing a quick and easy treat that will satisfy your sweet tooth.
These Chocolate Coconut Caramel Popcorn Bars are similar to a good old fashioned rice krispie treat. Caramel popcorn is mixed with melted marshmallows and butter, coconut and chocolate chips, and then is pressed into a buttered pan to cool.
That is it; no baking necessary. Making the caramel popcorn is an extra step, but you can either buy it or try my simple, quick Microwave Salted Caramel Popcorn recipe.
Coconut lovers can't resist Fudgy brownies filled with sweet chewy coconut and melting chocolate chips is a combination that I can never resist. Crustless Coconut Pie is a simple custard pie filled to the brim with sweet bites of coconut.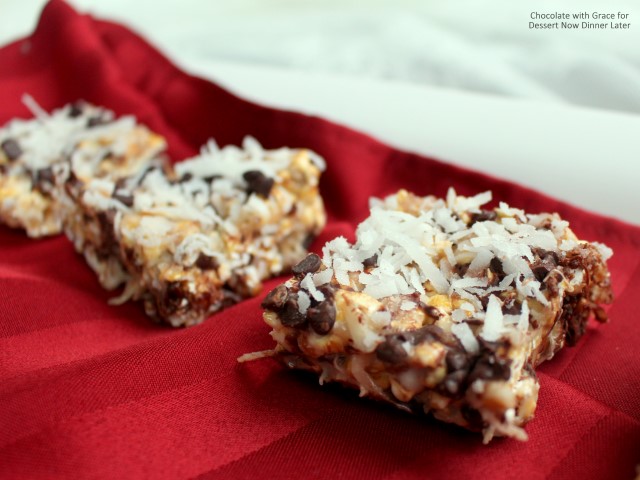 I have to admit though, I had a hard time waiting until they were cool to eat them! In fact, I didn't wait, because one thing better than eating a caramel popcorn bar with chocolate and coconut, is eating a slightly warm, gooey, sticky caramel popcorn bar with melty chocolate and chewy coconut!
If you can hold off on eating them right away, these caramel popcorn bars also make easy, delicious gifts for neighbors and would be a fun addition to Christmas treat trays.
oh! And speaking of awesome food gifts for friends and neighbors, Monster Cookie Bars are a popular favorite too!
Chocolate Coconut Caramel Popcorn Bars
Yield: 24 bars
4 Tbsp butter
1 (10 oz) package marshmallows (about 4 cups miniature marshmallows)
8 cups caramel popcorn
1 cup sweetened flaked coconut
1 cup mini chocolate chips
Grease a 9 x 13 inch baking pan and set aside.
In a large saucepan, melt the butter over medium heat. Stir in the marshmallows until melted.
Remove from the heat and stir in caramel popcorn and coconut until the kernels are well coated.
Lastly, stir in the chocolate chips just until combined. They should start to melt, but not melt completely.
Press the mixture into the greased 9 x 13 inch pan and let cool. Cut into bars.
{This recipe was originally published 11/22/14 as a guest post for Dessert Now Dinner Later.}