Take a traditional soft chocolate chip cookies and substitute white chocolate and add freeze dried raspberries to make this fun white chocolate raspberry cookie variation.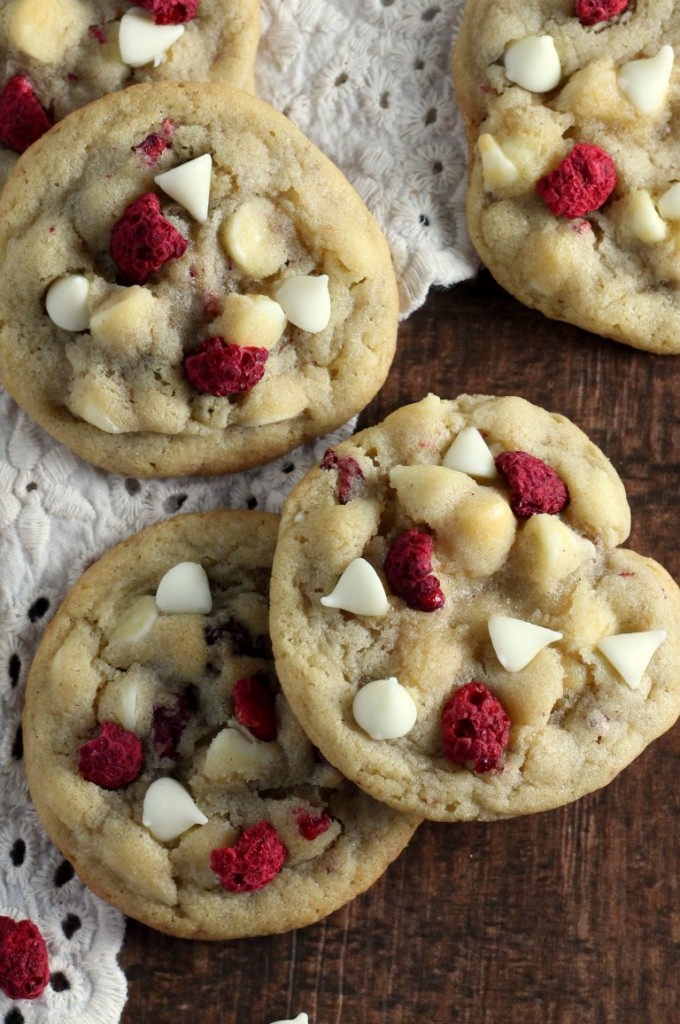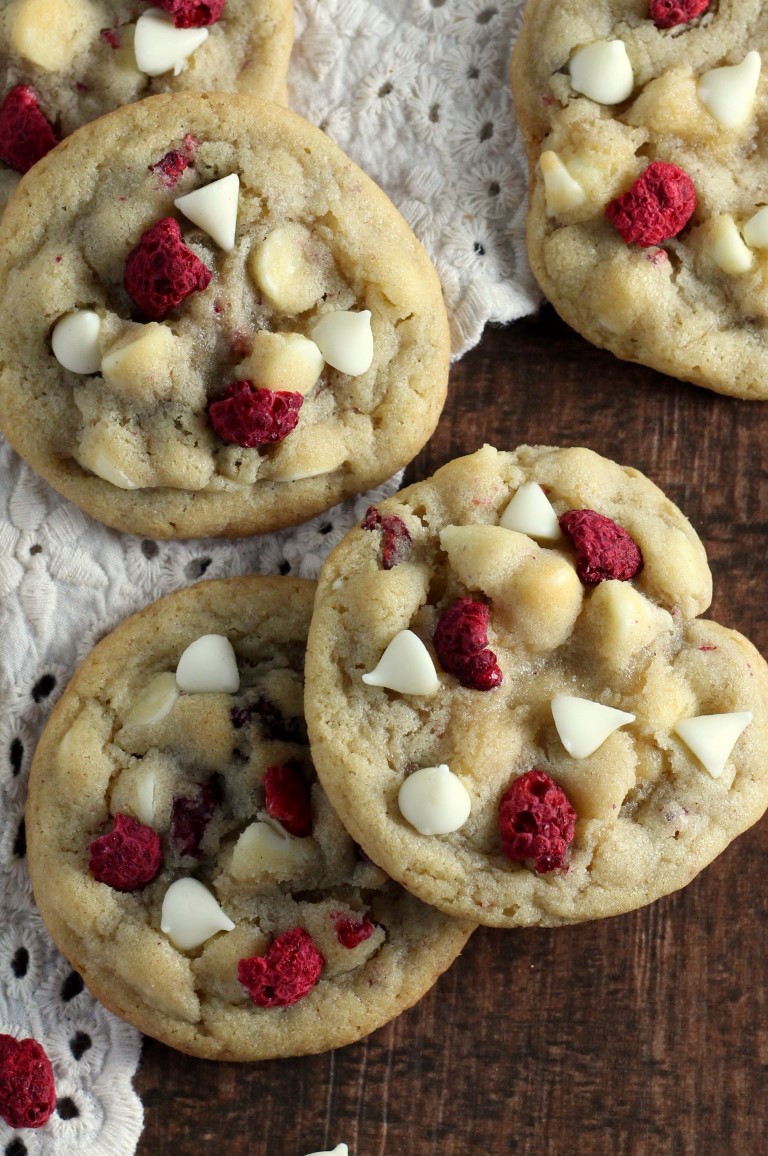 Wednesday my little boy will be nine months and is no longer a helpless, tiny baby. This past weekend he hit several milestones and seemed so independent and grown up. Saturday morning, he was standing up in his crib waiting for me to get him. So adorable. 
Later that day, I felt his first tooth poking through his bottom gum :O. And then, in the afternoon he had a little accident on the front step and ended up with a little scrape on his eyebrow and cheek. His first owie.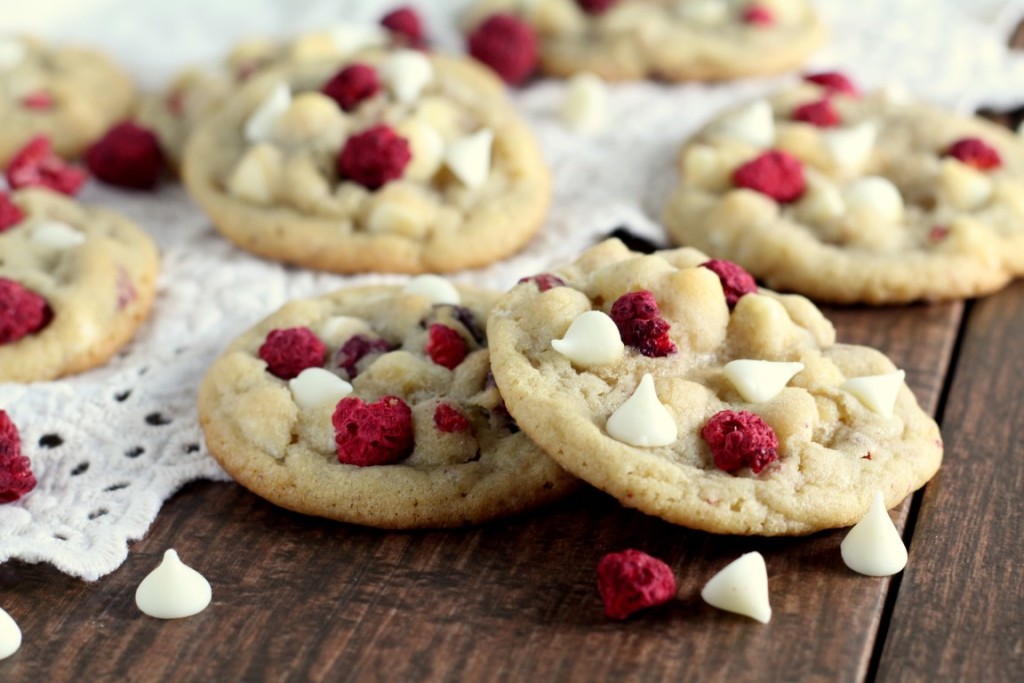 I'm a little sad it went so fast, but I'm loving how interactive he is. It's fun watching him learn new things every day.
These White Chocolate Raspberry Cookies are a twist on traditional chocolate chip cookies. I love soft cookies, so I add a little cornstarch to my cookie dough to keep them soft. It's my not-so-secret ingredient. The cornstarch also serves to keep them from spreading too much.
I used freeze dried raspberries from Trader Joe's. I wouldn't make these cookies too far in advance or the dried raspberries will go stale. Also, too make the cookies prettier, I pressed in some more white chocolate chips and raspberries right after they came out of the oven.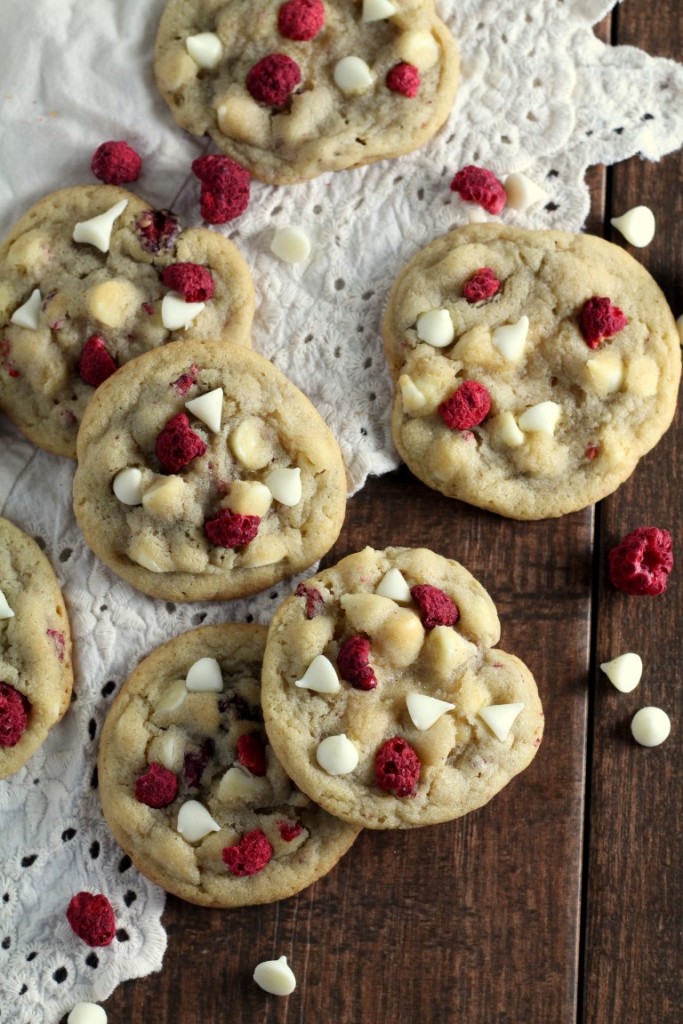 White Chocolate Raspberry Cookies
Ingredients
3 sticks butter, softened (1 and ½ cups)
1 cup white sugar
1 cup packed brown sugar
2 eggs, room temperature
1 tablespoon vanilla
4 cups all purpose flour
4 teaspoons cornstarch
2 tsp baking soda
1 tsp salt
1 and ½ cups white chocolate chips
1 and ½ cup freeze dried raspberries
Instructions
Cream butter and sugars together until light and fluffy. Beat in eggs and vanilla.
In a separate bowl combine flour, cornstarch, baking soda and salt. Add to butter mixture.
Stir until combined. Stir in white chocolate chips. Carefully stir in the dried raspberries and blueberries Form into balls about an inch or slightly more in diameter.
Chill for at least 2 hrs or a couple days if you don't want to eat them right away.
Preheat oven to 350 and grease cookie sheet. Bake for 8-11 minutes until edges are lightly brown. Do not over-bake. The centers may still look doughy.
To make the cookies a bit prettier, you may press in a few additional chocolate chips and dried raspberries and blueberries. Press them gently into cookies that came straight out of the oven. Allow to cool on the cookie sheet for a minute before removing to a wire rack to cool completely.
Red Velvet Chocolate Chip Cookies from Just so Tasty
Perfect M&M Cookies from Picky Palate
Texas Cowboy Cookies from The Food Charlatan
White Chocolate Cranberry Oatmeal Cookies