Mini Sugar Cookie Fruit Pizzas start with a soft sugar cookie topped with a cheesecake layer and are finished with some fresh fruit.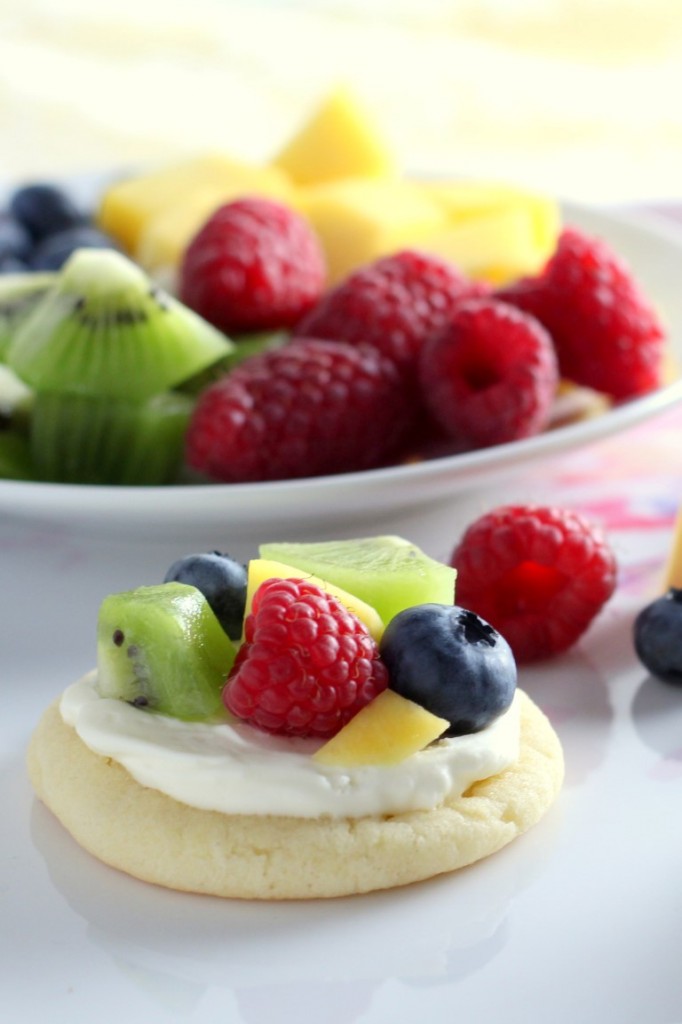 It's March I'm ready for springtime fruit desserts. Plus on a cold, snowy day, it's so much fun to stay inside and take pictures of brightly colored fruit desserts. Although to be fair, I am really enjoying the last ten inches of snow we got. I know, I'm weird, but this winter I felt like we were severely cheated on the snow front. All that came with bitter cold and freezing rain.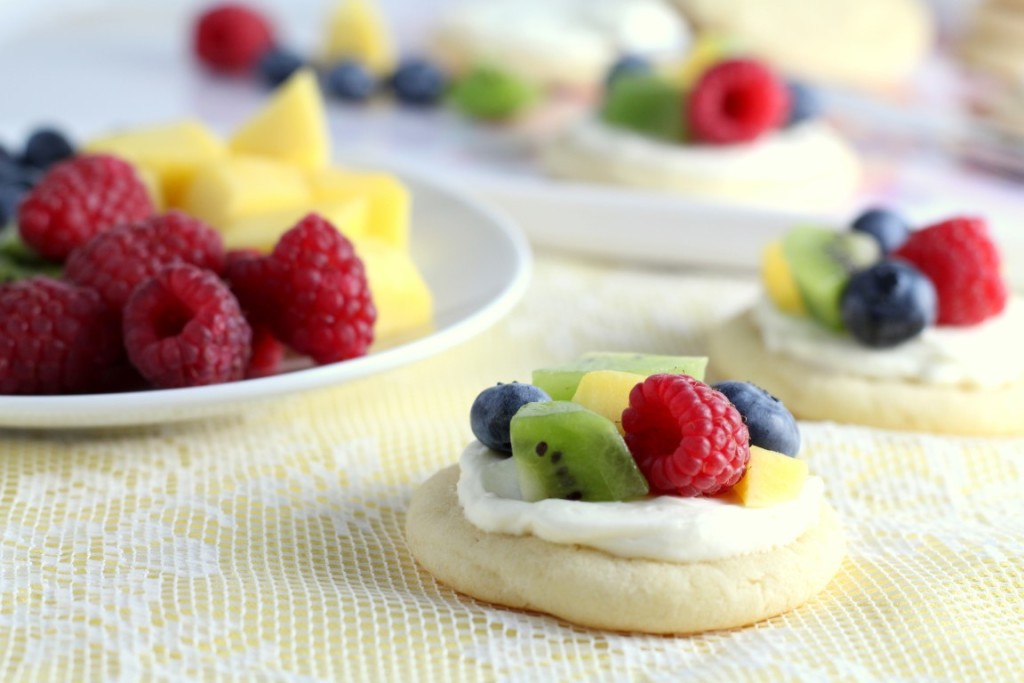 So I'm enjoying the gorgeousness of the snow and while staying warm inside taking pictures. Besides, according to my sister, all March is known for is for being all brown and ugly while your nose constantly. I'll take all the pretty whiteness while we wait for spring.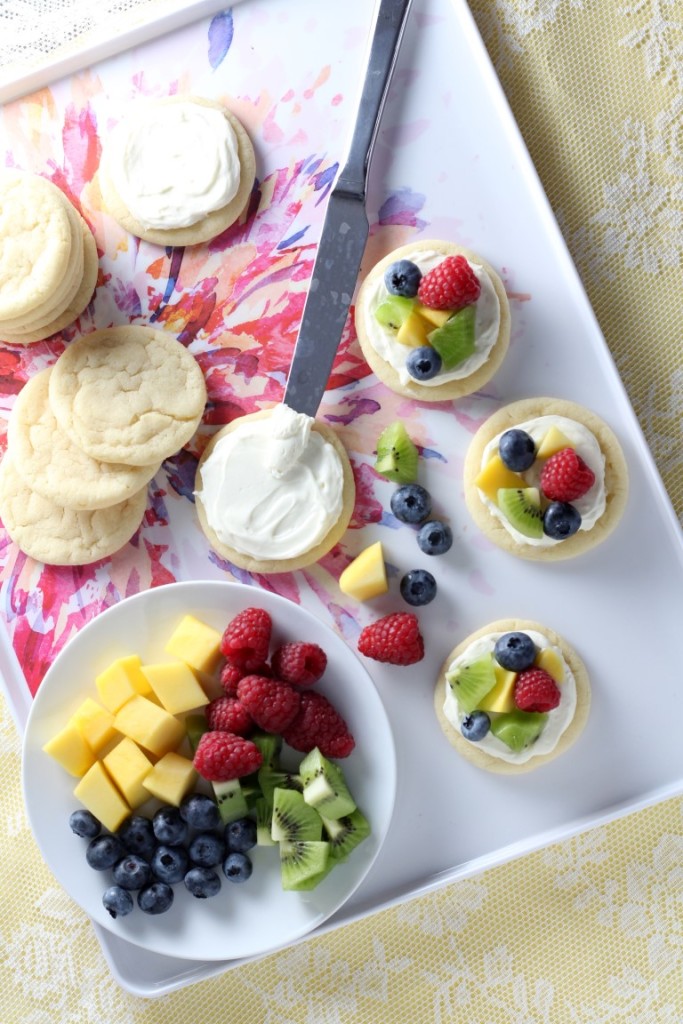 Mini Sugar Cookie Fruit Pizzas
Ingredients
For the Sugar Cookies
½ cup butter
½ cup shortening
2 cups sugar
2 teaspoons baking powder
⅛ teaspoon salt
3 egg yolks
½ teaspoon vanilla
2 and ½ cups all-purpose flour
For the Cheesecake Spread
1 (8 oz) package cream cheese, softened
½ powdered sugar
1 cup heavy cream
½ teaspoon vanilla
Fresh fruit for topping the cookies. I used raspberries, blueberries, kiwi and mango, but feel free to use whatever is in season, or your little heart
Instructions
To make the cookies, preheat the oven to 300 F. In the bowl of a stand mixer, beat together the butter and shorting. Cream in the sugar, baking powder and salt until fluffy. Add the eggs and vanilla and beat in well. Stir in the flour.
Roll the dough into 1 inch balls and place on a baking sheet. Bake for 12-14 min. Do not let them brown. Let them cool on the baking sheet for 2 minutes. Remove from the tray and let cool completely.
Meanwhile, make the cheesecake spread. Beat the cream cheese with the sugar until light and smooth. Pour in the heavy cream. Beginning with the mixer on slow speed, start to beat in the cream. Increase the speed of the mixer gradually until the mixture thickens.
Spread the cookies with a bit of the cream cheese and top with fresh fruit. These are best within a day or two of making them.
The sugar cookie recipe was adapted from
Better Homes and Gardens
.
Looking for more cookie recipes?
Cranberry White Chocolate Oatmeal Cookies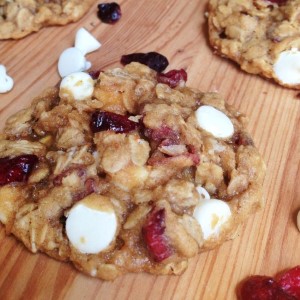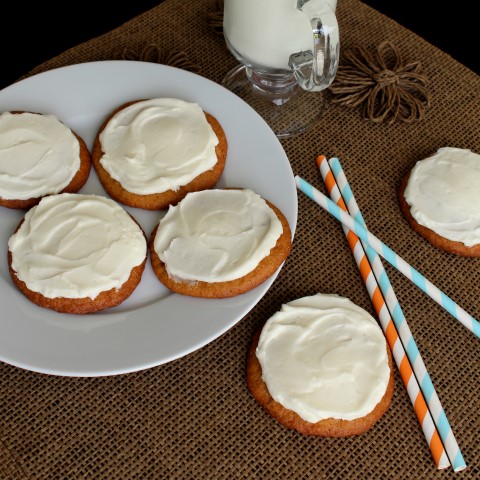 Are you in the mood for cheesecake and fruit desserts? Why not try:
Fruit Cheesecake Sugar Cookie Cups from Life Love and Sugar.
Mini Fruit Tart Cheesecakes from Crazy for Crust.
Strawberry Cheesecake Salad from The Recipe Critic.