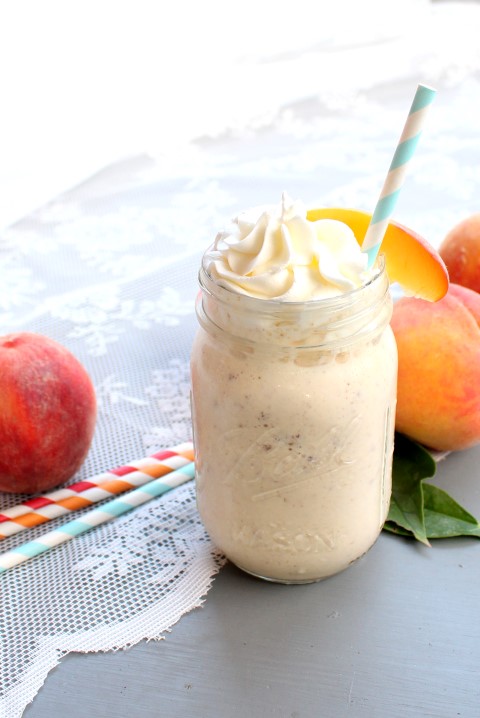 Okay, so I'm stuck on a theme, but it's a good one. If you're a regular reader of my blog, you probably remember the brown butter peach cupcakes from last week. Well this milkshake has all the same flavors as those cupcakes but in ice cream form. Think of it this way: I'm just covering all my readers' bases! Some may prefer baking up a delicate cupcake and other just want to throw some ingredients in a blender and get dessert. Or I may just be looking for excuses to eat brown butter with peaches. And ice cream. I always want ice cream!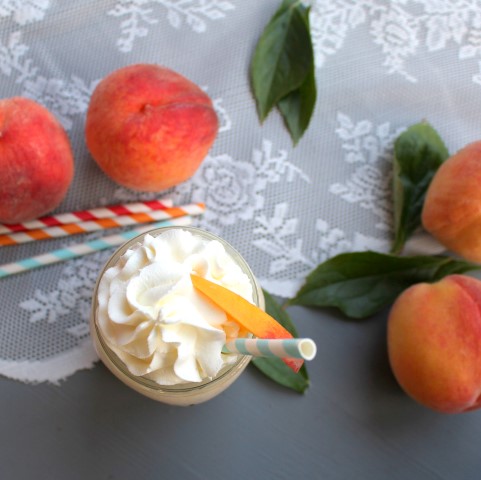 Since I am having company this weekend, I'm going to keep this post as short as the time it takes me make these delicious milkshakes. I don't want to scare you off with long descriptions of procedures. However I will leave you with one piece of advice. Don't add the brown butter to the blender directly on top of the ice cream. It will instantly turn hard and your milkshake will be filled with solid chunks of brown butter. No bueno! You've been warned. It works the best to mix the brown butter with the slightly warm peach puree and then blend it together with the ice cream and milk. Easy as pie. (Actually, it's way easier than pie!)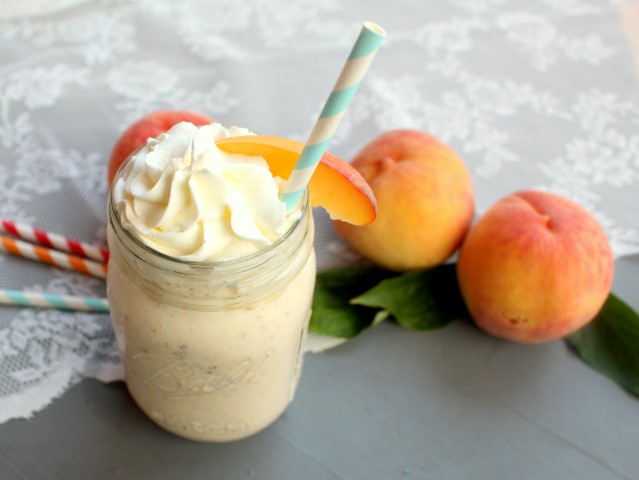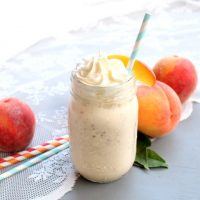 Brown Butter Peach Milkshake
Yield:
Makes 1 large milkshake or 2 smaller ones
A creamy milkshake with peaches and browned butter
Ingredients
1 T brown butter
1/2 cup peach puree*
3 to 4 scoops vanilla ice cream
1/3 cup milk
2 T sugar, if desired
Whipped Cream
Instructions
Brown the butter and make the peach puree. Mix together while still warm and let cool completely.
Add the peach puree with brown butter, ice cream and milk together in a blender and blend until smooth. You can add a bit more sugar to the peach puree if desired as it can bring some tartness to the ice cream. Pour into a glass, top with whipped cream, and enjoy immediately.
*To make Peach Puree, heat 1 cups of diced peaches, 1 T lemon juice, 1 T water and 1 T white sugar in a saucepan over medium heat. Bring to a boil and let it simmer for 5 minutes, stirring frequently. Remove from heat and let cool to a warm temperature. Blend in a blender until smooth. Cool completely before use. This will make more than you need for the recipe
Nutrition Information:
Yield:

2
Serving Size:

1
Amount Per Serving:
Calories:

416
Total Fat:

22g
Saturated Fat:

14g
Trans Fat:

0g
Unsaturated Fat:

7g
Cholesterol:

79mg
Sodium:

173mg
Carbohydrates:

50g
Net Carbohydrates:

0g
Fiber:

2g
Sugar:

44g
Sugar Alcohols:

0g
Protein:

7g
Nutrition information may vary significantly based on ingredients used and portion sizes. We are not responsible the reliability of this data or your reliance on it. We are not responsible for the results of any recipe you try from this blog/website, Chocolatewithgrace.com. Your results may vary due to differences in ingredients, humidity, altitude, cooking temperatures, errors, or individual cooking abilities.

 A simple milkshake that pairs all the nutty goodness of brown butter next to the sweet fruitiness of peaches. As close as you can get to drinking summer sunshine!