Job searching is stressful! So between interviews and job application stuff, I managed a break to de-stress and to try a new recipe for pretzel rolls. Both Tyler and I love the pretzel rolls sandwiches served at our work cafeterias, so I set out to copycat those rolls. They were amazing! With a perfectly chewy, salty pretzel crust and a moist, fluffy inside, the make fun sandwiches. Plus, its hard not to just keep eating them plain. Which is what I did.
Don't they look great. Picture perfect. They taste even better. If you can't tell, I am pretty proud of them! The secret to a great pretzel or pretzel rolls is to boil them before you bake them. Boiling them in a mixture of baking soda and water for a minute or two gives them that trademark pretzel chewiness. This is the most involved step. Then after they are boiled, brush them with egg and sprinkle with coarse salt. The egg will make them turn the pretty golden brown. Other than that it is a pretty simple yeast recipe.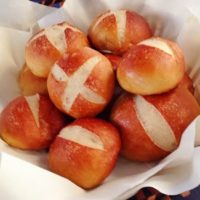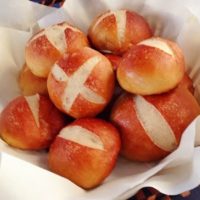 Pretzel Rolls
Yield: 12 rolls

Prep Time: 20 minutes

Cook Time: 15 minutes

Total Time: 35 minutes
Ingredients
1 tablespoon yeast
1 cup hot water
3 tablespoons white sugar
1/4 cup olive oil
1 tsp salt
3 cups all purpose flour
2 tablespoons wheat gluten*
1 egg
Instructions
Add the yeast, hot water, oil and sugar to a large bowl and mix.

In a separate bowl combine the flour, salt and gluten. Add to yeast mixture.

When dough forms a ball, place on counter and knead for a few minutes until smooth.

Divide dough into twelfths and shape into balls. Place on greased cookie sheet, cover with a towel and let rise for 45 or so minutes until double in size.

Preheat oven to 375. Bring 6 cups of water and 3 T baking soda to a boil in a shallow pan. In batches boil rolls for 1 minute on each side. Use a slotted spoon to remove them and place them on a well greased cookie sheet.

Brush the rolls with beaten egg and sprinkle with salt. Use a sharp serrated knife to lightly slash the top of the rolls. Bake for 12-15 minutes.

* instead of using regular flour and gluten, bread flour may be used.
Nutrition Information:
Yield: 12 Serving Size: 1 roll

Amount Per Serving:

Calories: 181 Total Fat: 5g Saturated Fat: 1g Trans Fat: 0g Unsaturated Fat: 4g Cholesterol: 16mg Sodium: 202mg Carbohydrates: 29g Fiber: 1g Sugar: 3g Protein: 4g

Nutrition information may vary significantly based on ingredients used and portion sizes. We are not responsible the reliability of this data or your reliance on it. We are not responsible for the results of any recipe you try from this blog/website, Chocolatewithgrace.com. Your results may vary due to differences in ingredients, humidity, altitude, cooking temperatures, errors, or individual cooking abilities.


Adapted from Fabulessly Frugal.