When my nieces asked for M&M Pancakes, I can't deny that I might have done a double-take. I'm happy to tell you that the crisp-shelled chocolate candies make an awesome addition to fluffy pancakes.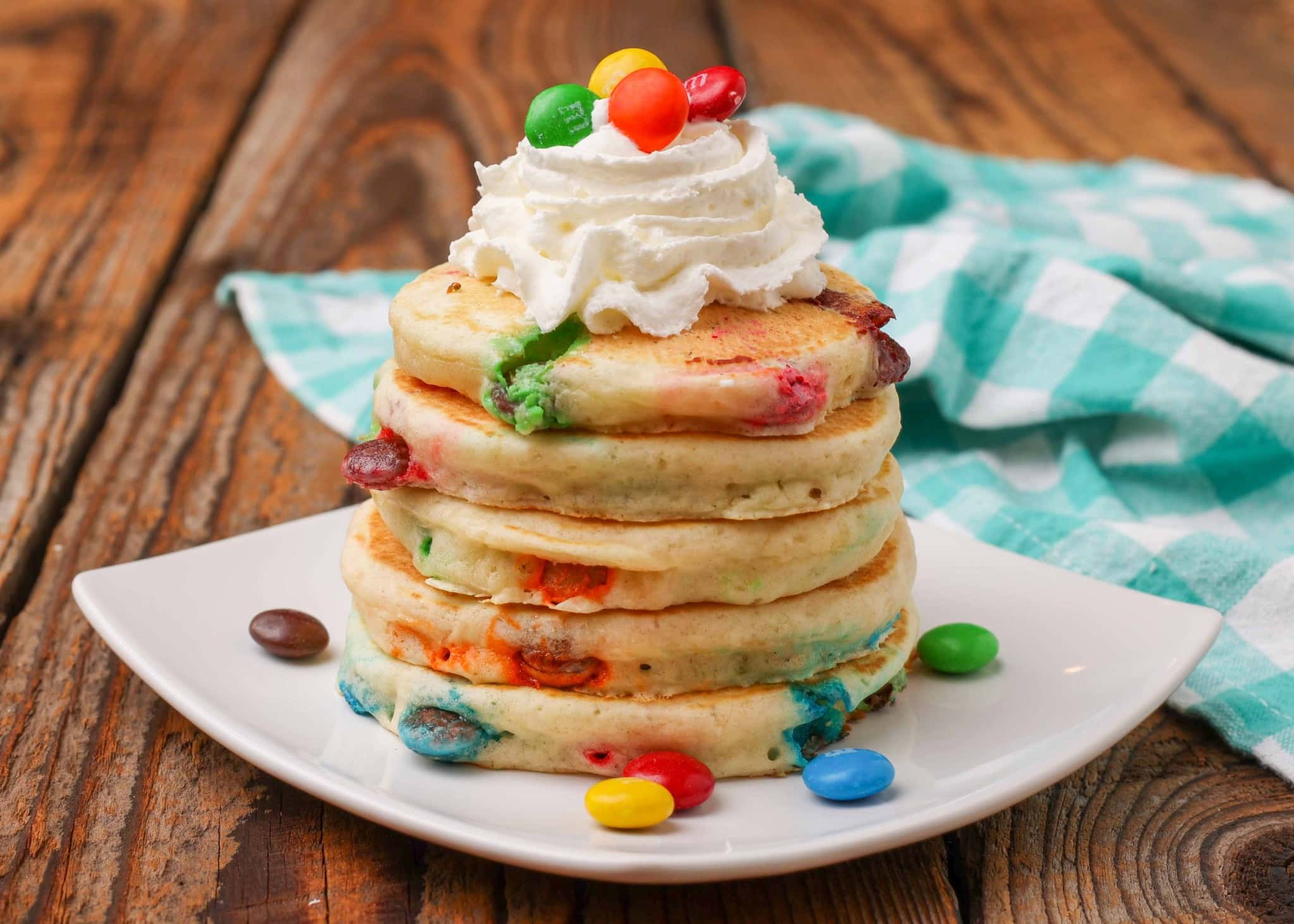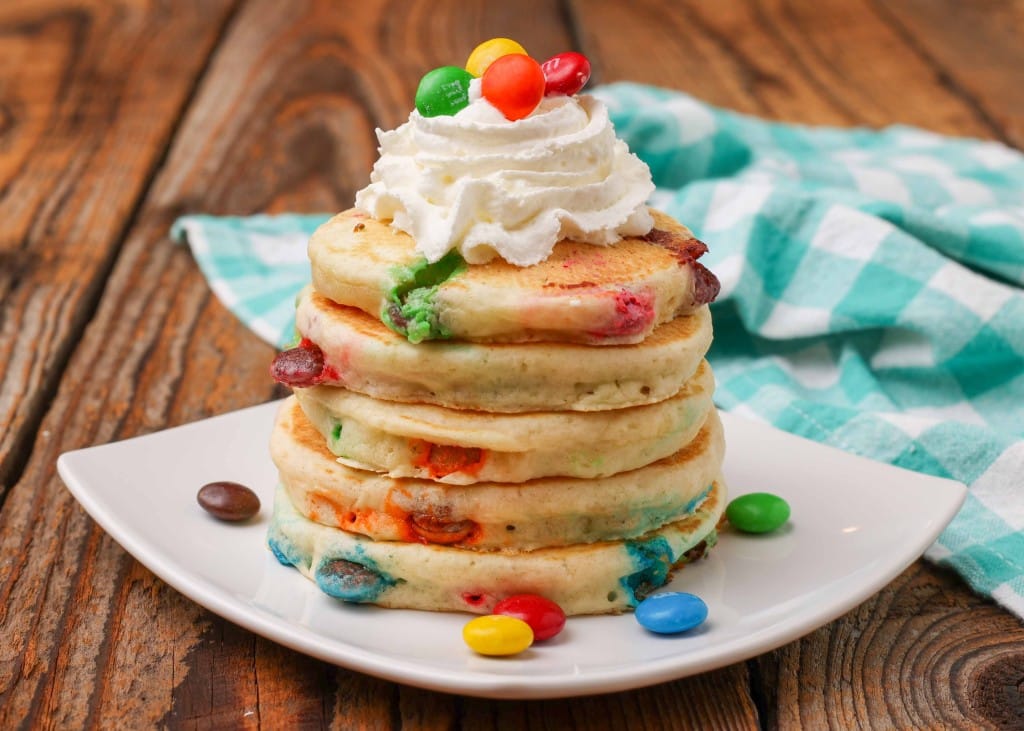 M and M Pancakes
I am not at all a candy-for-breakfast kind of parent. However, for special occasions and birthdays, these M&M pancakes are a fun treat! The rainbow colors, and of course chocolate, kick off any day of celebrating.
Whether you choose to snack on these pancakes out of hand or stack them on a plate and top them with butter, whipped cream, syrup, or chocolate sauce, they are a win in every way. Such a fun breakfast!
There are a couple of different ways to make pancakes with M&Ms. If I'm moving quickly over the griddle, I like to stir in the candies and then scoop the batter onto the griddle that way.
However, the M&Ms will begin to melt into the batter within a few minutes. Another suggestion is to have a separate bowl and put just enough batter for one griddle batch in that bowl. Stir in the M&Ms gently and pour immediately onto the griddle.
If you aren't going to move that quickly, just scatter the M&Ms over the pancakes once you've poured them onto the griddle. Make sure your griddle is well buttered or oiled as the chocolate melty bits can stick if you aren't careful.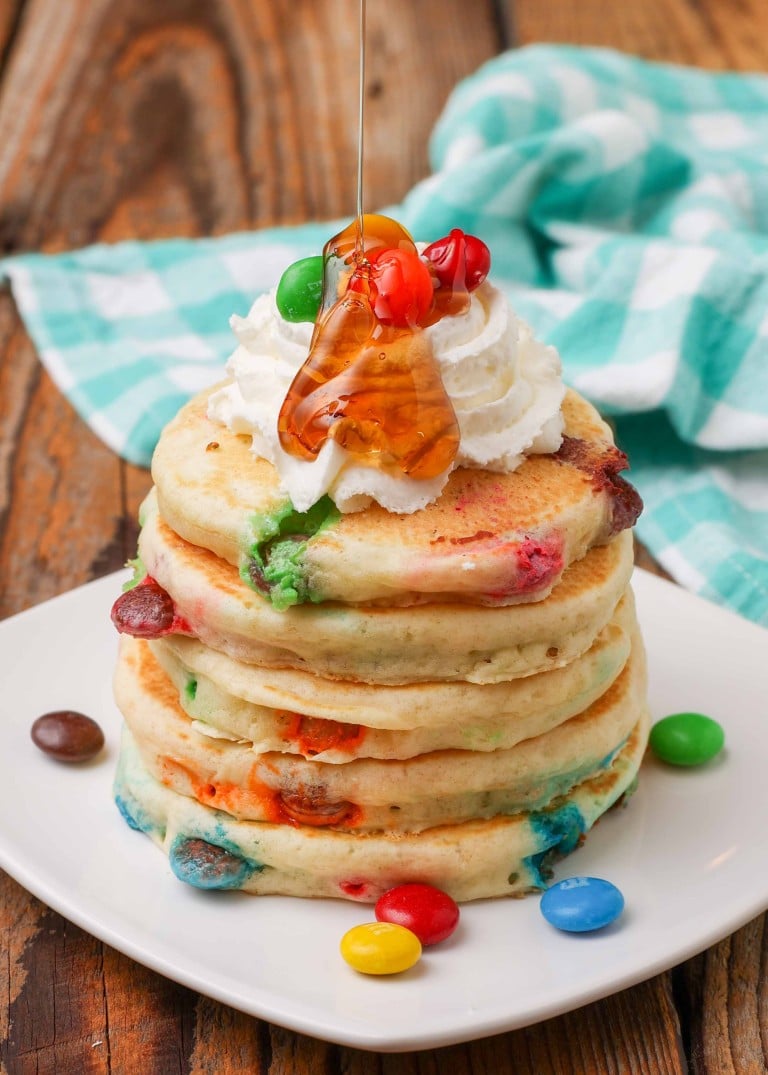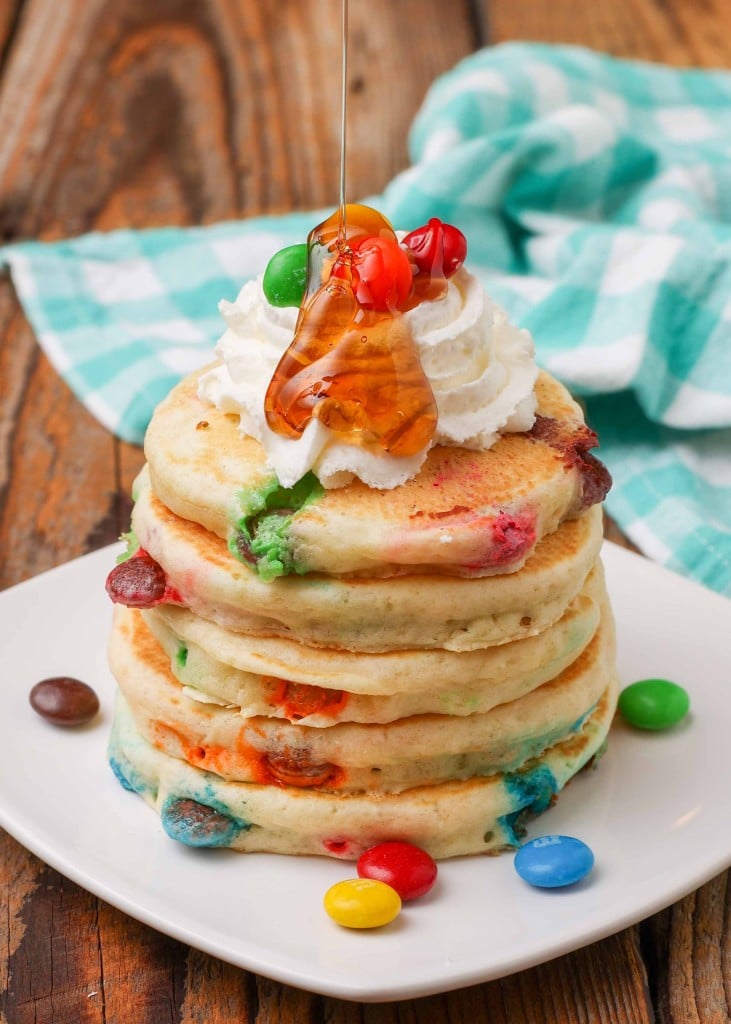 Can You Freeze Homemade Pancakes?
The easy answer is "YES" and thank goodness for that! I almost always double or triple the batch to have extra for quick breakfasts.
Let the pancakes cool completely on the counter, then stack them with paper between each one into a freezer container or zipper-locking bag and just pop them in the freezer. They will keep nicely for 1-3 months if they last that long.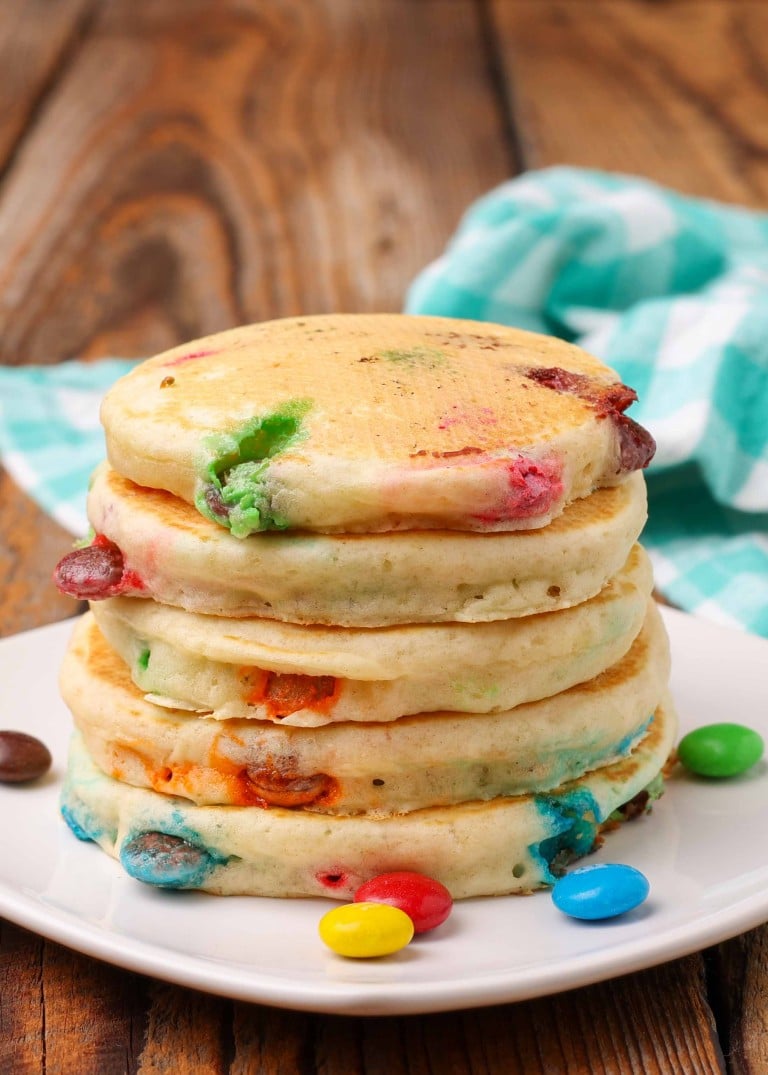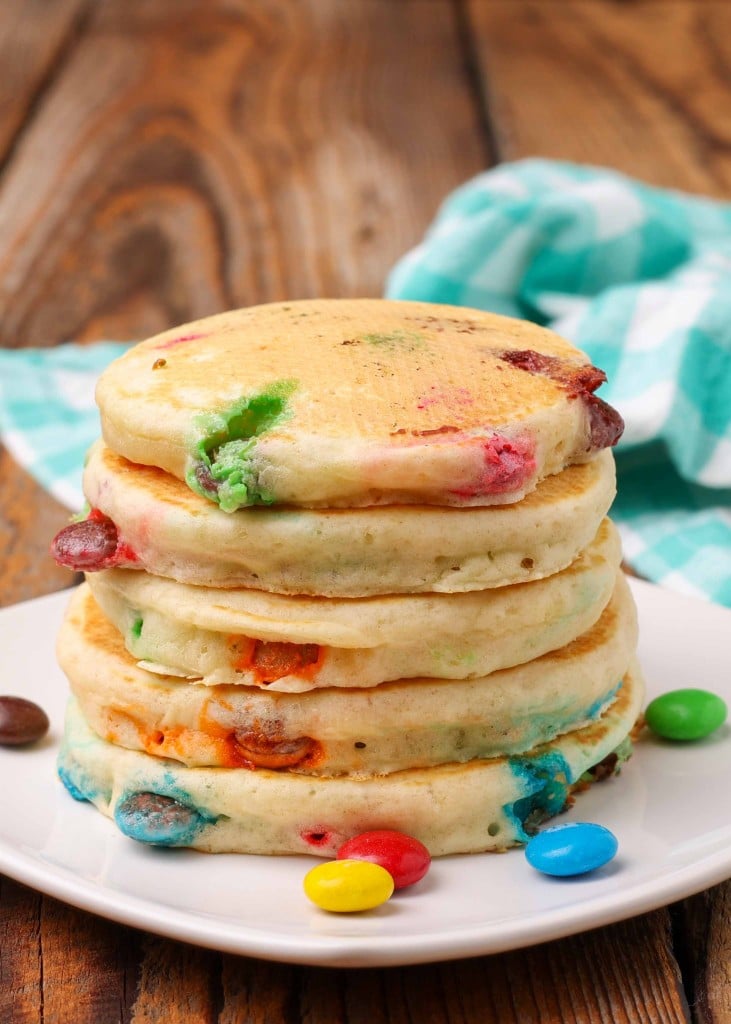 If you make pancakes often, nothing beats a great electric griddle for streamlining the cooking process. A few years ago, when my 15-year-old griddle finally died, I tested every single griddle I could get my hands on. When I finally tried this extra large electric griddle, I knew I'd found THE ONE. It's a little on the spendy side, but I am telling you now, it beats all the others hands-down.
This nylon flexible turner is a pancake-making must-have, as is a dough whisk. If you aren't familiar with the awesomeness that is a dough whisk for pancakes and waffles, you are missing out. It's a crazy-looking tool, but it stirs the batter just enough without overmixing it.
I've tried pretty much all of the nifty pancake-pouring gadgets out there, and I stand by a good old measuring cup as the easiest way to make pancakes. I use the ¼ or ⅓ cup sizes for most pancake making – this set that I use every day will allow you to improvise for all kinds of sizes.
When making standard-size 4-inch pancakes, the large scoop in this set of cookie scoops is my favorite way to dispense the batter. The medium scoop works perfectly for smaller-sized pancakes.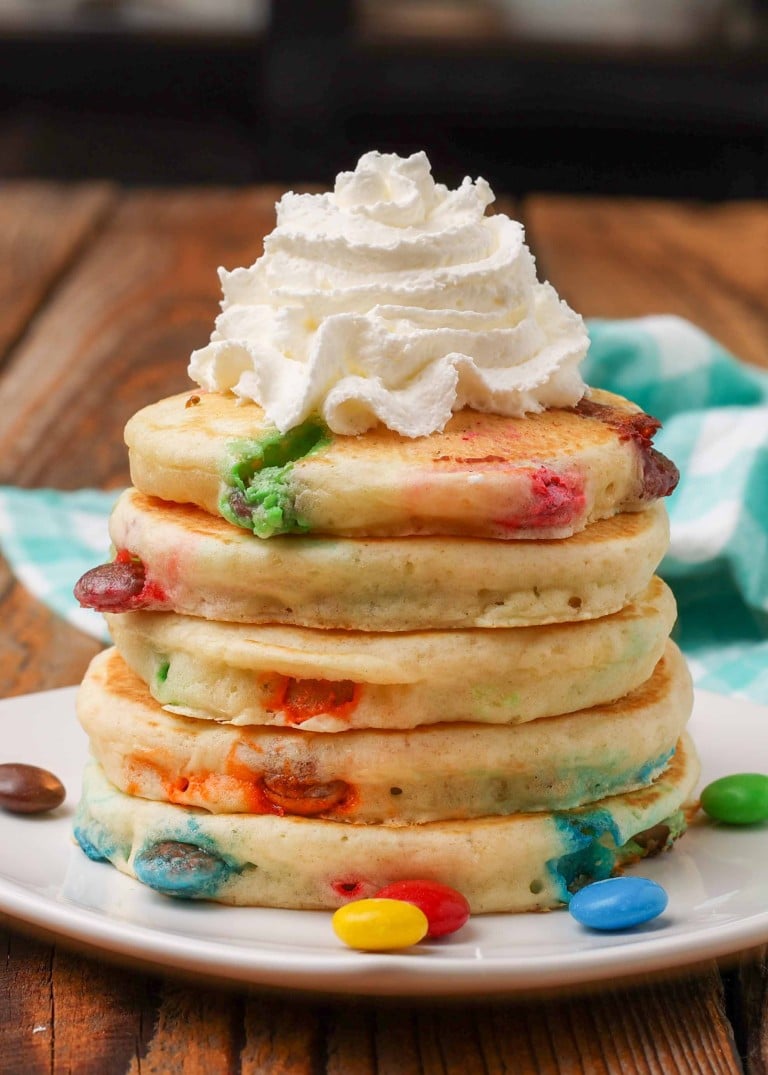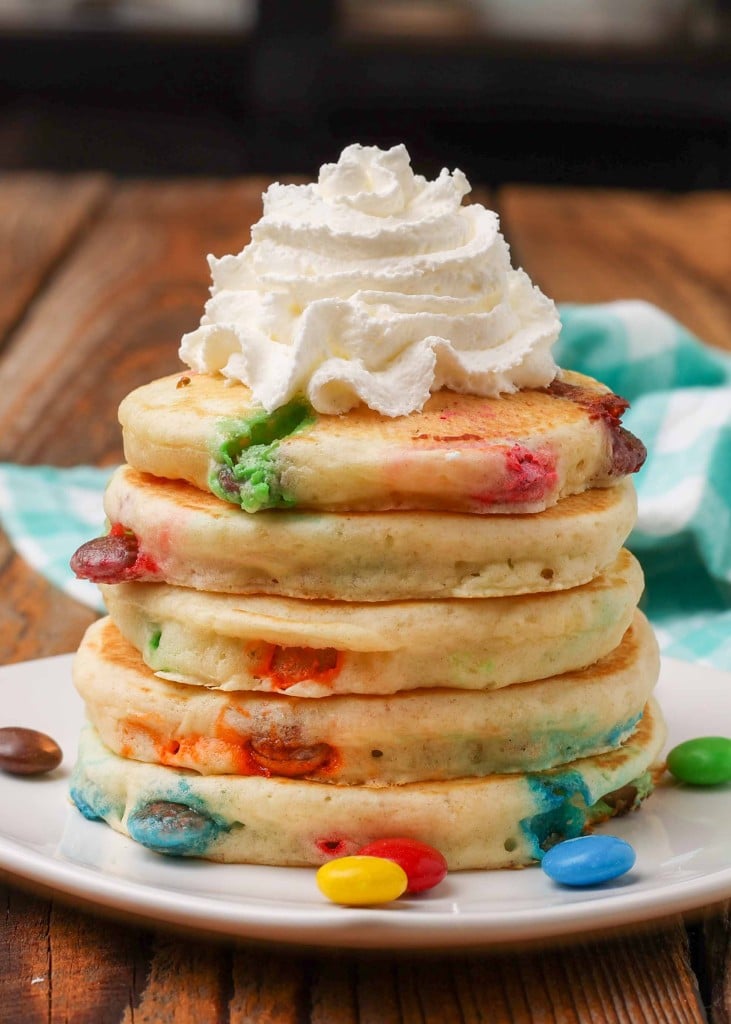 M&M Pancakes
You'll need these ingredients to make these pancakes:
all-purpose flour
sugar
baking powder
kosher salt
buttermilk
eggs
butter
plain M&M candies
Optional Toppings
butter
maple syrup
chocolate syrup
whipped cream
additional M&M candies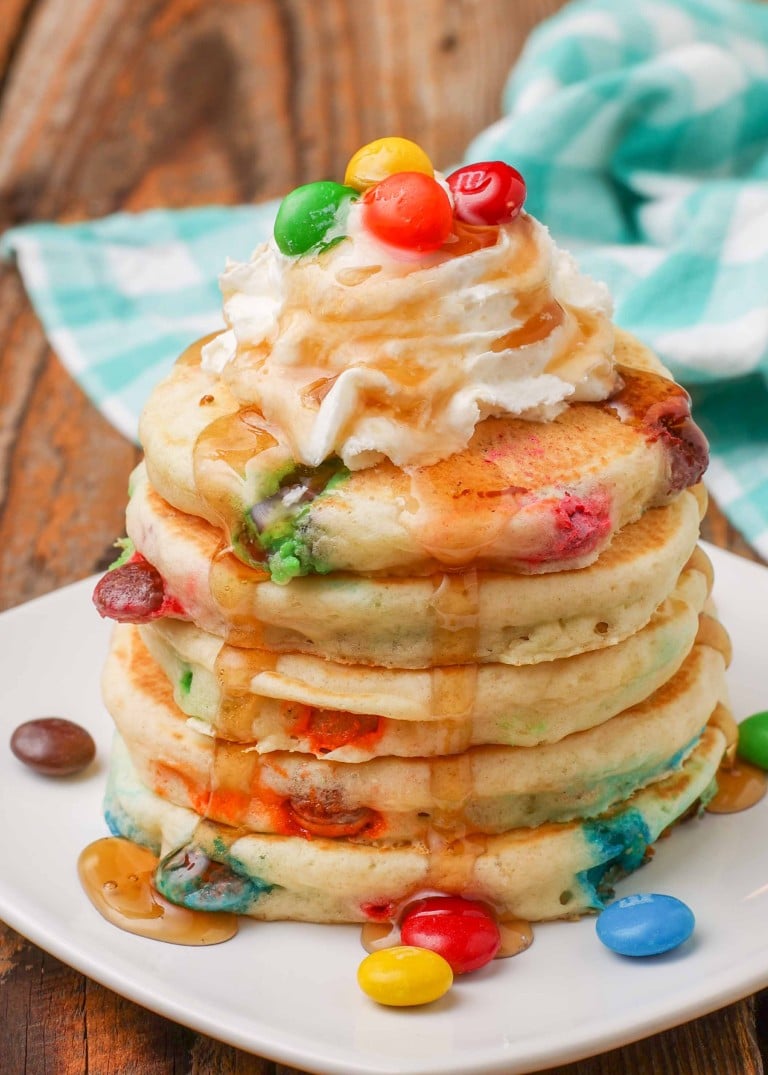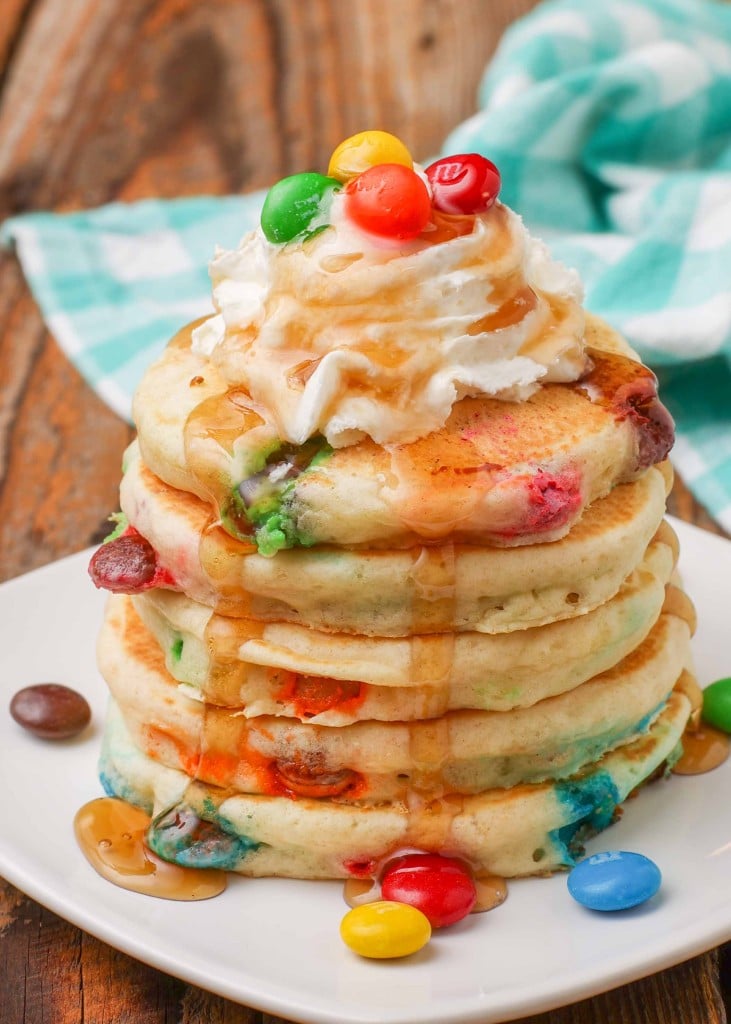 Pancakes with Chocolate
Dessert for breakfast isn't any everyday thing but some mornings just call for chocolate deliciousness.
Start the day with dessert? Yes, please! That's how it feels when I'm eating peanut butter pancakes or chocolate pancakes with chocolate chips for breakfast.
Weekends are meant for sleeping in and lazy indulgent breakfast like chocolate chip pancakes topped with strawberries and whip cream.
Sweet, fluffy banana chocolate chip pancakes are homemade goodness sure to rouse any sleepy crew out of bed for breakfast.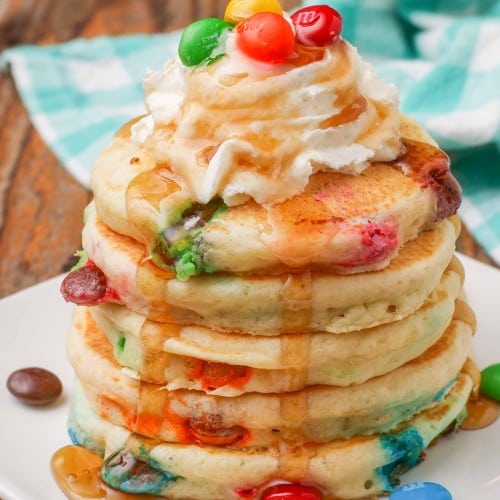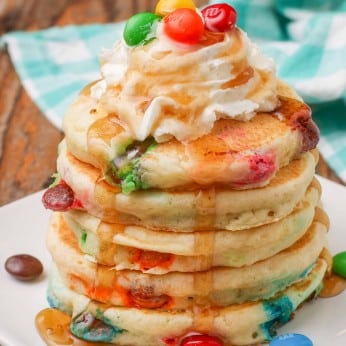 M&M Pancakes
Crisp-shelled chocolate candies make an awesome addition to fluffy pancakes, M&M Pancakes are breakfast time treat!
Servings:
18
4-inch pancakes
Ingredients
2½

cups

all-purpose flour

2

tablespoons

sugar

2

tablespoons

baking powder

½

teaspoon

kosher salt

2

cups

buttermilk

2

eggs

2

tablespoons

butter

melted

1

cup

plain M&M candies
Optional Toppings
butter

maple syrup

chocolate syrup

whipped cream

plain M&M candies
Instructions
Whisk together the flour, sugar, baking powder, baking soda, and kosher salt and set aside. Add the buttermilk and the eggs, whisk to combine, and then add the butter. Whisk once more and then let the batter rest while the griddle or pan heats. Be careful not to overbeat the pancake batter, lumps are fine.

Heat a flat-bottom nonstick skillet or electric griddle over medium heat. Pour ⅓ cup of batter onto the griddle for each pancake. Scatter M&Ms over each pancake.

Let cook until the pancakes begin to bubble on top and they are lightly browned on the bottom, about 2-3 minutes. Flip and cook the second side until golden brown. Serve warm with the toppings of your choice.
Notes
While regular milk may be substituted for the buttermilk in this recipe, I strongly recommend making the recipe as written.
Buttermilk is the not-so-secret ingredient that creates a very unique flavor and texture for these pancakes. We really like the contrast of the sweet and tangy pancakes with the M&Ms.
And just a heads up, this is not a recipe where a Buttermilk Substitute will work the same way. You will want to use store-bought buttermilk for these pancakes. You can find it in the dairy case in most grocery stores.
Nutrition
Calories:
162
kcal
·
Carbohydrates:
24
g
·
Protein:
4
g
·
Fat:
5
g
·
Saturated Fat:
3
g
·
Polyunsaturated Fat:
0.3
g
·
Monounsaturated Fat:
1
g
·
Trans Fat:
0.1
g
·
Cholesterol:
26
mg
·
Sodium:
259
mg
·
Potassium:
62
mg
·
Fiber:
1
g
·
Sugar:
10
g
·
Vitamin A:
135
IU
·
Vitamin C:
0.1
mg
·
Calcium:
128
mg
·
Iron:
1
mg