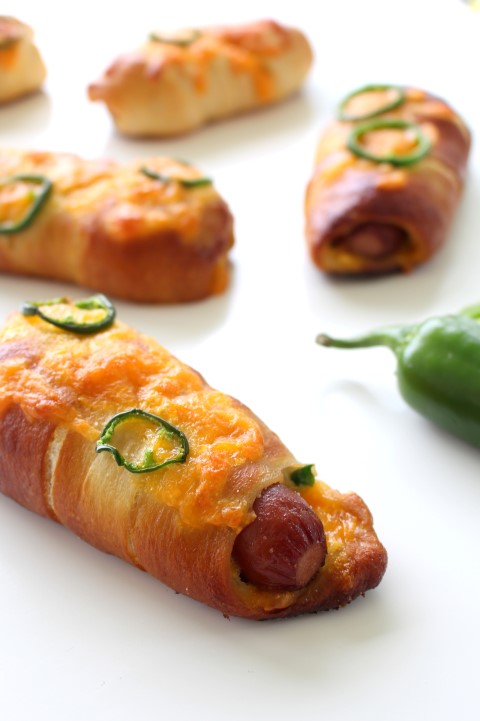 These pretzel wrapped hot dogs stuffed with jalapenos, cream cheese and cheddar make me happy. Hot dogs and jalapenos, neither of which get me to excited alone, but when paired with bread and cheese they suddenly become heroes of flavors. Maybe I'm just biased because these pretzel dogs have been my brainchild for several weeks and I spent a Saturday morning lovingly coaxing them to life. Anyways, I'm bursting to share them with you. I recommend making them on a lazy rainy day and enjoy their pretty sunshine of colors and flavors.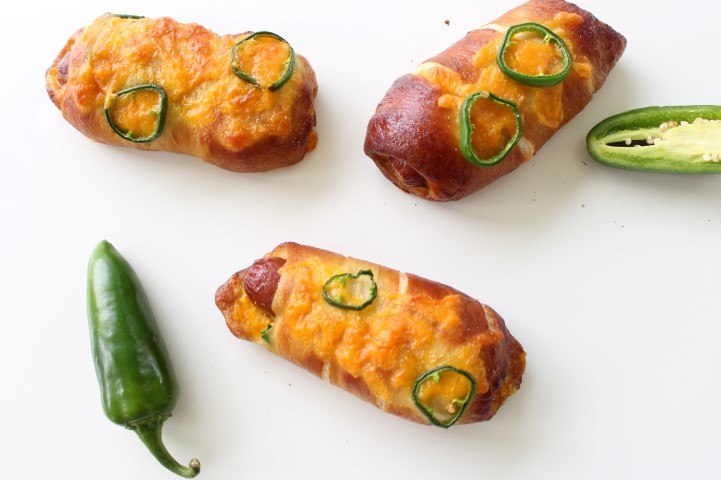 I did make mine on a bright sunny day, and that is why I am so happy with the lighting in these pictures. As I practice more with my new camera , I am learning the best times of the day, locations and angles to get the best lighting. I've often wondered what the neighbors must think to see me stretched out on the floor of the front porch delicately arranging jalapenos and hot dogs, but I think the location is perfect!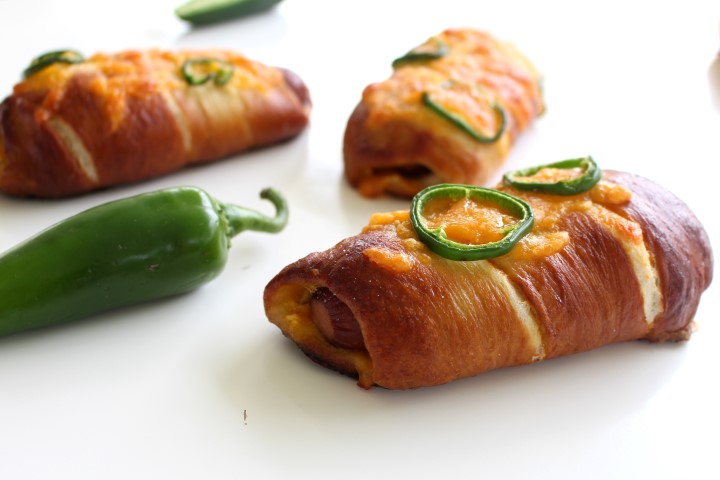 Making these takes a bit of time, but they're not hard. They start with a simple yeast dough. While it's rising, prep the cheese and jalapenos. Yeast dough is very hard to mess up, unless the yeast is dead. Just don't use too hot of liquid or expired yeast and you shouldn't have a problem.
Once the dough is ready, roll it into long flat strips, about an inch wide by twelve inches long. Spread the strip with a bit of cream cheese and sprinkle with jalapenos and cheddar. Roll 'em up an watch 'em raise. While they're raising, start preheating your oven and prepping the boiling water. Boiling them for about a minute and a half in a mixture of water and baking soda is what will give them their lovely chewy pretzel texture. Skip this step and you'll end up with a simple hot dog bun. Not bad, but not nearly as fun as a chewy pretzel. Bake for a bit and enjoy the sunshine in your mouth. What is your favorite thing to make on a rainy day?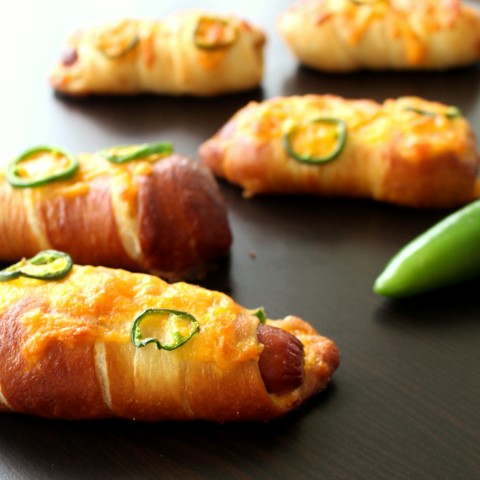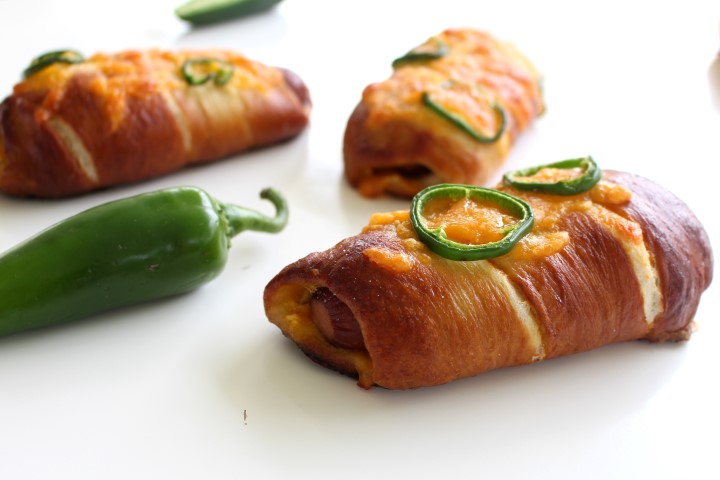 Jalapeno Popper Pretzel Dogs
Ingredients
1

T

yeast

1

cup

hot water

3

T

white sugar

1/4

cup

olive oil

1

tsp

salt

3

cups

all purpose flour

4

jalapenos

finely chopped

4

T

cream cheese

2

and 1/2 cups shredded cheddar cheese

1

egg

Kosher Salt
Instructions
Add the yeast, hot water, oil and sugar to a large bowl and mix.

In a separate bowl combine the flour, and salt. Add to yeast mixture.

When dough forms a ball, place on counter and knead for a few minutes until smooth.

Divide dough into twelfths and let rest on the counter while preparing the jalapenos and cheese.

Wash and remove ribs and seeds from jalapenos, unless you like the extra kick. Dice them finely.

Roll each ball of dough into a 12 inch long rope. Flatten the rope until it is about an inch and a half wide. Spread a layer of cream cheese on the strip. The cream cheese spreads best if it has been warmed up in the microwave for a few seconds.

Sprinkle a tablespoon or two of shredded cheddar and as many jalapenos as desired on the the strip of dough. Wrap the dough around the hot dog, securing at both ends. Place on a greased cookie sheet. Let rise in a warm place for about 20 minutes

Preheat oven to 375 F. Bring 8 cups of water and 4 T baking soda to a boil in a medium saucepan. Drop hot dogs into the water 2 at a time and boil for 45 seconds on a side. Remove from water back to the cookie sheet.

Brush the dough with a beaten egg and sprinkle with kosher salt. Bake for 15 to 20 minutes or until deep brown in color. Remove them immediately from the cookie sheet to a wire rack. They are best when enjoyed warm straight from the oven.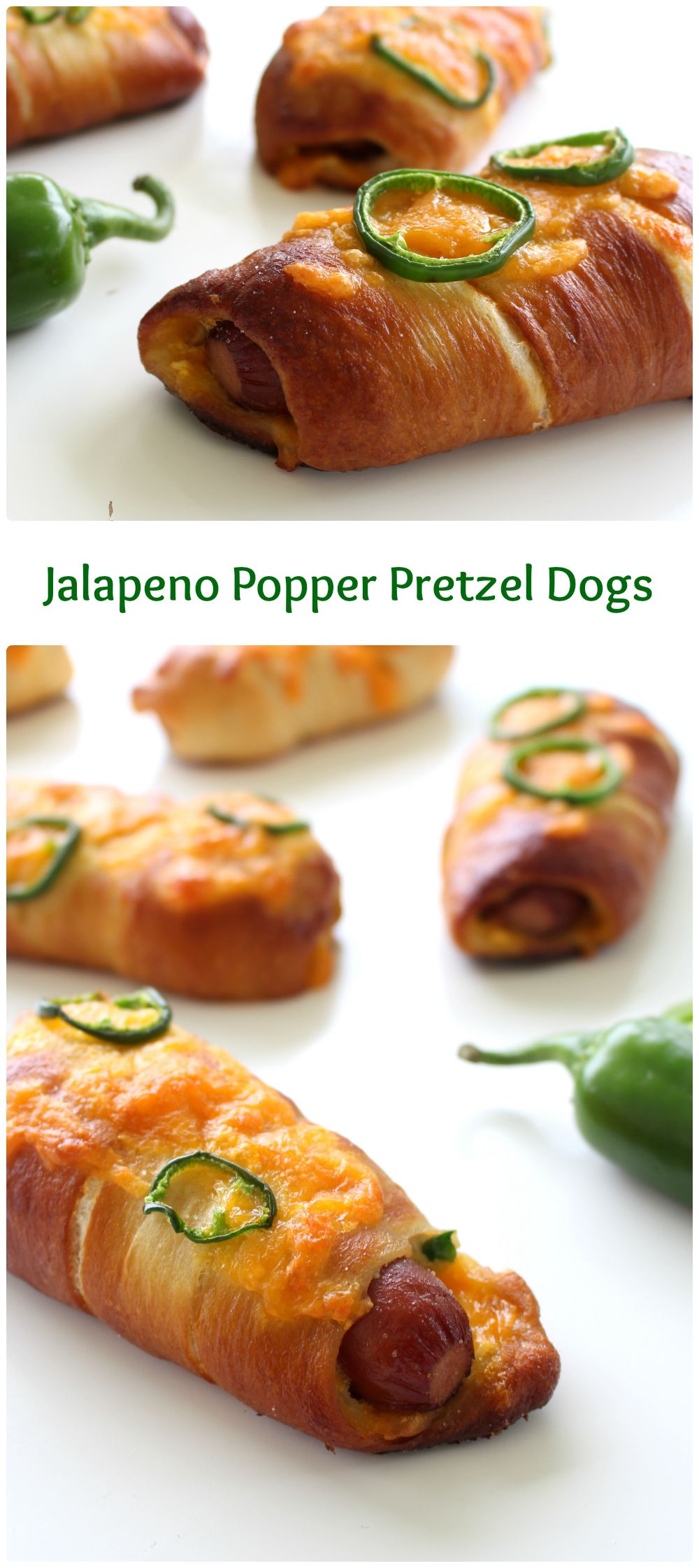 A hot dog wrapped in soft, chewy pretzel dough, stuffed with cheese and jalapenos. These Jalapeno Popper Pretzel Dogs are comfort food at its finest.