Crunchy, nutty granola, spiced with chai, sweetened with honey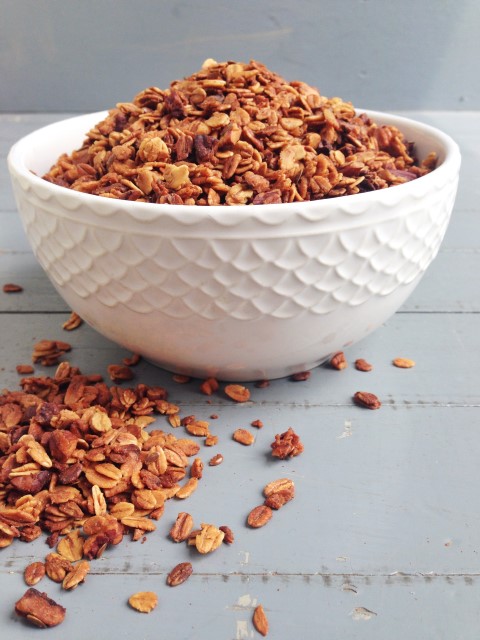 Breakfast has always been an important meal for me. Without it, I start feeling weak and lethargic halfway though the morning. So I always make sure to eat it. It never has been fancy though, cold cereal, oatmeal or a bagel are pretty average breakfasts for me. But honestly I don't enjoy breakfast foods all that much. I would rather have a meal of spaghetti, hamburgers or grilled cheese. But who has time for that in the morning? Not to mention, its not a healthy start to the day. Last Saturday, I had some time to do some meal planning for the coming work week and included some breakfasts. I decided to make some granola. Granola is a traditional breakfast food I like, and it is so much cheaper to make.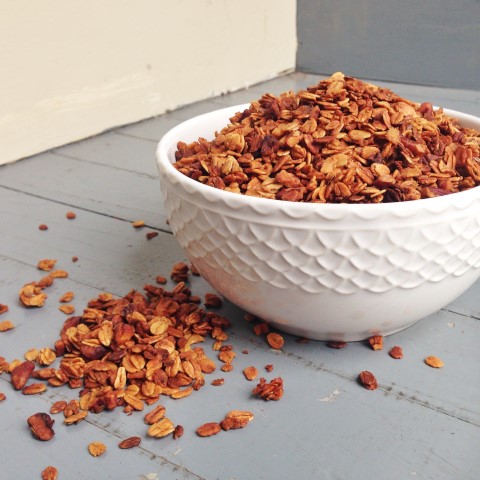 This recipe involves just a few ingredients. Oatmeal, flax seeds and pecans make up the bulk. The highlight is the chai flavor. Not strong, but enough to remind you of that sweet, delicious cup of tea. I never liked tea at all until my trip to India. There I would politely sip the cup of chai they hospitably handed me every morning. By the end of the ten days I was there, I was pretty much an addict. But, they don't make chai in the United States like they do in India. They just can't get the blend of spices right. I wish everyone could get the chance to go to India and try some real chai.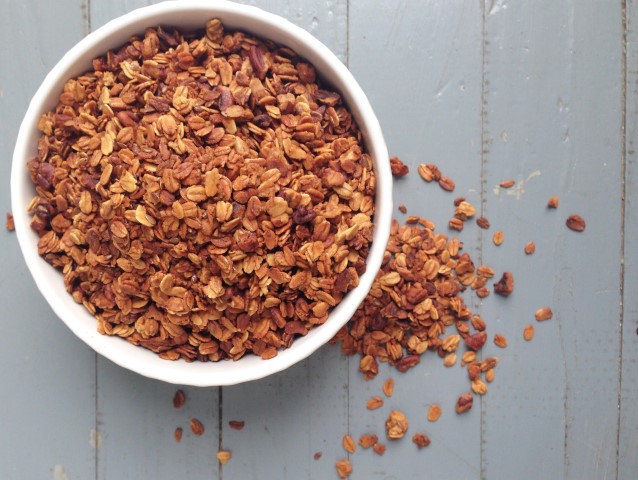 This granola uses either chai concentrate that comes in a carton or a cup of strongly brewed chai from a tea bag (steeped for at least a half hour or more). It is your choice, just know that using the chai concentrate will add extra sugar to the granola. The granola comes together quickly. Mix the dry ingredients, then the wet ingredients. Blend wet and dry together and spread on a cookie sheet. The hardest part of granola is making sure it doesn't burn. It will go from golden brown to burnt in a matter of a few seconds. The key is to stir it every 5 or 10 minutes and then towards the end of the baking time check it more often. This granola is delicious just with milk or in a parfait with some Greek yogurt for a little extra protein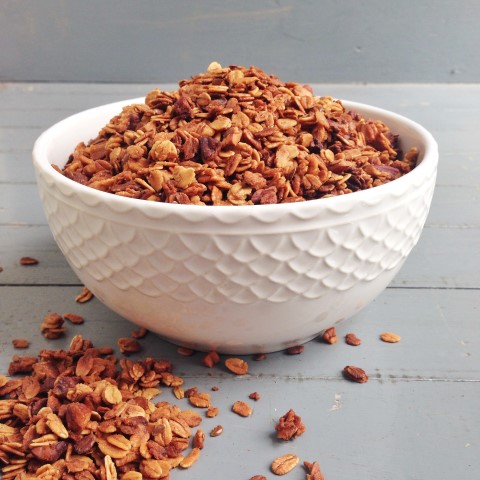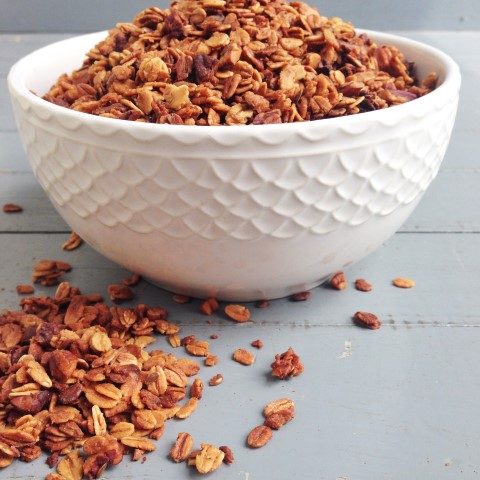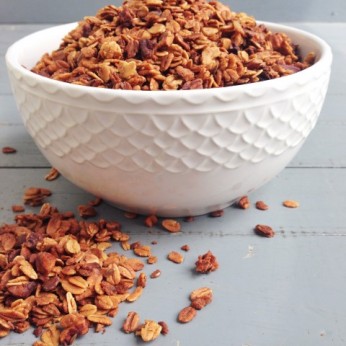 Crunchy Chai Granola
Crunchy, nutty granola, spiced with chai, sweetened with honey
Ingredients
4

cups

rolled oats

3

T

flax seeds

2/3

cup

pecans

chopped

1/2

cup

honey

3

T

butter

1

tsp

cinnamon

1

and ½ tsp vanilla extract

1/2

cup

strongly brewed chai or chai concentrate
Instructions
Mix together oatmeal, flax seed and pecans

Melt the butter

Add the honey, cinnamon, vanilla extract and chai tea to the melted butter. Let cool to room temperature. Preheat oven to 350 F.

Pour the butter and honey mixture over the oatmeal and toss together.

Spread mixture into a thin layer on a lightly greased cookie sheet.

Bake at 350 F for 45 to 60 minutes, stirring frequently. Watch it closely to make sure it doesn't burn.

Store tightly covered. Serve with milk or yogurt.