#CollectiveBias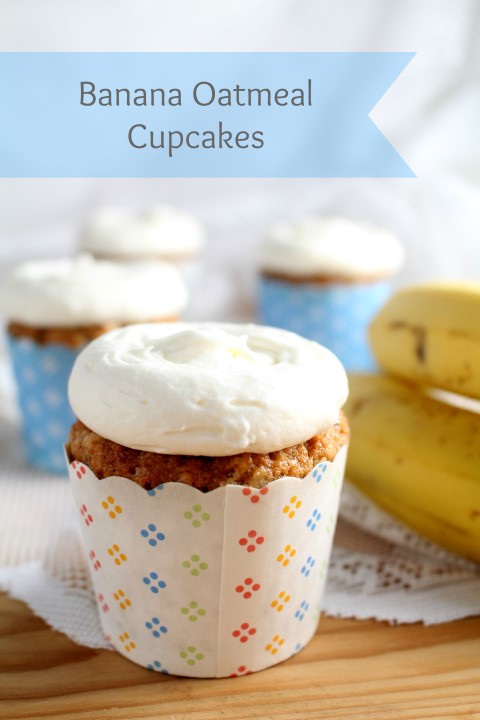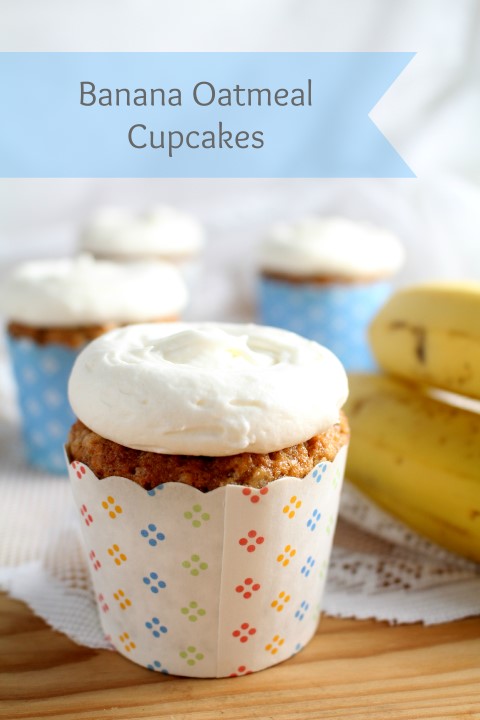 Christmas Baking is here! What are your favorite things to make? Some of my favorite things to make this time of year are cinnamon rolls, cupcakes, and quick breads. Yeah, I get carb happy this time of year. With the cold weather, I can't help it. These Banana Oatmeal Cupcakes are a fun twist on a few of my favorite things, cupcakes, banana bread and cinnamon rolls all together. They're made with whole grain oats that give them a tender, hearty texture, while the bananas bring the moistness and the cream cheese frosting provides a little tang.
There is something extra special about Christmas baking, maybe it's because I have so many memories tied to being together with family and friends in the kitchen this time of year and sharing the experience as well as the goodies that we made. Growing up, my siblings and I loved to help mom make  frosted sugar cookies. By the time we were done we had flour all over ourselves, frosting smeared on the cupboards and sprinkles all over the floor, but it was so much fun!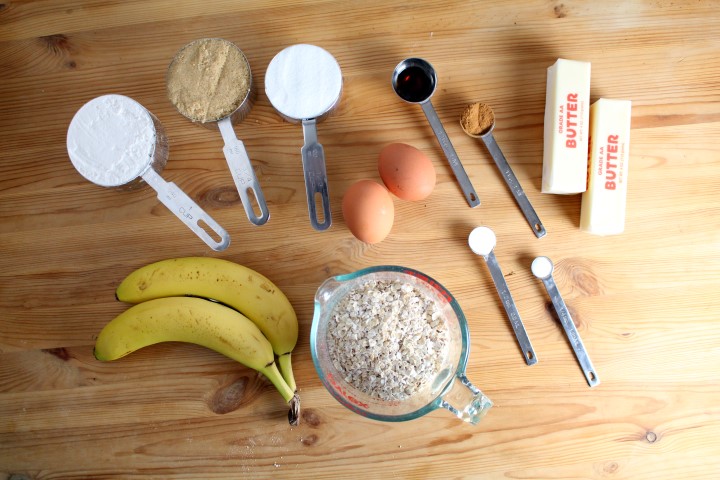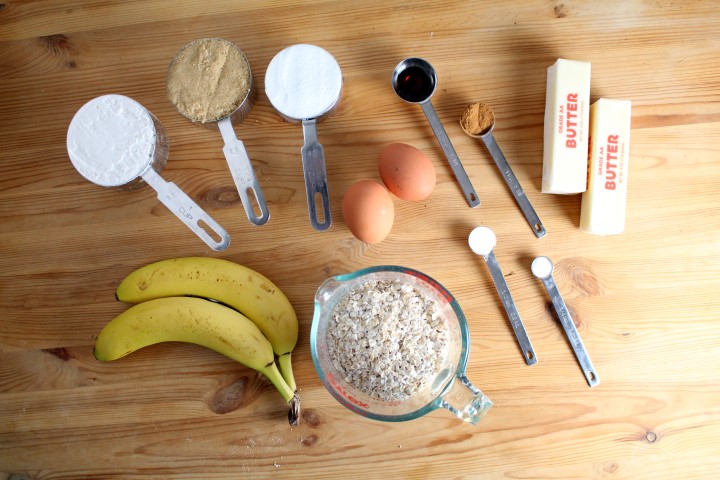 To make these fun cupcakes, get your ingredients ready. You'll need your basic baking ingredients, butter, sugar, eggs, flour, some very ripe banana, the more spots the better and Quaker Quick Oats.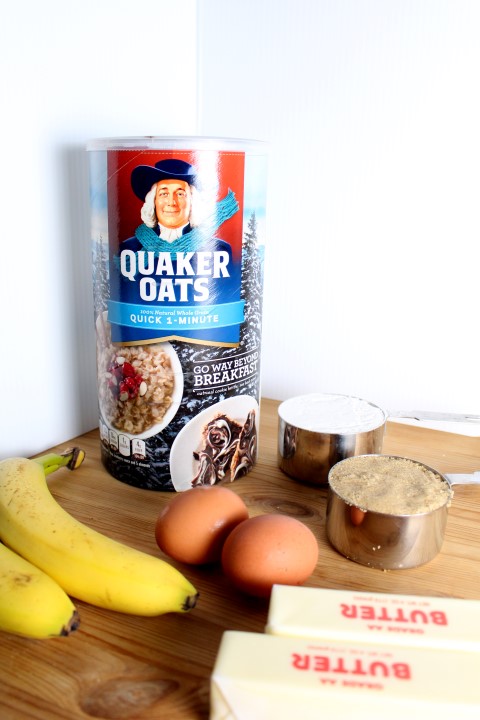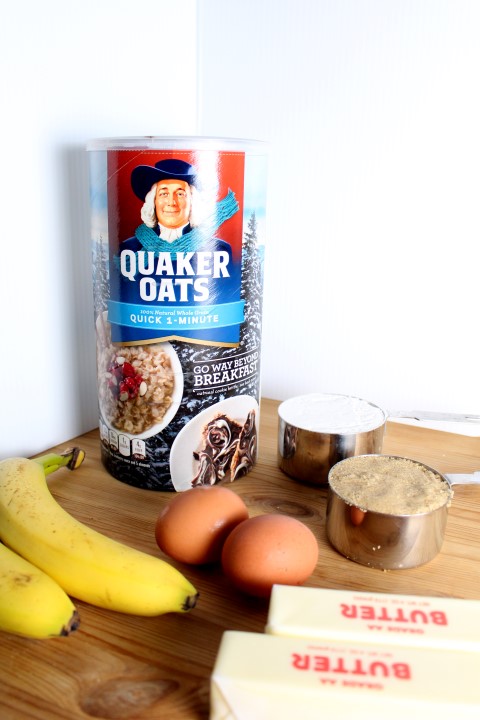 Check out this cute, limited edition winter packing found only at your local Target. You can find it in the cereal isle along with the other oatmeal products. I frequent this isle quite a bit since Quaker oatmeal is a staple for me at breakfast.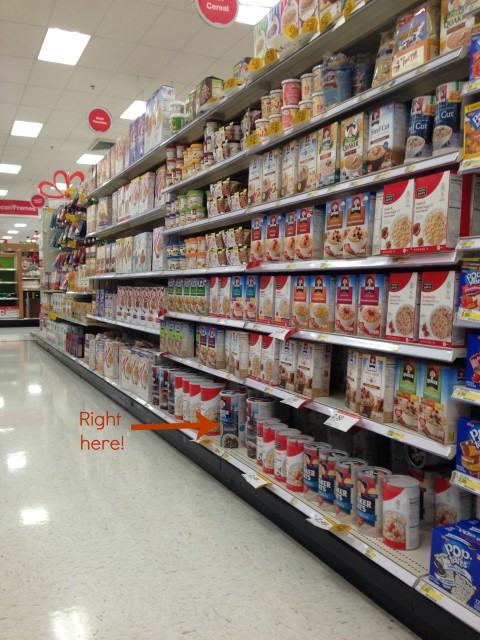 After a fun shopping trip, (I mean who can go to Target for just one ingredient?, I had to pick up some cute tights too!) Let your butter soften and gather some friends and family to stir up some cupcakes.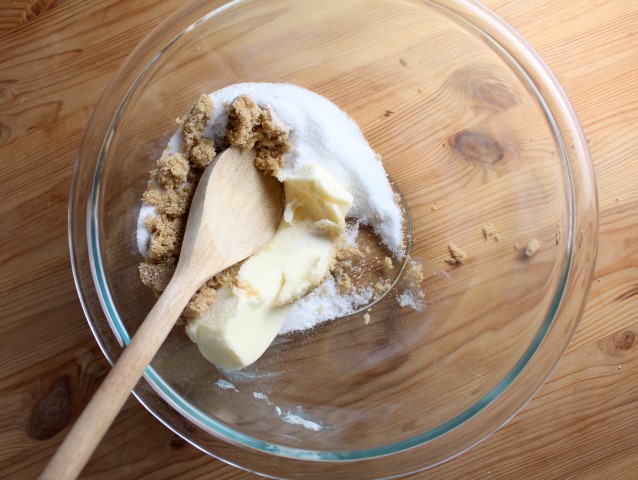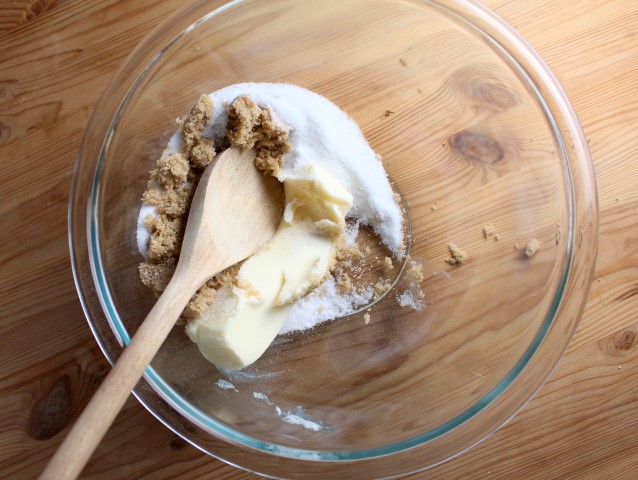 First, cream together the butter and the sugar. Give it all the arm strength you have or use a stand mixer. The more air you can beat into that butter mixture, the fluffier your cupcakes will be.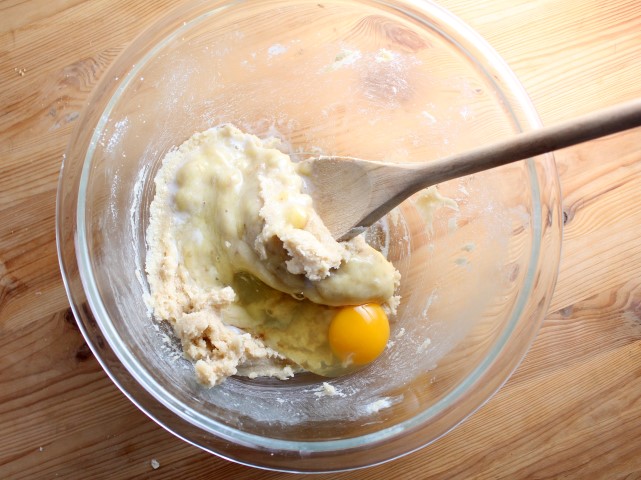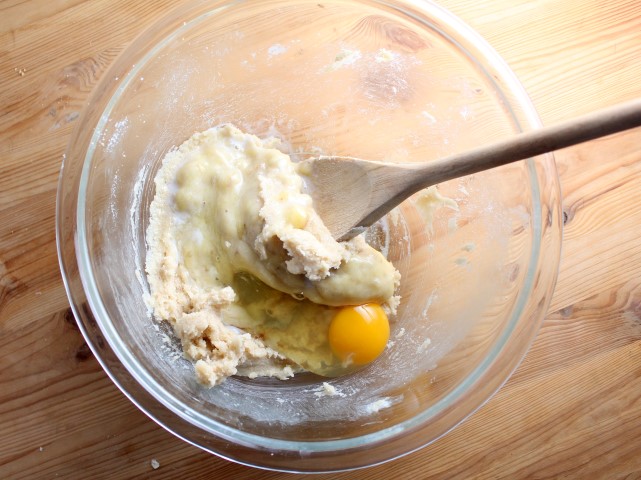 Then add the egg, banana and vanilla. When my bananas start to get black spots on them, I throw them in the freezer. Then, when I need a few to bake with, I pull them out, let them thaw for about an hour and mash them good. It allows me to always have extra ripe bananas on hand for baking.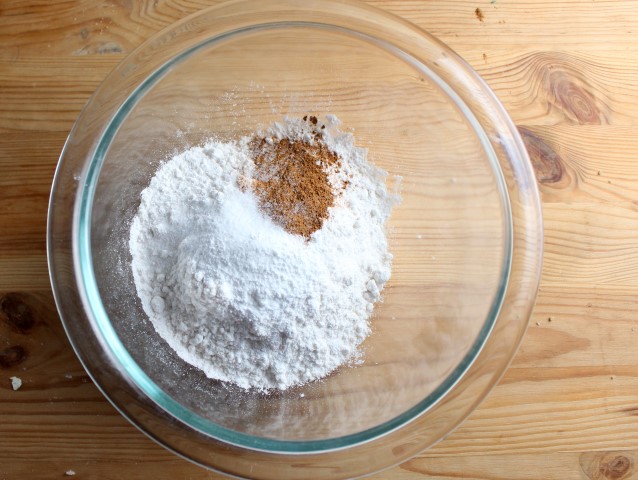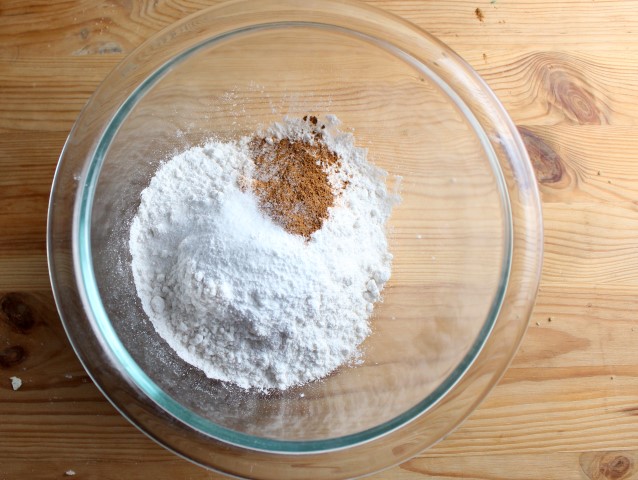 Next, stir together the dry ingredients and mix them into the wet along with the oatmeal. Then, spoon the mixture into the cupcake liners and bake.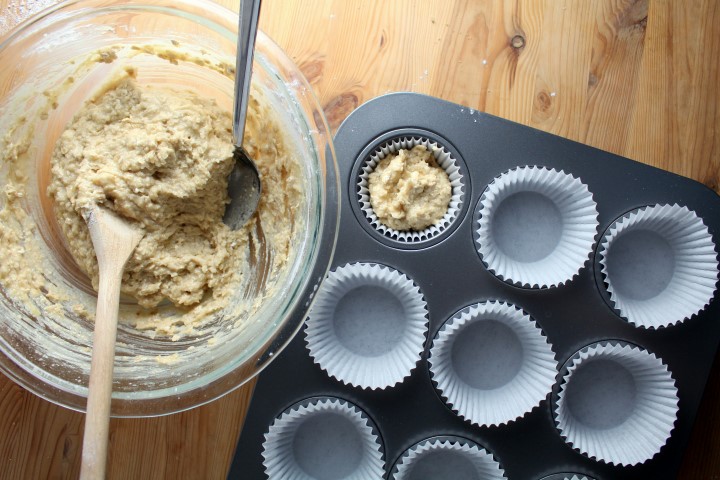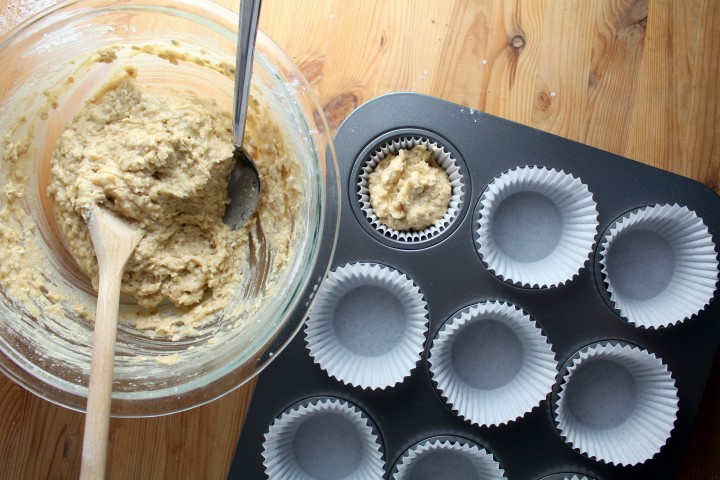 Frost and enjoy them with family and friends!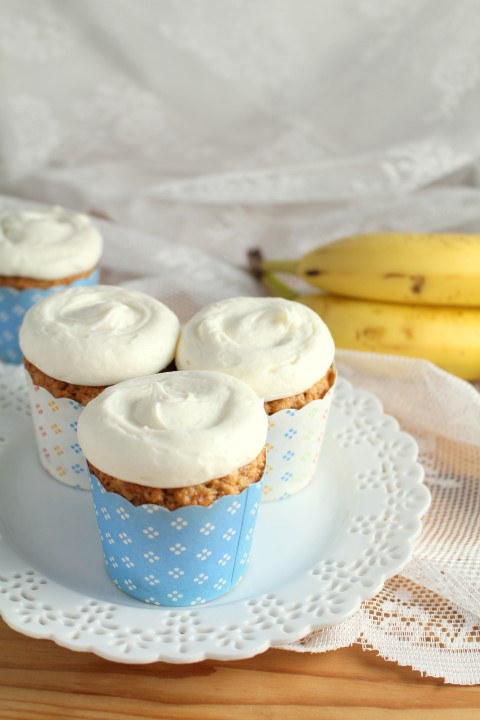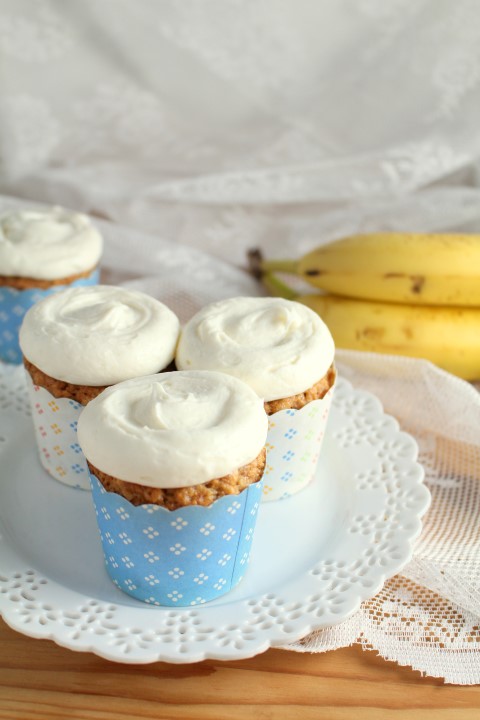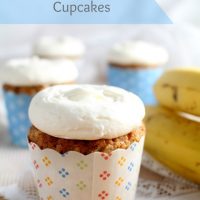 Banana Oatmeal Cupcakes with Cream Cheese Frosting
Additional Time:
45 minutes
Total Time:
1 hour
25 minutes
Banana Oatmeal Cupcakes with Cream Cheese Frosting. Banana Bread in cupcake form.
Ingredients
For the Cupcakes
1/2 cup butter, softened
3/4 cup brown sugar
1/2 cup white sugar
3/4 cup very ripe banana, smashed (about 2 medium bananas)
3 Tablespoons milk
1 teaspoon vanilla
2 eggs
1 and 1/2 cups flour
1/2 teaspoon salt
3 teaspoons baking powder
1/2 teaspoon cinnamon
1 and 1/2 cups Quaker Quick Oats
For the Frosting
4 oz cream cheese, softened
1/2 cup butter, softened
1 tsp vanilla
2 and 1/2 cups powdered sugar
1 - 2 Tablespoons heavy cream or milk
Instructions
Preheat oven to 350 F. In a large bowl, cream together the butter and sugars. Beat in banana, eggs, vanilla and milk.

In a medium bowl, mix together the flour, salt, baking powder, and cinnamon. Add the dry ingredients along with the oatmeal to the wet and stir just until combined.

Line a muffin tin with cupcake papers and fill them 2/3 full with batter. Bake at 350 F for 17-18 minutes or until an inserted toothpick comes out clean. Cool completely.

To make the frosting, beat the cream cheese and butter in a mixer until fluffy. Beat in the vanilla, powdered sugar and enough of the cream until spreadable.

Pipe or spread the frosting onto the cupcakes and enjoy!

 This content has been compensated by Collective Bias, Inc and Quaker. However, all opinions are my own. #QuakerUp #MyOatsCreation