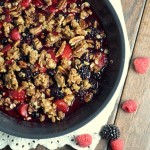 Print Recipe
Stovetop Berry Crisp
Warm juicy berries are topped with crunchy brown sugar crisp to make this Stovetop Berry Crisp. Served with a big scoop of vanilla ice cream this is a perfect and classy dessert for two.
To make the crisp topping, melt the 2 tablespoons of butter in a nonstick skillet over medium high heat. Add the rolled oats, pecans, brown sugar and cinnamon. Cook for 4-5 minutes, stirring frequently until toasty and lightly browned. Remove the topping mixture from the pan and set aside.

Melt the remaining tablespoon of butter in the same pan over medium heat. Add the berries and granulated sugar. Cook for 3-4 minutes or until the berries are soft and warm.

Sprinkle with the crisp topping. Serve immediately with a scoop of vanilla ice cream.