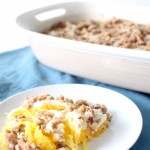 Print Recipe
Sausage and Spaghetti Squash Casserole
This Sausage Spaghetti Squash Casserole only requires 5 ingredients and is deliciously creamy thanks to ricotta cheese.
Cook spaghetti squash until tender. Use your favorite method. I cut my squash in half and scoop out the seeds. Then, I place it cut side down in large glass pan with about a cup of water in the bottom. I bake it at 400 F for about 45 min - 1 hour or until tender.

Scoop the squash out of the skins and fluff with a fork, Drain any excess liquid. Gently stir in melted butter and salt and pepper to taste.

Grease a 9 x 13 inch pan. Spread the squash on the bottom. Spread ricotta cheese on top. Sprinkle with cooked sausage. and then top with Parmesan cheese. Bake at 350 for about 30 minutes or until heated through. Cover with foil to prevent browning.