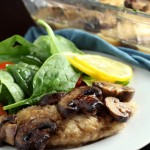 Print Recipe
Chicken Scallopini
Ready in 45 minutes or less, the chicken is browned in a skillet, flavored with garlic, mushrooms and a white wine sauce and baked until tender.
1 - 1 1/2

lbs

boneless skinless chicken breasts

2/3

cup

flour

6

tablespoons

butter

divided

4

tablespoons

olive oil

2

cloves

garlic

minced

½

pound

fresh mushrooms

sliced

3

tablespoons

fresh lemon juice

½

cup

chicken broth

1/3

cup

white wine or additional chicken broth
Preheat oven to 325 F. Thaw the chicken breasts portions and pound them to an even 1/2 inch thickness. Sprinkle them with salt and pepper.

Heat 2 tablespoons of the butter and olive oil in a skillet to a medium high heat. Add a clove of minced garlic. Flour the chicken lightly and brown in two batches until golden, about 3 minutes. Between batches, add additional butter, olive oil and garlic clove.

Place the browned chicken in an oven proof casserole dish. Heat the last 2 tablespoons of butter in the same skillet and sauté the mushrooms until tender. Add the lemon juice, chicken broth, and white wine and bring to a simmer. Pour the mushrooms and juice over the chicken in the casserole dish. Bake at 325 F. for 30 minutes or until cooked through.