An easy soup with Italian sausage, potatoes and kale. Simple, but packed with tons of flavor. Similar to the Zuppa Toscana at Olive Garden, except I didn't include bacon because it's great without. Feel free to add it if you want.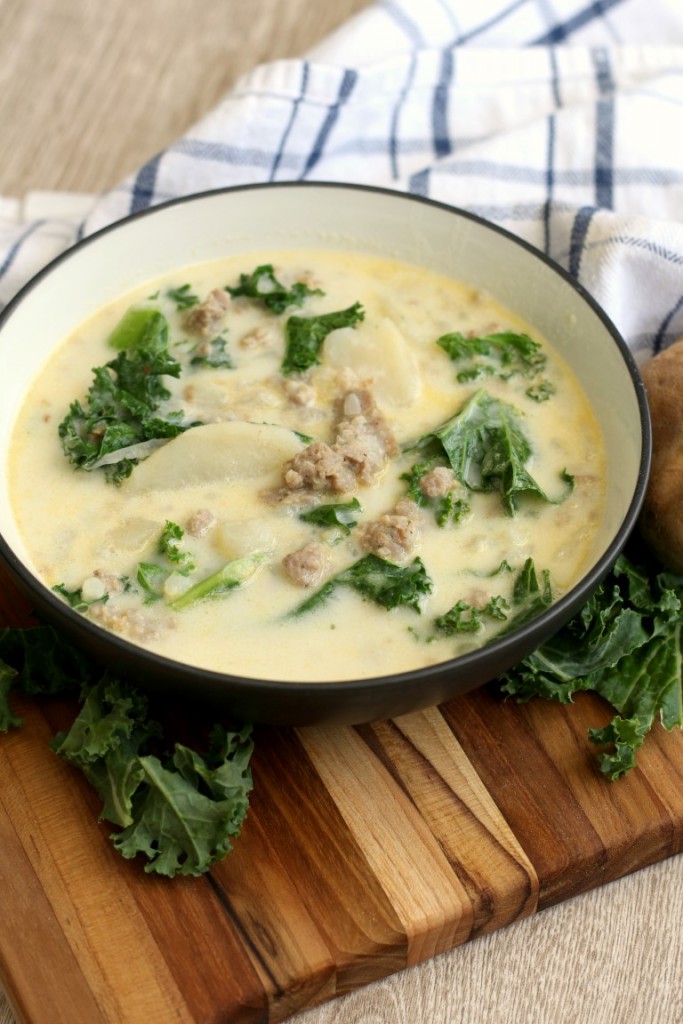 A few weeks ago I shared a recipe for Avocado Salmon Burgers on Instagram. I made them for the kids and I for lunch and decided to share a bit on Instagram stories. (Do you follow me there? If you check out my story highlights, you can still find the recipe, and get lots of other yummy ideas!)
I asked my followers if they would like to see more everyday eating recipes that I feed my family. The answer was a resounding yes. While I do make and we eat everything that I share on this blog, the recipes I have been sharing are more for special occasions. Birthdays, Christmas, potlucks, etc. My followers definitely want to see more of what we eat on a regular basis.  We don't do any special diets around here, but I do try to use limit sugar and include as many fruits and veggies in our diets as I can on a daily basis.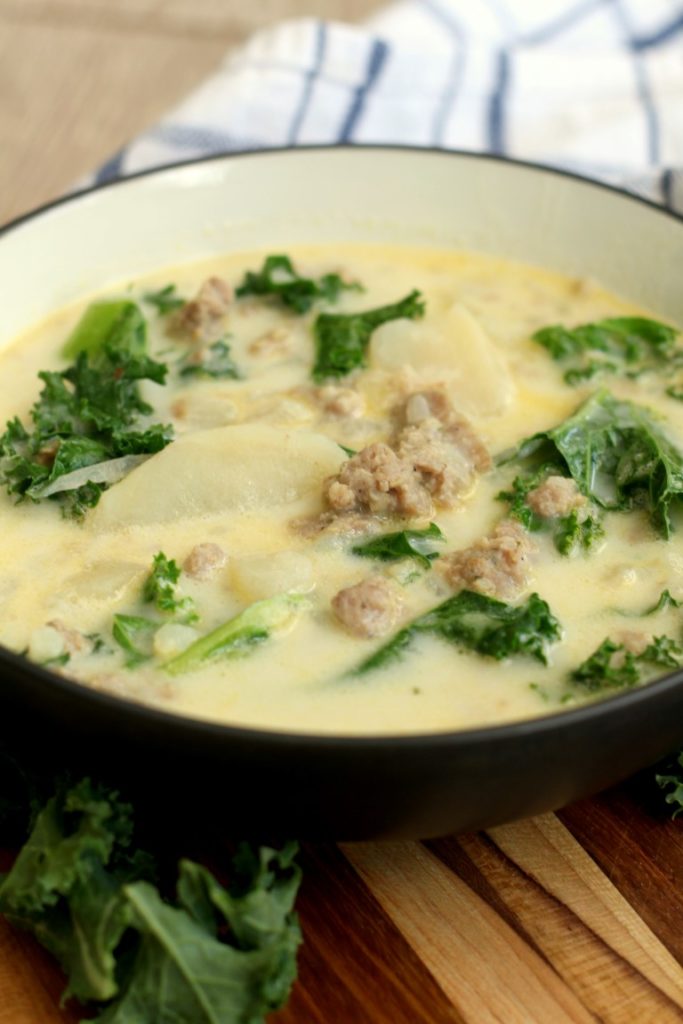 So look forward to seeing more everyday eating recipes posted here. Hopefully, children and life permitting. (Thanks for hanging with me through the quiet periods on my blog.) I do have a few main dishes posted here that we eat regularly and love, Beef Barley Soup and Tomato Bacon Capellini are favorites!
This Zuppa Toscana Soup recipe is the first recipe I'm sharing in my new category, Everyday Eats. I've made this soup occasionally throughout the past years and last week I made it again for the first time this winter and we forgot how much we loved it. The flavors are simple, but it's hearty, filling and flavorful.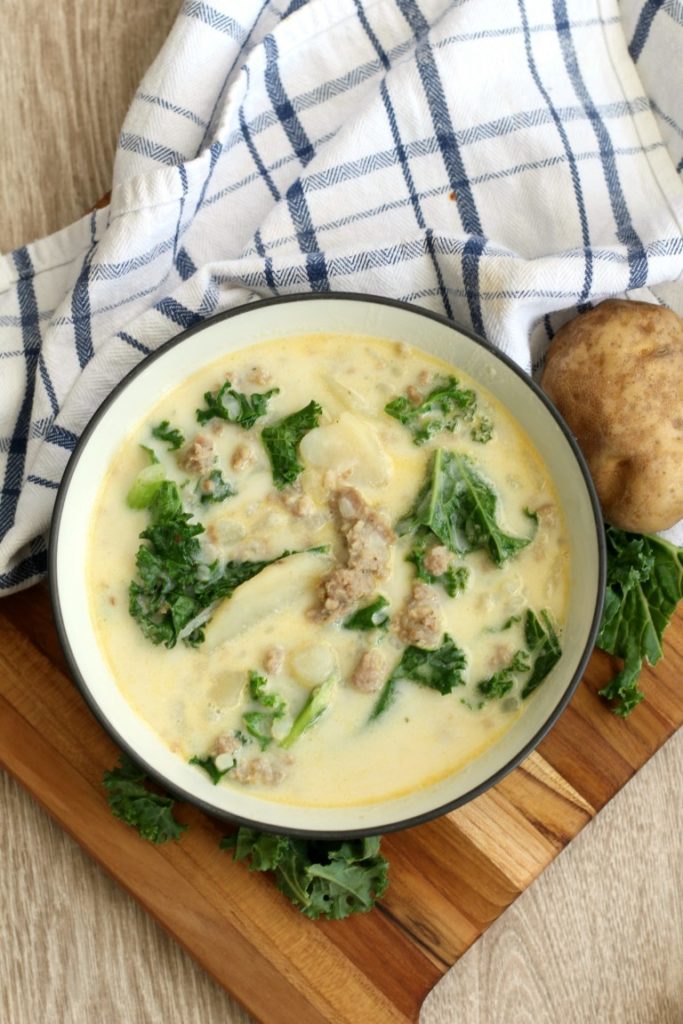 I know I'm posting this recipe in March, when many people consider soup season to be ending, but we love soup all year round and I hope you do to! I love making soup at least once a week, because they are often filling, nutritious and simple, one pot meals. Add bread or a salad and you're set.
Do you eat soup year round? Or just in the winter? Also, let me know your thoughts on seeing more everyday recipes in the comments!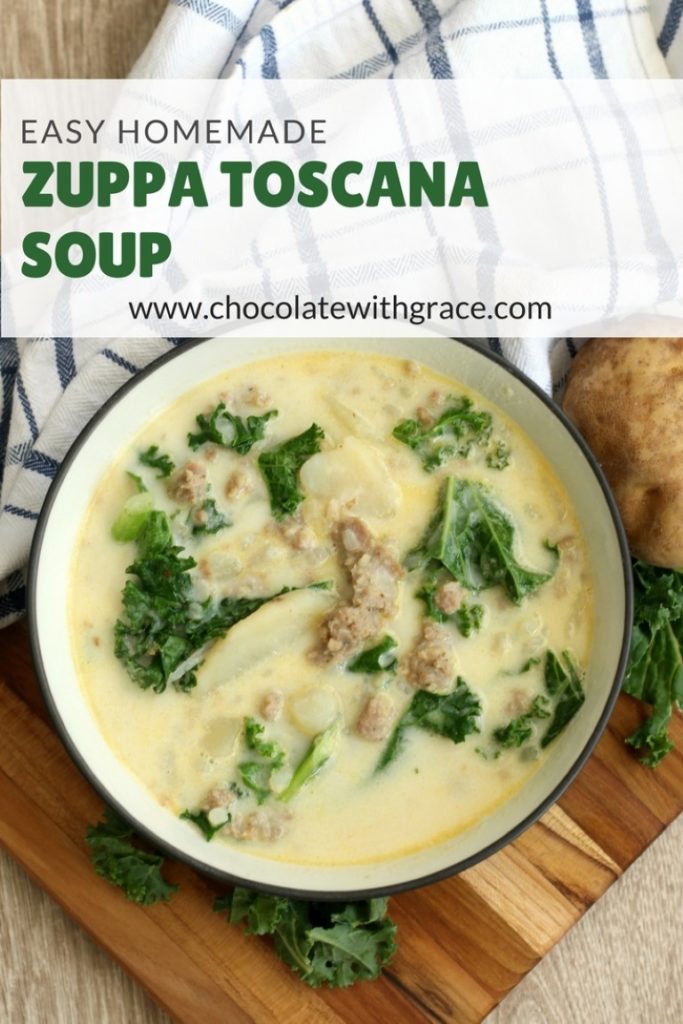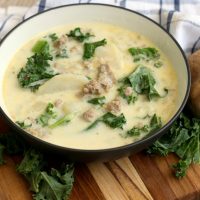 Zuppa Toscana Soup
Yield: 8 servings

Prep Time: 15 minutes

Cook Time: 45 minutes

Total Time: 1 hour

An easy soup with Italian Sausage, potatoes and kale. Simple, but packed with tons of flavor. Similar to the Zuppa Toscana at Olive Garden, except I didn't include bacon because it's great without. Feel free to add it if you want.
Ingredients
1 pound Italian Sausage, we love mild. (I used bulk sausage, but if necessary, just remove the casings)
1 small yellow onion, chopped
2 cloves garlic, minced
6 cups of chicken broth
4-5 medium white potatoes, peeled and thinly sliced
Salt and Pepper to taste
2 cups half and half
2-3 handfuls of chopped kale, adjust amount to your preferences
Parmesan or Romano Cheese, for serving if desired
Instructions
Brown the sausage and onion in a large pot over medium heat. When the sausage is brown and the onions are translucent, add the garlic and saute for several minutes until lightly browned. Add the chicken broth, potatoes and salt and pepper. Bring to a boil cover and simmer 10-15 minutes or until potatoes are barely soft. Add kale and simmer for several more minutes until kale is wilted or tender. I like my kale barely wilted, so I only do a couple minutes. Some people like it a bit more cooked.

Serve immediately with Parmesan or Romano cheese.
Nutrition Information:
Yield: 8 Serving Size: 1 bowl

Amount Per Serving:

Calories: 427 Total Fat: 25g Saturated Fat: 11g Trans Fat: 0g Unsaturated Fat: 16g Cholesterol: 66mg Sodium: 1313mg Carbohydrates: 32g Fiber: 3g Sugar: 6g Protein: 20g

Nutrition information may vary significantly based on ingredients used and portion sizes. We are not responsible the reliability of this data or your reliance on it. We are not responsible for the results of any recipe you try from this blog/website, Chocolatewithgrace.com. Your results may vary due to differences in ingredients, humidity, altitude, cooking temperatures, errors, or individual cooking abilities.


I also want to try this Lasagna Soup from Dessert Now! Dinner Later and this Greek Lemon Chicken Soup from a Spicy Perspective.
Try this Beef Barley Soup, another one of our favorites!