This whipped cocoa buttercream takes 5 ingredients, 10 minutes and frosts 12 cupcakes with a rich, fluffy chocolate frosting.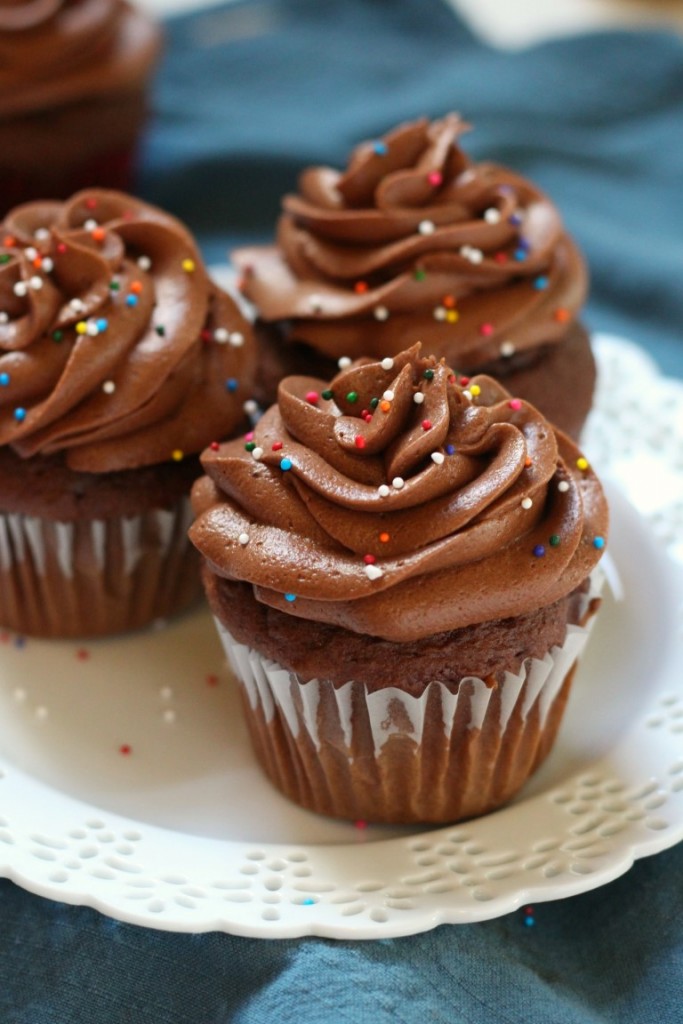 Grocery shopping with two kids under two is sweat inducing. Monday's are usually grocery shopping days for us and typically when I go, I put Cameron in the seat of the cart and Ashtyn either sits in her car seat in the back of the cart or I wear her in my Ergo carrier. Usually it works out and we make our rounds around the store without any major meltdowns or incidents.
Today, we walked into the store and as I was putting Ashtyn in the cart, Cameron spied mini cart with a tall flag proclaiming, "customer in training". He looked so proud, I didn't have the heart to tell him he couldn't use it (but in the back of my head, warning bells were sounding and I was imagining him running off from me in the other direction). I figured since I had less than 15 things to get today that I would try it.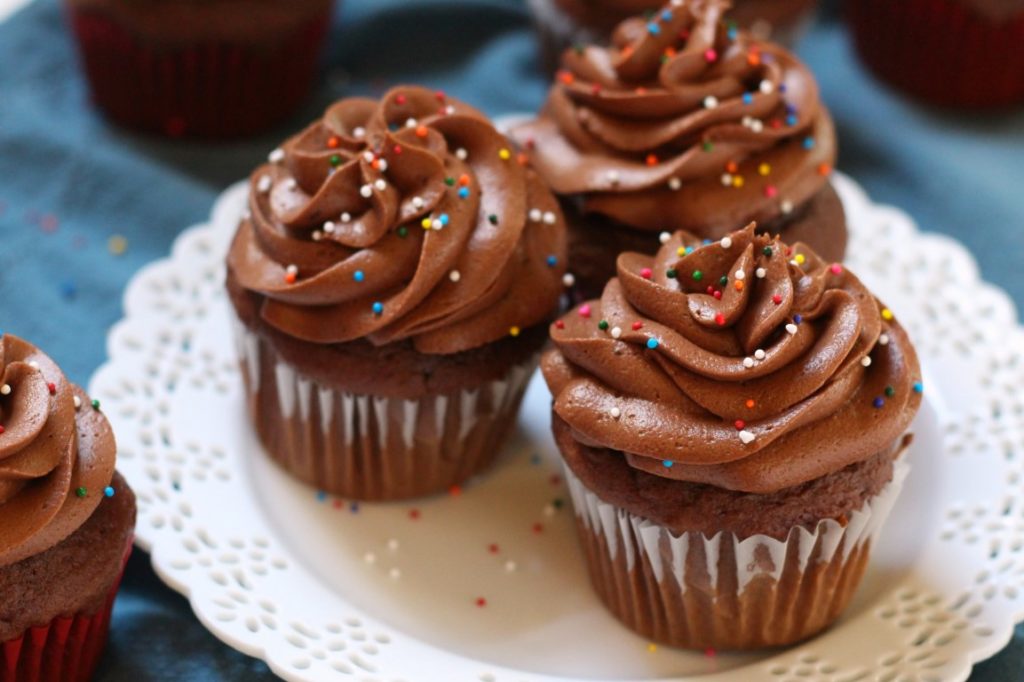 We walked down the produce isle's, Cameron dutifully following behind me with some spinach and mushrooms in his cart. We hit up a few more isle's and all the while he was being super obedient and following proudly behind me.
All was going well until he got distracted and crashed into the shelf full of pickles. And it wasn't a bad crash, he was just walking behind me. I have done worse. But, it would so happen that a jar of pickles high above his head was teetering on the edge of the shelf and shattered on the floor. 🙁
Needless to say it was pretty traumatic for both of us. After walking two aisles over, we managed to find an employee who had to page another employee to clean up the mess and all the while we were enduring the glances from other disapproving shoppers. There were some kind one though too, we were just embarrassed. Anyway, it was a sad way to end what started out such a happy shopping trip with a good little boy. Maybe I was getting too proud of my little boy in the store, but he is definitely not a little angel and I was just thinking we might be getting somewhere on the obedience front.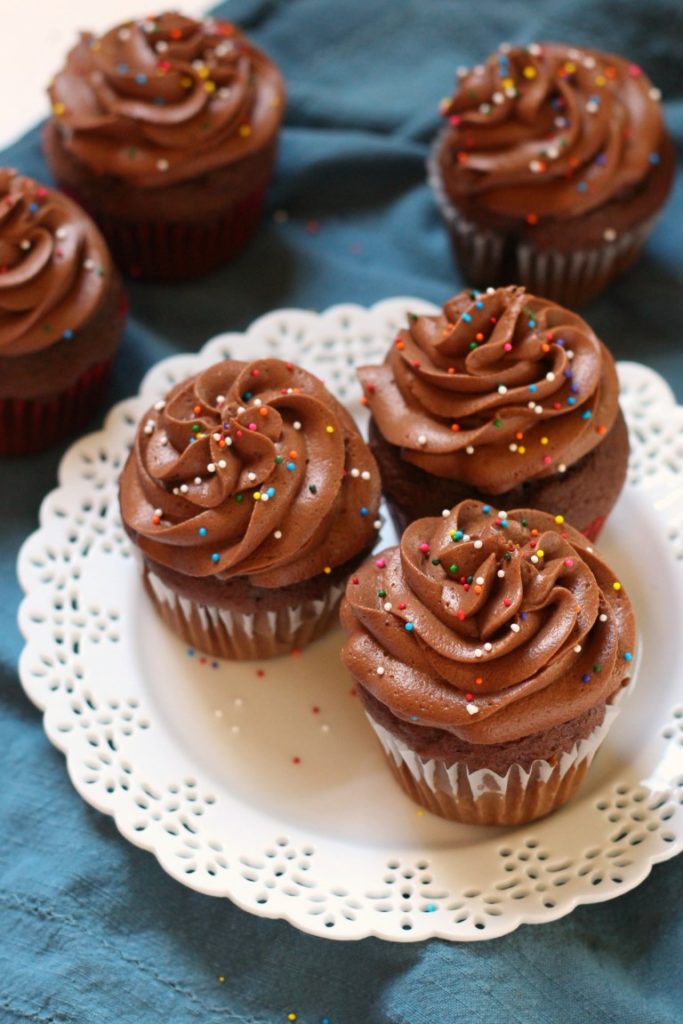 When I got home, I felt like I needed three chocolate cupcakes to recover from the morning's incidents, but alas there were no cupcakes and I had two tired hungry children calling for me. Ahh, the life of a mother, but I wouldn't trade it for anything, regardless of how red my cheeks get.
Sometimes you need a simple homemade frosting recipe to throw on a box mix cake or cupcakes to take them to the next level. This whipped chocolate frosting uses 5 ingredients you already have in your house and will give that cake that rich chocolate, homemade taste.
This frosting would be delicious on basic chocolate or vanilla cake or something a little more fun like pumpkin, strawberry or mint cake. But whatever flavor you choose, I recommend sprinkles. Always sprinkles.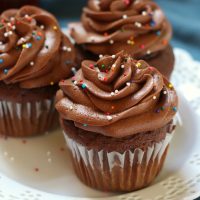 Whipped Cocoa Buttercream
Yield: frosts 12 cupcakes

Prep Time: 10 minutes

Total Time: 10 minutes

This whipped cocoa buttercream takes 5 ingredients, 10 minutes and frosts 12 cupcakes with a rich, fluffy chocolate frosting.
Ingredients
1/2 cup butter, softened
2 cups powdered sugar
1/2 cup cocoa
1 teaspoon vanilla
1-2 tablespoons milk
Instructions
In the bowl of a stand mixer, beat butter on medium speed for a minute or so until light and fluffy. Carefully add the powdered sugar, cocoa, vanilla and 1 tablespoon milk. Stir slowly until combined and then beat on high speed for 2 minutes until fluffy. Add additional milk as needed to create a smooth consistency for frosting.

This recipe will generously frost 1 dozen cupcakes. I


If you're looking for some other fun frosting flavors, try this Peanut Butter Frosting from Eazy Peazy Meals or this Raspberry Buttercream from Two Sister's Crafting.
If you're wanting a completely from scratch cupcake recipe, try these strawberry shortcake cupcakes.