This post is sponsored by Nielsen-Massey Vanillas and includes tracking links. For more information about tracking links and how to opt out, please visit All About Do Not Track prior to clicking any links found in this post.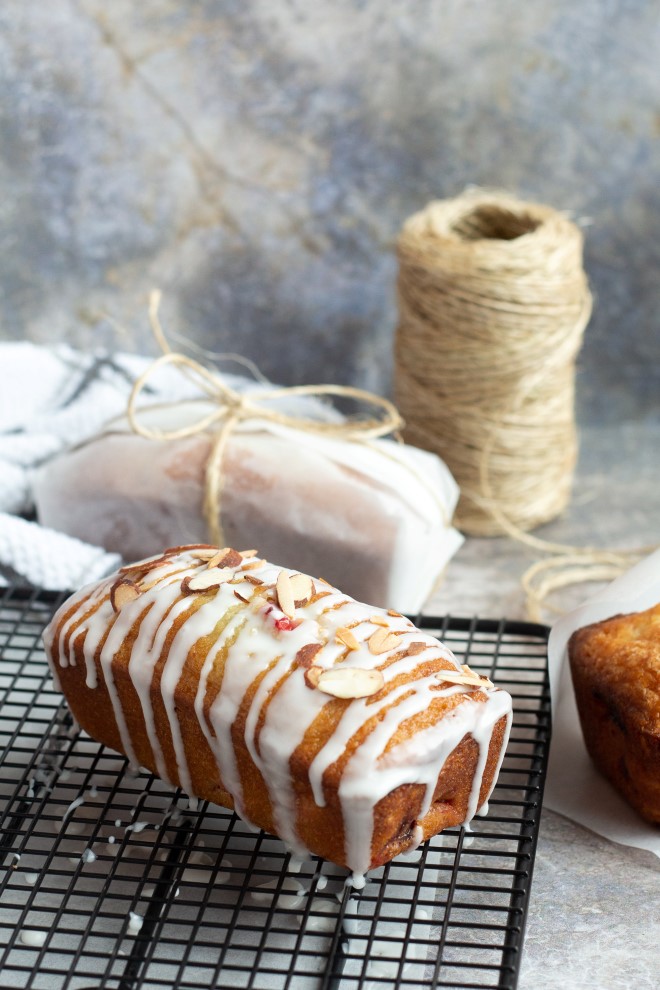 Do you bake more once the weather turns cold and the holidays approach? Once the weather starts to get rainy and in the 40s here in Pennsylvania, I find myself spending a lot more time in the kitchen.
My family lives 8 hours away in Ohio, and before we head out to celebrate the holidays with them, I love working in the kitchen (most likely with my kids on chairs beside me) to bring something delicious for the holiday meal.
I'm definitely not alone in this. According to a new survey released by Nielsen-Massey Vanillas as part of their first-ever Bake to Share campaign, 87% of Millennials and Gen-Xers are more likely to bake during the holidays with 59% of Millennials (more than any other generation) saying they are motivated to bake as a way to spend time with friends and family.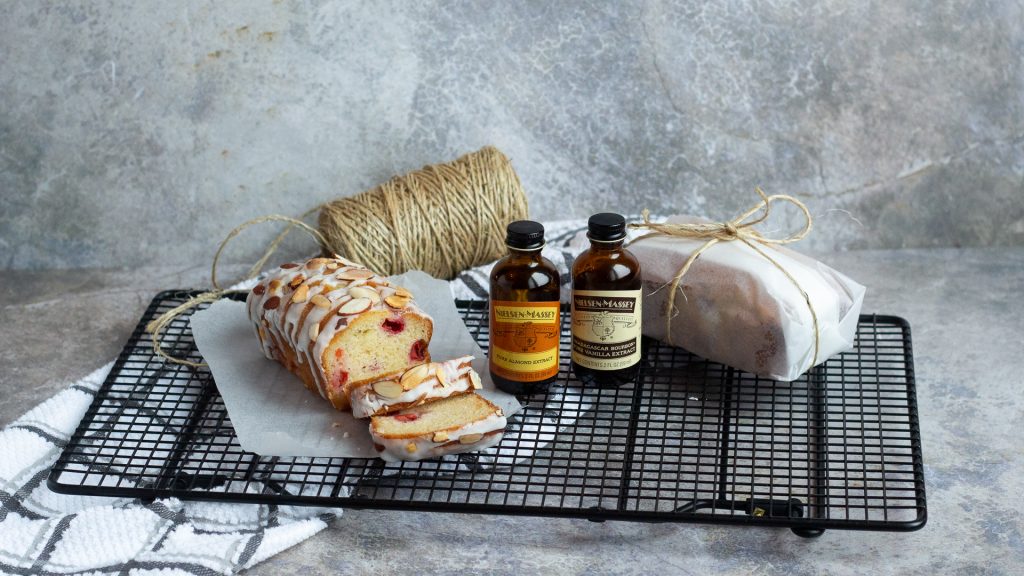 And since you're all here for this delicious cherry almond quick bread, I'm going to assume all of you love baking this time of year as a way to spend time and show love to the people in your life. It doesn't have to be a big occasion either – baking a treat to enjoy while you put up the holiday decorations with your spouse is just as worthy of an occasion.
This recipe makes either one large loaf to bring to a holiday meal or three smaller loaves to give away to your friends, family and neighbors. A double batch would barely take longer than a single one, and with a half hour of work, you could have six little loaves to share.
Ingredients for Cherry Almond Quick Bread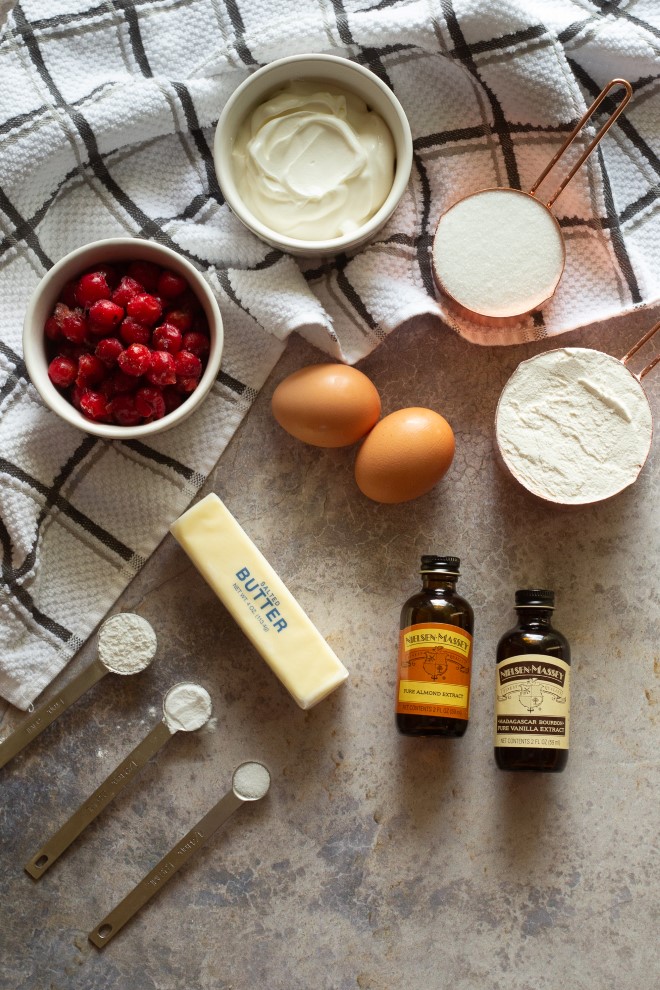 Butter – use softened butter here
Granulated Sugar – we will cream the sugar with the butter until fluffy. This step is key in incorporating air in the batter to help raise the bread
Eggs – make sure they are room temperature so they will incorporate well into the batter and not harden the butter
Nielsen-Massey Madagascar Bourbon Pure Vanilla Extract – vanilla is a key flavor base in almost all baked goods, and a good quality vanilla extract is a must. This vanilla extract is a great all-purpose vanilla and boasts a sweet and creamy flavor with velvety after-tones. The vanilla beans are hand-selected, and the extract is made using a proprietary cold extraction process that preserves more than 300 delicate flavors for the best, richest tasting vanilla.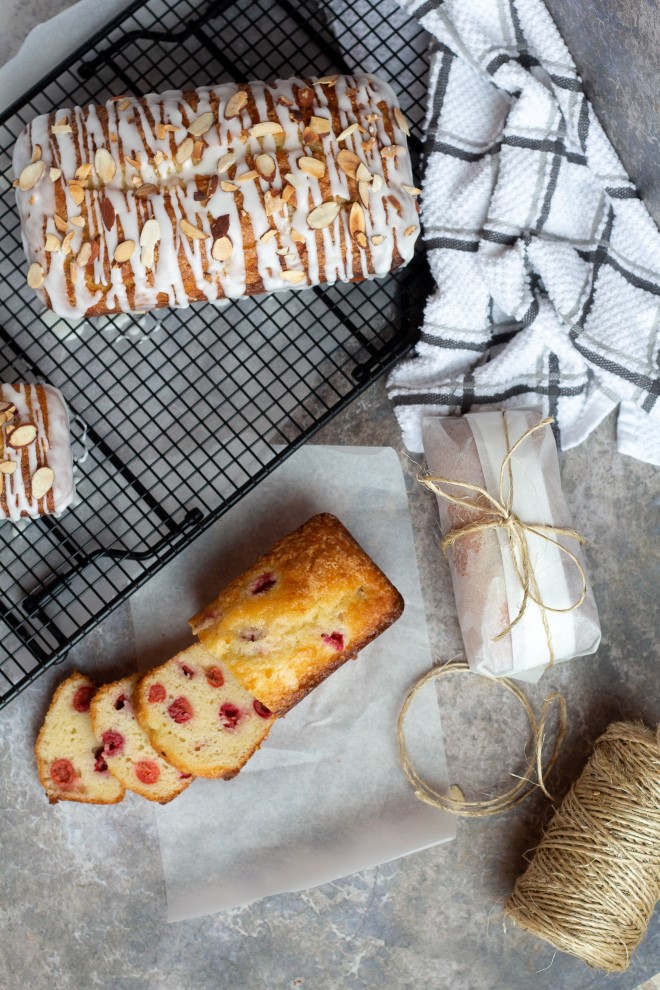 Nielsen-Massey Pure Almond Extract – This gives us the sweet-nutty almond flavor we're going for, especially since we aren't incorporating any almonds in to the batter. It's made with pure oil of the bitter almond for a high-quality almond flavor. My family taste testers mentioned how this almond flavor was "so good" compared to some others they have had. All Nielsen-Massey products are all-natural, allergen-free, certified Kosher and Gluten-Free and Non-GMO project verified.
Flour – use a basic all-purpose flour for a tender loaf. The other key to a tender loaf is to NOT overmix the batter
Baking powder and Baking soda – use both here to get the best rise and a pretty domed top on your bread
Salt – of course, to bring out the flavor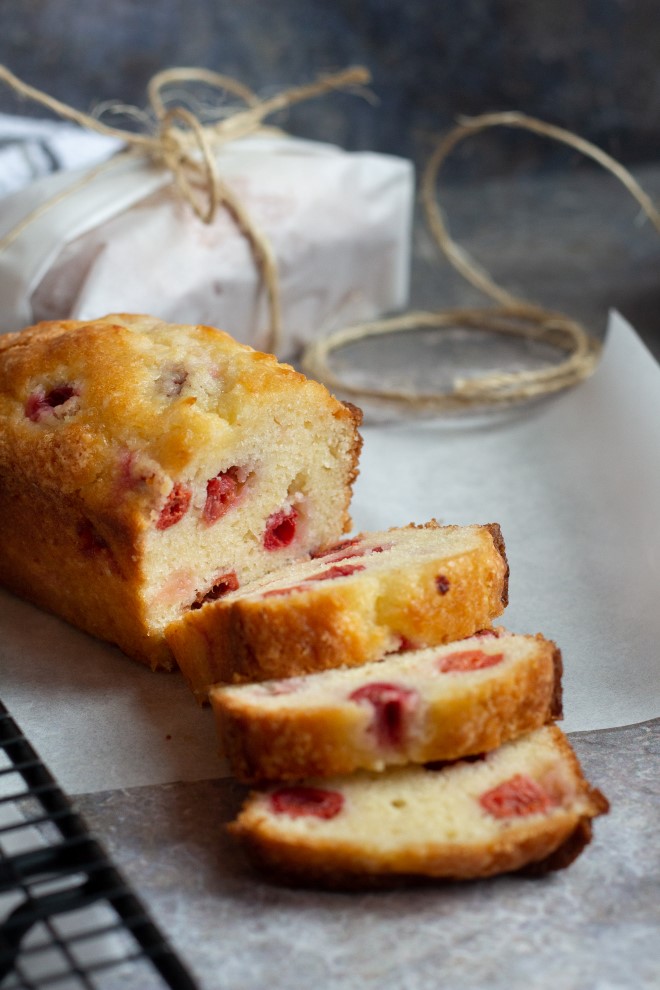 Sour Cream – helps keep a moist, tender crumb. This is a magic ingredient in quick breads
Frozen cherries – I used frozen tart cherries that my mom picked and froze last year (thanks, Mom). Frozen sweet cherries would also work well.
How to Make Cherry Almond Quick Bread
The key step to making a good quick bread: Do NOT over stir! Repeat after me, "Do not over stir the batter." It is better to have a few streaks and lumps of flour. Over stirring develops the gluten in the flour and makes tough bread.
This recipe uses two bowls, one for the wet ingredients and the other for the dry. In a large bowl for the wet ingredients, cream together the butter and sugar, beat in the eggs and extracts and set aside. In the dry ingredient bowl, whisk the flour, salt, baking powder, soda and salt.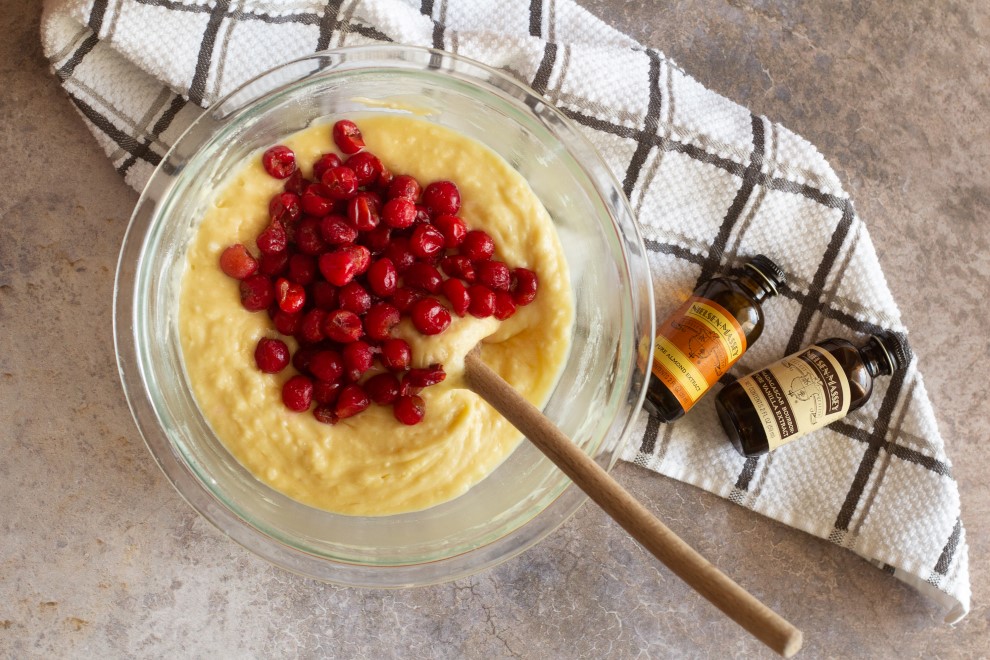 Now add the dry ingredients to the wet alternately with the sour cream and just stir until barely combined. Next, add in the frozen cherries and barely fold them into the batter.
To get a good rise on the loaf we will bake at 375° F for the first third of the baking time and then lower the temperature to 350° F for the remainder to bake the loaf through. This makes a pretty domed top on the loaf.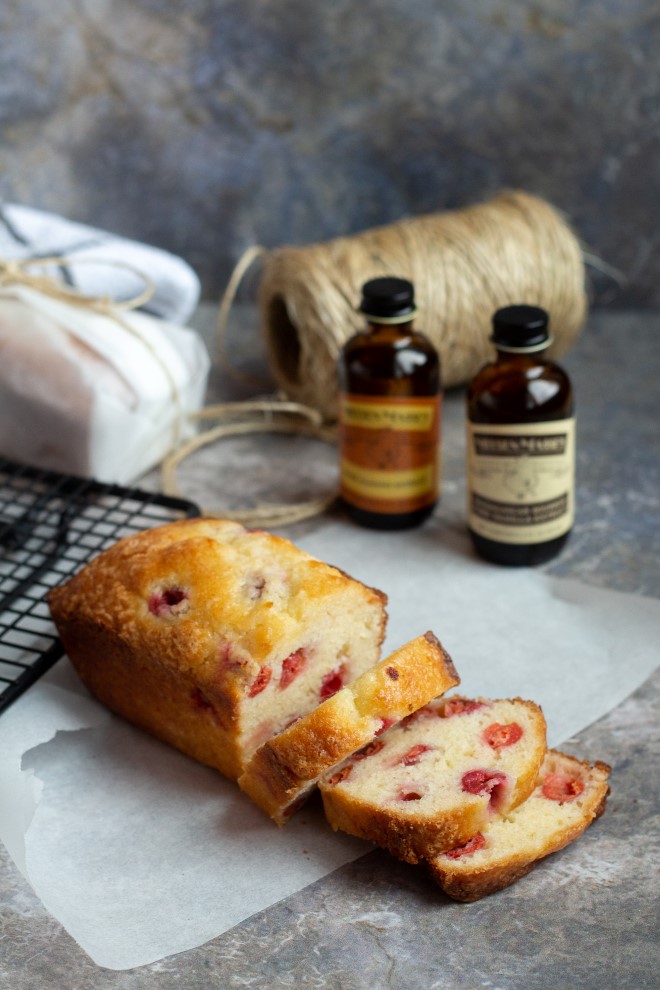 Grab the Nielsen-Massey Holiday Flavors Bundle on Amazon this year
High- quality extracts are key for the best holiday baked goodies. Nielsen-Massey Vanillas released a Holiday Flavors Bundle that includes a bottle of Pure Almond Extract, Madagascar Bourbon Pure Vanilla Extract and Pure Peppermint Extract. With these three popular flavors, you can create just about any holiday themed treat your heart desires. The bundle also makes a great gift for the baker on your shopping list.
You can order it on Amazon and have it to your door in a jiffy. If you order by December 20th, you'll receive it by Christmas Eve. Plus, starting on November 18th, snag a coupon on Amazon for 25% off their 2-oz Holiday Flavors Bundle (limited time offer, one per person.)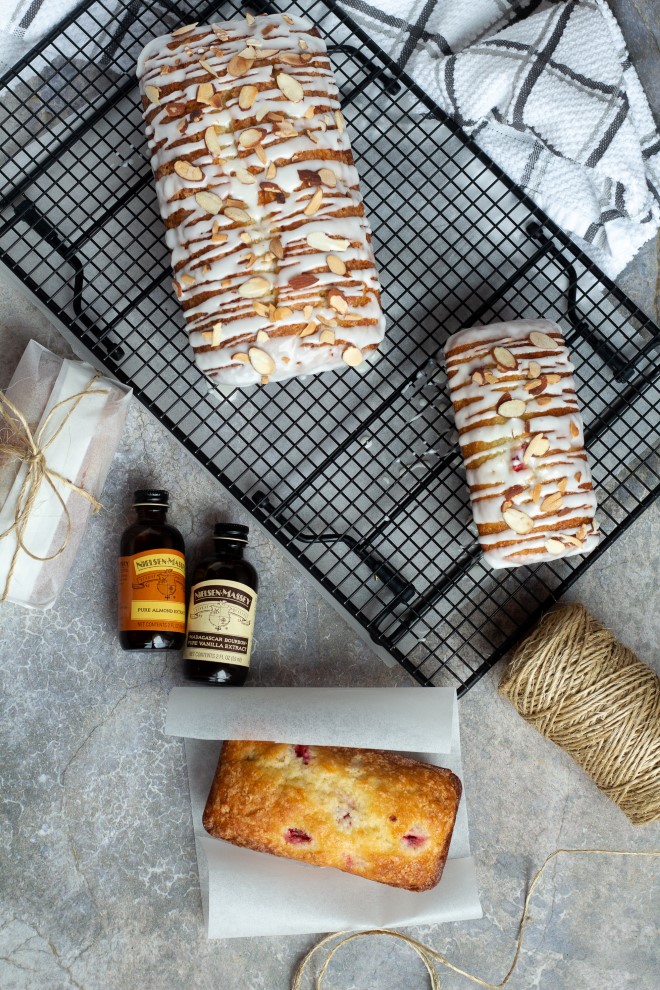 Check out Nielsen-Massey Vanillas' website to learn how they can be your baking ally this holiday season and help you #BaketoShare. for more #BaketoShare recipes this holiday season. You'll not only find great recipes for sharing, but also tips on hosting gatherings and gift giving ideas. This pumpkin chocolate chip quick bread or this vanilla peach nut quick bread would be perfect for baking and sharing with friends and family.
Also, follow them on Facebook, Instagram, Pinterest and Twitter for great baking ideas all season long.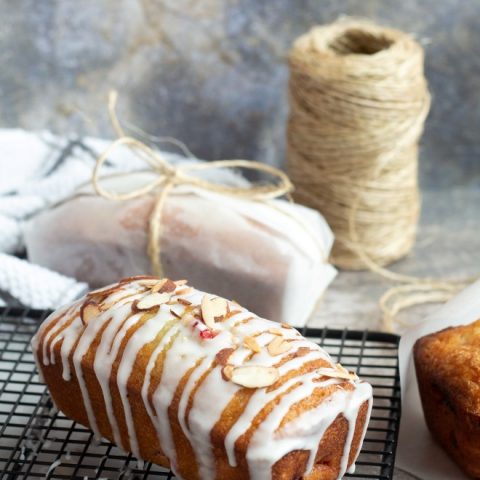 Cherry Almond Quick Bread
Yield:
1 large loaf or 3 mini loaves
Total Time:
2 hours
20 minutes
Soft, moist and full of cherry almond flavor, this sweet quick bread is simple to make, and is a great hostess or neighbor gift.
Ingredients
For the bread
1/3 cup (75 grams) butter, softened
1 cup (200 grams) granulated sugar
2 large eggs, room temperature
1 1/2 cups (180 grams) all purpose flour
1 teaspoon (4 grams) baking powder
1/2 teaspoon (2.5 grams) baking soda
1/2 teaspoon (3 grams) salt
3/4 cup (180 grams) sour cream
1 cup (280 grams) frozen tart cherries
For the glaze
1 cup (120 grams) powdered sugar
2 tablespoons (30 ml) milk
about 1 ounce (28 grams) sliced almonds
Instructions
Preheat oven to 375° F. Grease a 9x5 inch loaf pan or 3 mini loaf pans and set aside. In a large bowl, cream the softened butter and granulated sugar until light and fluffy. Beat in the eggs, vanilla extract and almond extract. Set aside.
In a medium bowl, whisk together the flour, baking powder, baking soda and salt. Add half the dry ingredients to the wet, then the sour cream and finally the last half of the dry. Gently fold together, until mostly incorporated. Add the frozen cherries and fold until just incorporated.
Pour the batter into the prepared loaf pan or mini loaf pans and place in the oven. For a large loaf pan, bake at 375° F for 20 minutes, and then reduce the oven temperature to 350° F. Bake for 30-40 more minutes or until the loaf springs back when lightly touched.
For mini loaves, bake at 375° F for 10 minutes and then reduce oven temperature to 350° F for 20-25 more minutes or until the loaves spring back when lightly touched.
Let cool in the pan 5 minutes before removing to a wire rack to cool completely.
To make the glaze, stir together the powdered sugar, milk and almond extract until smooth. Put the almonds in a dry skillet and toast over medium heat until slightly browned. Let cool. Drizzle the cooled loaves with the glaze and sprinkle on the toasted almond slices.
Let the glaze dry before wrapping tightly. These loaves freeze well tightly wrapped for a couple weeks.
Nutrition Information:
Yield:

12 slices
Serving Size:

1 slice
Amount Per Serving:
Calories:

105
Total Fat:

2g
Saturated Fat:

1g
Trans Fat:

0g
Unsaturated Fat:

1g
Cholesterol:

33mg
Sodium:

14mg
Carbohydrates:

16g
Fiber:

1g
Sugar:

4g
Protein:

3g
Nutrition information may vary significantly based on ingredients used and portion sizes. We are not responsible the reliability of this data or your reliance on it. We are not responsible for the results of any recipe you try from this blog/website, Chocolatewithgrace.com. Your results may vary due to differences in ingredients, humidity, altitude, cooking temperatures, errors, or individual cooking abilities.