One Pot Stuffed Pepper Casserole is a quick weeknight meal the whole family will love. Beef, Rice and Peppers in a flavorful tomato sauce topped with cheese all made in one pot.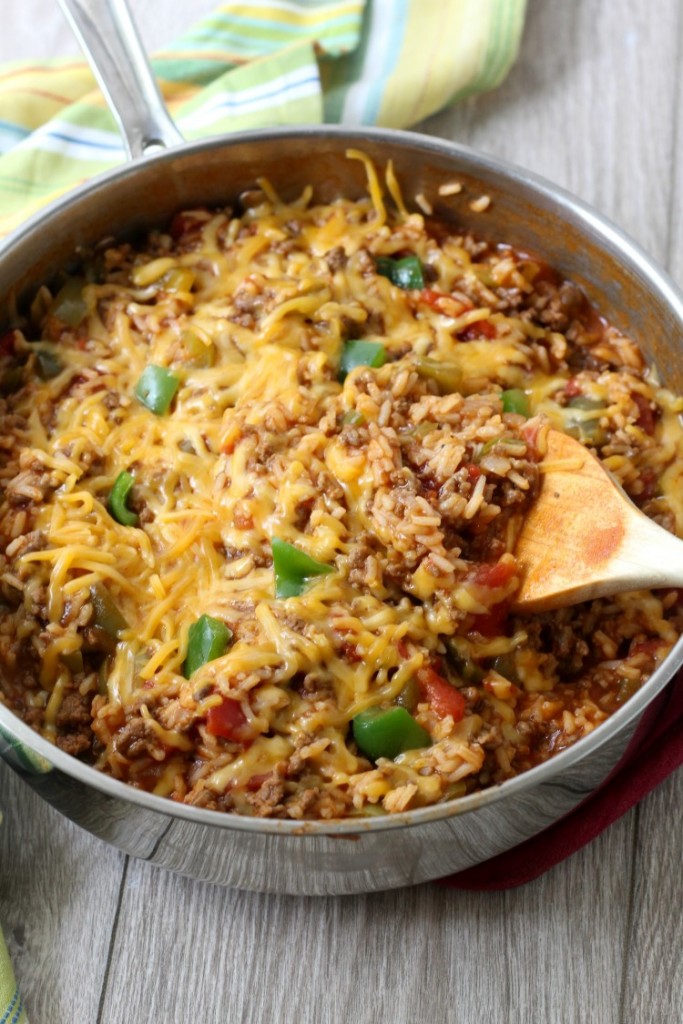 Will your kids eat peppers diced up in casserole? Cameron is starting to get picky about things like that, which makes me a bit sad since he has always been such a good eater. Thankfully he likes the rice and beef enough not to complain too much.
Ashtyn is my strange eater. She refused pancakes or peanut butter toast for breakfast, but devoured this pepper casserole for breakfast the next morning. She loves meat and vegetables and really doesn't care for fruit or bread. Unless it's dessert. She is definitely my child there, but I don't understand the no fruit and carbs things. I love both of those so much.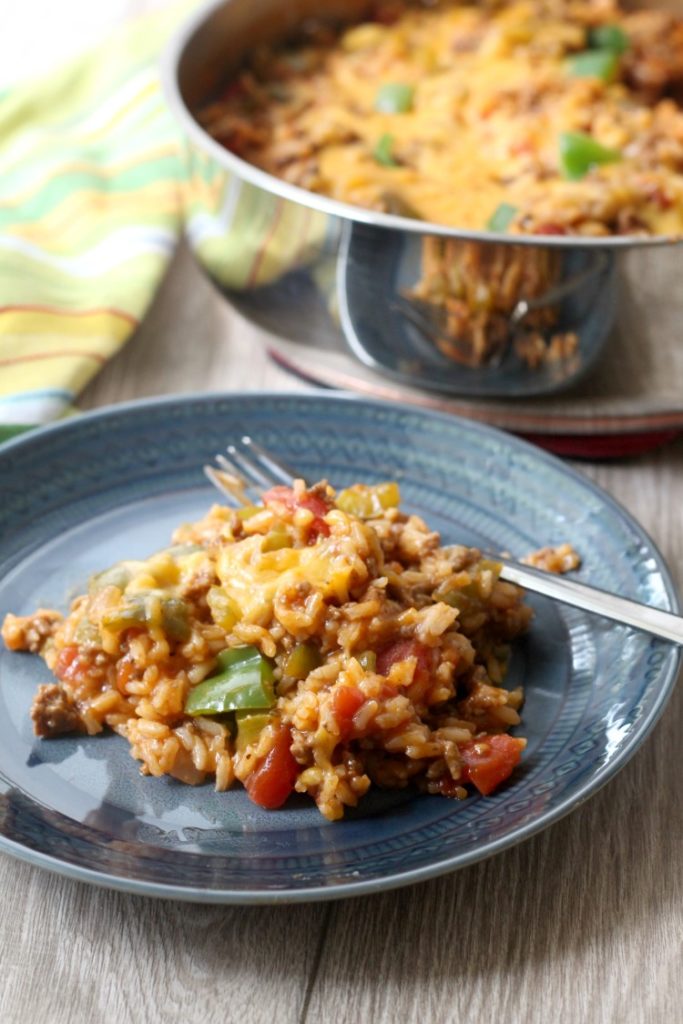 She is also a late at getting her teeth. Her second bottom tooth just came through and she is almost a year old. So obviously she isn't great at chewing. She doesn't see that as a problem though. She gums her meat and vegetables down a bit and swallows them mostly whole. Glad she is finally eating. I was worried for a while when she wouldn't have anything to do with baby food. Turns out she just wanted what we were eating.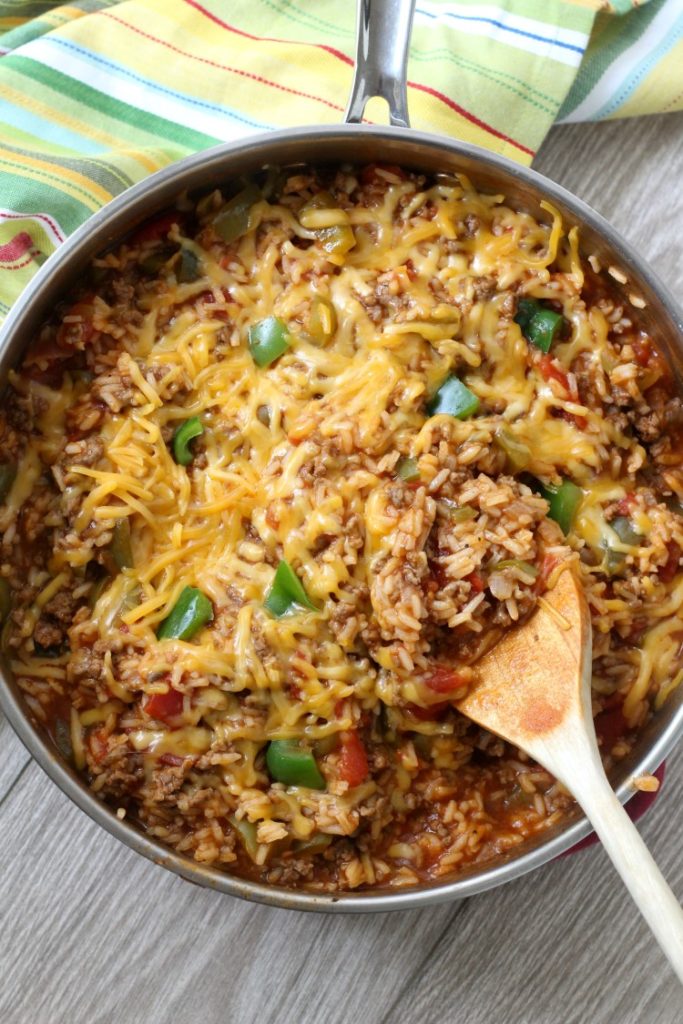 So I said all that to tell you that, yes, everyone in our family loves this stuffed pepper casserole, even the parents who aren't grown up enough to enjoy traditional stuffed peppers. But cut the pepper up in little bites and it's delicious with a lot of flavor.
It's also a recipe that I usually have most of the ingredients on hand so it's an easy one to add to our weekly meal plan. If you want to save the recipe below for later to use on your weekly menu, be sure to use the "Pin it" button to save the image below to Pinterest. Do you follow me on Pinterest? Come join the fun. I pin all sorts of dinner and dessert recipes that look amazing!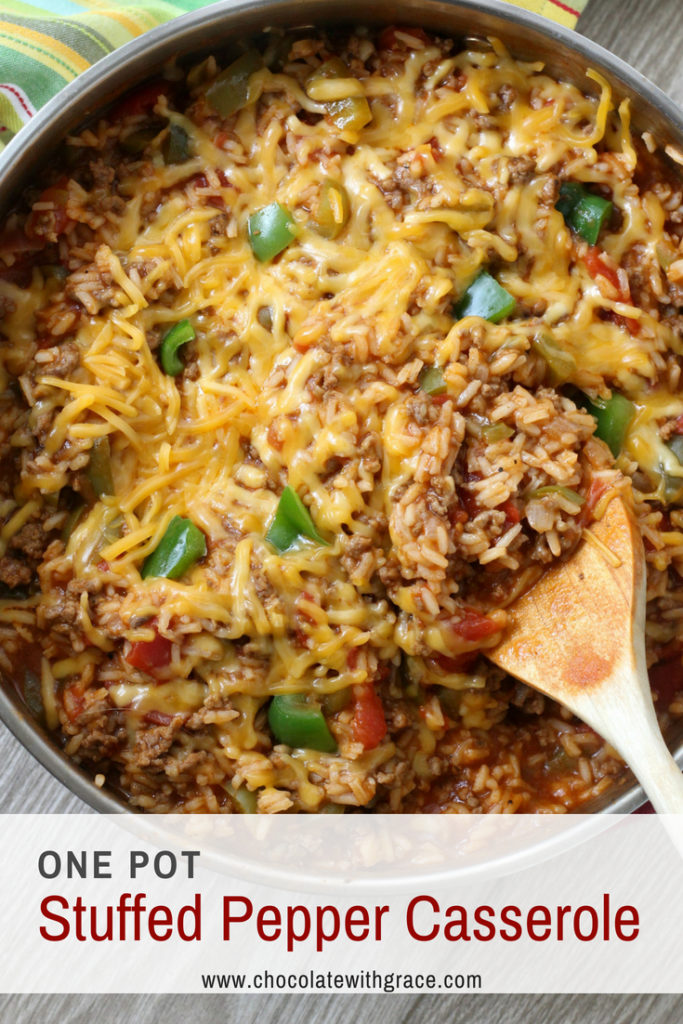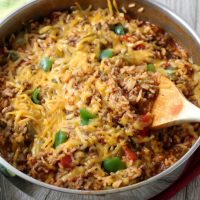 One Pot Stuffed Pepper Casserole
Yield: 6-8 servings

Prep Time: 10 minutes

Cook Time: 40 minutes

Total Time: 50 minutes

One Pot Stuffed Pepper Casserole is a quick weeknight meal the whole family will love. Beef, Rice and Peppers in a flavorful tomato sauce topped with cheese all made in one pot.
Ingredients
1 pound ground beef
1 small onion, diced
3 cloves garlic
1 large green pepper, diced
1/2 teaspoon salt
1/4 teaspoon pepper
1/2 teaspoon oregano
1 can (14.5 oz) diced tomatoes, undrained
2 cups beef broth
1 can (8 oz) tomato sauce
1 tablespoon soy sauce
1 cup uncooked white rice
1 1/2 cups shredded Cheddar cheese
Instructions
In a large pot or deep, straight sided skillet with a tight fitting lid, brown the beef and onion over medium heat. Drain almost all the grease and add bell peppers, salt, pepper, and oregano. Cook just until the peppers start to soften. Add garlic and saute just until brown, about 30 seconds.

Add tomatoes, broth, tomato sauce, and soy sauce. Bring to a boil over medium heat. Add the rice and bring to a boil. Turn heat to low, cover and simmer for 25 minutes or until rice is cooked through and the liquid is absorbed. If there is still a bit more liquid than you'd like. Remove the lid and simmer for several more minutes.

Sprinkle with cheese and cover just until the cheese is melted.
Nutrition Information:
Yield: 8 Serving Size: 1 serving

Amount Per Serving:

Calories: 362 Total Fat: 17g Saturated Fat: 8g Trans Fat: 1g Unsaturated Fat: 7g Cholesterol: 71mg Sodium: 974mg Carbohydrates: 27g Fiber: 2g Sugar: 4g Protein: 24g

Nutrition information may vary significantly based on ingredients used and portion sizes. We are not responsible the reliability of this data or your reliance on it. We are not responsible for the results of any recipe you try from this blog/website, Chocolatewithgrace.com. Your results may vary due to differences in ingredients, humidity, altitude, cooking temperatures, errors, or individual cooking abilities.


Recipe adapted from Betty Crocker
If you're looking for other one pot dinner ideas for busy nights, try some of these.
One Pot Pasta with Tomato and Mascarpone Sauce from Happy Veggie Kitchen
One Pot Vegetarian Spaghetti from Family Food on the Table
One Pot Spinach Artichoke Pasta from My Suburban Kitchen
Here are some of my other favorite weeknight dinners: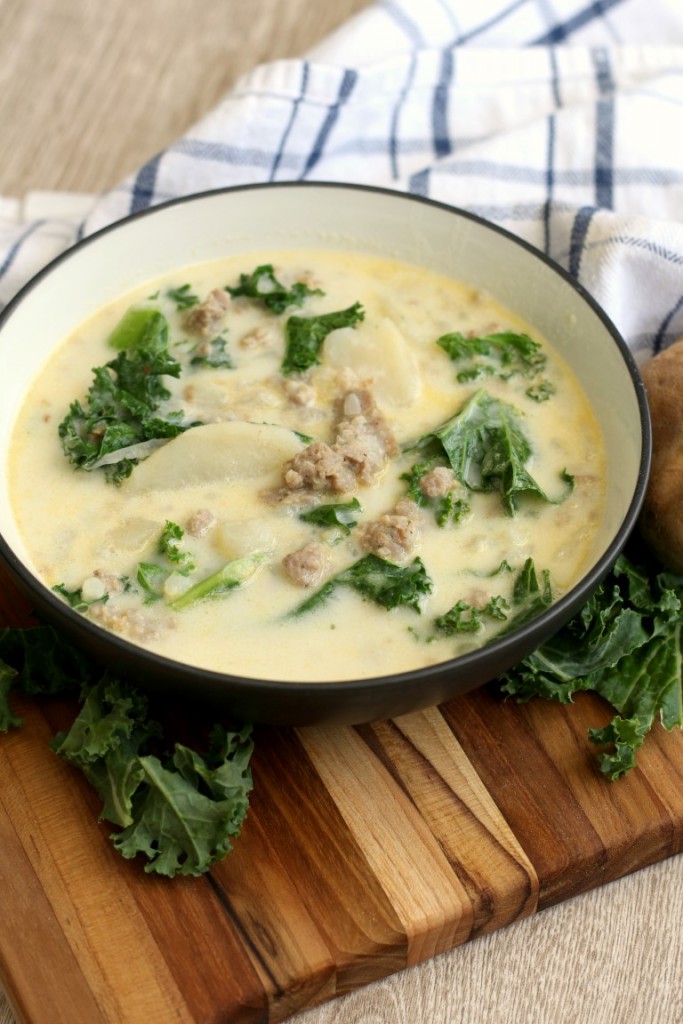 Creamy Italian Sausage and Tortellini