These Sour Cream Cut Out Cookies are super soft and spread with a fluffy buttercream frosting. Similar to Lofthouse style sugar cookies.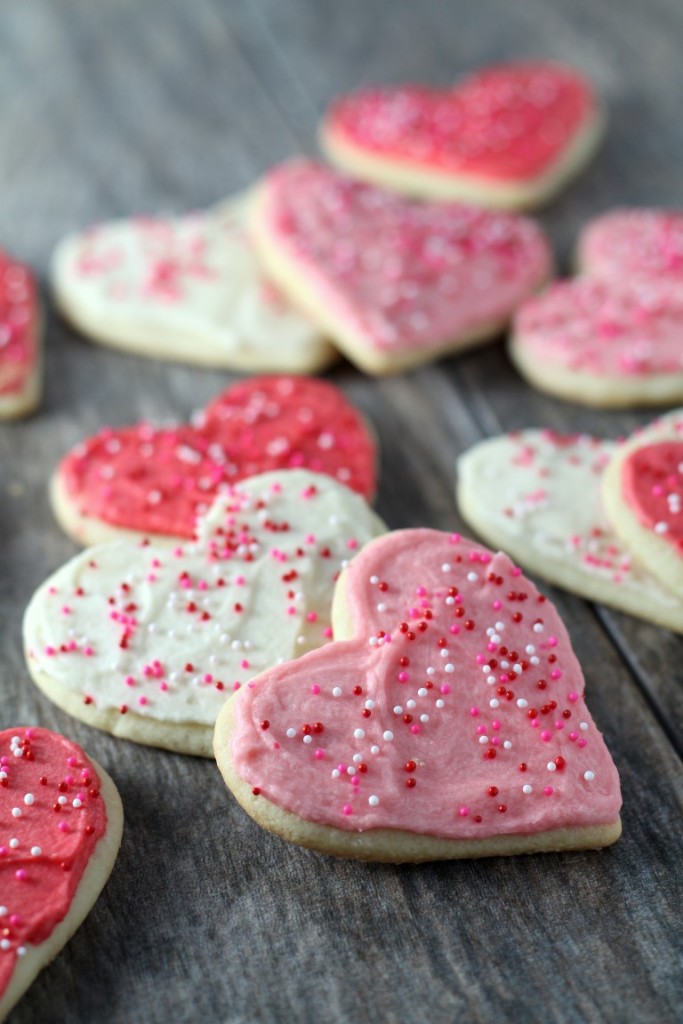 For some reason, I love making cut out cookies for Valentine's day. We've never been a big celebrator of Valentine's day, partly because our anniversary is just a few days later, but I always love to make cookies for the holiday. There something fun about pink sprinkles, and fluffy buttercream on top of heart shaped cookies that makes Valentine's baking so fun.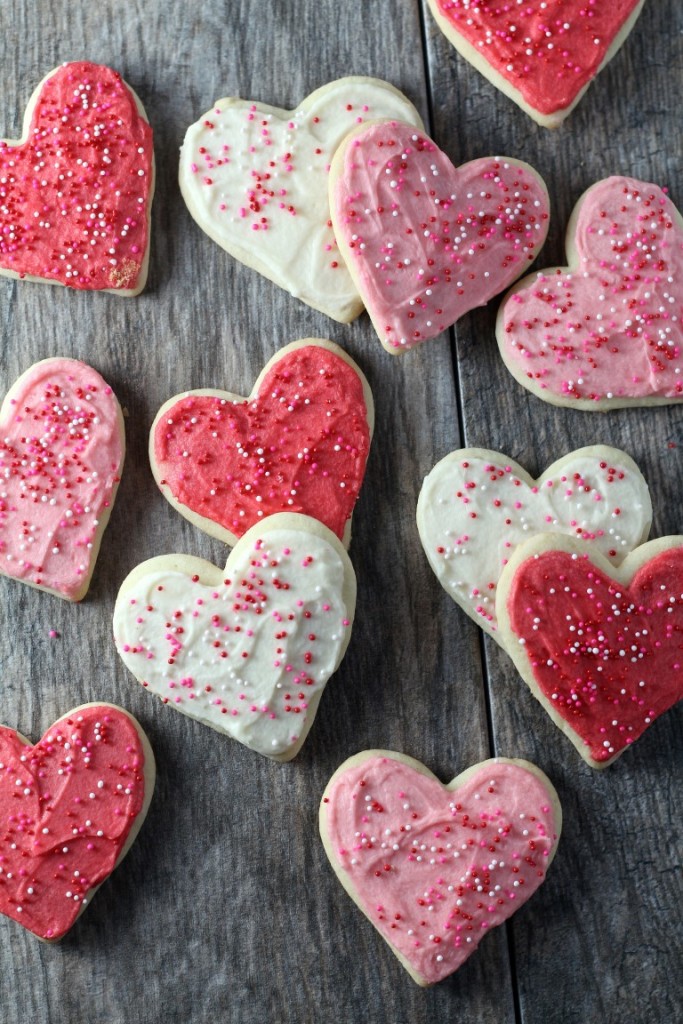 This is my absolute favorite cut out cookie recipe. They're moist and soft and topped with a thick layer of buttercream frosting, rather than a hard glaze. The sour cream in the dough is the secret. It can be a bit tricky to roll out the dough since the sour cream makes it sticky, but if you take the time to chill the dough thoroughly and keep it cold, it isn't a problem.
This is also the perfect cut out recipe for you if you're looking for a soft cut-out cookie recipe, if you love buttercream frosting, and have the time and patience to invest in making them. If you're looking for a quick recipe with easy to handle dough, I would say to find another recipe since the chilling time is critical. Also if you're making intricate snowflake cookies and don't want them to spread I would pick a different recipe. Since they're so soft, they do tend to spread a tad, but they're perfect for simple designs like hearts and Christmas trees as you can see from the pictures.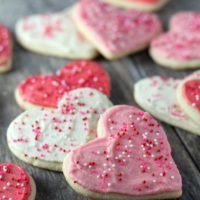 Sour Cream Cut Out Cookies
Yield: about 4 dozen cookies

Prep Time: 40 minutes

Cook Time: 10 minutes

Additional Time: 4 hours

Total Time: 4 hours 50 minutes

These Sour Cream Cut Out Cookies are super soft and spread with a fluffy buttercream frosting. Similar to Lofthouse style sugar cookies.
Ingredients
For the Cookies
1 cup butter, softened
2 cups granulated sugar
2 eggs
1 teaspoon vanilla
5 cups flour
1 teaspoon salt
1 teaspoon baking soda
1 cup sour cream
For the Frosting
1 cup butter, softened
2 cups powdered sugar
1 tablespoon vanilla
2-4 teaspoons heavy cream or milk, room temperature
1 tablespoon vanilla
Instructions
To make the cookies, cream the butter and sugar together until light and fluffy. Beat in eggs and vanilla. In a separate bowl, whisk together the flour, salt and baking soda. Add the dry ingredients to the wet alternating with the sour cream and stir until combined.

Chill the dough for at least 6 hours, overnight is better.

Preheat oven to 325 F. Roll out the dough to about 1/3 inch on a well floured surface a small batch at a time. This is by nature a sticky dough, so you will need to keep everything well floured. Also keep any dough that you are not working with in the fridge.

Bake the cookies for 9 to 11 minutes. Do not over bake them. They should still be pale when the come out of the oven. Let them cool on the cookie sheet for a minute, before removing them to a wire rack to cool.

The cookies freeze well unfrosted, or you may frost them as soon as they are cool.

To make the frosting, beat the the butter for 2 or 3 minutes until fluffy. Beat in the powdered sugar and vanilla and enough of the milk or cream to make a spreadable consistency. Tint the frosting whatever color is desired. Frost the cookies and be sure to use sprinkles!
Nutrition Information:
Yield: 48 Serving Size: 1 cookie

Amount Per Serving:

Calories: 184 Total Fat: 9g Saturated Fat: 6g Trans Fat: 0g Unsaturated Fat: 3g Cholesterol: 32mg Sodium: 139mg Carbohydrates: 23g Fiber: 0g Sugar: 13g Protein: 2g

Nutrition information may vary significantly based on ingredients used and portion sizes. We are not responsible the reliability of this data or your reliance on it. We are not responsible for the results of any recipe you try from this blog/website, Chocolatewithgrace.com. Your results may vary due to differences in ingredients, humidity, altitude, cooking temperatures, errors, or individual cooking abilities.



Here are some other cut out cookies that look fun to make
Rainbow Funfetti Cut Out Cookies from Sweet Sugarbelle
Chocolate Chip Cut Out Cookies from Made to be a Momma
Soft Gingerbread Cookies from Blossom to Stem
Here are some of my other favorite cookie recipes:
Mini Sugar Cookie Fruit Pizzas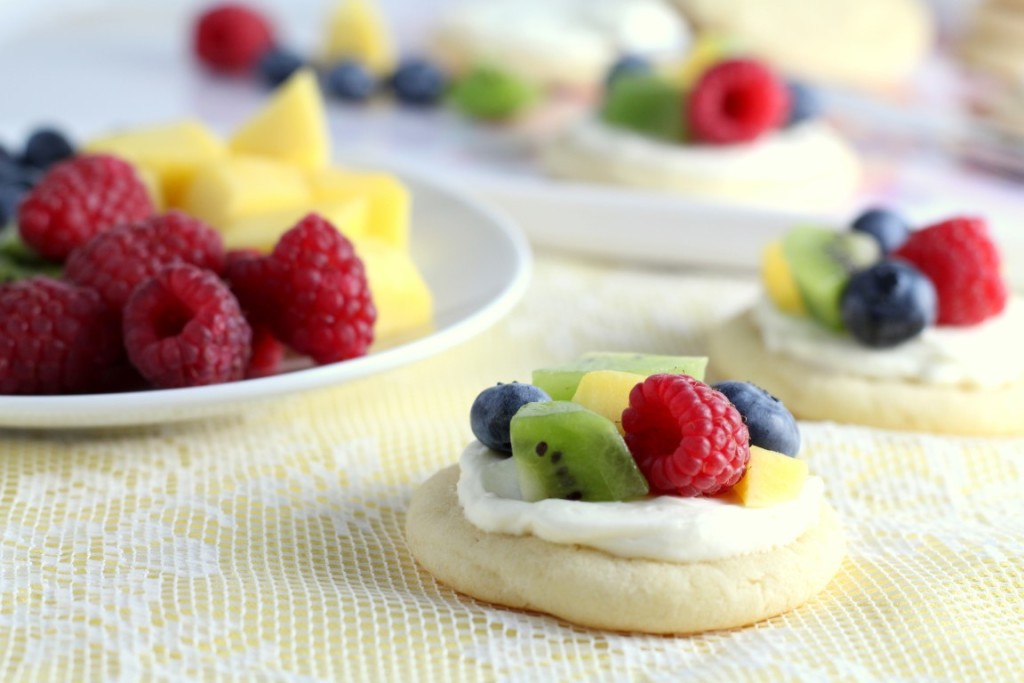 Caramel Stuffed Pretzel Cookies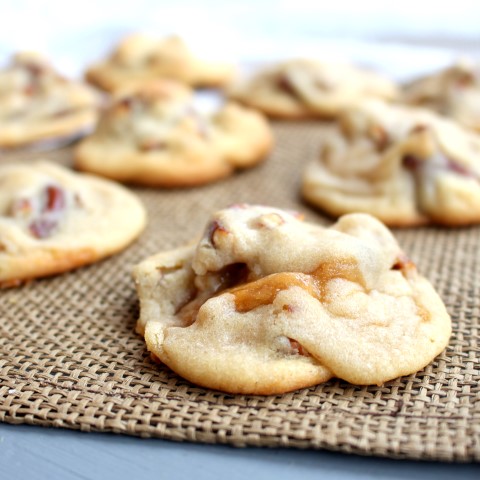 Cranberry White Chocolate Chip Oatmeal Cookies