A fun twist on a classic Thanksgiving dessert, this pumpkin cheesecake pie will be a hit with your friends and family. A graham cracker crust, a smooth pumpkin cheesecake and a dollop of whipped cream make this an amazing fall dessert.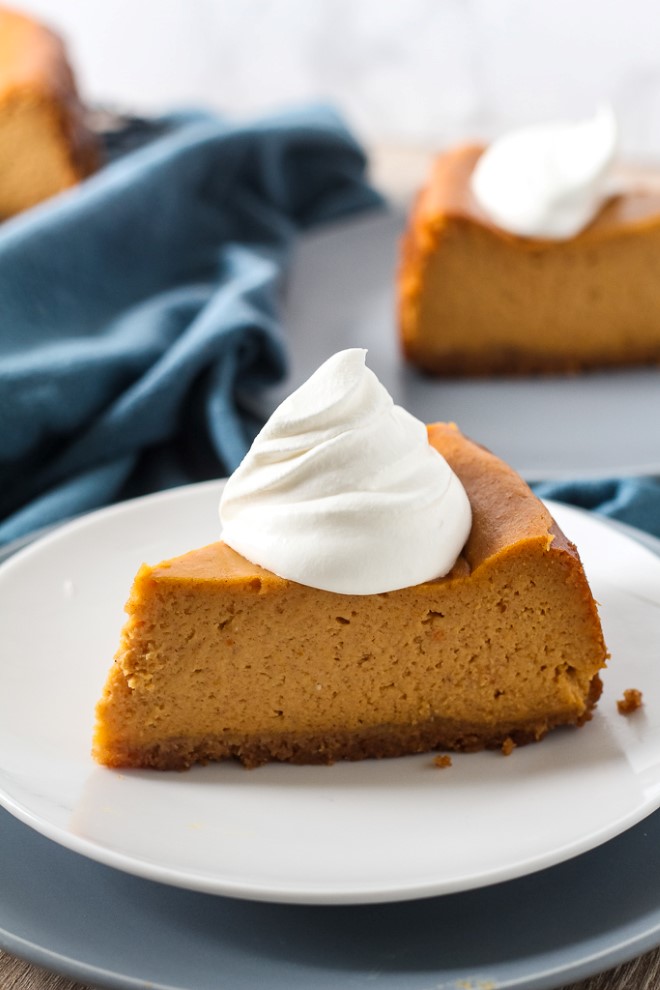 Happy October Friends! While it may look like I'm diving into fall here on the blog with all the pumpkin and apple recipes I've been sharing, my kids and I have been hanging onto summer as long as we can. This week's weather has been beautiful and we have been playing outside, working in the garden and soaking up the sunshine. I'm not looking forward to being stuck inside with them when the weather is bad.
I have been baking a lot again though. Today I made several dozen cinnamon rolls for church on Sunday. I'm excited to share a new recipe for cinnamon rolls with you on Monday.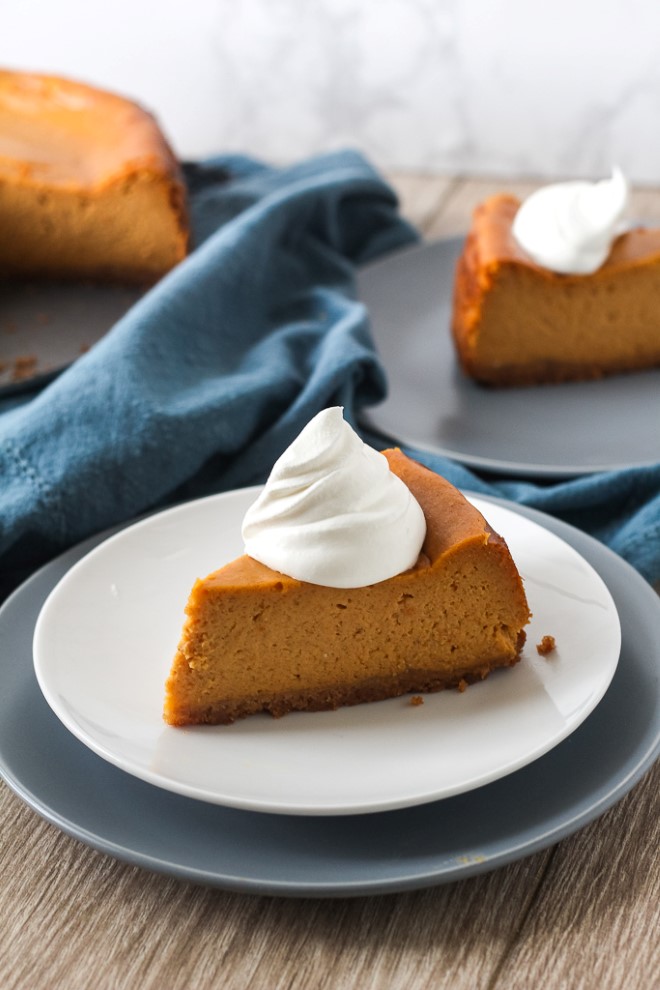 Cheesecake has been one of my favorite desserts for a long time. It's so filling though, it's almost a meal in itself. I already have recipes for peppermint cheesecake, mini blackberry cheesecakes and salted caramel pumpkin cheesecake on the blog. Along with a lot of recipes for no bake cheesecakes and cheesecake bars.
I wanted a cheesecake twist on pumpkin pie because pumpkin pie is sometimes too boring. This is a fun creamy cheesecake twist, best served with a giant dollop of whipped cream. Try it instead of pumpkin pie for Thanksgiving.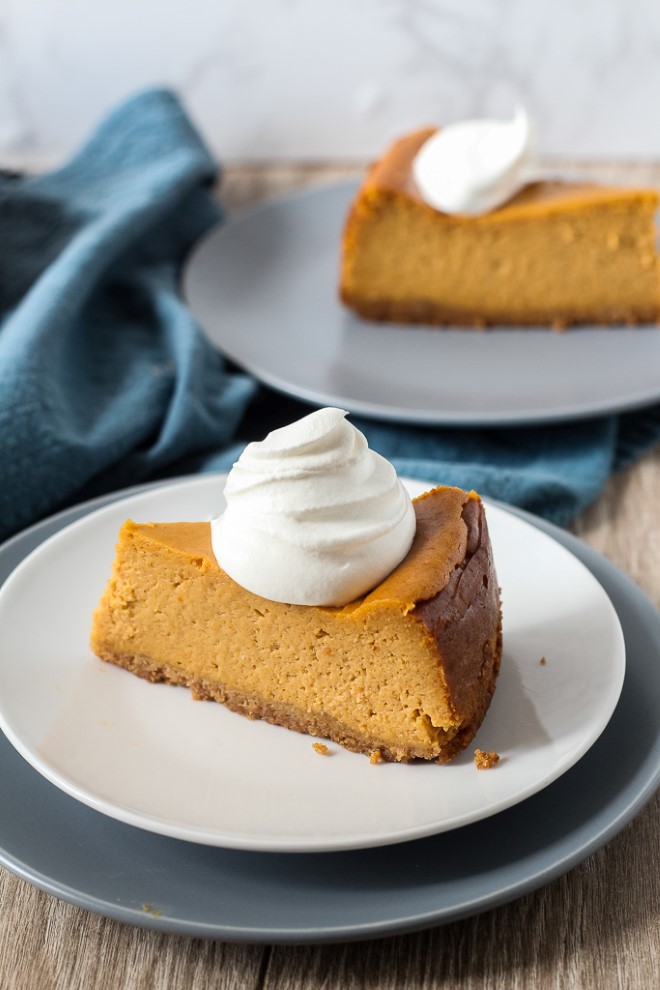 I'm sharing this recipe as a part of the Fall Blog Hop hosted by Joy In Our Home. Each day of the week we are sharing fall inspired decor and recipes. Be sure to check out all the posts below for some awesome home inspiration. I'm excited to try a few fun fall decorations in my house this year.
Next, be sure to head to Making it In the Mountains for another fun fall recipe. Check out the schedule below for all the fun this week.
Mantles on Monday

Joy In Our Home | County Road 407 | Poofing the Pillows |
Follow The Yellow Brick Home | citygirlmeetsfarmboy
Tablescapes on Tuesday
The Latina Next Door

| My Creative Days | Elizabeth Joan Designs |
The Crowned Goat | Farmhouse Flare Designs
Recipes on WednesdayCherished Bliss

| Countryside Cravings | Love In My Oven |
Chocolate with Grace | Making It In The Mountains
Vignettes on Thursday anderson + grant
| DIY Beautify | Timeless Creations |
The Painted Hinge | Rain & Pine
Front Porches on FridayLantern Lane Designs

| Little Brags | Chatfield Court
Camelot Art Creations | R and R at Home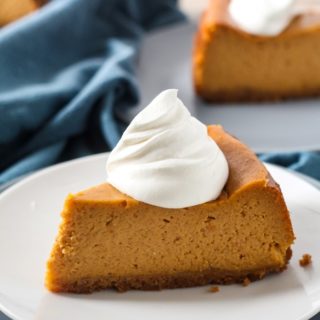 Pumpkin Pie Cheesecake
Ingredients
For the Crust
1 and 1/2 cups graham cracker crumbs
2 T granulated sugar
1/3 cup butter, melted
For the Cheesecake
3 (8 ounce) packages of cream cheese, softened
1 and 1/2 cups brown sugar, packed
1 and 1/2 cups pumpkin
1 tsp cinnamon
1/2 tsp nutmeg
1/8 tsp ginger
4 eggs, room temperature
Whipped Cream, for serving
Instructions
Preheat oven to 350 F. Mix the graham cracker crumbs and sugar together. Pour melted butter over the crumbs and stir until moistened. Press the mixture in the bottom of a 9 inch springform pan. Bake for 8-9 minutes.
Reduce oven temperature to 325 F. In a large bowl, beat together the cream cheese and brown sugar until smooth. Stir in the pumpkin, flour, cinnamon, nutmeg and ginger. Break the eggs into a small bowl and lightly beat with a fork. Add the eggs to the cream cheese mixture and stir just until well combined. Don't over beat the mixture, or the cheesecake may crack. Pour on top of the graham cracker crust.
Bake at 325 F for 45-60 minutes or until the cheesecake is no longer shiny and jiggly. At the end of the hourr, turn off the oven and leave the oven door shut for another hour and a half before opening the oven door. The long cooling period, will help minimize cracks. Remove the cheesecake from the oven and let cool completely. Serve with Whipped Cream.
Try my layered pumpkin cheesecake bars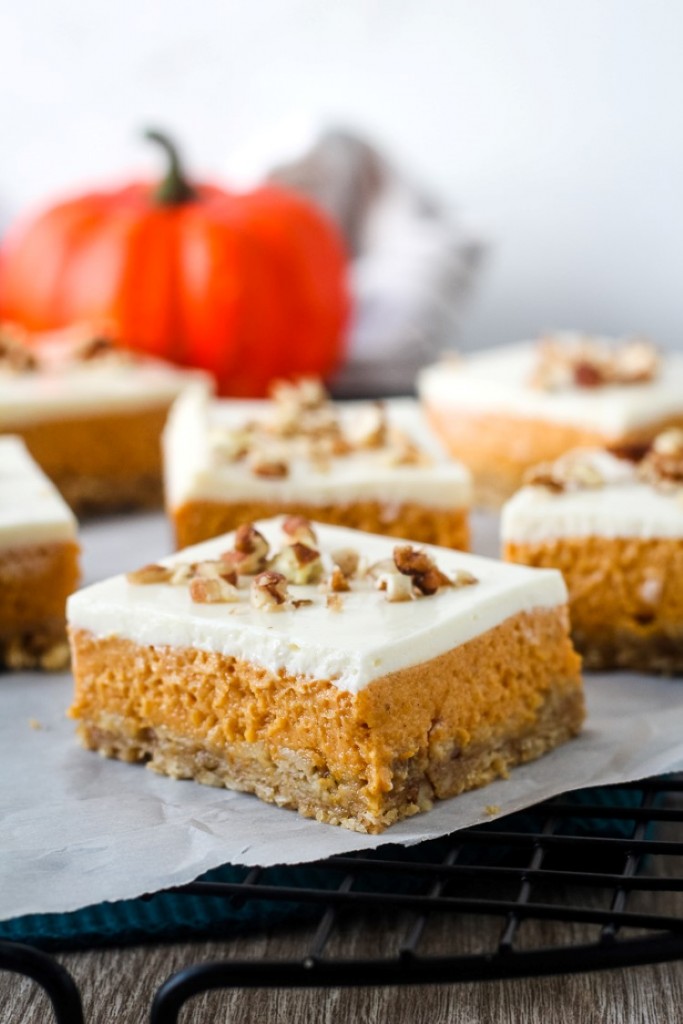 Pumpkin Cheesecake Swirled Brownies