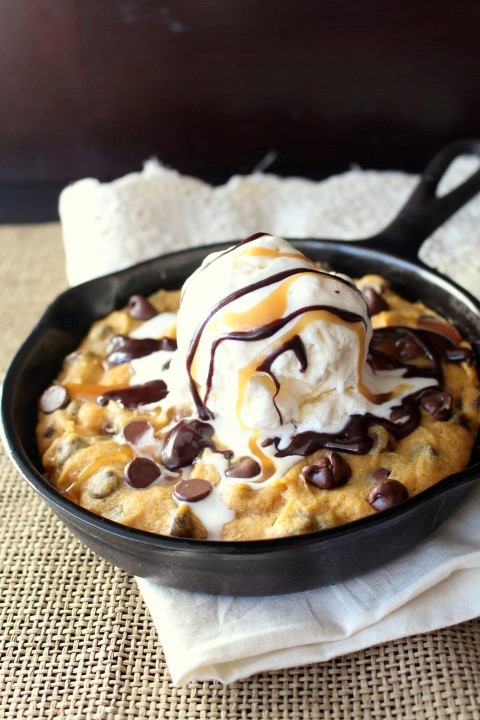 As everyone else in the blogging world sets aside pumpkin for next year and brings on the peppermint and gingerbread, I'm on a roll here sharing my most exciting pumpkin recipes of the season. I know I'm not supposed to compare myself to other bloggers, but how else am I gonna learn the trends. I'll admit though, the way the blogging world flies through the seasons takes my breath away.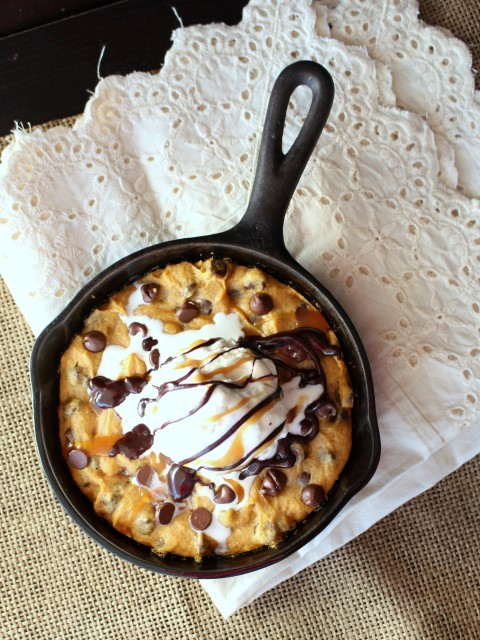 So, I've decided that my last remaining pumpkin recipes will come this week, and starting soon I will be happily posting peppermint and gingerbread recipes too! (I already have way too many Christmas ideas swirling around my to get them all made and posted.)
Anyway, this pumpkin chocolate chip skillet cookie is the ultimate cold-and-windy-day treat. Plus, it's the perfect size for just one person. I made it when Tyler wasn't home so I could have it all to myself. It was a fun Saturday morning breakfast. I don't think you're supposed to eat giant cookies with ice cream for breakfast, but there wasn't one pang of guilt to be felt.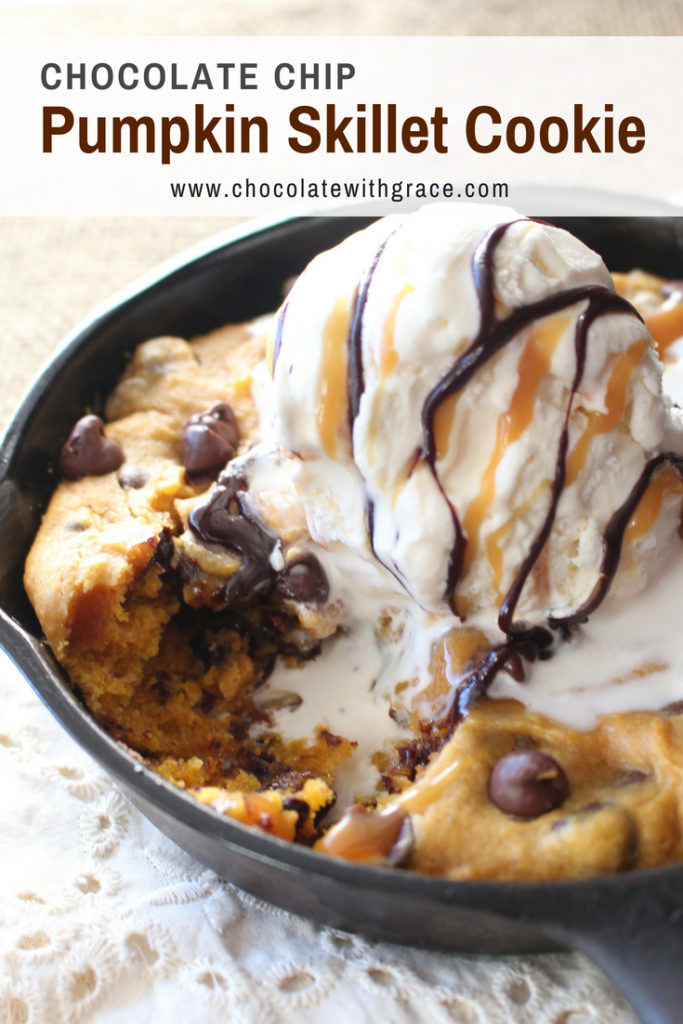 It almost didn't survive the photo shoot, but thankfully, subjects that are warm with drippy ice cream have to be photographed at high speed. And isn't my mini cast iron skillet just adorable?!?! I'm already brainstorming my next flavor of skillet cookie to make in it.
This recipe makes enough for a mini skillet cookie, which is just enough for one person to enjoy for a meal. If you have a larger skillet, or want to serve more people, double or triple the recipe and adjust the baking time accordingly.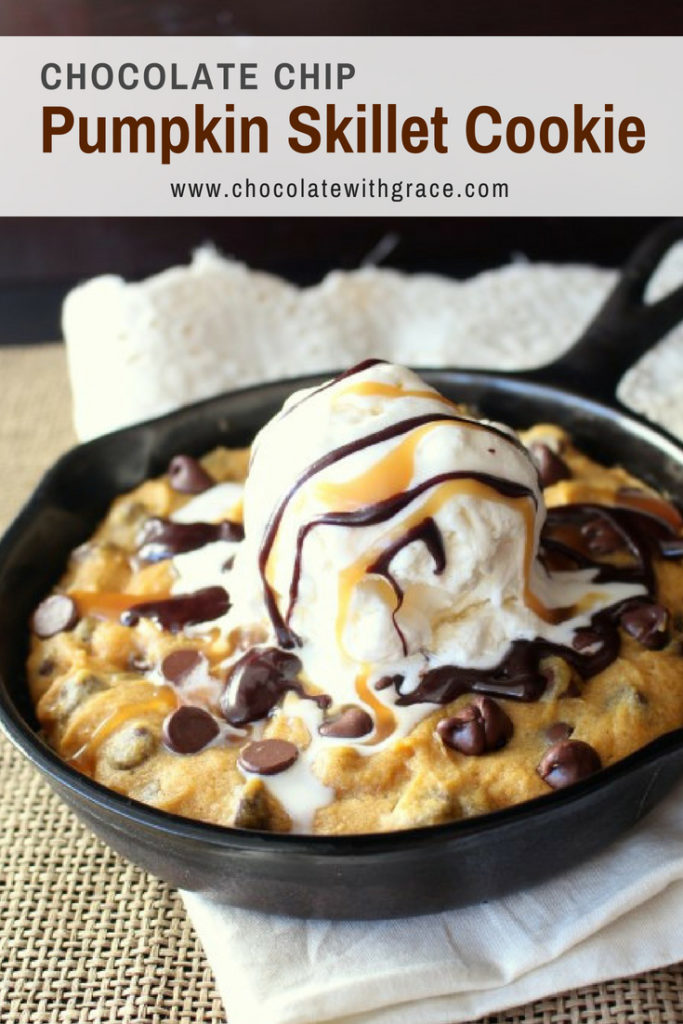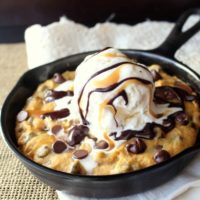 Pumpkin Chocolate Chip Skillet Cookie
A warm, gooey pumpkin chocolate chip cookie for served with vanilla ice cream, hot fudge and caramel sauce.
Ingredients
3 tablespoons butter
4 tablespoons white sugar
3 tablespoons brown sugar
1 egg yolk
1/8 tsp vanilla
6 tablespoons pumpkin
3/4 cup plus 1 tablespoon all purpose flour
1/4 tsp baking soda
1/8 tsp salt
1/4 tsp cinnamon
2/3 cup chocolate chips
Instructions
Preheat oven to 350 F. Melt the butter and stir in the white sugar, brown sugar, egg yolk and vanilla. Stir together the flour, baking soda, salt and cinnamon. Add the dry ingredients to the wet and stir until combined. Stir in chocolate chips.
Spread the dough into a greased 6 inch cast iron skillet. Bake for 16-18 minutes, just until edges are done. The middle will be underdone. Serve warm with vanilla ice cream, hot fudge and caramel sauce.
Nutrition Information:
Yield:

1
Serving Size:

1 pan
Amount Per Serving:
Calories:

1291
Total Fat:

74g
Saturated Fat:

44g
Trans Fat:

1g
Unsaturated Fat:

26g
Cholesterol:

276mg
Sodium:

899mg
Carbohydrates:

169g
Fiber:

8g
Sugar:

148g
Protein:

10g
Nutrition information may vary significantly based on ingredients used and portion sizes. We are not responsible the reliability of this data or your reliance on it. We are not responsible for the results of any recipe you try from this blog/website, Chocolatewithgrace.com. Your results may vary due to differences in ingredients, humidity, altitude, cooking temperatures, errors, or individual cooking abilities.
 Try these other delicious cookie recipes too!
Chocolate Sandwich Cookies with Pumpkin Spice Buttercream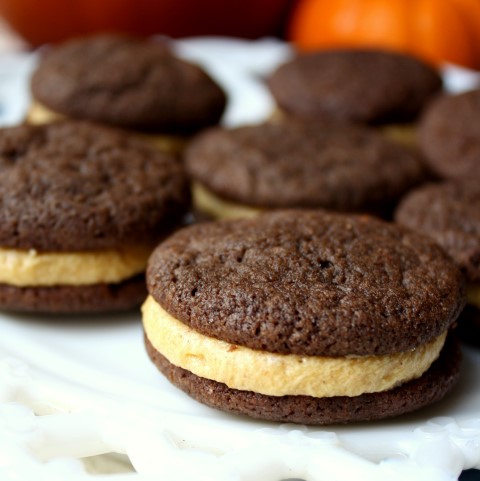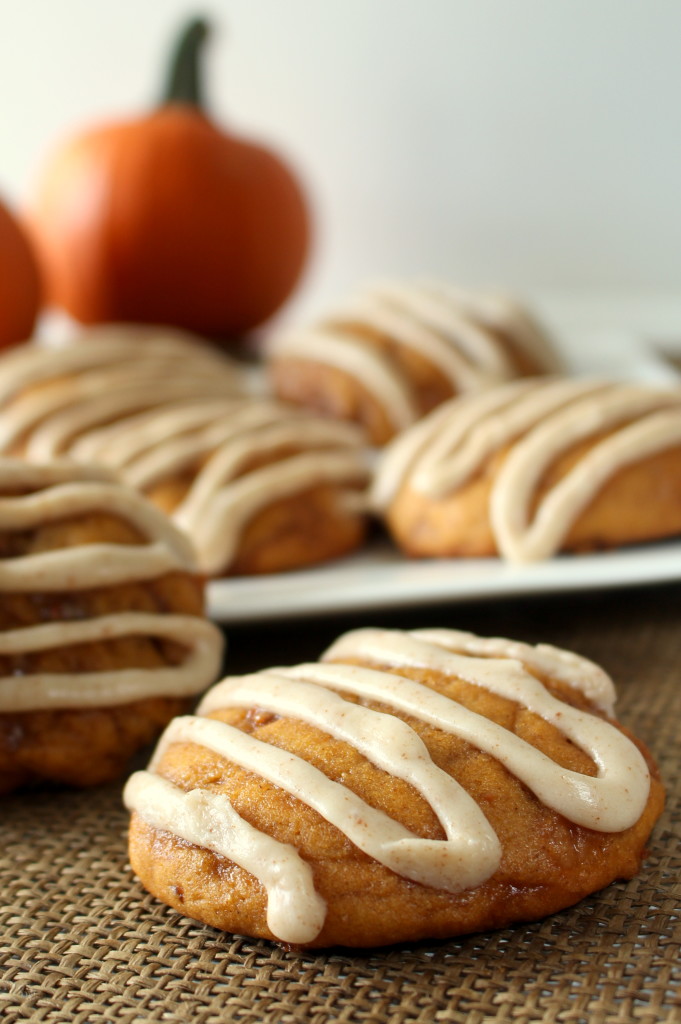 Caramel Stuffed Pretzel Cookies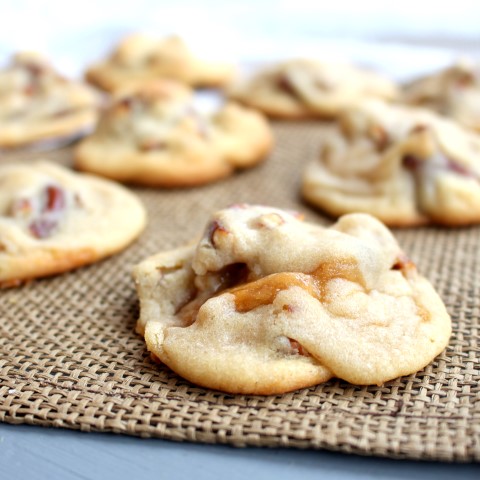 A warm, gooey pumpkin chocolate chip cookie, served with vanilla ice cream, hot fudge and caramel sauce.