These Peppermint Snowball Cookies have candy cane pieces mixed through the dough and on top for a fun candy cane snowball cookie twist. Plus if you have lots of extra candy canes, I have a list of cookies that use candy cane pieces.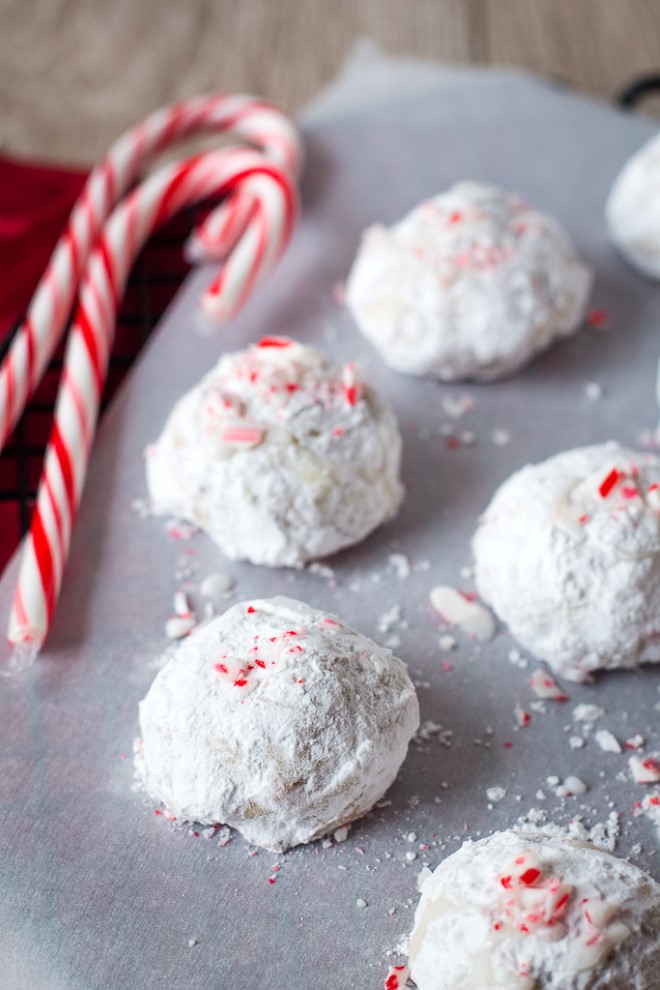 I love a good Pecan Snowball Cookie and I love these with a peppermint makeover. Peppermint is one of my favorite flavors this time of year and I can't resist using my magic peppermint wand on everything. These peppermint snowball cookies are especially easy because they don't require any chilling. Mix 6 simple ingredients together and bake.
I used crushed candy canes in this recipe for the peppermint flavor. I thought that they gave the cookies enough peppermint flavor that extract wasn't needed. The flavor wasn't super strong, but was obvious. If you like stronger peppermint flavor, go ahead and add a bit of peppermint extract as well.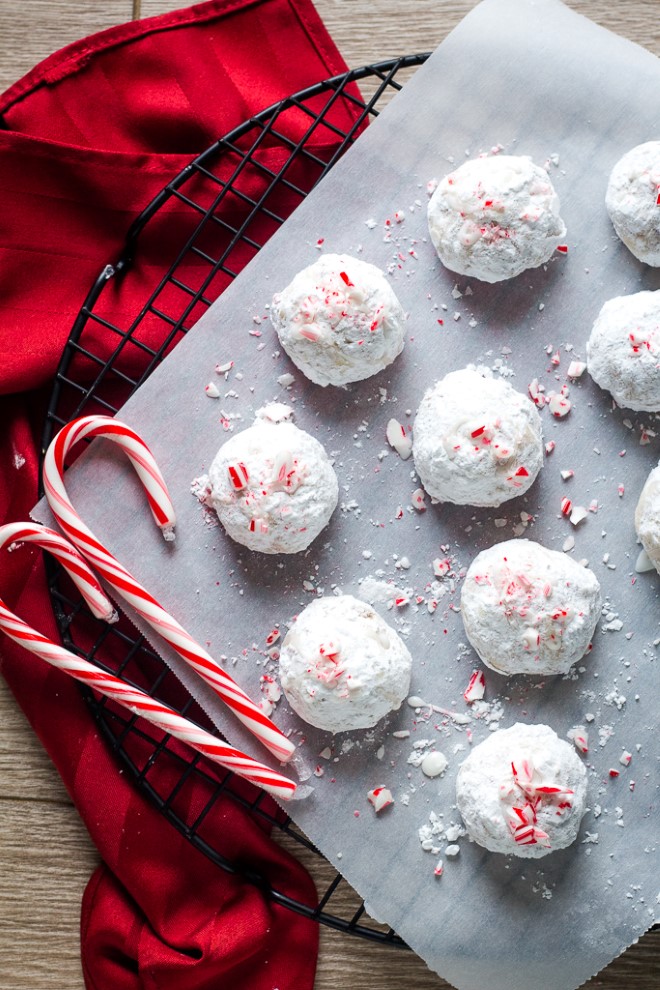 How to make peppermint snowball cookies
These are like the simple pecan snowball cookies with the addition of crushed candy canes. (Do you call them snowballs, Mexican Wedding Cookies or Russian Tea Cakes?) You'll cream the butter and sugar together, mix in vanilla, pecans and flour, bake and roll in powdered sugar.
No chilling required which is nice. You have the choice to use butter or margarine. The butter definitely adds a better flavor, but the margarine helps the cookies hold their shape better without chilling. If you use butter and find your cookies spread, just try chilling the dough for an hour or two and then baking.
You'll roll the cookies in powdered sugar while they are still warm and then again after they are completely cool. This gives the cookies a maximum coating of powdered sugar.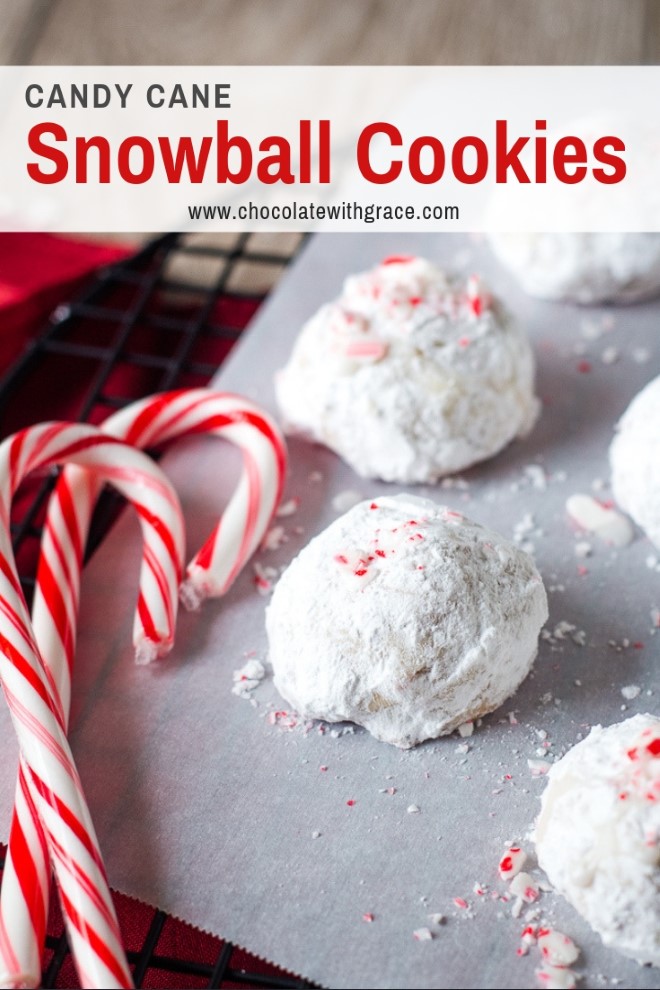 More recipes for Cookies with Candy Cane Pieces
Do you have leftover candy canes to use up? Here is a list of cookie recipes that use candy cane pieces. Happy Baking!
White Chocolate Candy Cane Cookies from Liv for Cake
Peppermint Oreo Cookies from Dinner at the Zoo
Dark Chocolate Candy Cane Whoopie Pies from Your Cup of Cake
Candy Cane Crinkle Cookies from The Slow Roasted Italian
Chocolate Peppermint Crunch Cookies from Two Peas and Their Pod
Candy Cane Sugar Cookies from Dessert for Two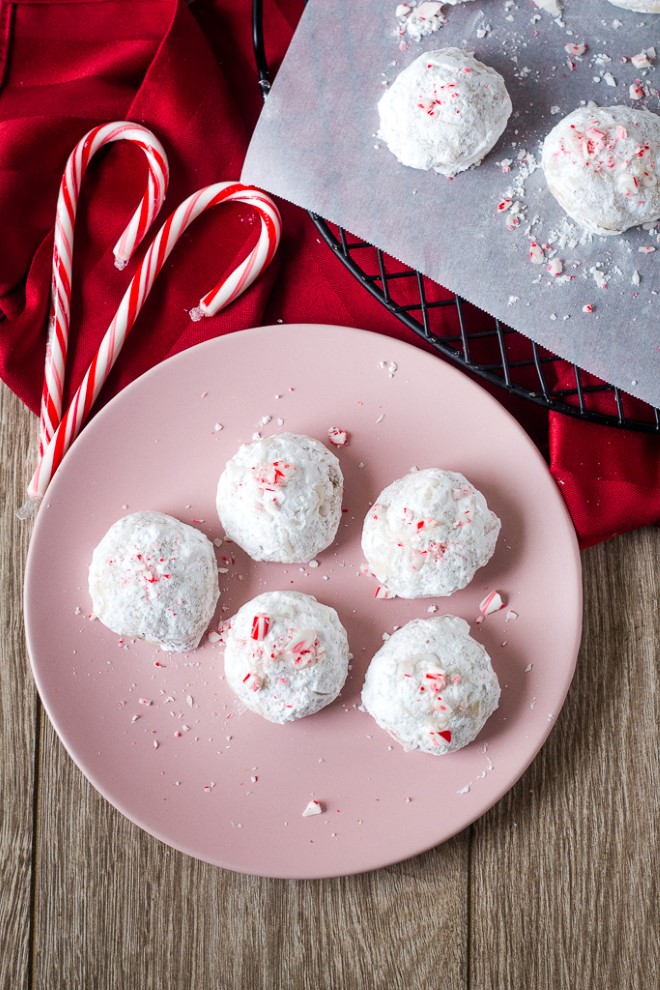 How to Crush Candy Canes
Are you wondering the best way to crush candy canes for cookies? There are several methods. I usually place the candy canes in a plastic bag and then lay it on a cutting board and pound them with a meat hammer or rolling pin. The candy cane pieces will break through the bag, but should mostly be contained.
Some sources say that freezing them first help make them more brittle and crush easier. I don't own a coffee grinder, but some people say that works well. I've also used a food processor for similar things with good results. The problem is that candy canes get sticky fast, and it's more dishes to wash.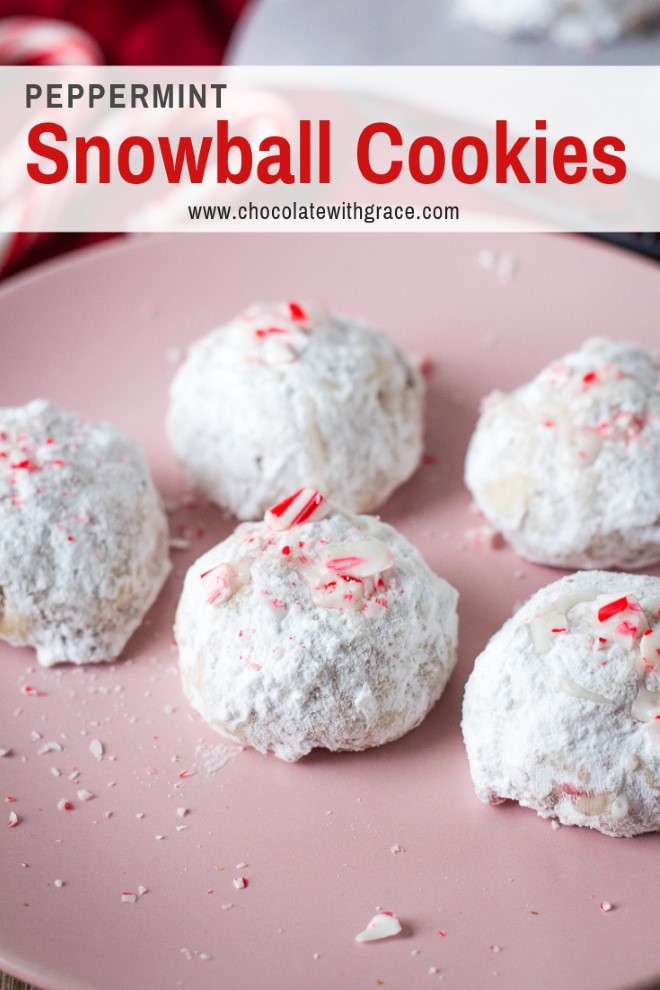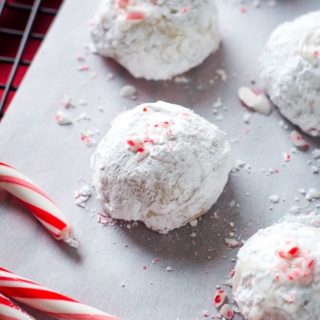 Peppermint Snowball Cookies
Yield: 40 cookies

Prep Time: 15 minutes

Cook Time: 15 minutes

Total Time: 30 minutes
Ingredients
1 cup butter or margarine, see note below
1/4 cup sugar
1 teaspoon vanilla extract
2 cups all-purpose flour
2 cups finely chopped pecans
1/4 cup finely crushed candy canes, about 4 or 5 full size candy canes
1/8 teaspoon peppermint extract (optional)
Powdered sugar
More crushed candy canes for garnish
Instructions
Preheat oven to 325. Cream together the butter with the sugar. Stir in the vanilla, flour, pecans, crushed candy canes and peppermint extract (if desired). Stir until well combined.
Roll into 1 inch balls and place on a baking sheet, bake for 15-16 minutes or until just lightly browned on the bottom. Don't over bake. Remove from the oven and let cool 2 minutes on the tray. If the cookies spread too much, try chilling the dough for an hour or two before baking.
Carefully remove from the cookie sheet and roll into powdered sugar. Let cool completely on a rack. Roll in powdered sugar again and sprinkle candy cane pieces on top. Not many will stick. If you want, make a simply glaze with a bit of powdered sugar and milk. Add a few drips to the top of each and use as a "glue" for the candy cane pieces.
Notes
Butter gives these cookies better flavor, but the margarine helps them hold their shape without chilling. Use whatever you prefer.
Nutrition Information:
Yield: 40 Serving Size: 1 cookie
Amount Per Serving: Calories: 120

If you love mint at Christmas time, check out these other mint and peppermint treats from my blog.
Classic Chocolate Mint Brownies