The best way to use up that extra zucchini. A moist chocolate zucchini bread with a a peanut butter swirl.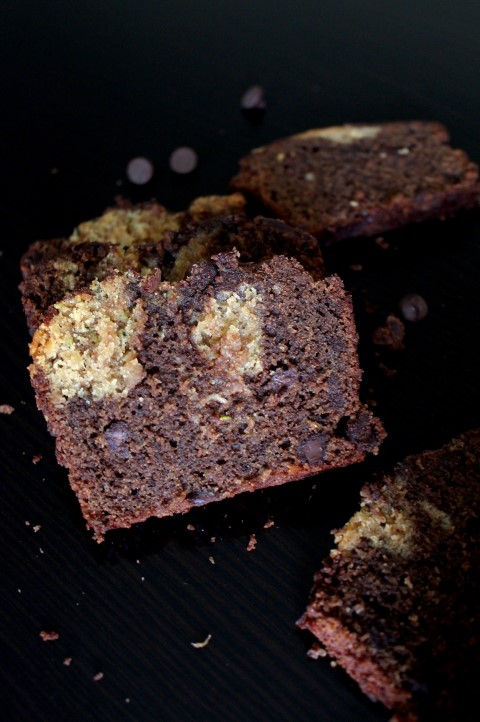 So it's the time of year when everyone's gardens are overflowing with zucchini. It almost should be described as a weed, it's so easy to grow. But yet, I harbor a bit of jealousy, because there is not even one little scraggly plant of zucchini in my garden, which is non-existent. Between working full time, blogging and a tiny yard, for the past two years I haven't been gardening, unless you count the 3 small tomato plants in the landscaping around the shed trying to survive the downpour from the eaves from all the heavy rains we've had this summer. I won't complain too much about my lack of zucchini, because in Lancaster County, I can pick up a zucchini on every corner big enough to make me 6 loaves of bread for a few pennies.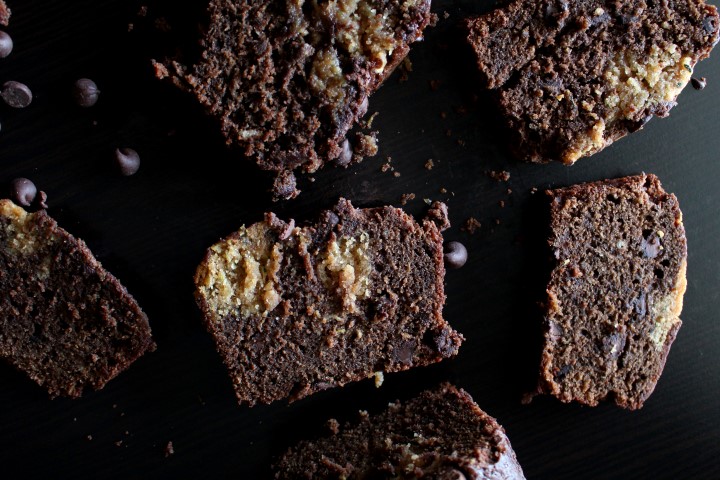 Even though I am missing the garden vegetable, the only way I really like it is in bread. Zucchini Casserole? No thanks. I'm showing my sweet tooth, carb loving side with this Peanut Butter Swirled Chocolate Zucchini Bread. There is basically no zucchini taste in this desert bread whatsoever, and the only hint the zucchini leaves of its presence is the moistness it gives the bread. With all that chocolate, you can't even see the zucchini. Is anyone else with me on the fact that the only way zucchini should be eaten is under a layer of chocolate and peanut butter? What is your favorite way to use of abundant zucchini?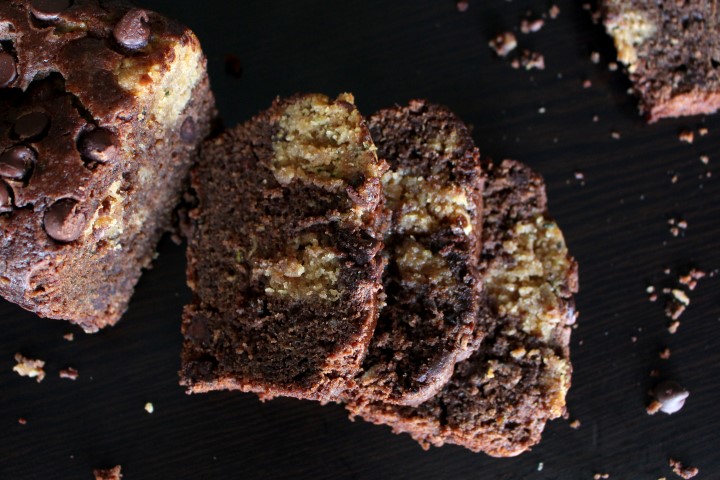 Peanut Butter Swirled Chocolate Zucchini Bread
Ingredients
1 cup oil
2 large eggs
1 tsp vanilla
2 cups finely shredded zucchini
1 cup white sugar
1 cup brown sugar
2 and 1/2 cups flour
1 tsp salt
2 and 1/2 tsp baking powder
1/2 tsp cinnamon
2/3 cup cocoa
2/3 cup chocolate chips, plus more for topping if desired.
1/3 cup peanut butter
Instructions
Preheat oven to 350 F. Whisk together oil, eggs, vanilla, zucchini and sugars together in a large bowl. In a separate bowl, combine the flour, salt, baking powder and cinnamon. Gently stir the flour mixture into the large bowl, mixing until just combined.
Reserve 1 and 1/2 cups of the batter into a small bowl. Stir the cocoa and chocolate chips into the batter in the large bowl. Don't over mix. Stir in the peanut butter into the reserved batter.
Grease two 8 x 4 in loaf pans. Pour about 1/3 of the chocolate batter into each of the prepared loaf pans. Divide the peanut butter batter between the pans and top with the remaining 1/3 of the chocolate batter. Swirl gently with a knife. Sprinkle with additional chocolate chips if desired.
Bake the bread for 55 to 60 minutes or until a toothpick inserted into the center comes out clean. Let cool in the pans for 15 minutes before removing to a wire rack to cool completely. The bread is better the second day.
http://chocolatewithgrace.com/peanut-butter-swirled-chocolate-zucchini-bread/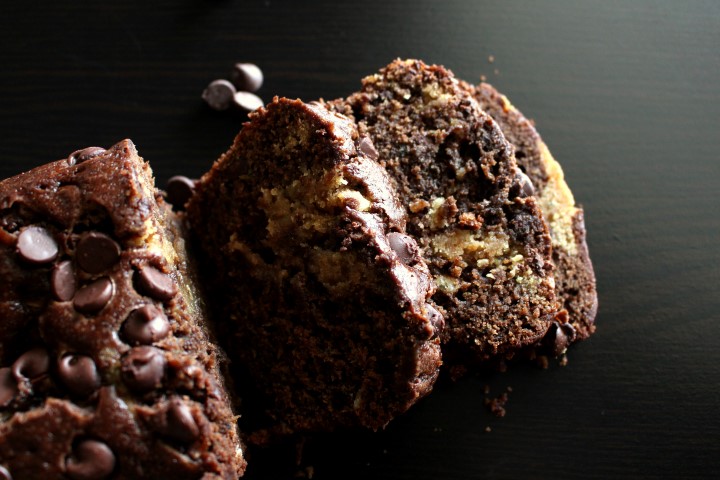 Bring your favorite chocolate dessert to Roxana's home baking #chocolateparty and win amazing prizes from Imperial Sugar®, Gold Medal Flour®, Safest Choice™ Pasteurized Eggs and KitchenAid®