No Bake Blueberry Cheesecake Squares with a graham cracker crust. An easy classic summer dessert recipe.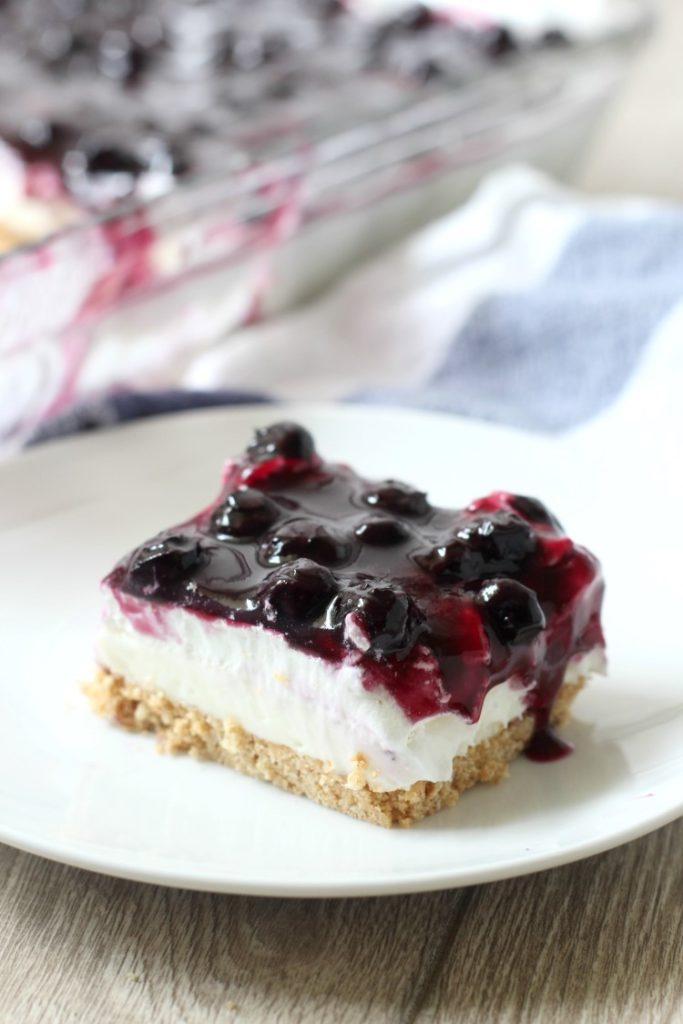 This morning, I went to get a bunch of groceries that I need for 2 church events this weekend. For some reason, the kids were extra grouchy so I was in a hurry to get home. I unlocked the doors with my keys and loaded the groceries into the trunk, but I left the keys in the trunk with the groceries. I shut the door to my car trunk and immediately realized I left the keys in there. I also immediately hear the doors of the car lock.
So my keys are locked in my trunk with the groceries and no way to get them out. I was very thankful that I had not put the kids in the car yet, because it was hot. I'm also very thankful for a mother-in-law who came to rescue me with the spare set of keys. And there was a Starbucks next door, so while we waited we enjoyed an iced chai, a cookie and chocolate milk. At least it turned out to be a fun morning. And you can be sure I will keep the keys on my person from here on out.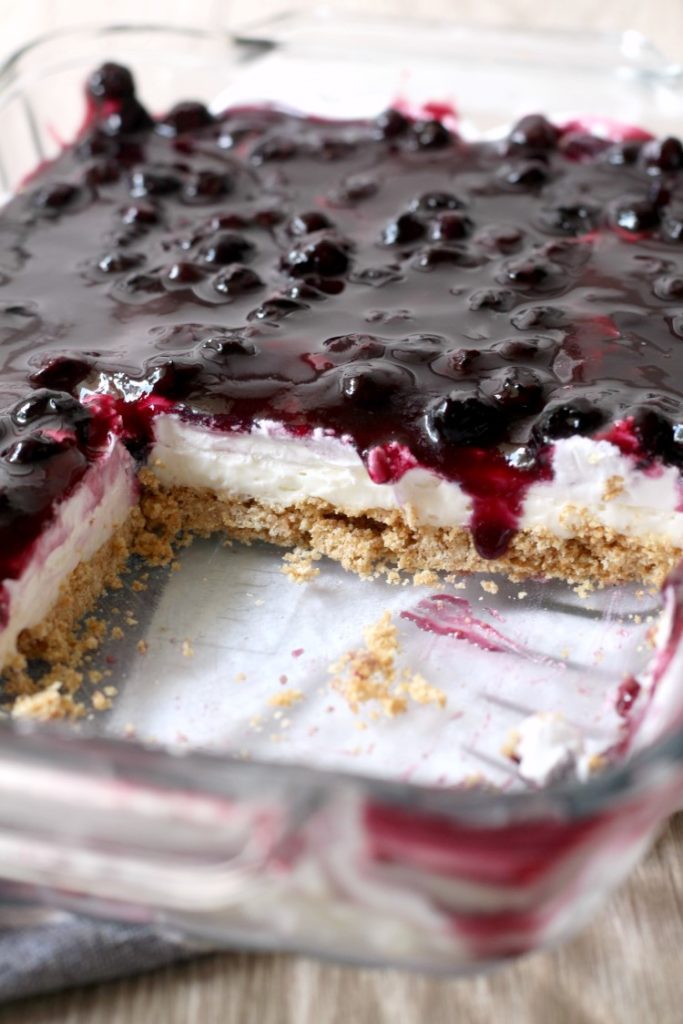 This is the last of the three recipes I shared this week that use blueberries. You can check out the blueberry pie filling and blueberry pie bars as well. This recipe uses that blueberry pie filling on top. Have you every had the classic cherry cheese dessert. This is the blueberry version of that. It has a graham cracker crust, no bake cheesecake filling and blueberry pie filling on top.
Blueberry was the version my family liked the best growing up. The original version call for baking the graham cracker crust. I tweaked the recipe a bit, by adding a bit more butter to the crust so we can skip the baking step and the crust will still hold together. If you prefer a baked crust, go ahead and bake it for for 10 mins at 325 F.
Because of the unbaked crust, you will also need to make sure it chills for at least 6 hours or otherwise the crust may fall apart. Check out this post for how to make a perfect no bake graham cracker crust. And one last tip on the crust, be sure to finely crush the graham crackers. Use a food processor of blender if you need to. The finer they are, the better the crust will hold together.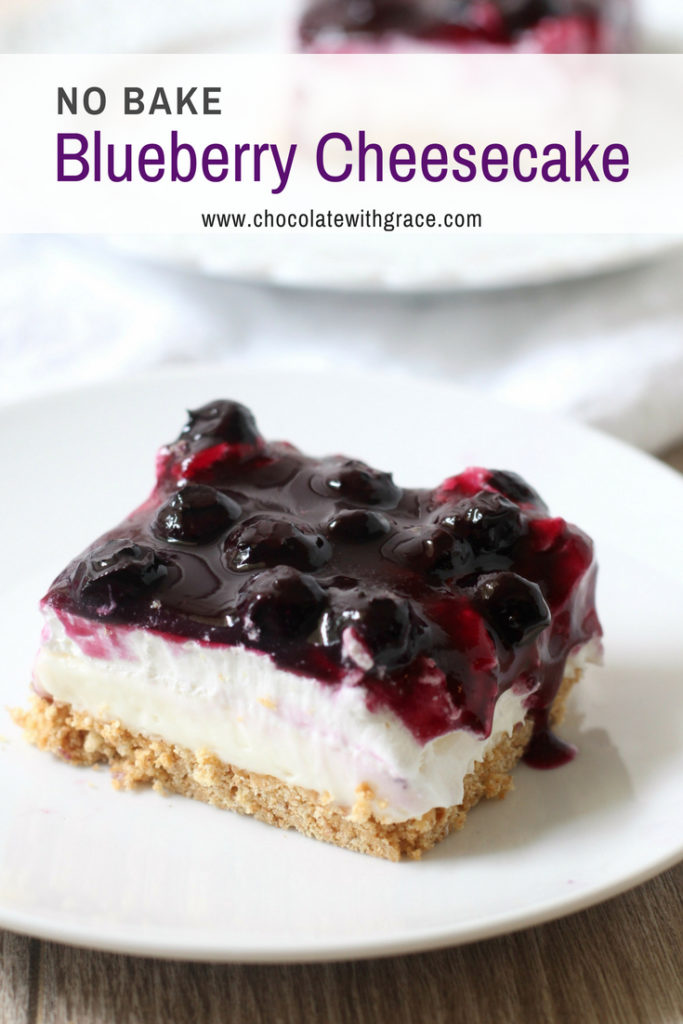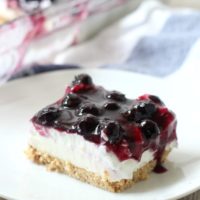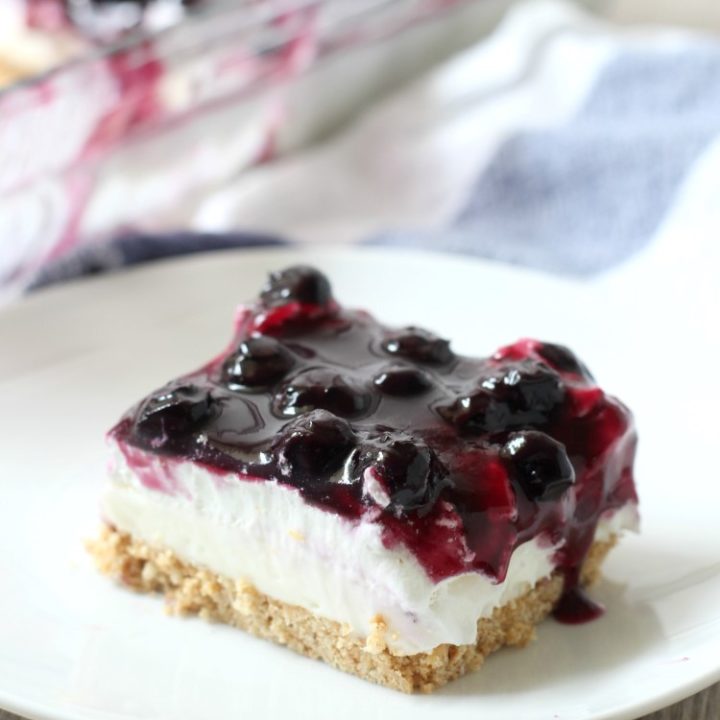 No Bake Blueberry Cheesecake
Total Time:
6 hours
20 minutes
No Bake Blueberry Cheesecake with a graham cracker crust. An easy summer dessert recipe
Ingredients
For the Crust
1/2 cup butter, melted
1/4 cup granulated sugar
2 cups graham cracker crumbs, finely crushed
For the cheesecake
1 1/2 cup powdered sugar
11 ounces cream cheese, softened
3 tablespoons milk
1 teaspoon vanilla
1 large container (16 ounces) of Whipped Topping (or Homemade Sweetened Whipped Cream)
For the blueberry topping
Instructions
Stir together the melted butter, graham cracker crumbs, and sugar. Press into the bottom of a 9 x 13 baking dish.
In a large bowl, beat together the powdered sugar, cream cheese, milk and vanilla until smooth. Carefully spread on top of the crust, being careful not to break it. Top with the whipped topping or homemade whipped cream.
Carefully spread on the blueberry pie filling. Chill for at least 6 hours before serving. Store in the refrigerator. Best eaten within a few days.
Nutrition Information:
Yield:

15
Serving Size:

1 piece
Amount Per Serving:
Calories:

259
Total Fat:

16g
Saturated Fat:

9g
Trans Fat:

0g
Unsaturated Fat:

6g
Cholesterol:

38mg
Sodium:

185mg
Carbohydrates:

28g
Fiber:

0g
Sugar:

18g
Protein:

2g
Nutrition information may vary significantly based on ingredients used and portion sizes. We are not responsible the reliability of this data or your reliance on it. We are not responsible for the results of any recipe you try from this blog/website, Chocolatewithgrace.com. Your results may vary due to differences in ingredients, humidity, altitude, cooking temperatures, errors, or individual cooking abilities.
Save this recipe for later. Pin the image below on Pinterest.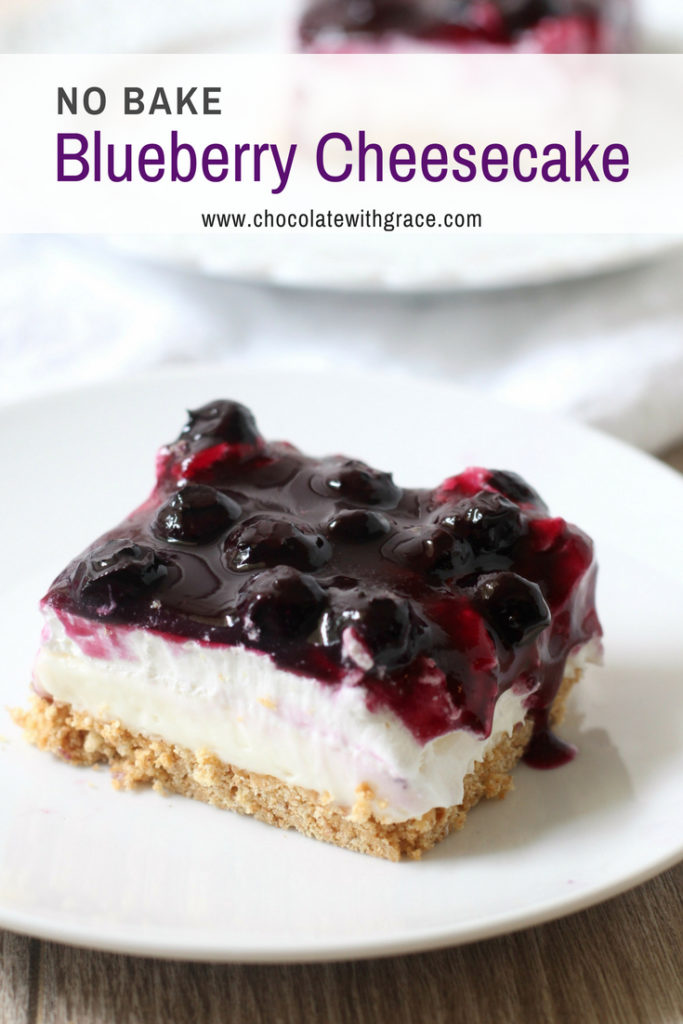 No Bake Cheesecakes are easy and fun, try these other versions.
No Bake Oreo Cheesecake from Cincy Shopper
No Bake Fudge Brownie Cheesecake from The Best Blog Recipes
No Bake Cookie Butter Cheesecake