A fudgy mint brownie spread with a fluffy, mint buttercream and a rich, smooth chocolate ganache.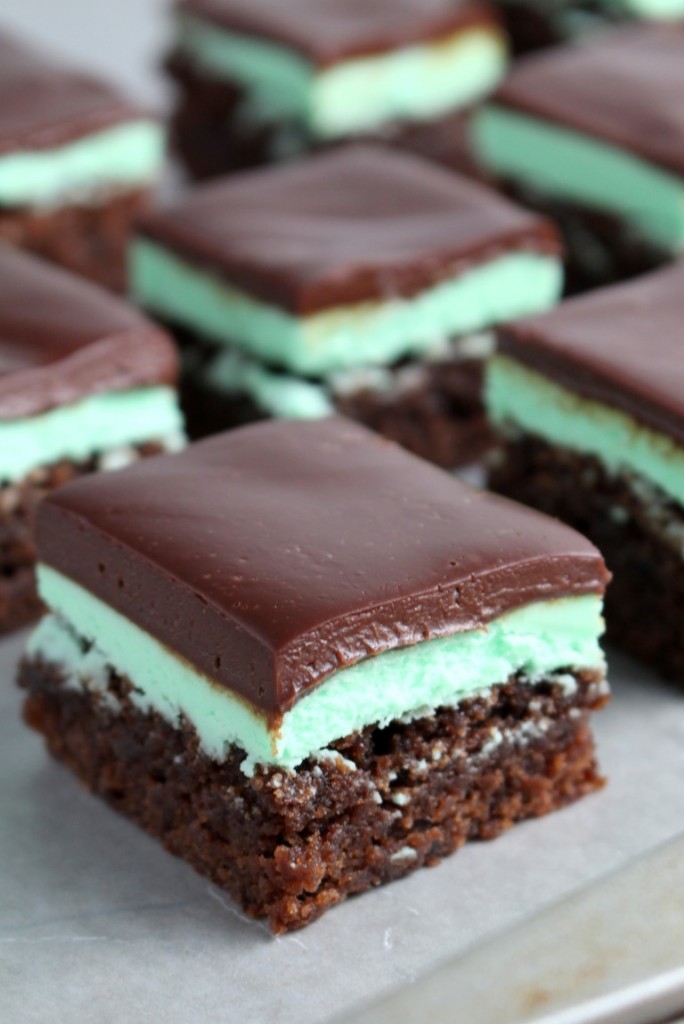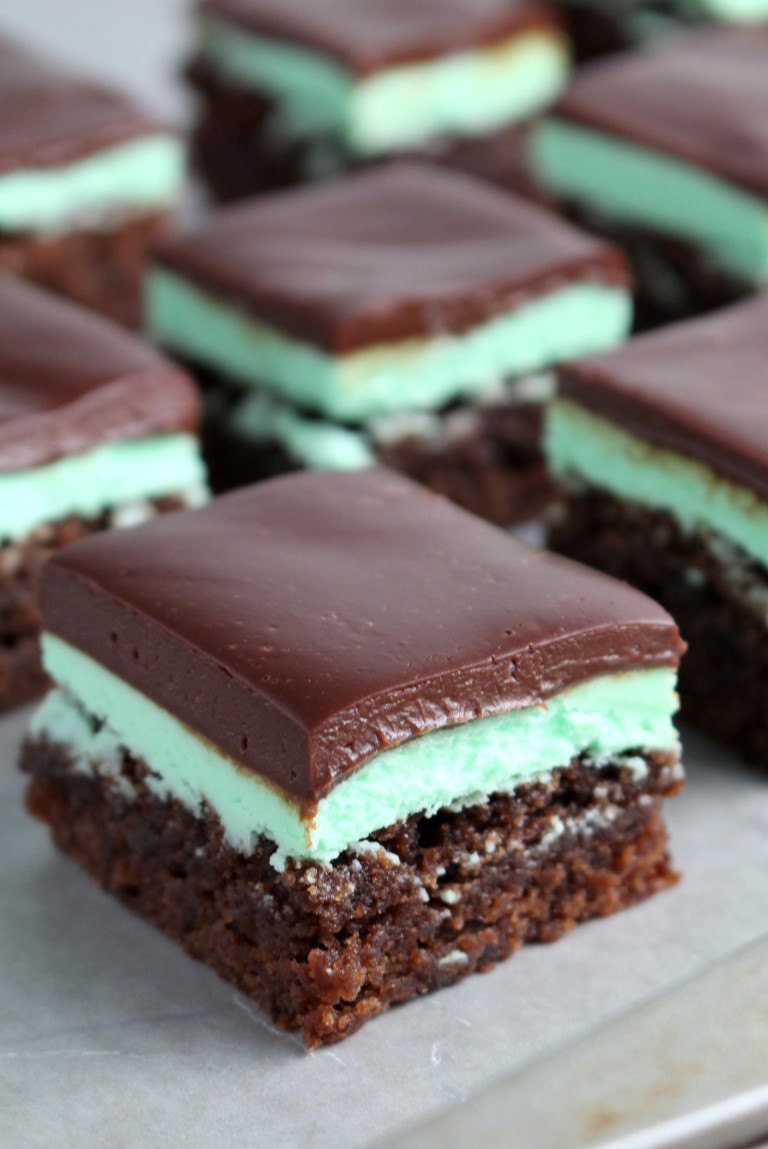 Tonight I made my first green smoothie. I tossed in a few handfuls of spinach, some orange slices and a bit of frozen pineapple in the blender. The result wasn't too bad and something I could probably drink on a regular basis. No bitter spinach taste came through, but it definitely wasn't as sweet as my normal fruit smoothies. I'm trying to convince myself that all the nutrients are worth it, but my idea of something green and delicious is these Mint Brownies with Chocolate Ganache.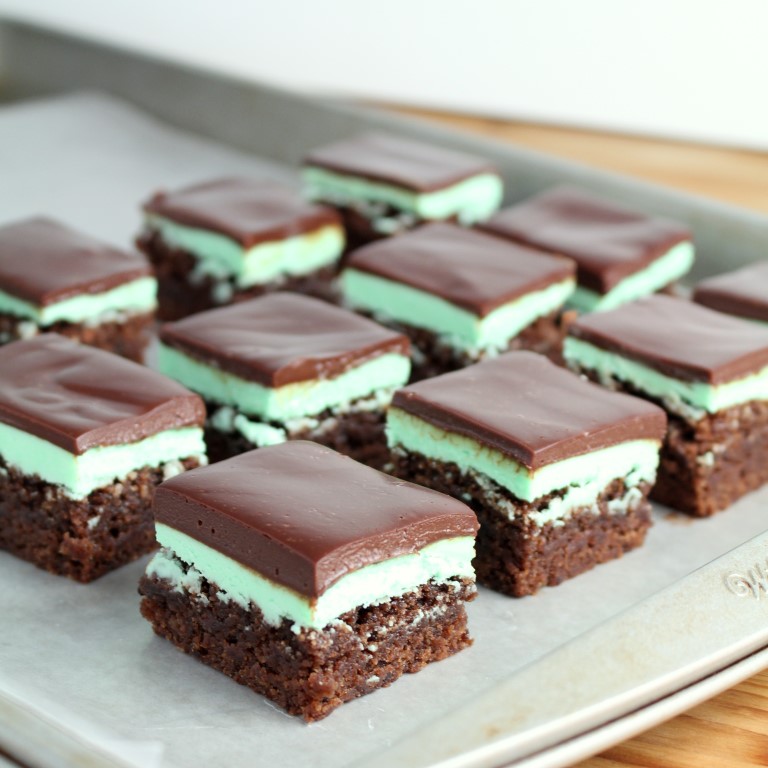 These brownies are a bit of work with three layers, but every layer is worth it. The sweetness of the fluffy mint buttercream is perfect against the smooth, richness of the ganache. If you have never made ganache before, I recommend doing a bit of reading from the internet with a few tips. It is simple in concept, but a bit of knowledge will help you make it awesome!

Mint Brownies with Chocolate Ganache
A fudgy mint brownie spread with a fluffy, mint buttercream and a rich, smooth chocolate ganache.
Serves:
36 small brownies
Ingredients
For the Brownies
½ cup butter
½ cup oil
2 cups granulated sugar
4 eggs
2 teaspoons vanilla
¼ teaspoon mint extract
⅔ cup cocoa powder
1 cup all purpose flour
½ teaspoon salt
½ teaspoon baking powder
For the Mint Buttercream
½ cup butter softened
1 and ¾ cups powdered sugar
1-2 tablespoons heavy cream or milk
¼ to ½ teaspoon mint extract
a few drops green food coloring
For the Chocolate Ganache
2 cups heavy cream
16 ounces bittersweet chocolate
Instructions
To make the brownies, preheat oven to 350 F. Grease and flour a 9 x 13 inch pan. Melt the butter in a large microwave safe bowl. Whisk in the oil, sugar, eggs, vanilla and mint extracts. Beat in the cocoa, flour, salt and baking powder. Spread in the prepared pan and bake for 22-25 minutes or until an inserted toothpick comes out with a few crumbs. Let cool completely.
To make the mint buttercream layer, beat the butter in a stand mixer for 1-2 minutes, beat in the powdered sugar. Add enough of the milk or cream to be a spreadable consistency and the mint extract to your tastes. Spread on top of cooled brownies and refrigerate.
For the chocolate ganache, finely chop the chocolate and place in a heat proof bowl. In a heavy saucepan, bring the heavy cream to a simmer. Do not let it boil. Pour the whipping cream over the chopped chocolate and whisk until smooth. It's a good arm workout.
Pour the ganache over the mint layer and refrigerate until set.
To satisfy your mint craving, check out these other fun treats.
This Chocolate Mint Brownie Milkshake sound perfect for the hot summer day I'm dreaming about.
If you need a chocolate mint fix in a hurry, try these easy Mint Chocolate No-Bake Cookies from The Recipe Rebel.
And if you if neither of these options suit your fancy, check out this collection of 80+ Chocolate Mint Desserts by Crazy for Crust.
If you're more of a cookie person try these Andes Mint Cookies!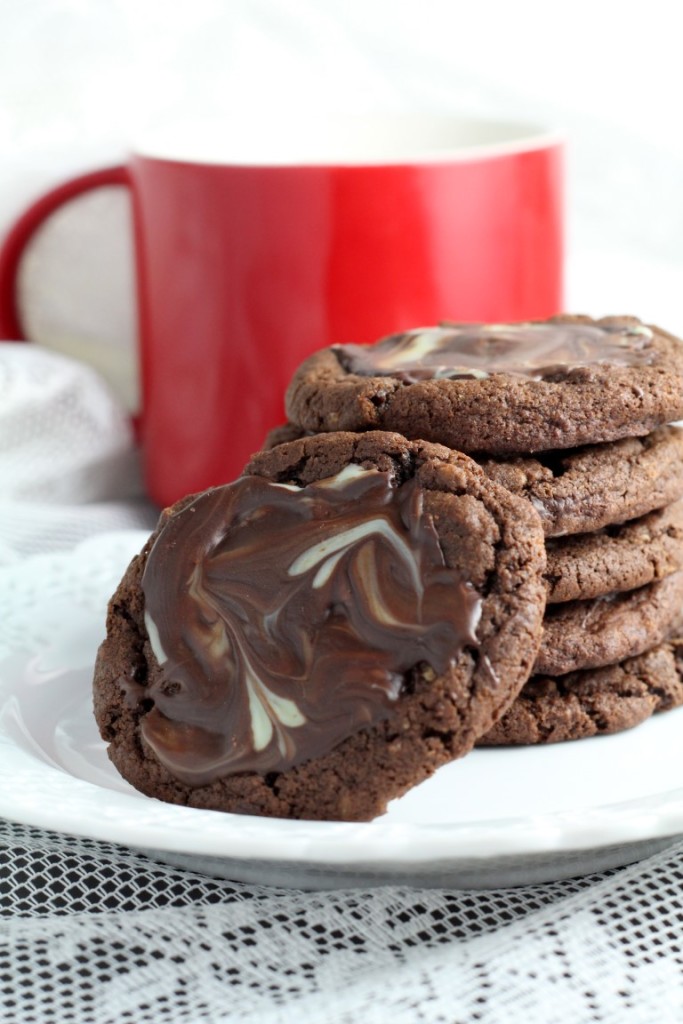 Or these Nutella Brownies for Two