You can either use leftover chili to make this Chili Cornbread Casserole or you can quick fry up some ground beef and add beans and tomatoes to make this leftover chili cornbread casserole. It's a warm and hearty meal.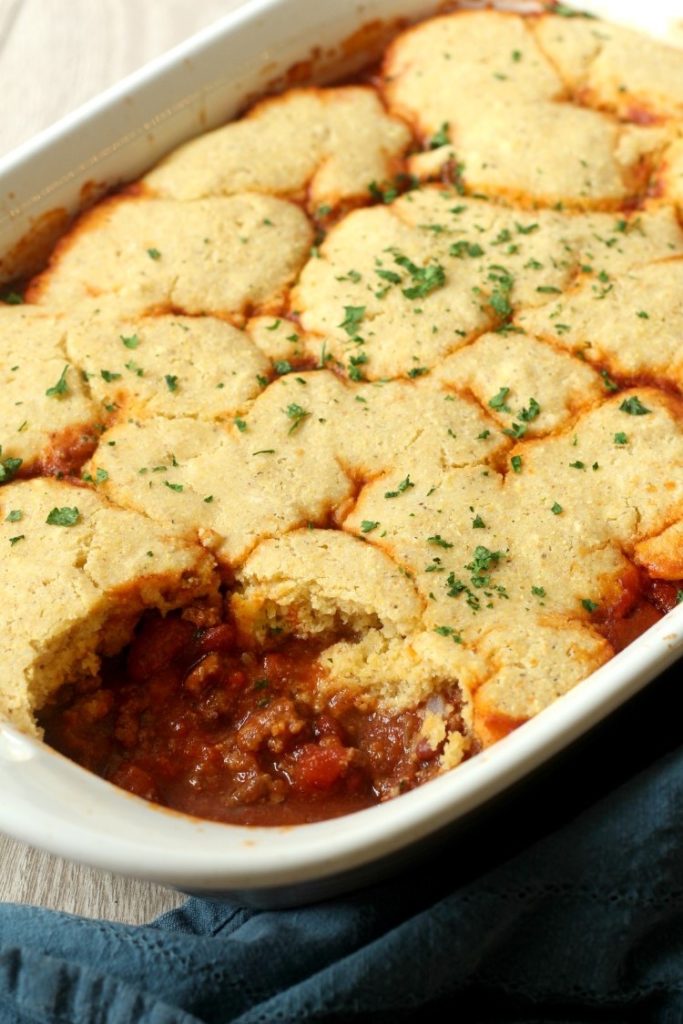 These past couple days have been cool and rainy so I've been on a hearty warm soup kick. (You don't have to twist my arm to make soup, I'll make it just about any day that isn't over 90 degrees.) We had some leftover chili and I threw this casserole together. 
I've been working on perfecting this leftover chili cornbread casserole the past couple weeks. I've used leftover chili and I've also thrown together a quick chili recipe and topped with homemade cornbread. I've put instructions for how to use leftover chili or make your own in the recipe. Take your pick.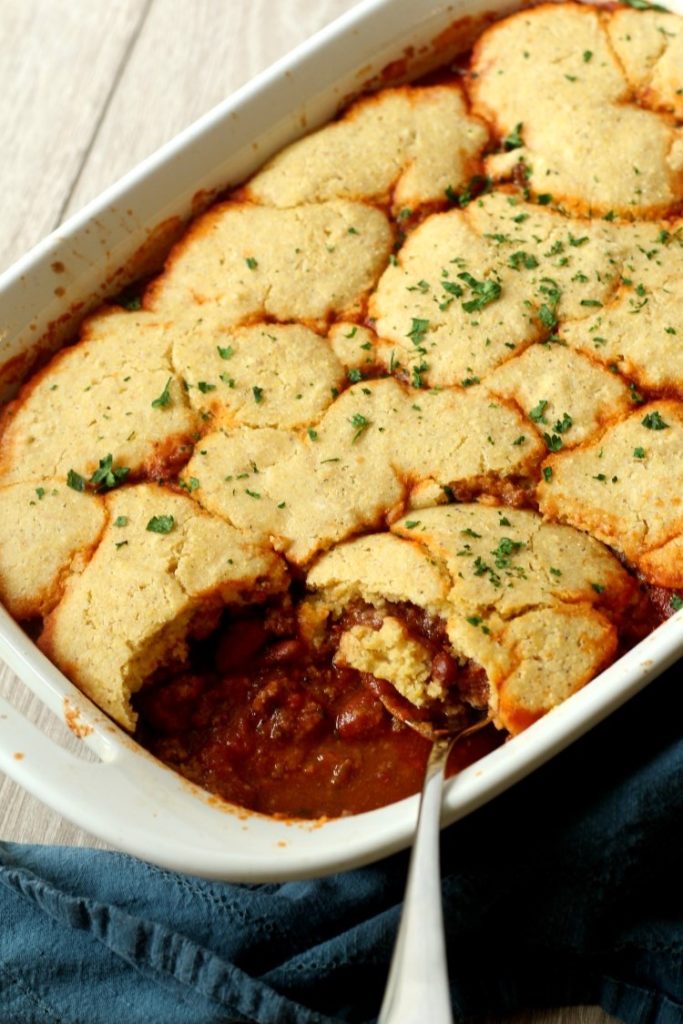 What to do with leftover chili
This chili cornbread casserole is quick becoming my favorite thing way to use up leftover chili. Here are some of my other favorite ways to use up a good chili. I'd love to try your favorites too! Let me know in the comments how you use it up.
Make Chili Cheese Dogs – Serve warm over hot dogs in buns and top with cheese. This was a pregnancy craving for me.
Serve over baked potatoes – If I have leftover sloppy joes or chili, I heat them up and serve on top of baked potatoes with cheese and sour cream.
Use it as a nacho topping – Spread tortilla chips on a large cookie sheet, top with chili and cheese and bake until cheese is melted
Chili Mac and Cheese – Heat the chili on the stove, throw in some cooked macaroni, add a generous helping of shredded cheese and sour cream and stir until melted. Yum!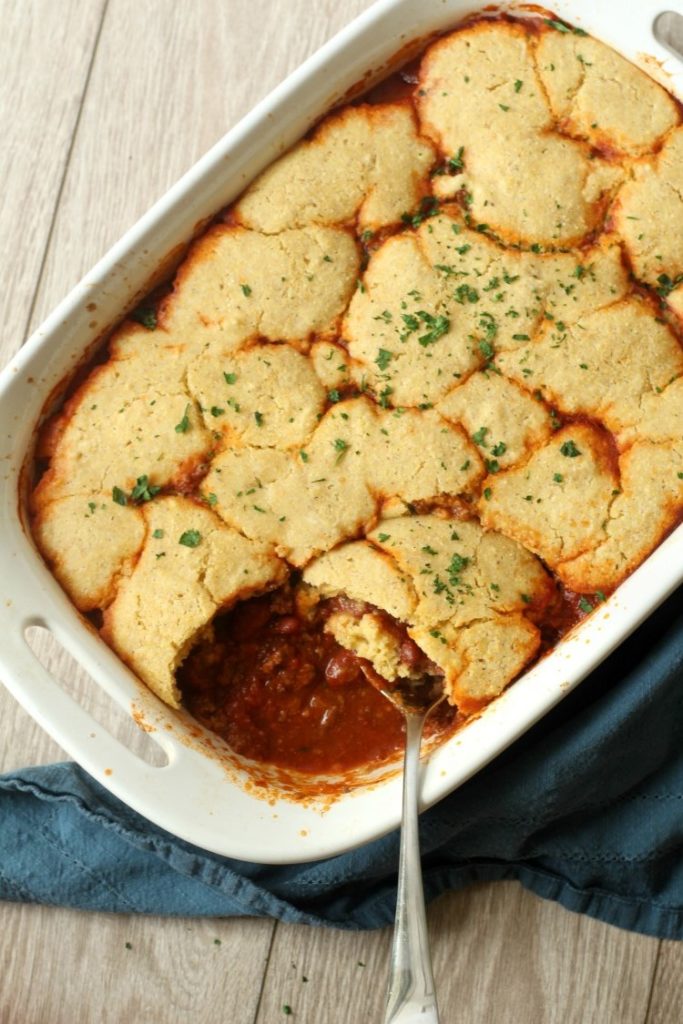 How to make leftover chili cornbread casserole
Making chili cornbread casserole is super easy if you have leftover chili. Just heat it up in a pan and while it's warming on the stove, throw together a simple cornbread batter. If you don't have leftover chili, you can whip some up using the recipe below in about 25 minutes. Of course it will taste better the longer it simmers, but it will do in a pinch.
Simply brown the ground beef and onion, then add tomatoes and kidney beans. We like a full can of beans, but feel free to use less if it is too many for you. Last add some salt, spices and beef broth. Simmer a few minutes to let the flavors blend.
The cornbread recipe is this simple version from Betty Crocker. Whisk the wet ingredients and gently fold in the dry ingredients. Gently spoon the cornbread batter over the warm chili in a deep casserole dish. Add cheese if desired. I didn't add any this time, but it would be great. Bake and serve.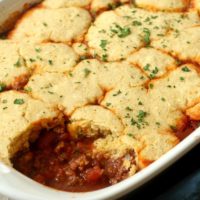 Leftover Chili Cornbread Casserole
Yield: 8 servings

Prep Time: 45 minutes

Cook Time: 25 minutes

Additional Time: 40 minutes

Total Time: 1 hour 50 minutes

You can either use leftover chili to make this Chili Cornbread Casserole or you can quick fry up some ground beef and add beans and tomatoes to make this leftover chili cornbread casserole. It's a warm and hearty meal.
Ingredients
For the Chili
Use 2 quarts leftover chili OR use the recipe below
3/4 pound ground beef
1/2 small onion, diced
1 (14 ounce) can tomato sauce
1 (14 ounce) can diced tomatoes
1 (14 ounce) can kidney beans, rinsed and drained. (this is a lot of kidney beans, feel free to use less or omit if desired.)
1-2 tablespoons chili powder
1 tablespoon cumin
1 teaspoon salt
1/2 teaspoon garlic powder
1 tablespoon Worcestershire Sauce
1/2 cup beef broth
For the cornbread
1/4 cup butter, melted
1 cup milk
1 large egg
1 1/4 cups cornmeal
1 cup flour
1/2 cup granulated sugar
1 tablespoon baking powder
1/2 teaspoon salt
4 ounces cheddar cheese, shredded, if desired
Sour cream, for serving
Instructions
If you are using leftover chili, warm it up in a pan on the stove until bubbly. Otherwise, brown the ground beef in a large pot with the onion. Drain grease. Add the tomato sauce, diced tomatoes (undrained), and kidney beans. Stir in chili powder, cumin, salt, garlic powder, Worcestershire sauce and beef broth. Bring to a boil and simmer for 10 mins.

Preheat oven to 350 F. To make the cornbread. Whisk together the melted butter, milk and egg in a large bowl. Gently stir in the cornmeal, flour, sugar, baking powder, and salt just until combined.

Pour the warm chili into a deep 9 x 13 inch casserole dish. Top with shredded cheese, if desired. Spoon the cornbread batter over the top. Bake in a preheated oven for 20-25 minutes or until cornbread is done and springs back when touched.

Serve warm with sour cream if desired.
Nutrition Information:
Yield: 10 Serving Size: 1/10th

Amount Per Serving:

Calories: 649 Total Fat: 31g Saturated Fat: 12g Trans Fat: 1g Unsaturated Fat: 13g Cholesterol: 115mg Sodium: 1845mg Carbohydrates: 60g Fiber: 7g Sugar: 16g Protein: 35g

Nutrition information may vary significantly based on ingredients used and portion sizes. We are not responsible the reliability of this data or your reliance on it. We are not responsible for the results of any recipe you try from this blog/website, Chocolatewithgrace.com. Your results may vary due to differences in ingredients, humidity, altitude, cooking temperatures, errors, or individual cooking abilities.


If you're looking for another way to use leftovers, try my leftover beef pot roast pot pie. This cornbread with whipped maple butter is perfect to serve with chili the first time around.