This post has all the tips and tricks you need to know to make the best no bake graham cracker crust. It can be made in a 9 inch pie plate, springform pan or 9×13 inch baking dish.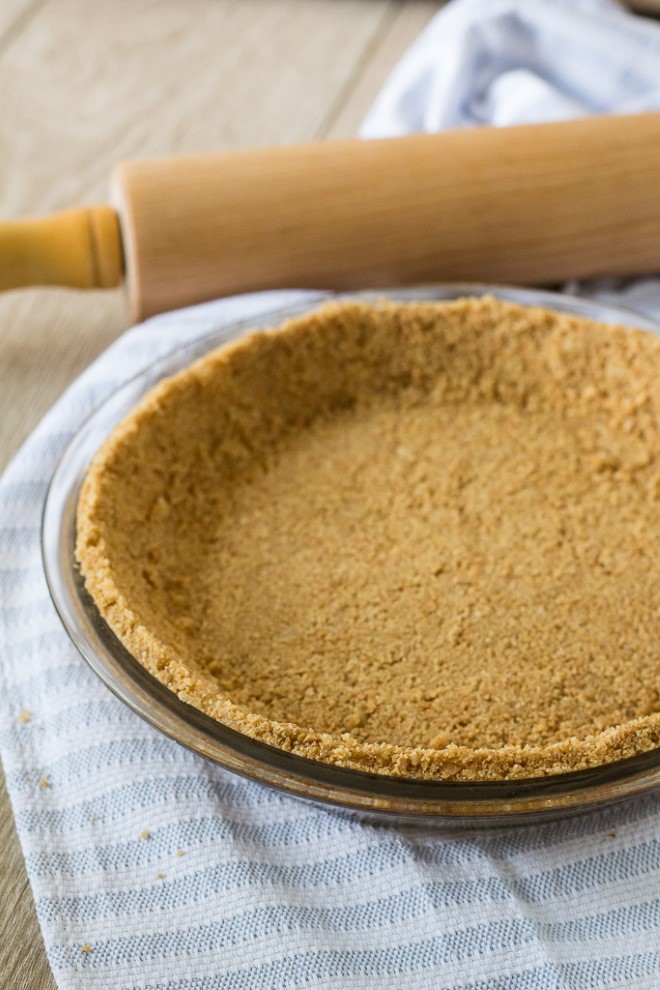 Recently, I shared how to make a perfect no bake cheesecake, but I wanted to dedicate a post to how to make a no bake graham cracker crust. With a great recipe and a few tips up your sleeve, you can make a perfect graham cracker crust for all your no bake pie dreams.
How to make a no bake graham cracker crust
To make a no bake pie crust, you'll only need three ingredients:
Graham Crackers
Granulated Sugar
Butter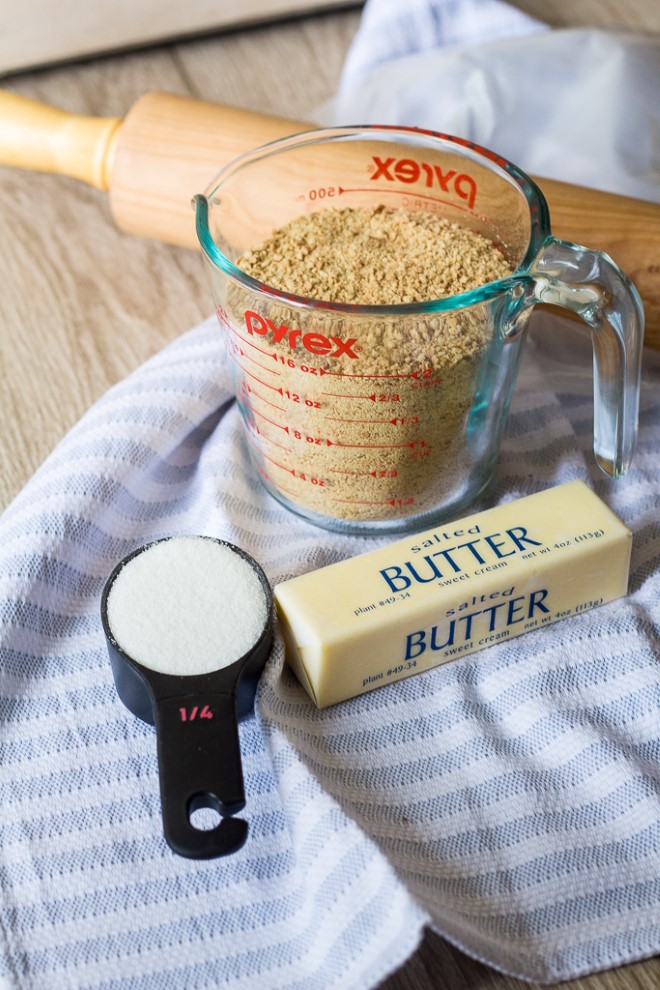 Start by crushing your graham cracker. You'll want them super fine so the pie crust will hold together better. I place the graham crackers in a large ziploc bag and crush them with a rolling pin until fine, but a food processor also does a great job.
You'll need about 1 1/2 cups of cracker crumbs which is about 9-10 sheets of graham crackers. The amount of crumbs you get depends on how finely you crush the crackers. The finer you crush them (which I recommend finely crushed crumbs) the more sheets of graham cracker's you'll need. If you like to measure by weight, you'll need about 5 ounces of crumbs.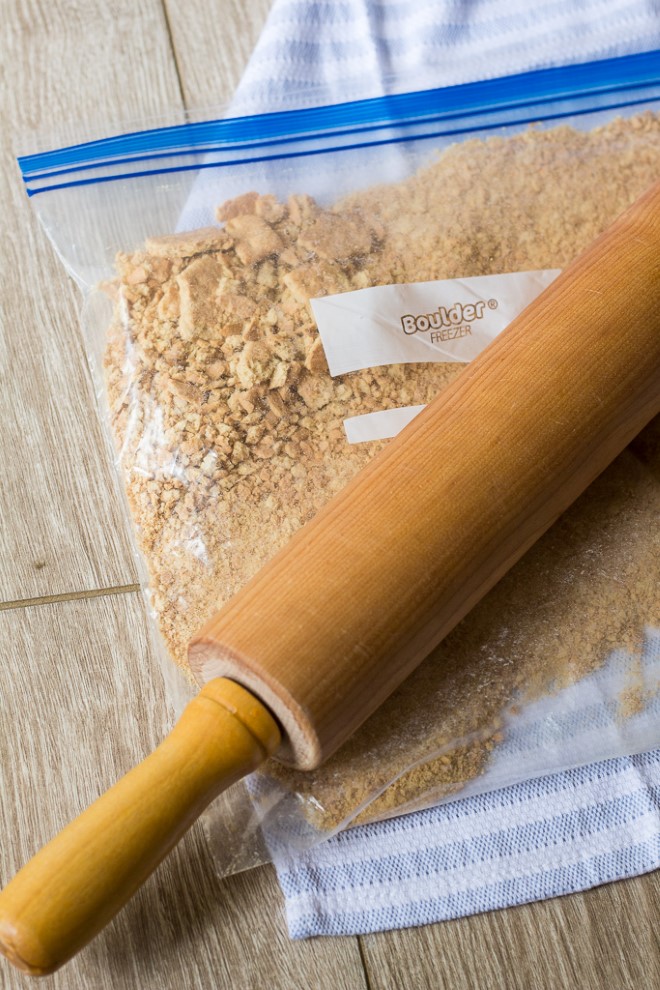 Once you have the crumbs, stir in sugar and melted butter until uniformly combined. Press the crumbs into your baking dish. I like to use a measuring cup to firmly press them in and create crisp edges on the crust, like the store bought crusts have.
You can use this recipe for a 9 inch pie plate (you should be able to stretch it for a bigger pie plate as well) Or a 9×13 inch baking pan, or a springform pan for cheesecake.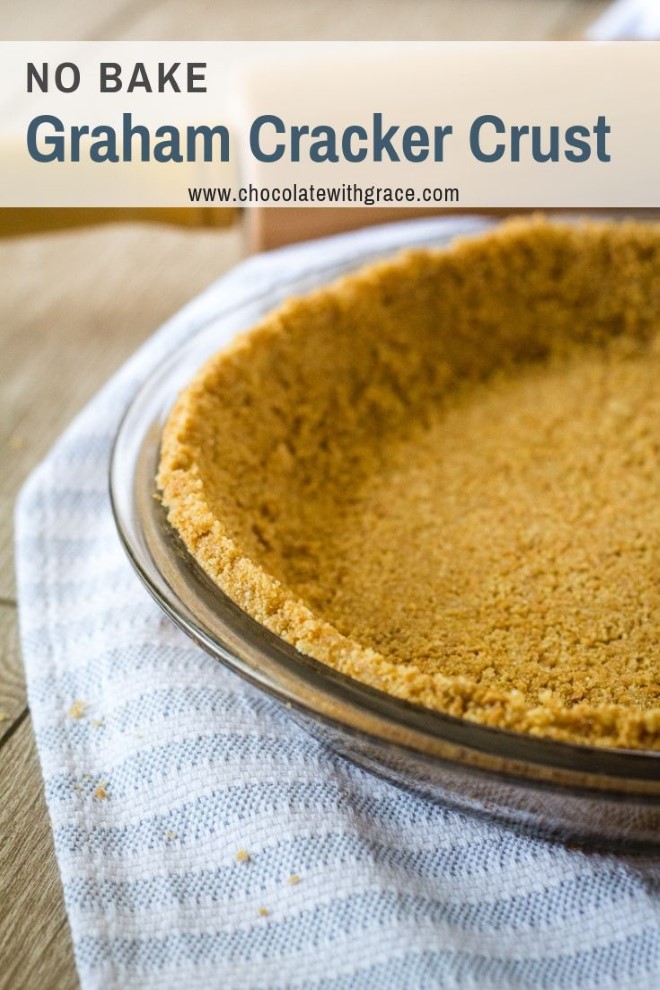 Once you have the crust made, chill it for 30 minutes before adding the filling. This helps the butter firm up and hold all the crumbs together. Once you made your filling, chill the pie for at least for hours before slicing and serving. This helps the filling bind to the crust and set so the crust and pie will slice cleanly. Be sure to check out the video in the posts to see how this no bake graham cracker crust is made.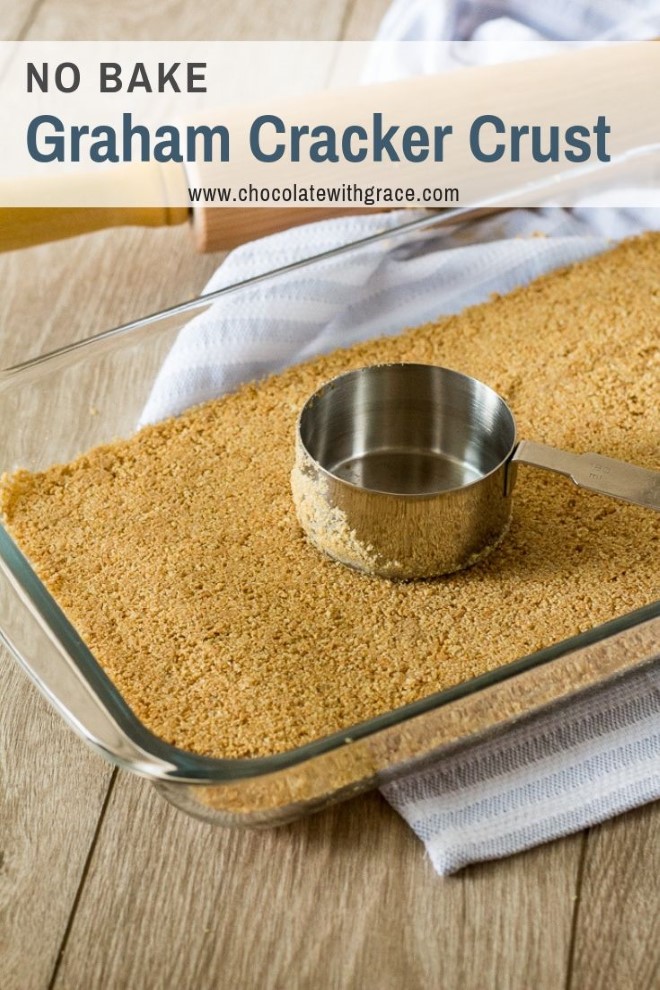 What to put in this no bake crust
This no bake cheesecake is one of our favorites. We also like to make no bake blueberry cheesecake, or this no bake biscoff cheesecake. Try this Fluffy Key Lime pie or No Bake Lemon Pudding pie too. They both sound delicious.
You could bake this graham cracker crust if you prefer. Just bake at 350 F for 10 minutes. Let cool completely before filling.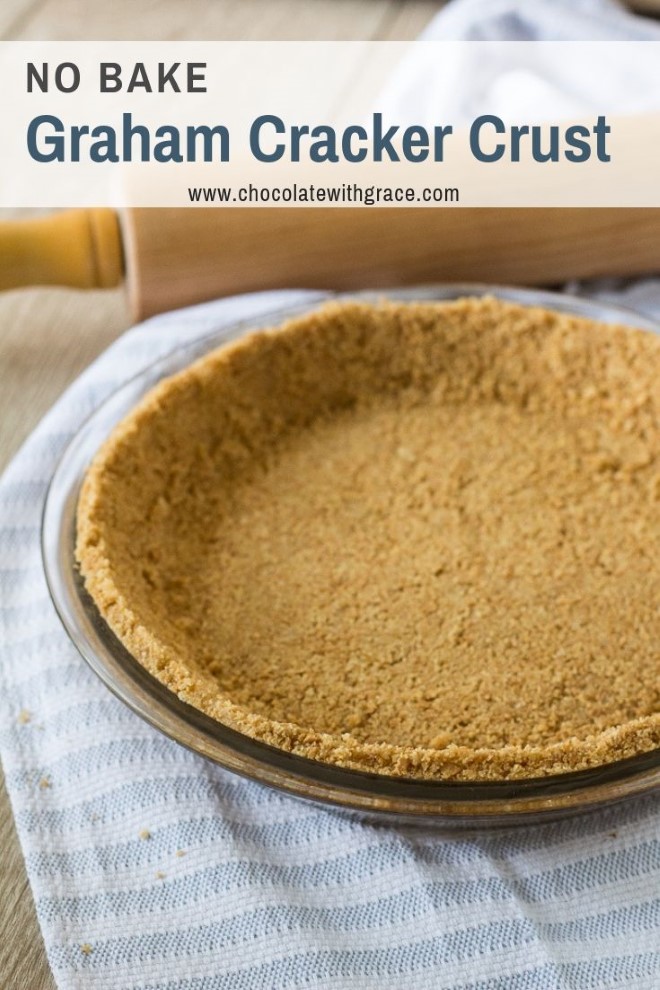 If you make this recipe, let me know how you liked it. Leave me a comment below or give it a rating in the recipe card. Happy Baking (Or No-Baking 🙂 )!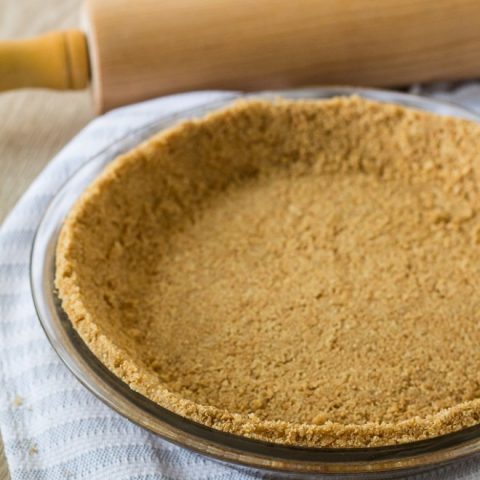 How to Make a No Bake Graham Cracker Crust
Yield: 8 Servings

Prep Time: 15 minutes

Additional Time: 30 minutes

Total Time: 45 minutes

This post has all the tips and tricks you need to know to make the best no bake graham cracker crust. It can be made in a 9 inch pie plate, springform pan or 9 x13 inch baking dish. 
Ingredients
1 1/2 cups (5 ounces) graham cracker crumbs, finely crushed (about 9 -10 sheet of graham crackers)
1/4 cup granulated sugar
1/2 cup butter, melted
Instructions
Finely crush the graham crackers. My favorite way to do this is put the graham crackers into a gallon ziploc bag and then crush with a rolling pins until finely ground. A food processor also works great. You want the crumbs to be very fine as this will help the no bake crust hold together better.
Add the graham cracker crumbs to a medium bowl and stir in the granulated sugar.
Pour the melted butter in and stir until combined.
Firmly press into the bottom and sides of a 9 inch pie plate or 9x13 inch pan. You can also press it into a springform pan.
I like to use a measuring cup to press it in firmly and create crisp edges. Check out the pictures and video in the post for more tips and tricks.
Chill the crust for 30 minutes before filling with your favorite no bake dessert. We love this no bake cheesecake!
After filling, refrigerate the crust with filling for at least 4 hours. This helps everything set together and will help the crust cut cleanly.
Nutrition Information:
Yield: 8 Serving Size: 1 piece
Amount Per Serving: Calories: 194Total Fat: 13gSaturated Fat: 8gTrans Fat: 0gUnsaturated Fat: 5gCholesterol: 31mgSodium: 164mgCarbohydrates: 18gFiber: 1gSugar: 10gProtein: 1g

Nutrition information may vary significantly based on ingredients used and portion sizes. We are not responsible the reliability of this data or your reliance on it. We are not responsible for the results of any recipe you try from this blog/website, Chocolatewithgrace.com. Your results may vary due to differences in ingredients, humidity, altitude, cooking temperatures, errors, or individual cooking abilities.