A rich chocolate cake, topped with a fluffy vanilla filling and a smooth chocolate frosting. Just like our favorite childhood treat.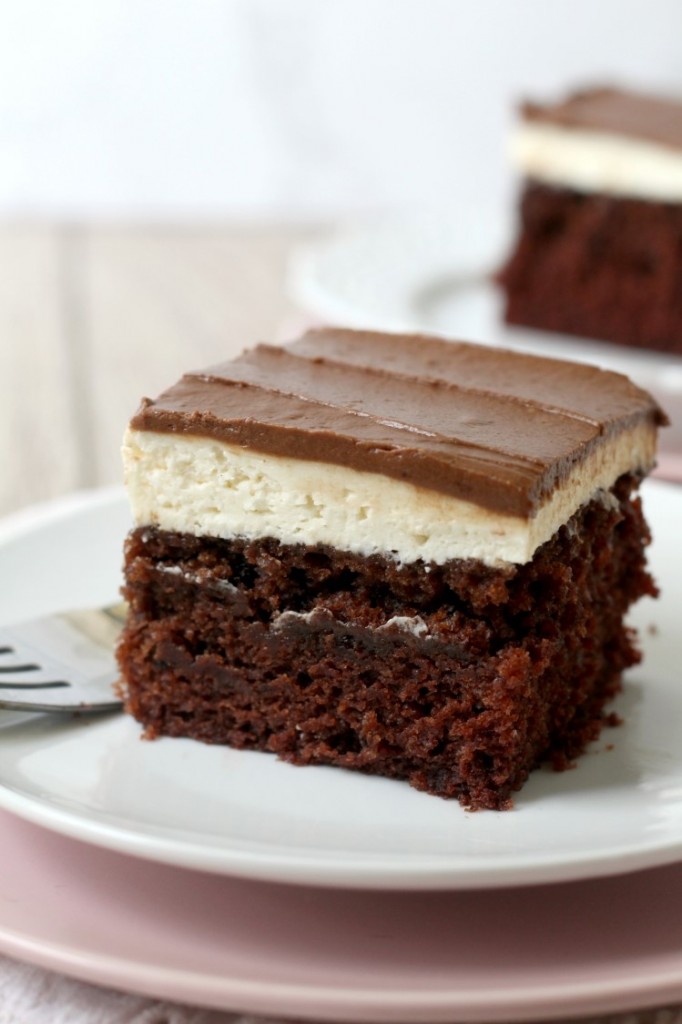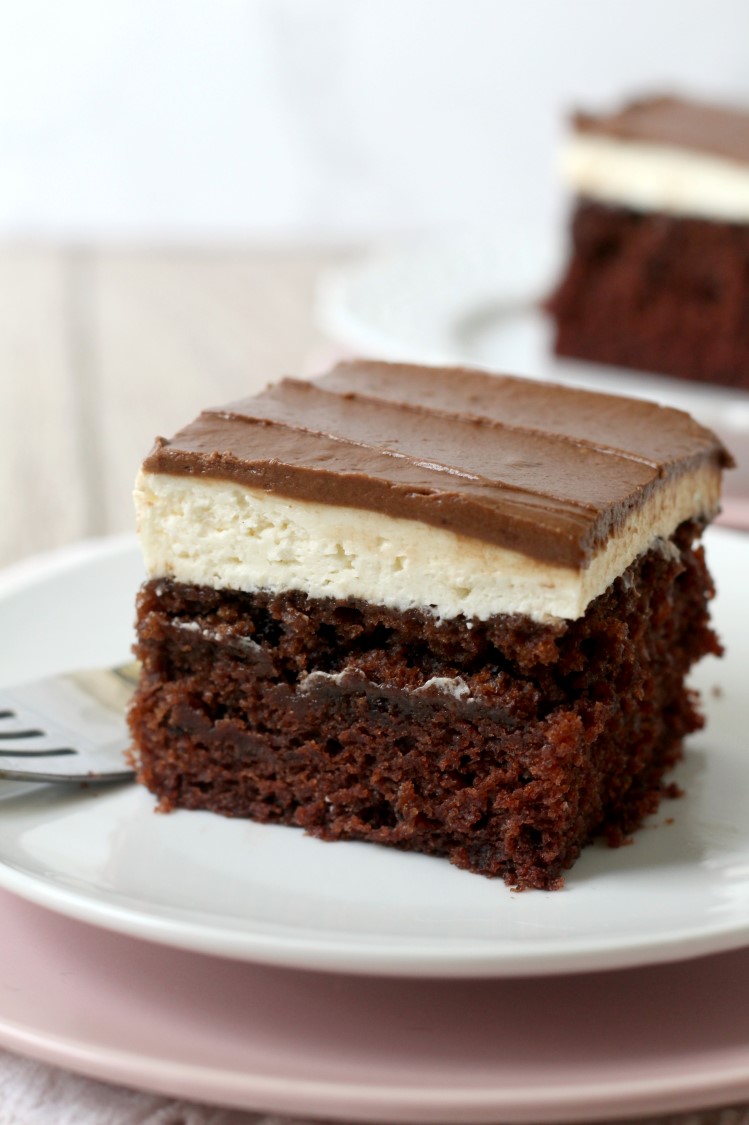 We're setting aside the summer fruit desserts for a bit and going with a rich chocolate dessert. How many of you would always choose a chocolate dessert over anything else. There are quite a few people in my family who would.
Despite having chocolate in the name of my blog, I also like a good fruit dessert, lemon berry is a favorite combination of mine. Basically, it's hard for me to choose. I just want a piece of everything please. 🙂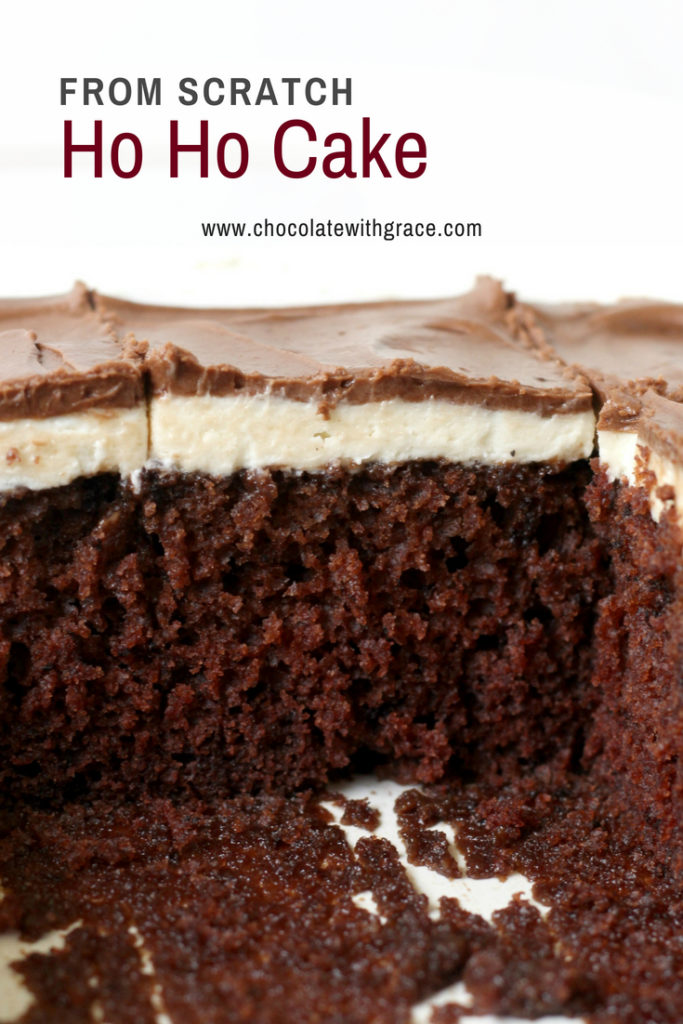 This version of Ho HO Cake is made in a 9 x 13 pan, I don't have time or desire this summer to be rolling up a cake. It's so much easier to bake it in a pan. The recipe below has a from scratch chocolate cake which is a favorite of our. Easy and moist, it stirs up almost as fast as a box mix. But you could also use a box mix if that is more your thing.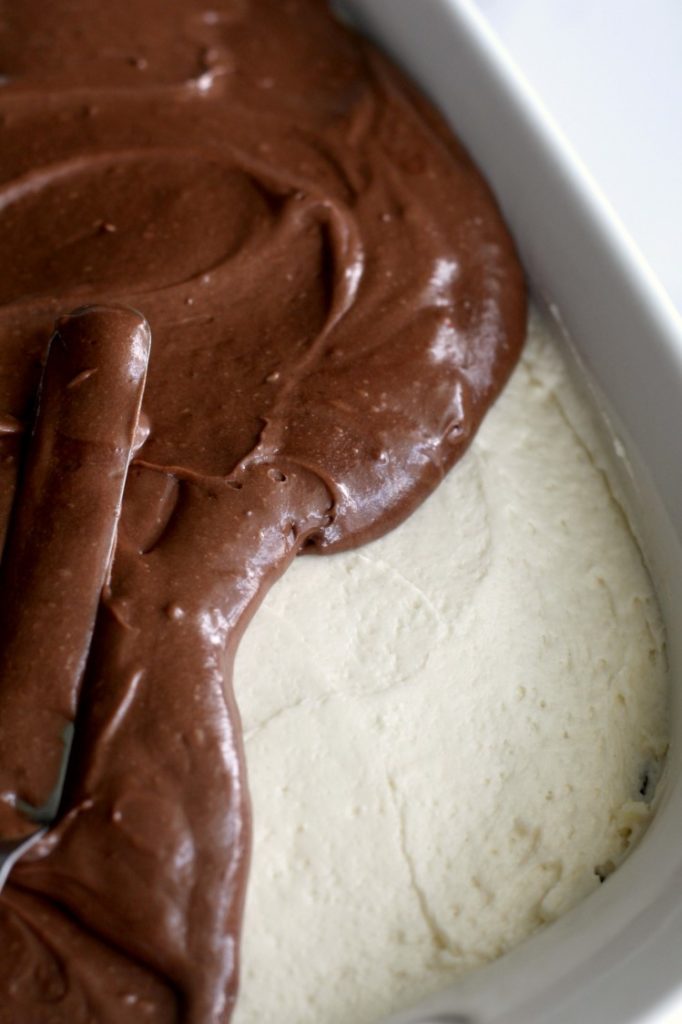 While none of the layers take that much time, you do have to plan ahead to let it cool. Why does it take so long to cool a 9 x 13 cake? Don't get impatient though, let it cool completely.
The original filling recipe uses shortening to give it that classic Ho Ho Cake flavor. I hate working with shortening and how it tastes in most things so I use butter. In my opinion the flavor is a lot better for the filling, but if you prefer a more "store bought" taste, feel free to use shortening. It will also make the filling a bit more smooth.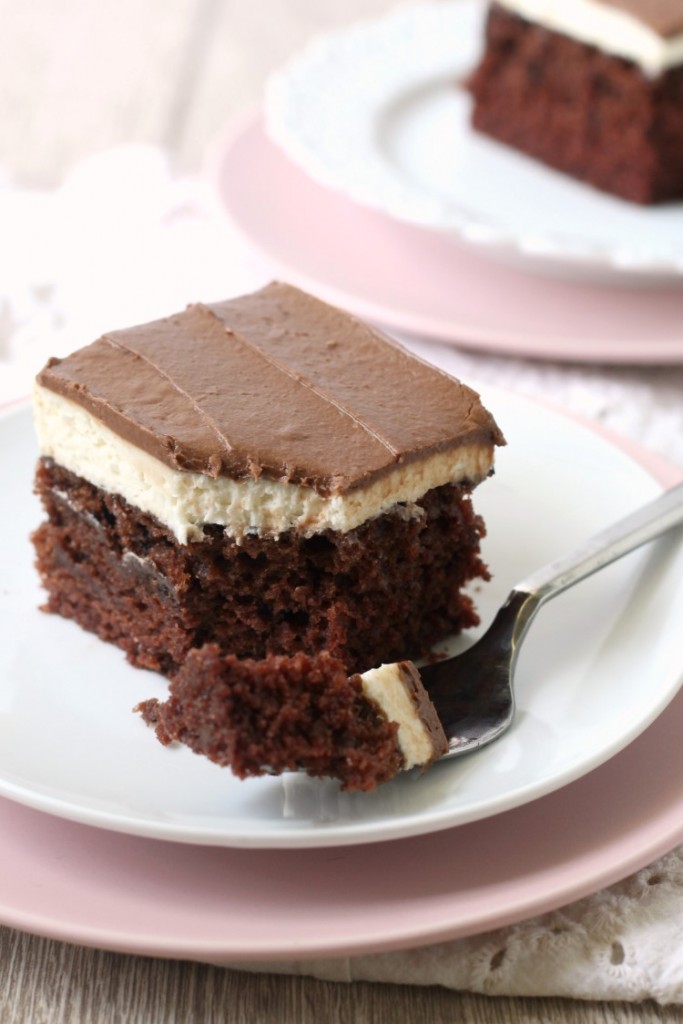 The recipe for the frosting has a raw egg in it. Yes, raw eggs contain a risk of salmonella, but it gives the frosting a rich, silky texture. The frosting is also good without the egg, so only add it at your own risk. They do sell pasteurized eggs in some grocery stores, which would be a great option if you can find them.
Because this cake is so thick and rich, it feeds a crowd. I would say you could easily get 18 servings if you don't cut giant pieces. This was also one of our favorite birthday cake requests growing up. Especially for my sister, Rachael, who chooses a chocolate dessert every time. 🙂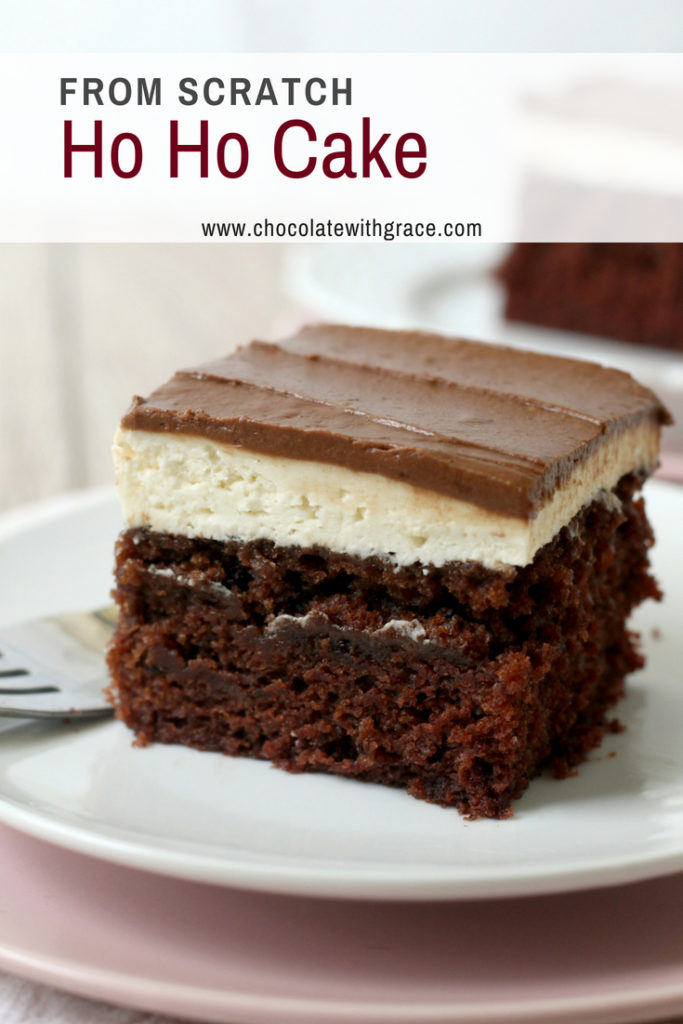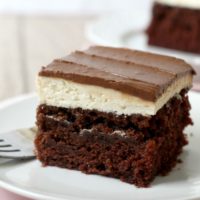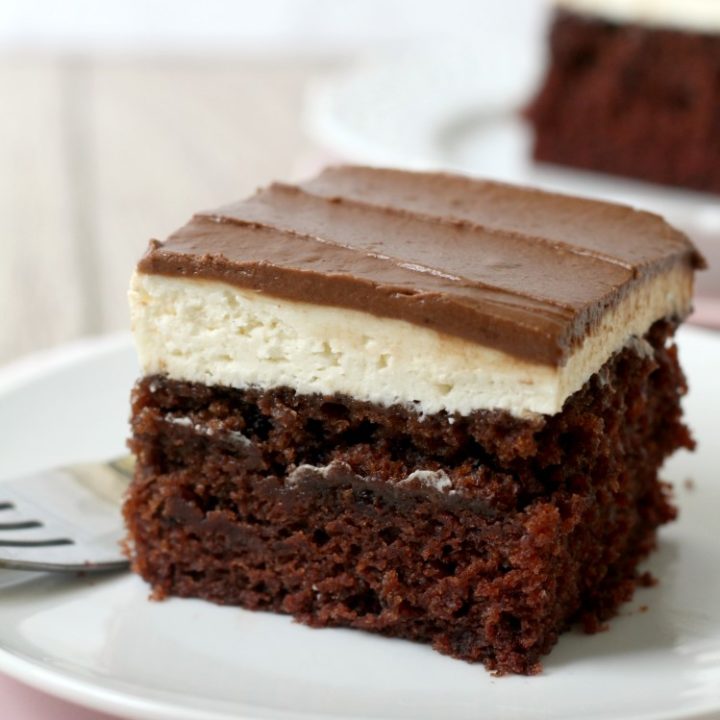 Ho Ho Cake
Yield: 15-18 servings

Prep Time: 1 minute

Cook Time: 30 minutes

Inactive Time: 1 hour 39 minutes

Total Time: 2 hours 10 minutes

A rich chocolate cake, topped with a fluffy vanilla filling and a smooth chocolate frosting. Just like our favorite childhood treat.
Ingredients
For the Cake
3 cups all purpose flour
6 tablespoons cocoa powder
1 1/2 teaspoon baking soda
1 teaspoon salt
10 tablespoons vegetable or canola oil
2 tablespoons vinegar
2 teaspoons vanilla
2 cups cold water
2 cups granulated sugar
For the Cream Filling
1/4 cup flour
1 cup cold milk
1 cup sugar
1 teaspoon vanilla
1 cup butter, softened
For the chocolate frosting
10 tablespoons butter, melted
6 tablespoons cocoa
2 1/2 tablespoons hot water
1 teaspoon vanilla
3 cups powdered sugar
1 egg (optional) It will be raw, see my note in the post
Instructions
Preheat oven to 350 F. In a large bowl, whisk together the flour, cocoa, baking soda, and salt. Add the remaining ingredients and whisk until smooth. Pour into a greased 9 x 13 inch baking pan. Bake for 25-30 minutes or until a toothpick inserted comes out clean.

Let cool completely. Meanwhile, start the filling. Whisk together the flour and cold milk in a saucepan. Cook over low heat until bubbly and thick. Set aside to cool. When cool, add the sugar vanilla and butter, beat until smooth and fluffy. A stand mixer is best for this. If it doesn't look like it's coming together, just keep beating it. Spread onto the cooled cake.

To make the frosting. Beat together the butter, cocoa, hot water, vanilla, powdered sugar and egg (if desired). The egg will be raw, so only use if you are comfortable eating raw egg. The frosting will be fine without it, but the egg gives it a silky richness. Use a pasteurized egg if you can find it.

Spread frosting over cream filling. Chill for 30 minutes before serving.
Nutrition Information:
Yield: 15 Serving Size: 1 piece

Amount Per Serving:

Calories: 559 Total Fat: 22g Saturated Fat: 13g Trans Fat: 1g Unsaturated Fat: 7g Cholesterol: 67mg Sodium: 443mg Carbohydrates: 86g Fiber: 2g Sugar: 62g Protein: 5g

Nutrition information may vary significantly based on ingredients used and portion sizes. We are not responsible the reliability of this data or your reliance on it. We are not responsible for the results of any recipe you try from this blog/website, Chocolatewithgrace.com. Your results may vary due to differences in ingredients, humidity, altitude, cooking temperatures, errors, or individual cooking abilities.


Here are some other chocolate cake recipes made in a 9 x 13 inch pan.
Earthquake Cake from The First Year Blog
Mississippi Mud Cake from Tastes Better From Scratch
Chocolate Turtle Dump Cake from Together as a Family
Salted Caramel Pretzel Cupcakes