Garden Chive Rolls are a tender yeast roll flavored with fresh (or dried) garden herbs and best served with a generous amount of butter.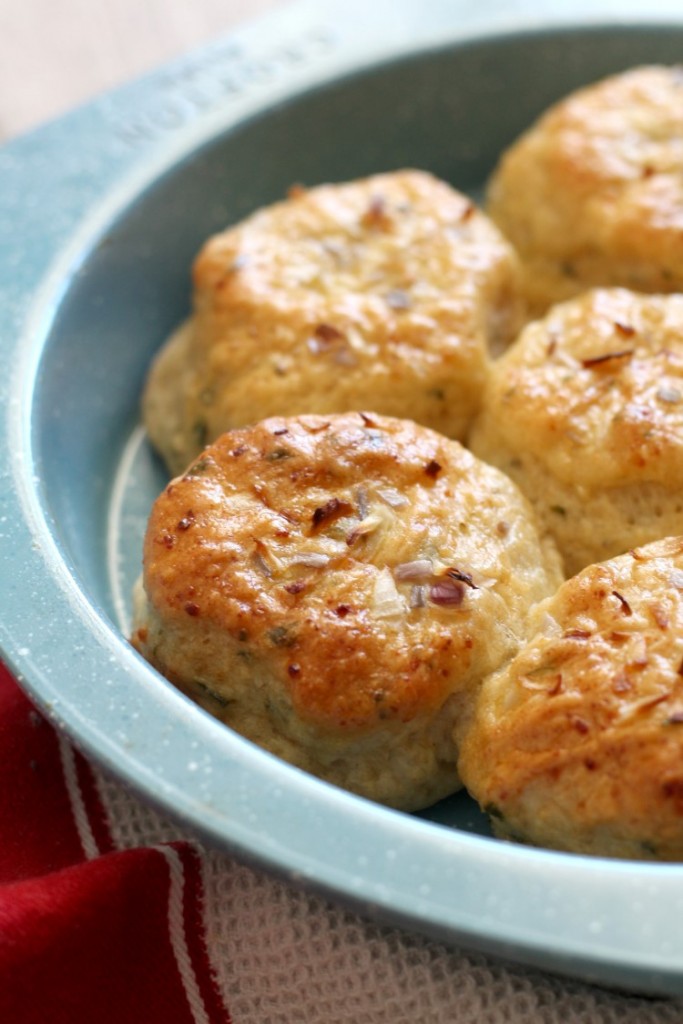 After a decadent chocolate recipe last week, I thought we could use something a little lighter and more summery, but still with carbs. #alwayscarbs 🙂 
This recipe is from my mom's cook book clippings. My mom has taken many of her favorite recipes and put them in a binder with page protectors. When I got married, my sister copied all the pages for me to make my own cookbook. There are many recipes in that book that I turn to over and over. (Also a few that I never make) 😉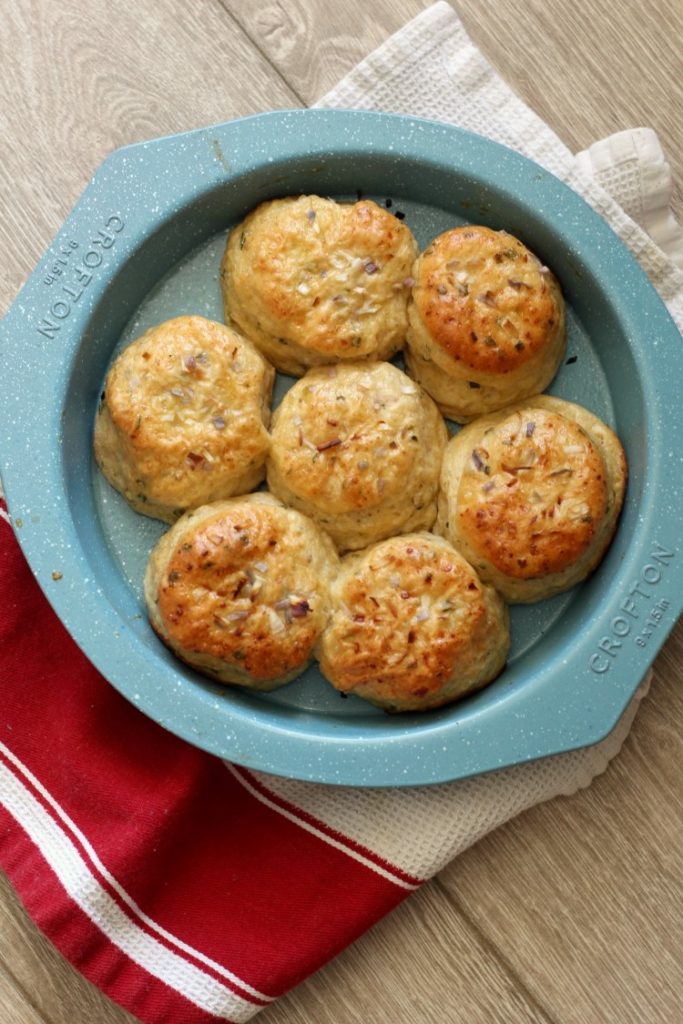 I think the originally recipe clipping was from Taste of Home or Cooking Light, but I couldn't find it's original source. Both of us have made some tweaks and substitutions to suit our taste. This recipe also uses cottage cheese so enjoy the extra protein boost. Think of it as an excuse to eat the whole pan.
I think these would be great with any other herbs you have on hand as well. My mom was showing me the herbs growing in her garden and I was duly impressed. I only have basil growing, but she had rosemary, thyme, oregano which I think would all be delicious.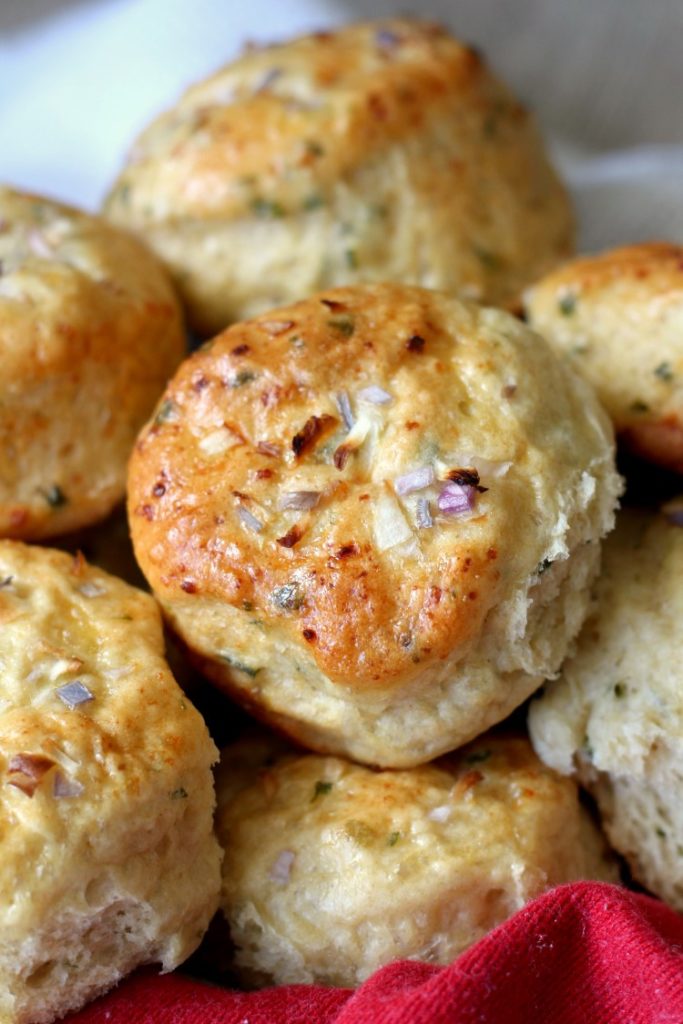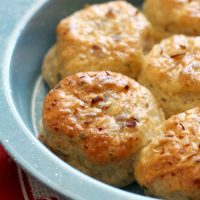 Garden Chive Rolls
Yield: 12-15 rolls

Prep Time: 2 hours

Cook Time: 15 minutes

Additional Time: 1 hour

Total Time: 3 hours 15 minutes

Garden Chive Rolls are a tender yeast roll flavored with fresh (or dried) garden herbs and best served with a generous amount of butter.
Ingredients
For the Rolls
1 tablespoon active dry instant yeast (or 1 package)
1/2 cup warm milk
1 egg
1 cup cottage cheese
1/4 cup oil, I used canola
1 tablespoon honey
1 teaspoon salt
3 teaspoons fresh or dried chives
1 cup whole wheat flour
1 3/4 to 2 1/4 cups all purpose flour
For the Topping
1 egg, beaten
4 tablespoons onion, finely diced
Instructions
In a large bowl, stir together the yeast and warm milk. Let sit 10 minutes until bubbly. Add the egg, cottage cheese, oil, honey, chives and salt. Stir until well combined.

Add the whole wheat flour and enough of the all purpose flour to make a soft dough. Turn out onto a floured surface and knead until smooth and elastic. Place in a greased bowl, cover and let rise in a warm place until doubled, about 1 hour.

Knead dough several times and roll out on a flour surface about 3/4 inch thick, cut with a 3 inch circle cutter and place on greased baking sheet. Brush with egg and sprinkle with diced onion. Cover and let rise until almost doubled. Meanwhile, preheat oven to 350 F. Bake in a preheated oven for 15-20 minutes or until the rolls are golden brown
Nutrition Information:
Yield: 12 Serving Size: 1 roll

Amount Per Serving:

Calories: 206 Total Fat: 7g Saturated Fat: 1g Trans Fat: 0g Unsaturated Fat: 5g Cholesterol: 35mg Sodium: 261mg Carbohydrates: 29g Fiber: 2g Sugar: 2g Protein: 8g

Nutrition information may vary significantly based on ingredients used and portion sizes. We are not responsible the reliability of this data or your reliance on it. We are not responsible for the results of any recipe you try from this blog/website, Chocolatewithgrace.com. Your results may vary due to differences in ingredients, humidity, altitude, cooking temperatures, errors, or individual cooking abilities.


Here are some other Herb Dinner Rolls that sound amazing.
Rosemary Dinner Rolls from Cooking Classy
Garlic Herb Dinner Rolls from The Recipe Rebel
Easy Herb Parmesan Dinner Rolls from the Blond Cook
Also try my Buttery Dinner Rolls, these are so soft, you wont even need butter.