S'mores Brownie Bites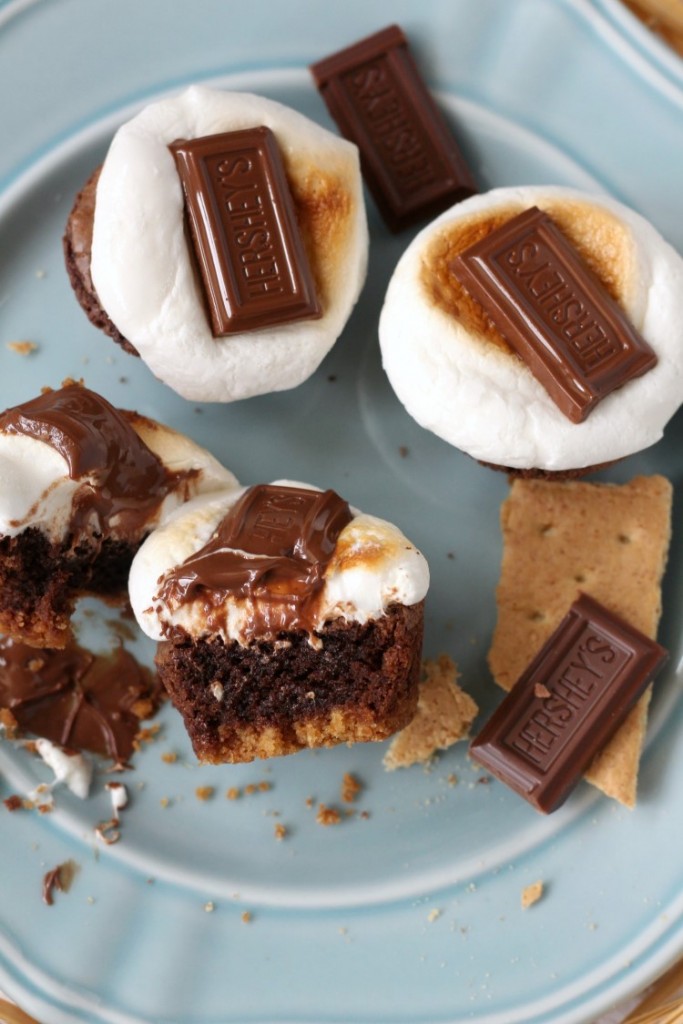 ¾ cup graham cracker crumbs, about 6 sheets.
3 tablespoons butter, melted
1½ tablespoon granulated sugar
¼ cup butter, melted
¼ cup oil
1 cup granulated sugar
2 eggs
1 teaspoons vanilla
⅓ cup cocoa powder
½ cup all purpose flour
¼ teaspoon salt
¼ teaspoon baking powder
24 regular sized marshmallows
24 hersheys milk chocolate bars, 2 regular sized bars
Preheat the oven to 350 F. Combine the crushed graham cracker crumbs, melted butter and sugar. Grease your mini muffin tins. This recipe makes 24 brownie bites. Press a scant 1 tablespoon of crumbs into the bottom of each muffin tin. Set aside.
Whisk together the butter, oil, sugar, eggs and vanilla in a large bowl. Add the cocoa powder, flour salt and baking powder. Stir till combined. Divide the batter between the muffins cups, it will be around 1½ tablespoons brownie batter per muffin. Bake at 350 F for 11-13 minutes or until just set. Don't over bake. Let cool and remove from the muffin tins.
Turn on the broiler in the oven to preheat. Place the brownie bites on a cookie sheet at least 2 inches apart. Place a marshmallow on top of each. Put them under the broiler for a minute or two until the tops are toasted. Watch them closely, they burn quickly.
Remove from the oven and press a rectangle of hershey's chocolate on top. They are best served warm.