How to make the Best Cinnamon Rolls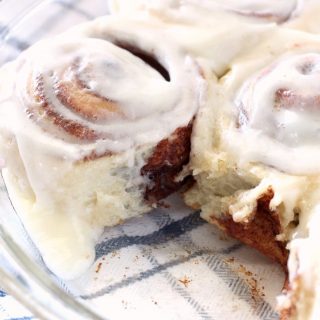 ½ cup of butter, softened
1½ cups of brown sugar
3 tablespoons cinnamon
½ cup butter, softened
3 ounces cream cheese, softened
2 cups powdered sugar
2-4 tablespoons milk
1 teaspoon vanilla
⅛ teaspoon salt
***If you haven't yet, be sure to read my post for lots of extra tips and tricks to making these the best cinnamon rolls ever!***
Make the sweet yeast dough as directed in the recipe through the first rise.
After the first rise, knead the dough several times and let rest on the counter for 5 minutes. Meanwhile, stir together the brown sugar and cinnamon for the filling. Divide the dough in half and work with one half of the dough at a time. Roll the dough into a 12 x 18 inch rectangle. Be patient with the dough.
Spread ½ of the butter (1/4 cup) on the rectangle. Spread it to the edges, leaving 1 inch section bare on one of the 12 inch sides. Sprinkle ½ of the brown sugar filling on top. Roll up tightly starting with the 12 inch side. Cut into 1-1.5 inch sections with dental floss or a very sharp knife. Place ¾ inch apart in a greased baking dish. Repeat with the remaining half of the dough.
Cover and let rise until double, 20-30 minutes. Time will vary based on how warm the room is. Preheat the oven to 375 F. Bake the rolls for 12-15 minutes or until lightly brown on top.
While the rolls are baking, make the frosting, beat together the butter, cream cheese and powdered sugar until smooth. Add the vanilla, salt and enough of the milk to make a spreadable consistency.
Remove the rolls from the oven and let cool for 5 minutes. Frost the rolls while they are still warm so the frosting will melt a bit.
They are best served warm, but will keep a couple days.
Recipe by
Chocolate With Grace
at http://chocolatewithgrace.com/make-best-cinnamon-rolls/