A quick and easy soft dinner roll made with whole wheat flour.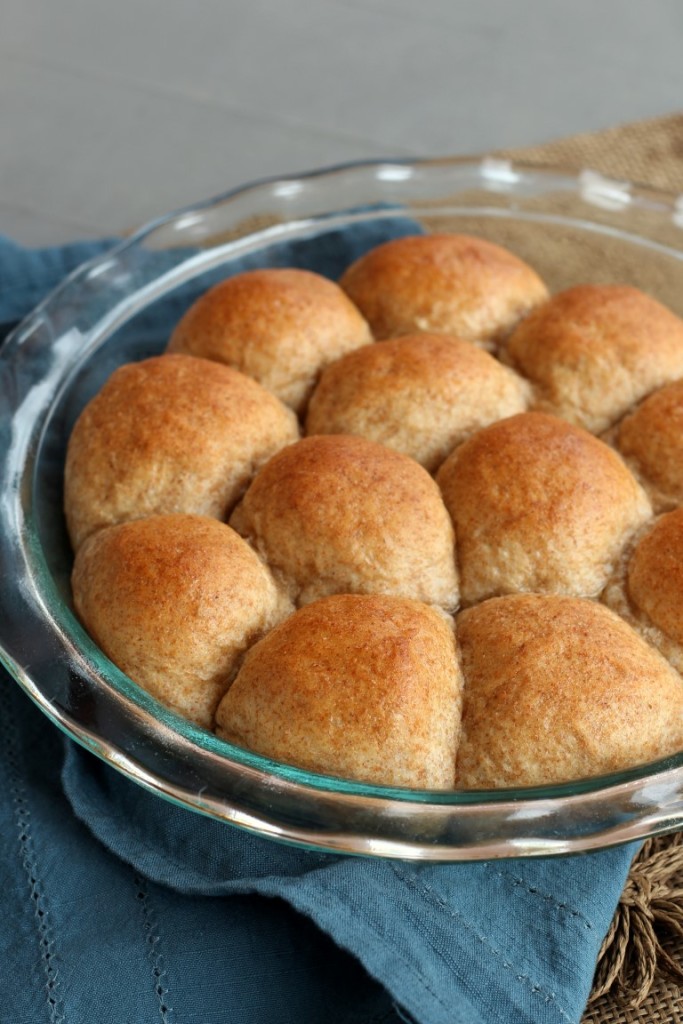 I'm back! This time with a little helper in the kitchen. My baby, Cameron, was born just before Christmas. For the last month, we have slowly been adjusting to life together and in the past 2 weeks, I've been gradually getting enough sleep to function in life again. I can actually accomplish more than feeding him, laundry and feeding myself. We've been so thankful for all the meals people brought to us. 
Last week I attempted to make cookies for the first time since he was born. For some reason, making simple chocolate chip cookies didn't occur to me. I had to whip up some frosted cut out cookies. Well three days later, they were finally finished. It took me one day to make the dough, one day to cut out and bake them and one day to frost them. My little baking assistant kept insisting that we take breaks to keep his belly full. Shhh! He hasn't learned much fun it is to sneak bites of cookie dough yet. Even though the cookie baking process seemed long, I thoroughly enjoyed being back in the kitchen and make pretty pink heart cookies with sprinkles. It's good to get back to a new normal in life.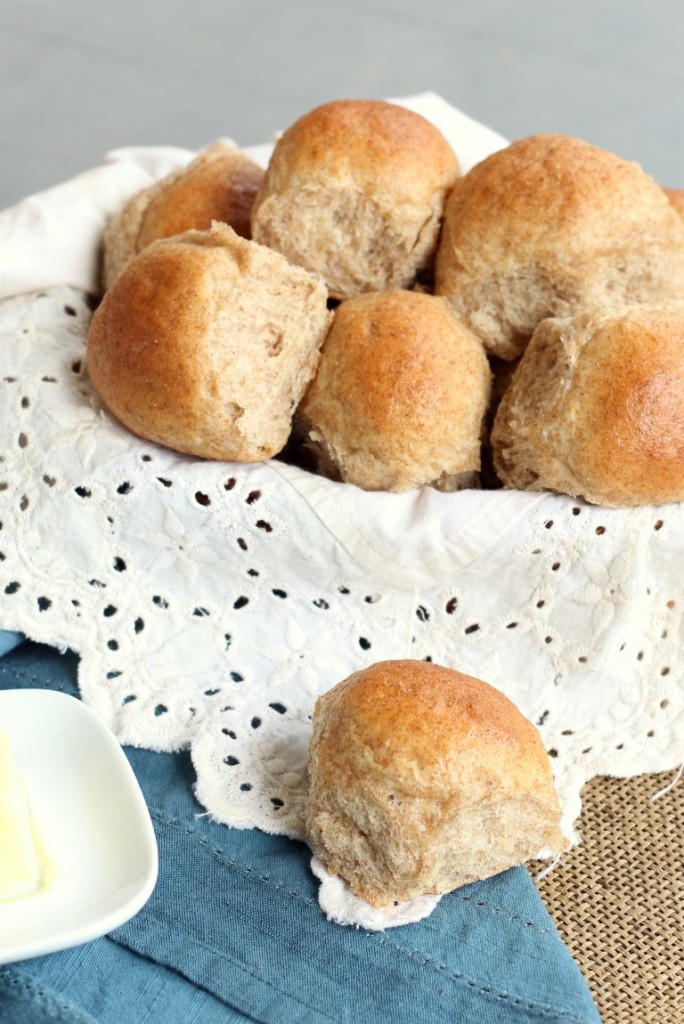 Thankfully, these easy whole wheat dinner rolls are a bit less labor intensive to prepare. They still require time to let the dough raise, but it's hands off time. Time I would use for exciting things like laundry. Yes, I'm pretty much in normal, new mother shock at the amount of laundry my baby makes. But feel free to read a good book instead. 🙂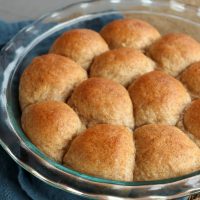 Easy Whole Wheat Dinner Rolls
Total Time:
2 hours
40 minutes
Simple and soft dinner rolls made with whole wheat flour
Ingredients
2 packages active dry yeast
1 and 3/4 cup hot water
1/2 cup honey
1/2 cup butter, melted
4 and 3/4 cup whole wheat flour, divided
2 teaspoons salt
Instructions
In a large bowl, proof the yeast in the hot water. Whisk in the honey and melted butter and salt. Stir in the whole wheat flour enough a soft dough forms. You may need to use a bit more or less flour.
Turn out the dough onto a floured surface and knead until it is smooth and elastic, about 6-8 minutes. Placed the dough in a greased bowl. Cover and let it rise in a warm place until double in size.
Punch the dough down and knead for about a minute. Let the dough rest for 10 minutes. Divide the dough into 24 equal pieces. Shape each piece into a ball, tucking the ends under. Place the them into a greased 9 x 13 inch pan or into 2 greased 10 inch baking pans. Cover and let them rise again until double.
While they are rising, preheat the oven to 375 F. Bake at 375 F for 20-25 minutes or until baked through and lightly browned. Brush them again with melted butter while they are hot if desired. Serve warm.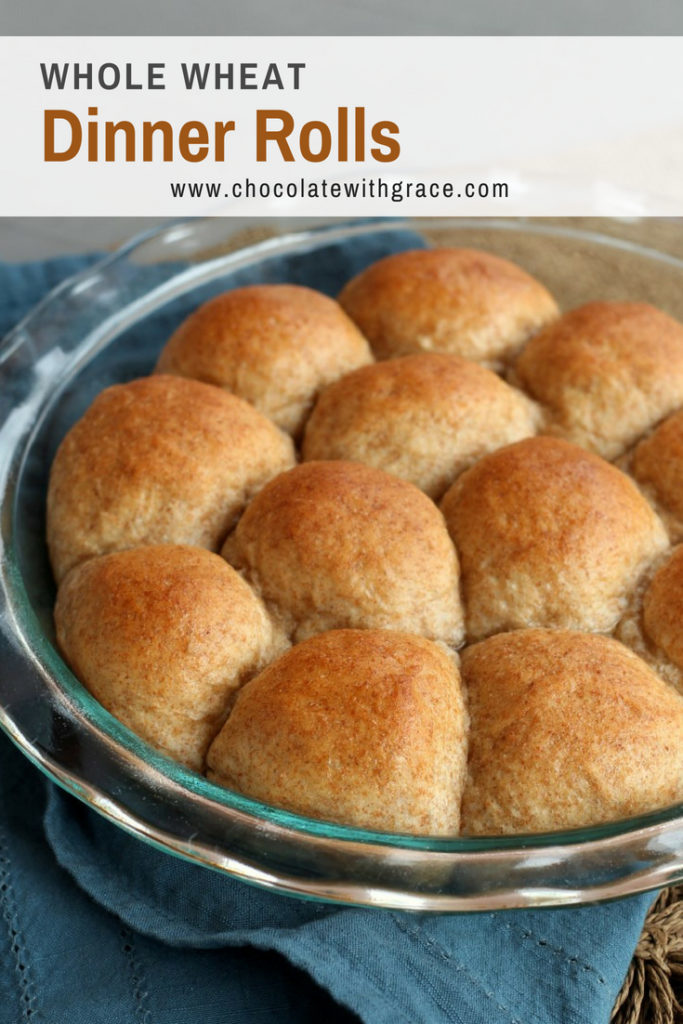 I'm looking forward to trying these other delicious sounding rolls:
Awesome Cheesy Herb Rolls from Oh, Sweet Basil
Crusty Homemade Pretzel Rolls from Gather for Bread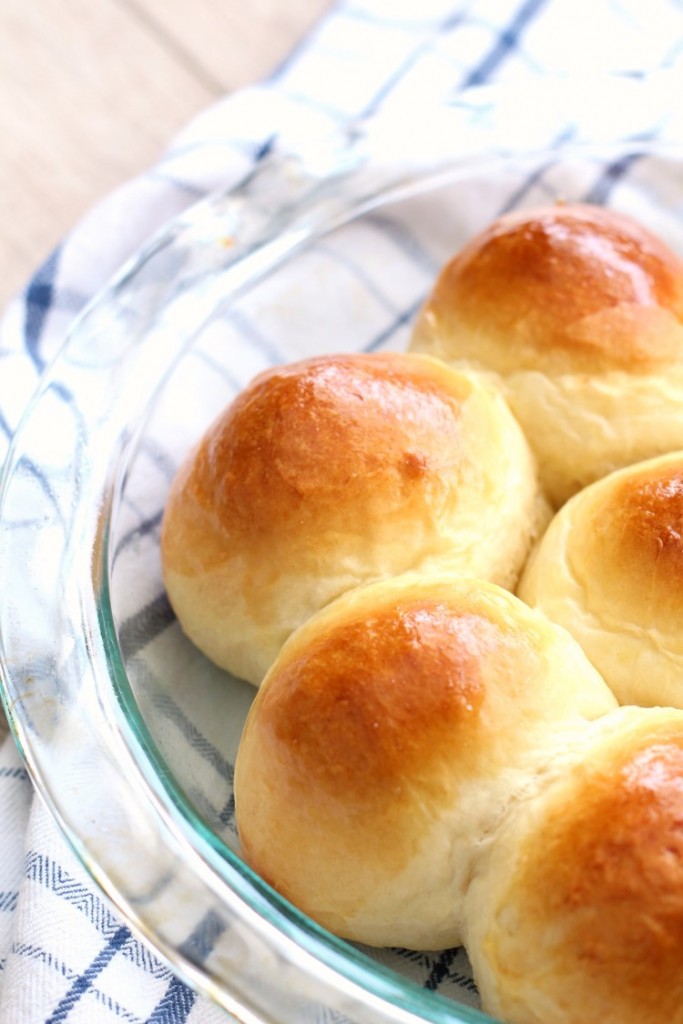 My Caramel Pecan Sticky Buns are also a favorite