Traditional chocolate chip cookies dipped in chocolate. A fun variation on everyone's favorite cookie, perfect with glass of milk.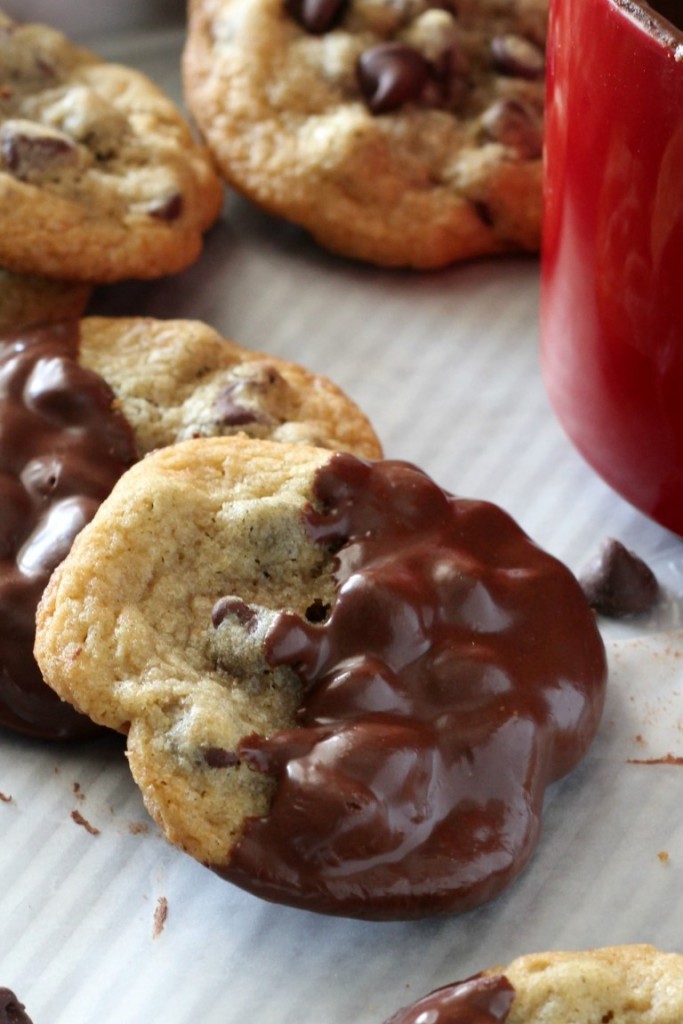 I've been wanting to try chocolate dipped chocolate chip cookies for awhile now. I saw them at Wegmans (favorite East Coast grocery store if your not familiar!) awhile back and thought they looked fun, a more dressed up version of a favorite! October was a busy month (I figured out I was gone more days than I was home!). I headed to Ohio to visit my family, to the Finger Lakes in New York for a Dairy Tour (More on that in a minute!) and to Oregon to visit my sister and her family!
So now that I have a chance to catch my breath and bake again, I'm excited to share a bit about my trip to New York. I thought these cookies would be perfect to serve you while we talk about dairy, since they are best with a nice cold glass of milk. They're rich.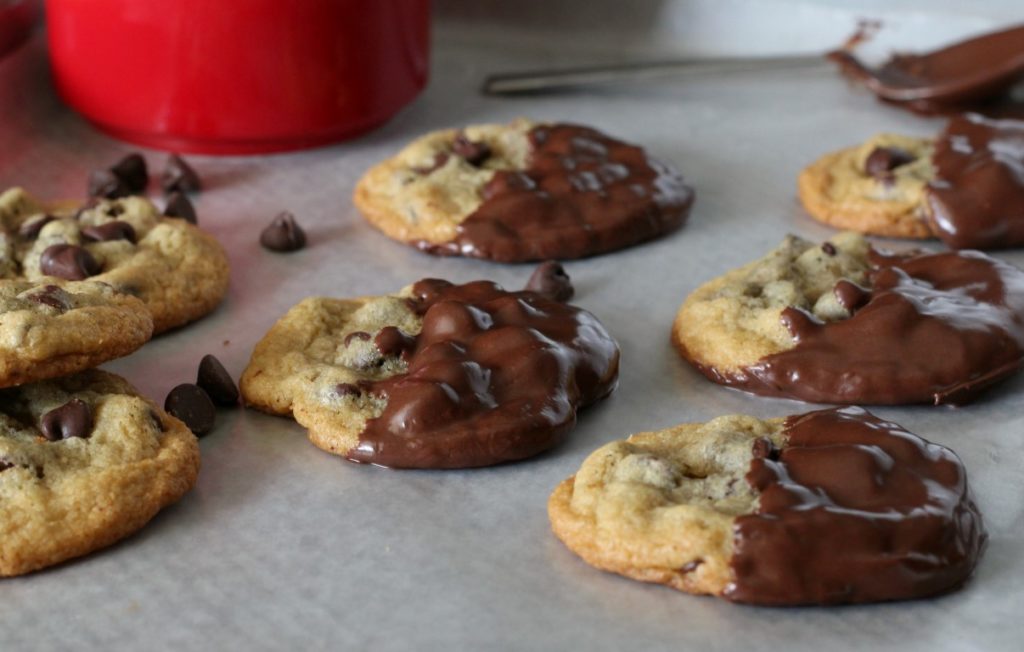 The American Dairy Association North East hosted a group of bloggers and nutritionists on a two day event in New York. We toured Yancey's Fancy artisan cheese plant and learned about the process of cheese making (and sample some delicious cheeses like steakhouse onion, yum!) Did you know 1/3 of the milk produced in the country is made into cheese! It's safe to say American's love their cheese!
Even though it was a rainy day, we braved the weather and toured an operating dairy, learning about how the cows are cared for and some state-of-the-art sustainability practices such as a methane digester, which process the manure into power.
We ended the trip with a little friendly competition, the Macaroni and Cheese Throw Down. I felt a little bit like a competitor on Chopped, but we were allowed to choose all of our ingredients and had more time 🙂 . I made a loaded baked potato macaroni and cheese, with bacon Gouda. The winner made a dill pickle hamburger macaroni and cheese. I wish I would have got to taste it, but I heard it was delicious!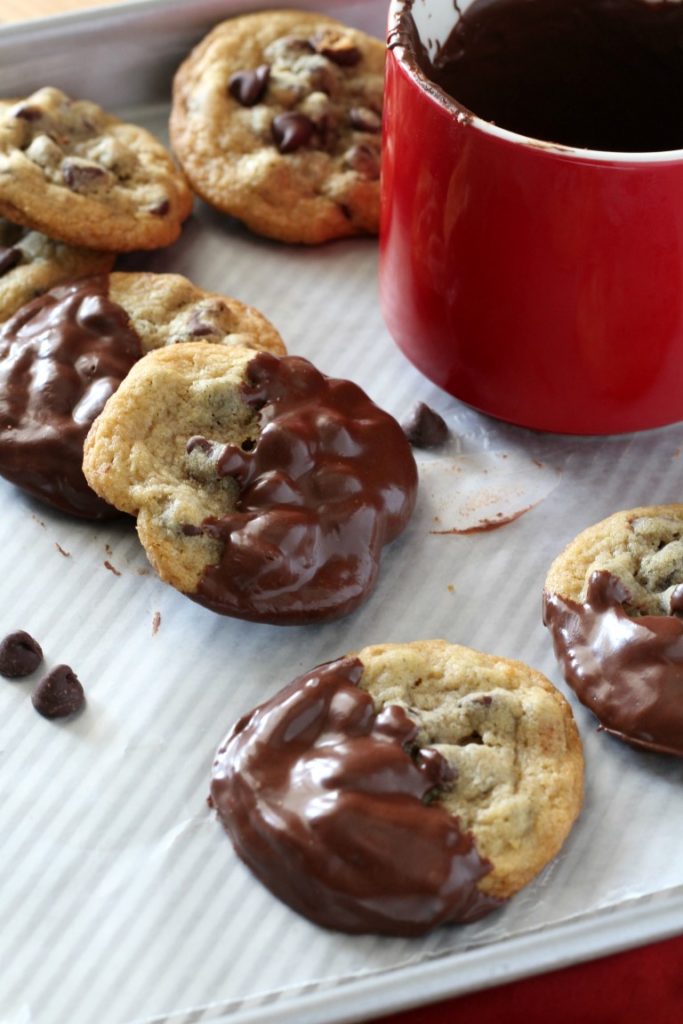 As a farmer's daughter, I'm excited about the work that the Dairy Association does in educating consumers on how their dairy products are grown and produced. We live in an age where the public is distanced from the source of their food and many have never seen an animal on a farm. It is important for the farmers to bring customers alongside their operations and build trust in the food they are producing.
So as your enjoying that nice glass of milk with your cookie, thank a farmer!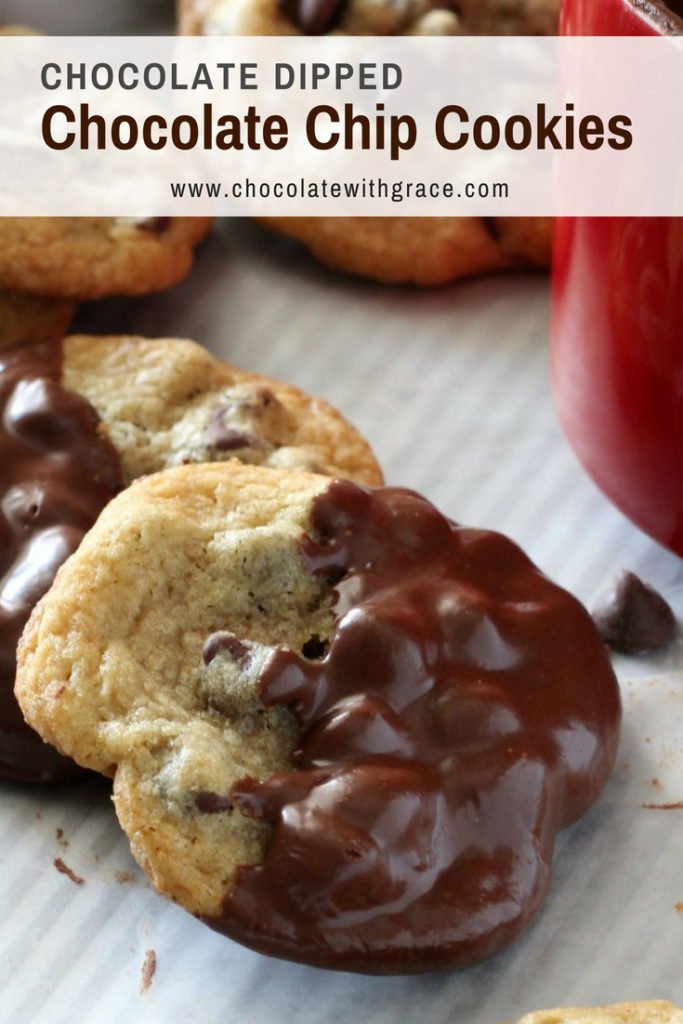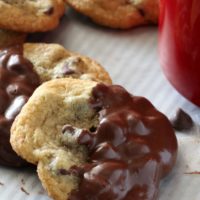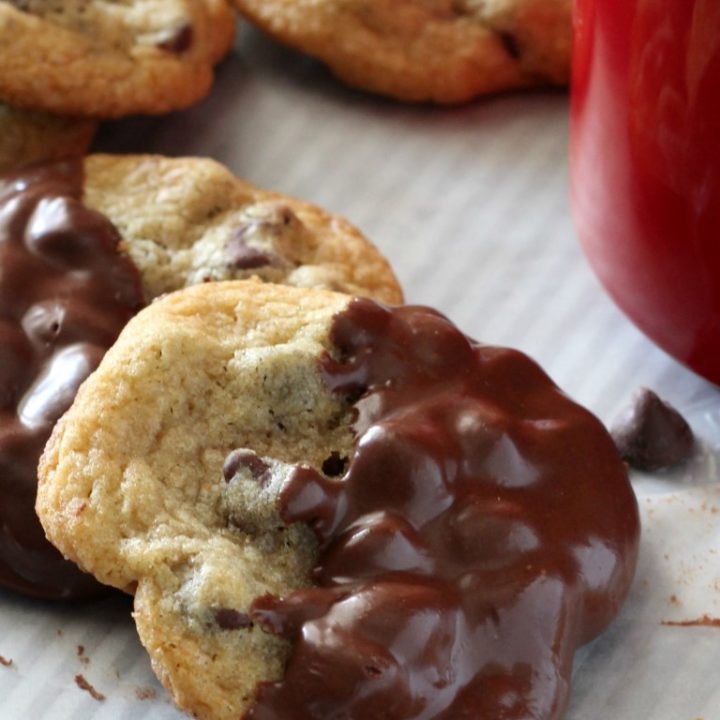 Chocolate Dipped Chocolate Chip Cookies
Yield: 2 dozen

Prep Time: 20 minutes

Total Time: 20 minutes

Traditional chocolate chip cookies dipped in a layer of dark chocolate. They're a chocolate lover's dream. Be sure to enjoy with a glass of milk.
Ingredients
12 ounces of your favorite dark chocolate (I like Trader Joe's Pound Plus Bar, 72% Cacao)
2 tablespoons vegetable shortening (It makes the chocolate less thick and more dip-able)
Instructions
Make the best chocolate chip cookies ever! And let them cool completely. The recipe makes for dozen, but you'll only need two dozen to dip. Or double the chocolate and dip them all.

Roughly chop the chocolate and place into a microwavable glass bowl with the shortening. Microwave in 10 second increments, stirring in between until the chocolate it melted and smooth.

Dip the each cookie halfway into the chocolate and let harden completely on wax paper. Serve with milk.
Nutrition Information:
Yield: 24 Serving Size: 1 cookie

Amount Per Serving:

Calories: 98 Total Fat: 6g Saturated Fat: 3g Trans Fat: 0g Unsaturated Fat: 3g Cholesterol: 2mg Sodium: 22mg Carbohydrates: 10g Fiber: 1g Sugar: 7g Protein: 1g

Nutrition information may vary significantly based on ingredients used and portion sizes. We are not responsible the reliability of this data or your reliance on it. We are not responsible for the results of any recipe you try from this blog/website, Chocolatewithgrace.com. Your results may vary due to differences in ingredients, humidity, altitude, cooking temperatures, errors, or individual cooking abilities.

Here are some other cookies that sound delicious with milk:
Oreo Cookies and Cream Cookies from Together as a Family
Oatmeal Peanut Butter Chocolate Chip Cookies from Rachl Mansfield
Circus Animal Stuffed Cookies from Beyond Frosting
If you're looking for another crazy good cookie, try these Caramel Stuffed Double Chocolate Cookies.