These chocolate covered strawberry cupcakes make a romantic dessert for Valentine's Day. A chocolate cupcake made from scratch with strawberry cream cheese frosting and a chocolate covered strawberry on top.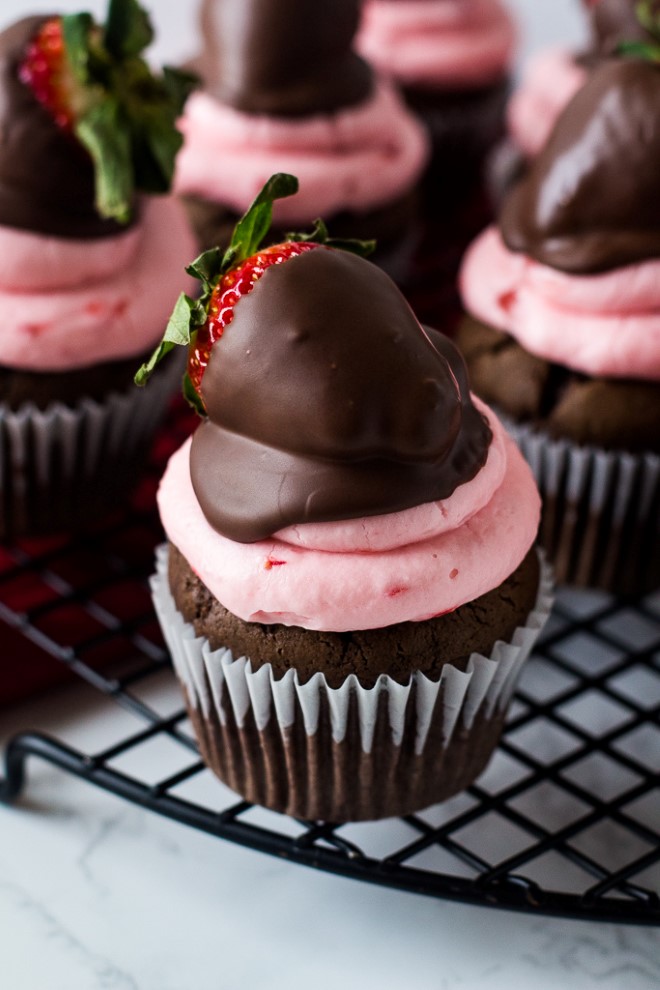 Happy Valentine's Day! And Happy 5 year blogging anniversary to me. 5 years ago on Valentine's Day I published my first post which was these chocolate covered strawberry cupcakes. I thought to celebrate 5 years, I would remake that first post and republish it.
You can see my original photograph of the cupcakes below. And the paragraph below what I typed to accompany the recipe and pictures. I'm leaving it for sentimental reasons. 🙂
I just want to say a little thank you to all my readers who have supported me through those years. I appreciate all the encouraging comments and feedback I've received.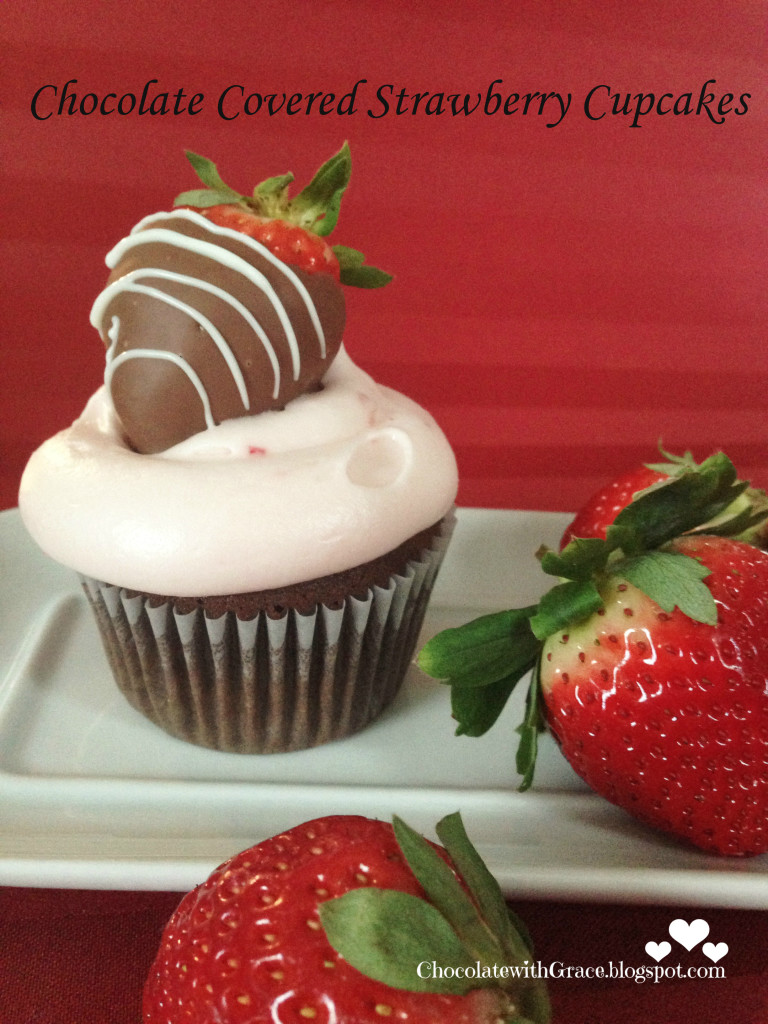 Happy Valentines Day! I hope you are enjoying the day and the chocolate that comes along with it! 🙂 It was great to be snowed in this year and have my husband around all day. Very romantic for our first Valentines married. Anyway, as one special way to celebrate I made him these awesome Chocolate Covered Strawberry Cupcakes. Its starts with a super moist, fine-crumb chocolate cupcake, then a creamy, smooth strawberry cream cheese frosting, and is topped with a strawberry, chocolate covered of course.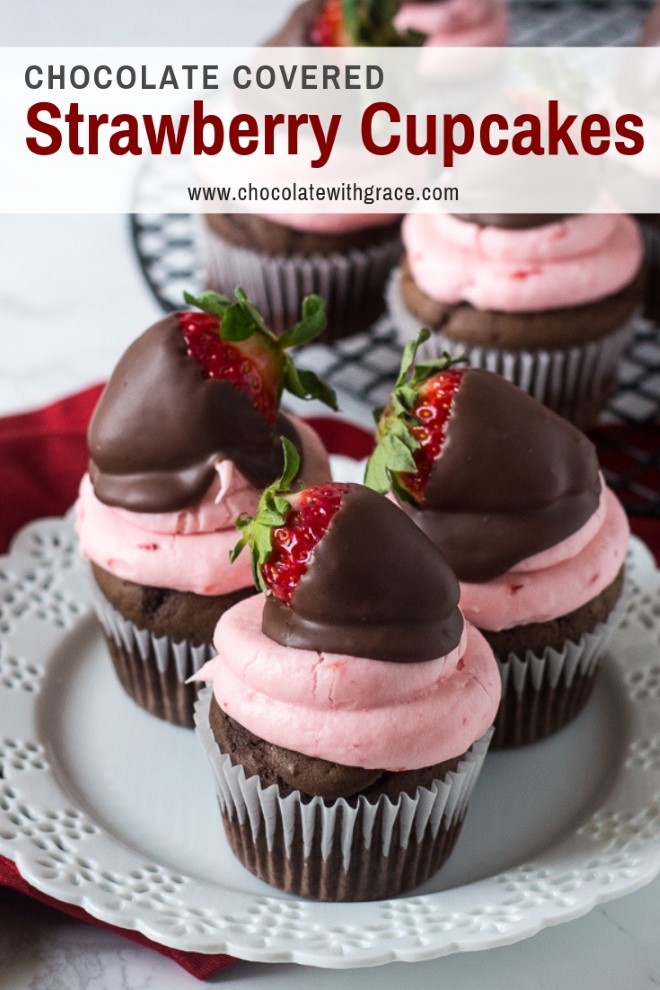 I thought it would be fun to share 5 of my favorite recipes that I've posted the past 5 years. These are the ones I make again and again and I've received great feedback from my readers on as well. Here they are: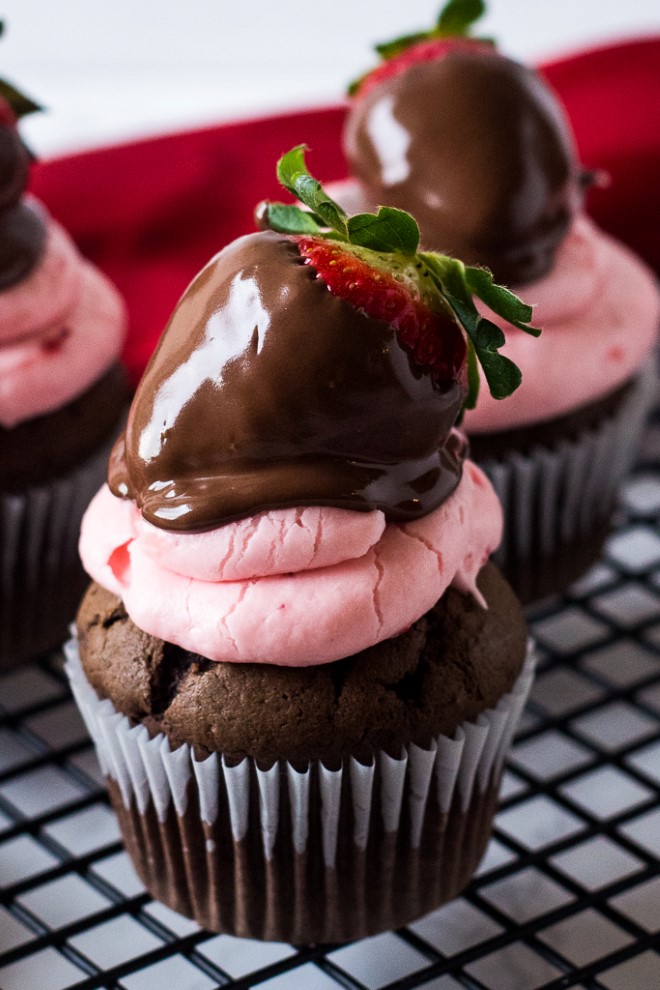 *This post was originally published 2/14/14. I've updated the pictures and text, but the recipe remains the same.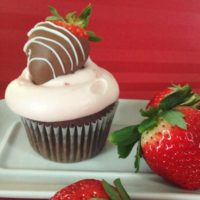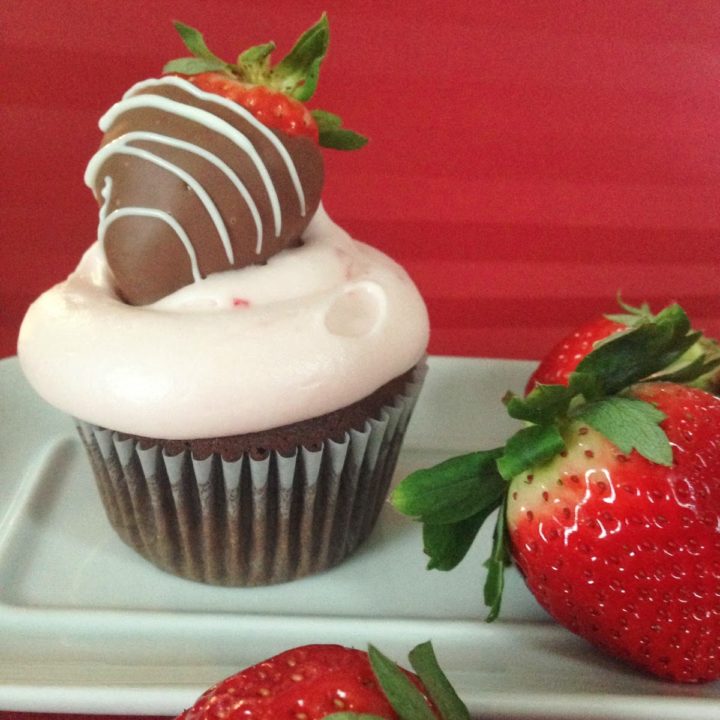 Chocolate Covered Strawberry Cupcakes
Yield: 18

Prep Time: 30 minutes

Cook Time: 18 minutes

Additional Time: 1 hour

Total Time: 1 hour 48 minutes
Ingredients
For the cake
1/2 cup cocoa
1 cup very hot water
1/2 cup softened butter
1 cup sugar
2 eggs
1 and 1/2 cups flour
1/2 tsp salt
1 tsp baking soda
1/4 tsp baking powder
For the frosting
1/4 cup finely chopped strawberries
8 oz cream cheese
1/2 cup butter
3 to 4 cups powdered sugar
chocolate covered strawberries for garnish, optional
Instructions
Preheat oven to 350. Beat together hot water and cocoa until smooth, allow to cool.

Meanwhile, whip together butter and sugar. Add eggs, beat until very fluffy.

Mix together flour, salt, baking soda, and baking powder in a separate bowl.

Add the cooled cocoa mixtures to eggs and beat till smooth. Next add the flour and beat for 30 seconds.

Distribute the batter into lined cupcake tins, filling them 2/3 full. Bake for 15-18 min. Cool.

For frosting: beat together softened cream cheese and butter until smooth. Add chopped strawberries.

Beat in powdered sugar until consistency is right for frosting. Frost cupcakes (I used a lot of frosting, it adds a great strawberry flavor!) and garnish with a chocolate covered strawberry. Enjoy!
Nutrition Information:
Yield: 18 Serving Size: 1 cupcake

Amount Per Serving:

Calories: 305 Total Fat: 15g Saturated Fat: 9g Trans Fat: 0g Unsaturated Fat: 5g Cholesterol: 61mg Sodium: 271mg Carbohydrates: 41g Fiber: 1g Sugar: 36g Protein: 2g

Nutrition information may vary significantly based on ingredients used and portion sizes. We are not responsible the reliability of this data or your reliance on it. We are not responsible for the results of any recipe you try from this blog/website, Chocolatewithgrace.com. Your results may vary due to differences in ingredients, humidity, altitude, cooking temperatures, errors, or individual cooking abilities.

This recipe was adapted from the original found here.
Here are some other recipes that would be great for Valentine's Day: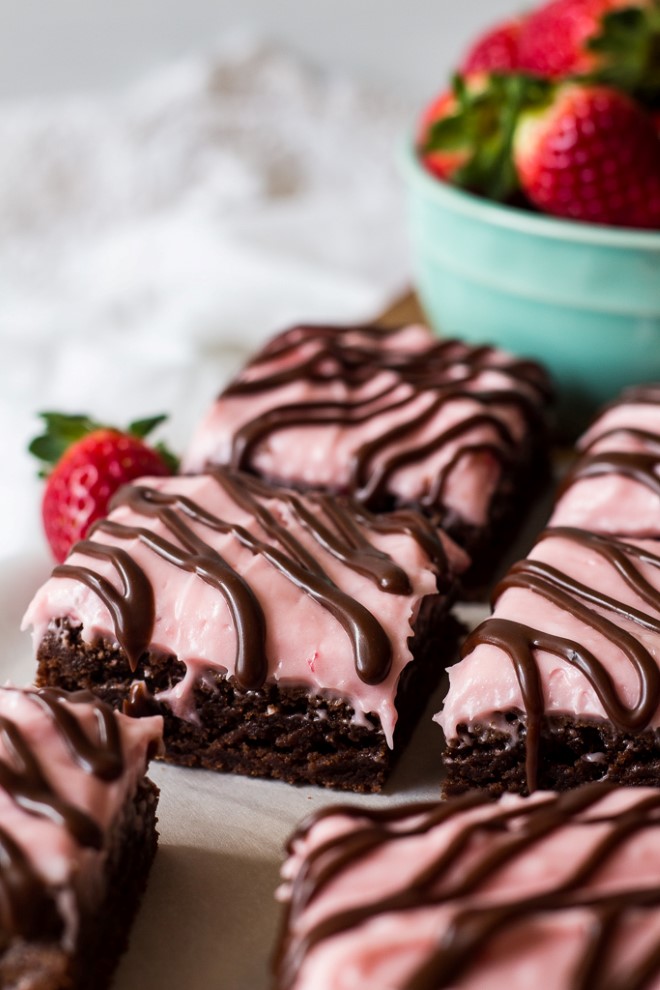 Salted Caramel Pretzel Cupcakes