Happy Valentines Day! I hope you are enjoying the day and the chocolate that comes along with it! 🙂 It was great to be snowed in this year and have my husband around all day. Very romantic for our first Valentines married. Anyway, as one special way to celebrate I made him these awesome Chocolate Covered Strawberry Cupcakes. Its starts with a super moist, fine-crumb chocolate cupcake, then a creamy, smooth strawberry cream cheese frosting, and is topped with a strawberry, chocolate covered of course.
This recipe was adapted from another recipe. You can find the original here.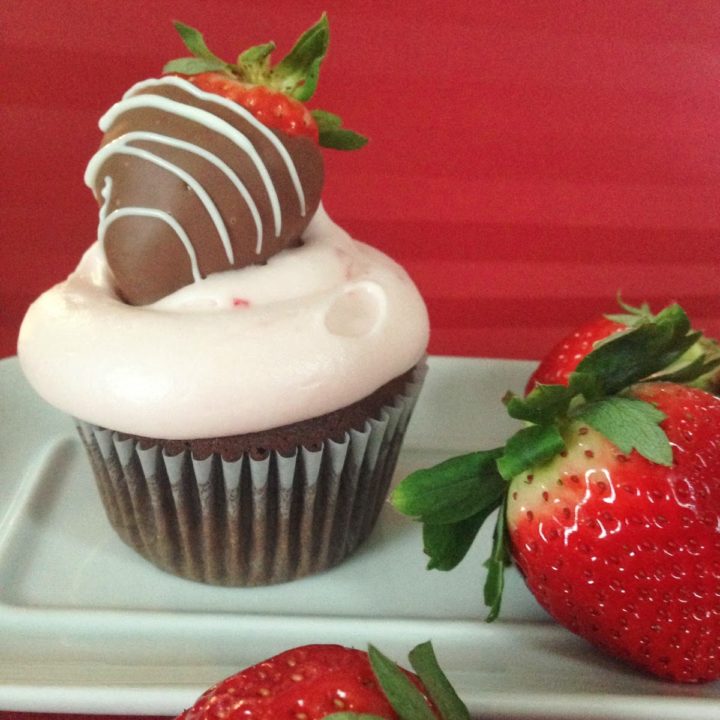 Chocolate Covered Strawberry Cupcakes
Yield: 18

Prep Time: 30 minutes

Cook Time: 18 minutes

Additional Time: 1 hour

Total Time: 1 hour 48 minutes
Ingredients
For the cake
1/2 cup cocoa
1 cup very hot water
1/2 cup softened butter
1 cup sugar
2 eggs
1 and 1/2 cups flour
1/2 tsp salt
1 tsp baking soda
1/4 tsp baking powder
For the frosting
1/4 cup finely chopped strawberries
8 oz cream cheese
1/2 cup butter
3 to 4 cups powdered sugar
chocolate covered strawberries for garnish, optional
Instructions
Preheat oven to 350. Beat together hot water and cocoa until smooth, allow to cool.

Meanwhile, whip together butter and sugar. Add eggs, beat until very fluffy.

Mix together flour, salt, baking soda, and baking powder in a separate bowl.

Add the cooled cocoa mixtures to eggs and beat till smooth. Next add the flour and beat for 30 seconds.

Distribute the batter into lined cupcake tins, filling them 2/3 full. Bake for 15-18 min. Cool.

For frosting: beat together softened cream cheese and butter until smooth. Add chopped strawberries.

Beat in powdered sugar until consistency is right for frosting. Frost cupcakes (I used a lot of frosting, it adds a great strawberry flavor!) and garnish with a chocolate covered strawberry. Enjoy!
Nutrition Information:
Yield: 18 Serving Size: 1 cupcake
Amount Per Serving: Calories: 243