This shop has been compensated by Collective Bias, Inc. and its advertiser. All opinions are mine alone. #BakingMadeEasier #CollectiveBias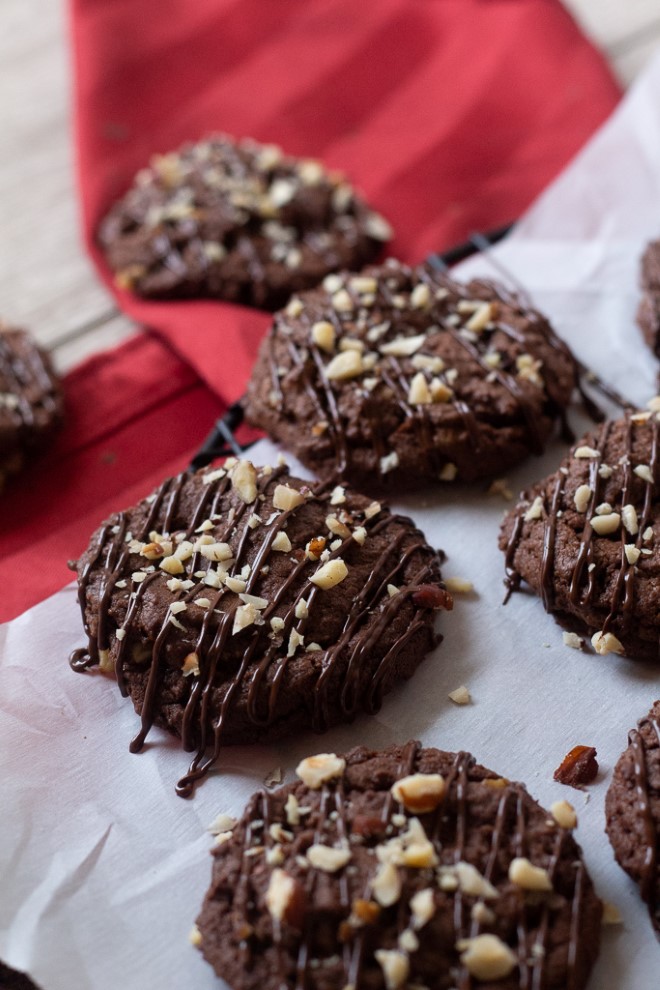 Chewy Chocolate Hazelnut Cookies are thick and chewy thanks to Country Crock® Baking Sticks and have chopped hazelnuts and hazelnut spread in the batter for lots of flavor.
We had a wonderful Thanksgiving weekend filled with lots of family and food and I hope you did too. And although it was a lot of fun, I can't hide my excitement for this week. The kids "helped" me put up the Christmas decorations, we've already started receiving Christmas cards in the mail, and I've started making Christmas cookies.
I have several different chocolate cookie recipes I'm excited to share with you this week starting with these Chewy Chocolate Hazelnut Cookies. I used my tried and true chocolate cookie dough and used Country Crock baking sticks and added in some hazelnut spread with cocoa.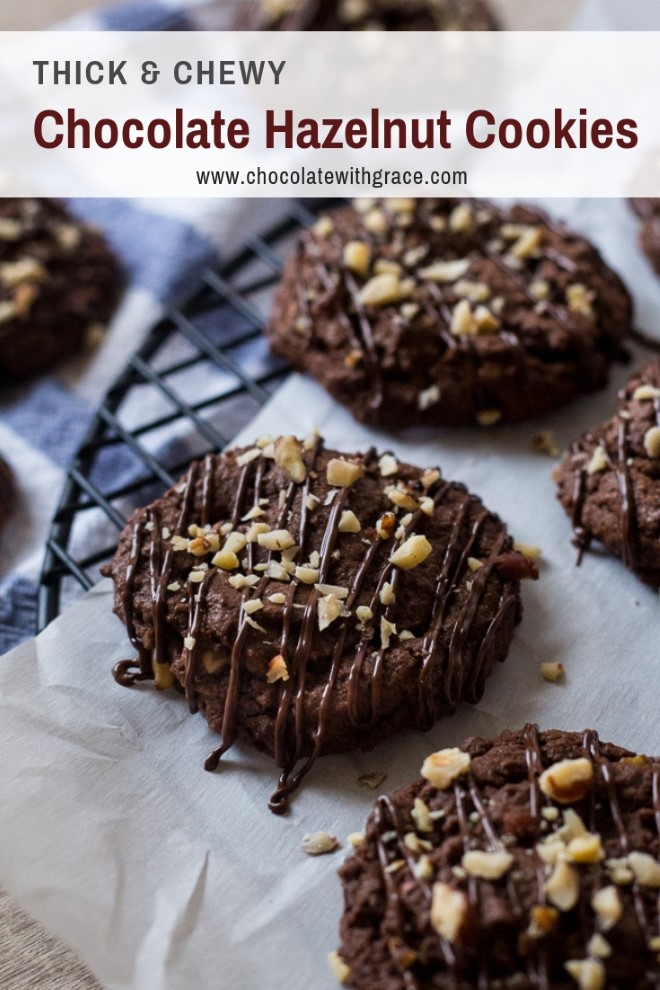 The Country Crock Baking Sticks don't require softening so you can just pull them out of the fridge and start baking when your ready. No planning ahead needed. It's a great substitute for butter and makes just about any cookie super thick and chewy. Also, this cookie recipe doesn't require chilling the dough. So it's perfect for when you need fresh cookies in a hurry.
Even though it's a simple, basic cookie recipe, the flavors are perfect for Christmas and the chocolate drizzle and chopped nuts on top dress them up for any occasion. Including Christmas Cookie Exchanges, more on that below. 🙂
How to make Chewy Chocolate Hazelnut Cookies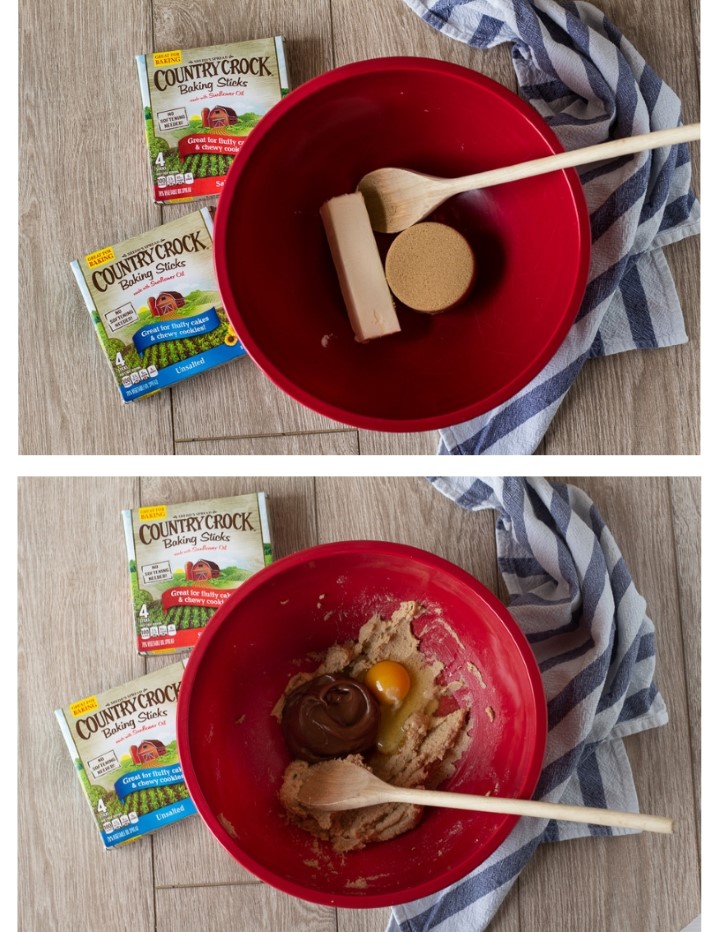 First, add a Country Crock Baking Stick and the brown sugar to a large bowl. I picked up the Baking Sticks at Walmart when I was grocery shopping the other day. I chose to use the Unsalted Baking Sticks in this recipe so I would have control over the salt level, but if you want to use the Salted Baking Sticks, just reduce the salt by 1/4 teaspoon.
Both the Country Crock Salted Baking Sticks and Unsalted Baking Sticks are available via Walmart Grocery Pickup which is super handy when you're in a hurry and the weather is bad.
After you cream the butter and sugar together, add the egg, vanilla and hazelnut spread with cocoa. Stir together well.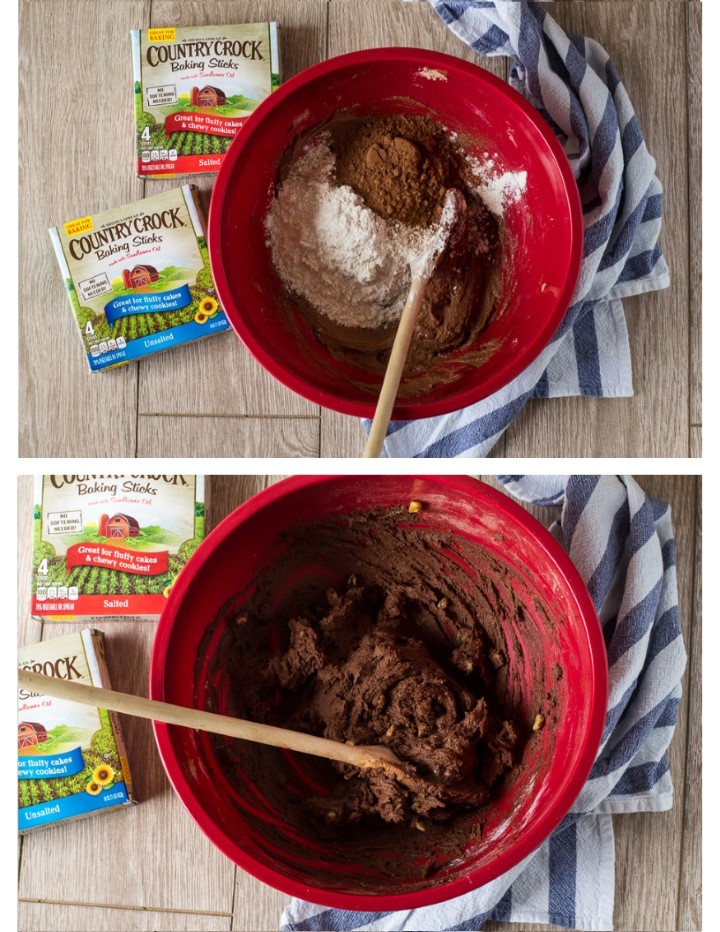 You can also use a stand mixer for this recipe. I'm just old fashioned and like to get in an arm workout while making cookies. I make 95% my cookies in a bowl with a wooden spoon. Try it sometime, beating together that butter and sugar will get your heart rate up.
Add the dry ingredients (cocoa, flour, baking soda, salt and cornstarch.) Last we will gently fold in chopped hazelnuts. The dough is sticky, so I recommend using a cookie scoop to drop onto a parchment lined cookie sheet. Thanks to the Country Crock Baking Sticks and hazelnut spread not chilling is needed.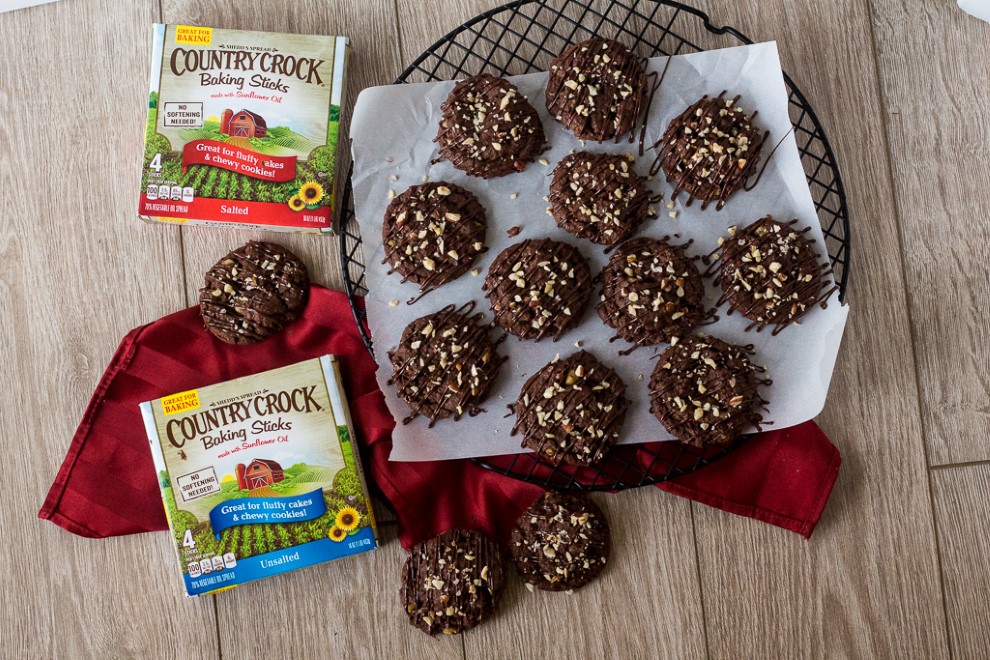 Once the cookies come out of the oven, let them cool completely on a wire rack. Then drizzle them with some melted chocolate and sprinkle with more chopped hazelnuts. Pretty and ready to go for your Christmas Cookie Exchange. The recipe makes 2 dozen Chewy Chocolate Hazelnut Cookies, but it is easily doubled or tripled if you need more cookies.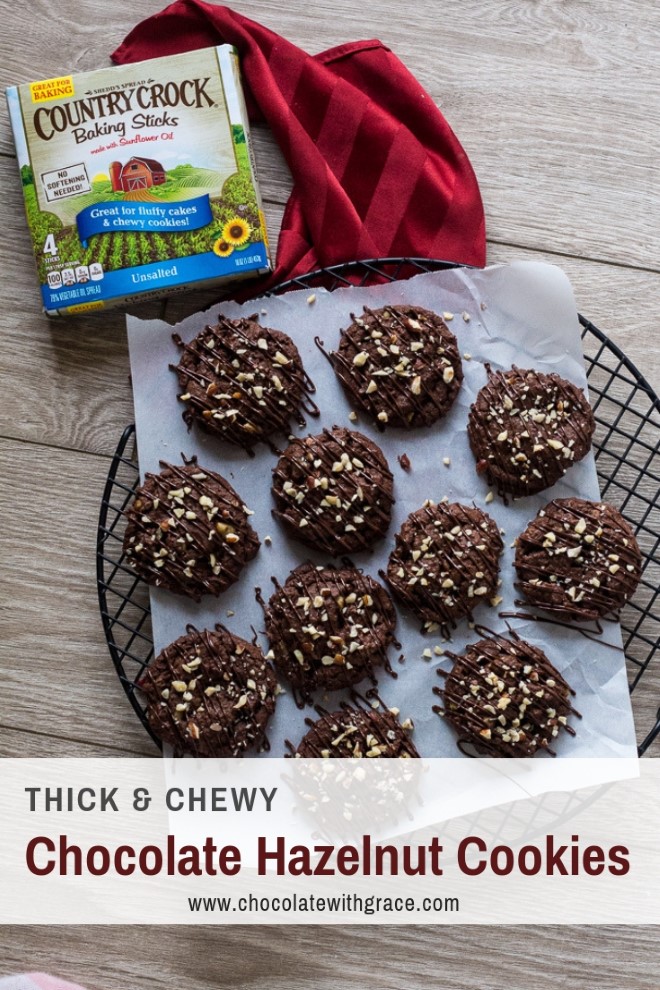 Tips for Hosting a Christmas Cookie Exchange
First, consider how many people you want to invite and how many cookies they should each bring. Some cookie exchanges are large, include 12 people and everyone brings a dozen cookies for everyone. I've also been a part of a cookie exchange where 13 guests were invited and we all brought 13 cookies (a baker's dozen) and everyone got one cookie of each.
It ultimately depends on what you and your guests want to do with the cookies you have exchanged. Do you all want to leave with enough for all the Christmas cookie trays you'll need throughout December? Or do you just want to taste a variety of cookies and leave with some great new cookie recipe to try.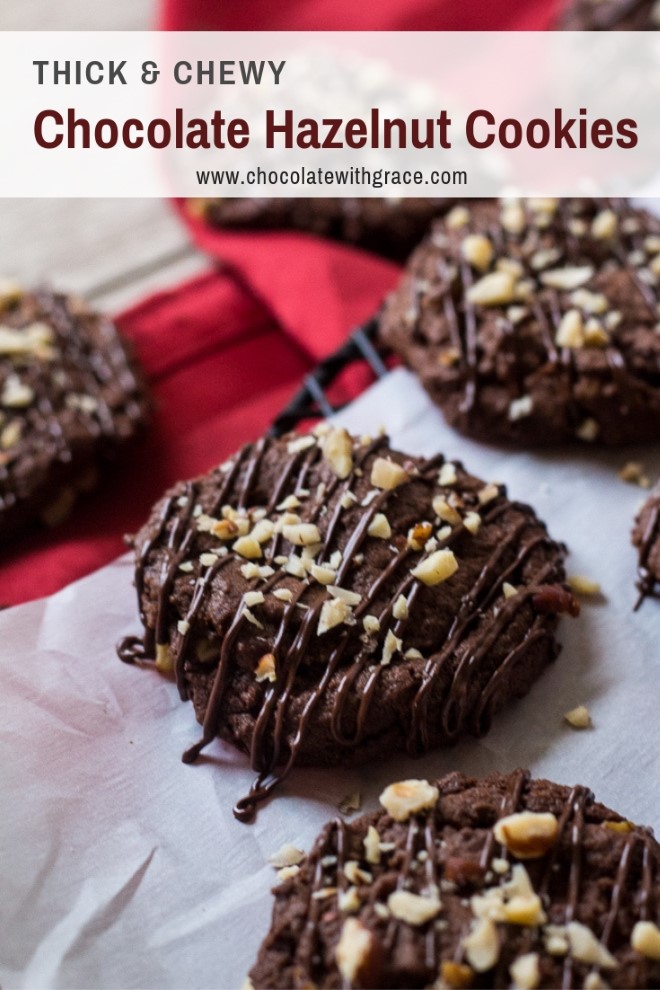 Give some guidelines to your guests on the type of cookie to bring
Send your invitations out a few weeks in advance to give your guests time to plan and time to collect RSVPs. You may want to include some basic guidelines on the type of cookies they should bring. For example, something homemade, sturdy enough to package up and maybe whether no bake cookies are allowed.
Once you know how many people are coming, contact all your guests to give them a definite number of cookies to make and find out what type of cookie they are making. Try to avoid duplicates. You may want everyone to bring a few extra cookies to sample that night.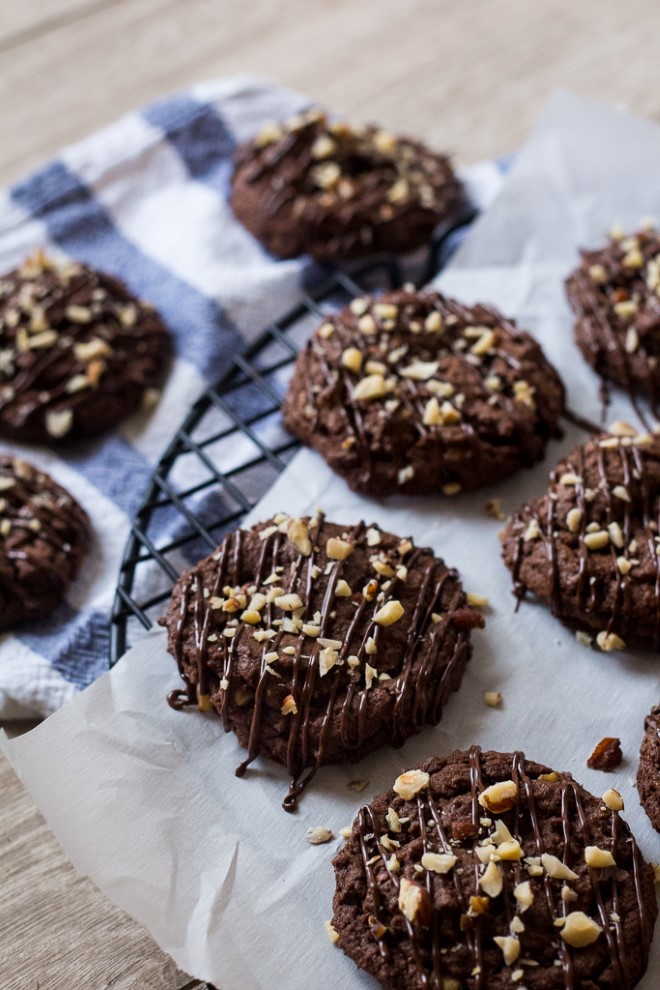 Refreshments and Activities for Cookies Exchanges
Plan out the rest of the refreshments and activities you will have that evening, be sure to keep it simple and let the cookies shine. Everyone put a lot of work into them. Something easy like cheese and crackers and fresh fruit would be perfect. A hot chocolate or coffee bar would be a nice final touch.
We like to keep the evening relaxed and just chat and eat cookies, but feel free to plan out some cookie themed games if you want. Perhaps you could sample the cookies and then all vote for your favorites. Give awards for the prettiest, most creative and best overall.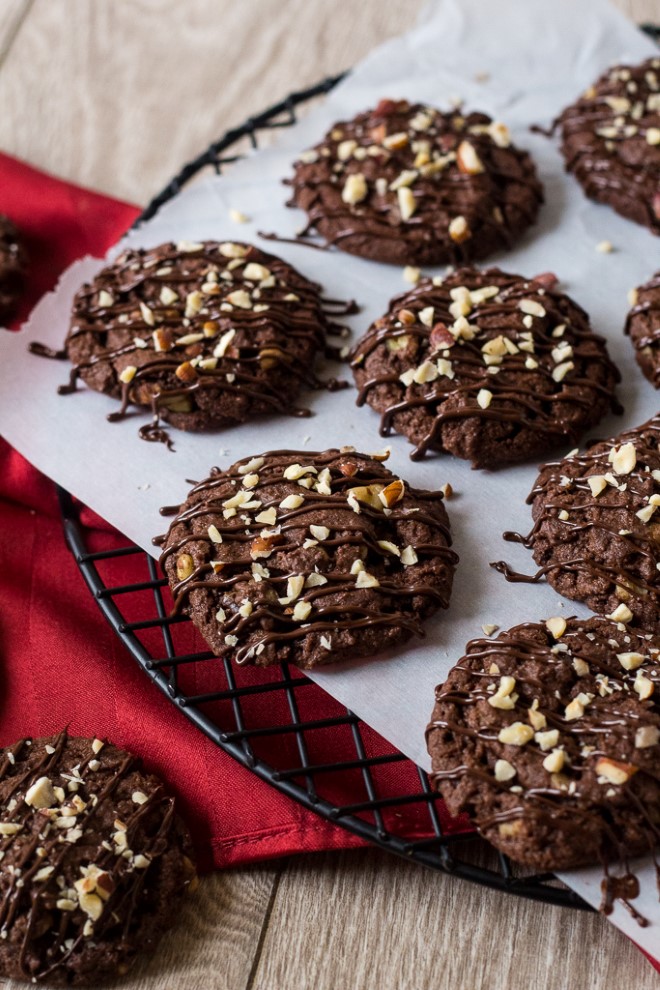 Plan an easy way for guest to exchange their cookies and recipes
Either have your guest bring their cookies packaged up on a plate in a gallon ziploc for each guest or provide boxes for everyone to take their cookies home in.
Last, make sure everyone exchanges the recipes they used. You can either have your guests bring copies of their recipe or have cute recipe cards for them to write it out on. Be sure to visit the Country Crock Cookie Exchange Site for more tip and tricks, printables and cookie recipes for your Christmas cookie exchange.
Do you have a favorite cookie you always make for an exchange? Let me know in the comments.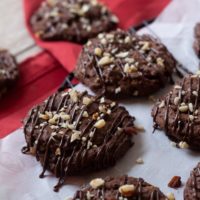 Chewy Chocolate Hazelnut Cookies
Yield: 24 Cookies

Prep Time: 15 minutes

Cook Time: 10 minutes

Additional Time: 15 minutes

Total Time: 40 minutes

Thick and Chewy Chocolate Hazelnut Cookies with a chocolate drizzle and more chopped hazelnuts. Perfect for Christmas cookie exchanges.
Ingredients
For the Cookies
½ cup (1 stick) Country Crock Unsalted Baking Sticks
¾ cup brown sugar
1 large egg, room temperature
1 teaspoon vanilla extract
1/2 cup hazelnut spread with cocoa
1 cup all-purpose flour
½ cup + 2 Tablespoons unsweetened cocoa powder
1 teaspoon baking soda
½ teaspoon salt
1 teaspoon corn starch
3/4 cup chopped hazelnuts
For the chocolate drizzle
3/4 cup chocolate chips
2 teaspoons shortening
1/3 cup finely chopped hazelnuts
Instructions
Preheat the oven to 350 F. Cream the Country Crock Baking Stick and brown sugar together until light and fluffy. Beat in the egg, vanilla and hazelnut spread.
Whisk together the flour, cocoa powder, baking soda, salt and cornstarch. Stir into the wet ingredients. Gently stir in the chopped hazelnuts.
Line a baking sheet with parchment paper. Drop the dough by teaspoonfuls on the cookie sheet. Bake for 9-11 minutes or until set. Do not over bake the cookies. They should like slightly doughy when they are taken out of the oven. Let cool on the cookie sheet for a few minutes and then remove to a wire rack to cool completely.
To make the chocolate drizzle, melt the chocolate chips and shortening in a microwave safe bowl. Microwave in 10 second increments, stirring between each. When melted and smooth drizzle on cooled cookies. I put the chocolate mixture in a ziploc bag and snipped of the corner for easy drizzling. Sprinkle with chopped hazelnuts.
Nutrition Information:
Yield: 24 cookies Serving Size: 1 cookie

Amount Per Serving:

Calories: 146 Total Fat: 9g Saturated Fat: 2g Trans Fat: 0g Unsaturated Fat: 7g Cholesterol: 8mg Sodium: 132mg Carbohydrates: 15g Fiber: 1g Sugar: 9g Protein: 2g

Nutrition information may vary significantly based on ingredients used and portion sizes. We are not responsible the reliability of this data or your reliance on it. We are not responsible for the results of any recipe you try from this blog/website, Chocolatewithgrace.com. Your results may vary due to differences in ingredients, humidity, altitude, cooking temperatures, errors, or individual cooking abilities.

Looking for some other ideas for Christmas Cookies? Here are some other favorites on my blog.
Double Chocolate Caramel Stuffed Cookies