A quick and easy dessert that is fancy enough for company, these caramel apple puff pastries are great with ice cream.
Wow! It's September so let's bring on the all the apple and pumpkin recipes! I survived the last two weeks being a single working mom. Tyler was away for training for two weeks in Delaware. It's just far enough away that he can't drive every day.
Back in the days when it was just the two of us, I would go down and stay with him and commute to work from there. But now with a baby that needs to be taken care of, it didn't work out. So I stayed back and juggled working, housework and taking care of the baby. And that is exhausting! I'm so thankful we're in this parenting thing together.
We're both thankful for a quiet three day weekend we can spend together however we like, just the three of us. And Tyler has promised me some uninterrupted time in the kitchen for some recipe testing 🙂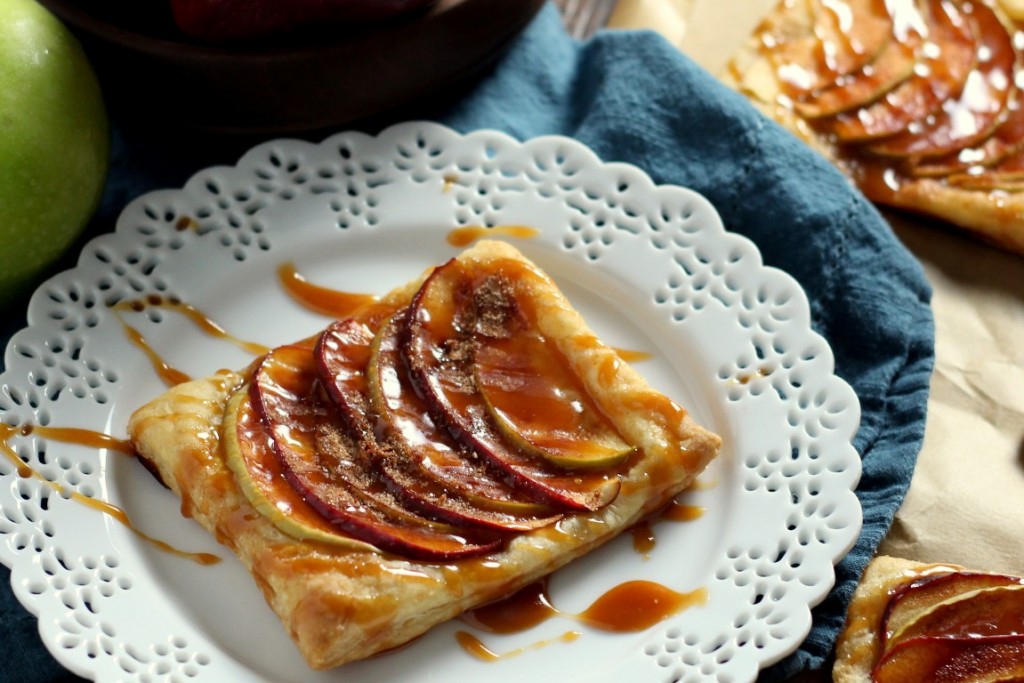 I created these Caramel Apple Puff Pastries earlier this month when the sun was blazing down and I was dreaming of fall weather. They come together quick. Just let the puff pastry thaw while you slice some apples. Then layer the apples on squares of puff pastry, sprinkle with cinnamon and sugar and bake!
When they come out of the oven, drizzle with caramel and serve with ice cream if desired. Below is a little slideshow on how to make them!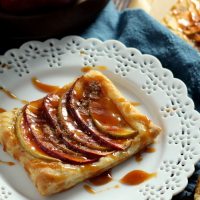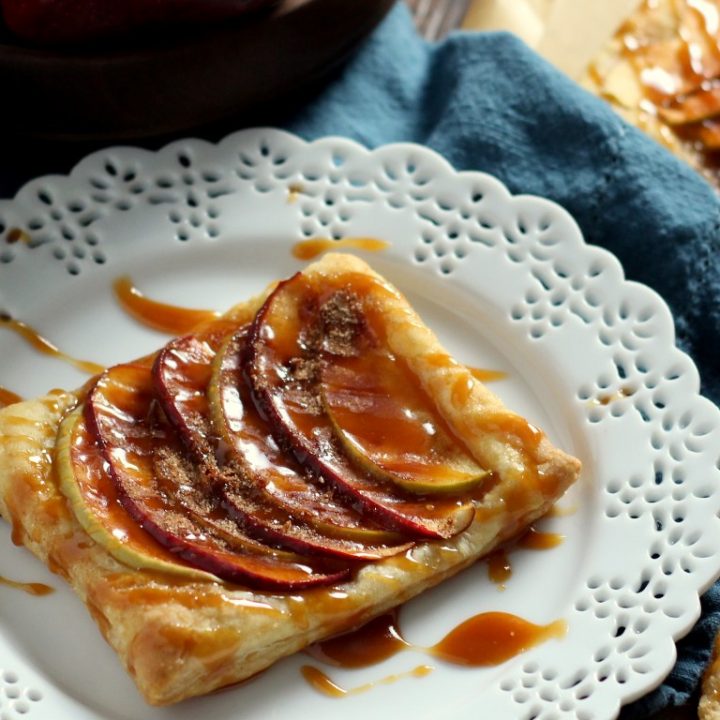 Caramel Apple Puff Pastries
Yield: 6 servings

Prep Time: 20 minutes

Cook Time: 20 minutes

Total Time: 40 minutes

A quick and easy dessert that is fancy enough for company, these caramel apple puff pastries are great with ice cream.
Ingredients
1 sheet puff pastry, thawed but still cold
2 apples, cored and thinly sliced
6 tablespoons granulated sugar
1/2 teaspoon cinnamon
1/4 teaspoon salt
1 and 1/2 tablespoons of butter, sliced into 6 thin slices
4-6 tablespoons caramel sauce
vanilla ice cream for serving, if desired
Instructions
Preheat oven to 425 F. While the sheet of puff pastry is thawing, slice the apples. Stir together the sugar, cinnamon and salt in a small bowl and set aside.

Place the sheet of puff pastry on a baking sheet and cut into six rectangles. Poke each piece with a fork a few times in the middle.

Place the apple slices in the center of each rectangle in a line, overlapping them slightly. Sprinkle each piece with a tablespoon of cinnamon sugar mixture and top with a thin slice of butter.

Bake in a preheated oven for 18-20 minutes or until puffy and lightly browned. Drizzle caramel sauce over warm pastries. Serve immediately with ice cream if desired
Nutrition Information:
Yield: 6 Serving Size: 1 pastry

Amount Per Serving:

Calories: 205 Total Fat: 5g Saturated Fat: 2g Trans Fat: 0g Unsaturated Fat: 3g Cholesterol: 12mg Sodium: 196mg Carbohydrates: 40g Fiber: 2g Sugar: 35g Protein: 2g

Nutrition information may vary significantly based on ingredients used and portion sizes. We are not responsible the reliability of this data or your reliance on it. We are not responsible for the results of any recipe you try from this blog/website, Chocolatewithgrace.com. Your results may vary due to differences in ingredients, humidity, altitude, cooking temperatures, errors, or individual cooking abilities.



These Crescent Roll Apple Dumplings from Sugar Apron looks easy and yummy too!
Or how about Apple Turnovers made with Puff Pastry from Love Grows Wild