A basic sweet yeast dough that can be used for just about any sweet bread your carb-loving heart desires. Its especially great for sweet rolls, dinner rolls, monkey bread and even homemade donuts.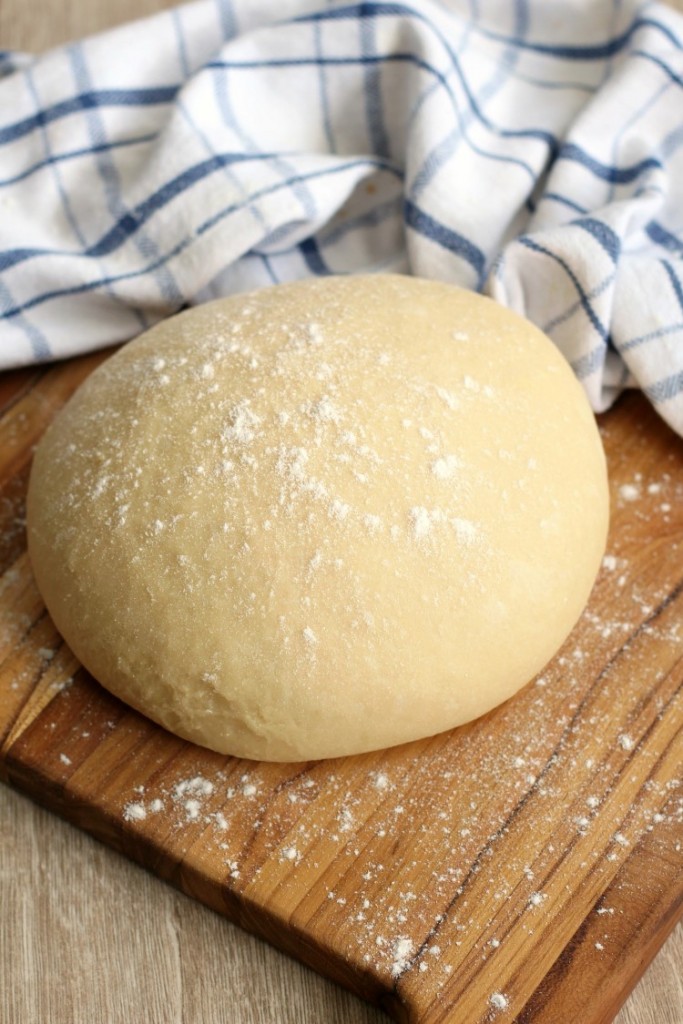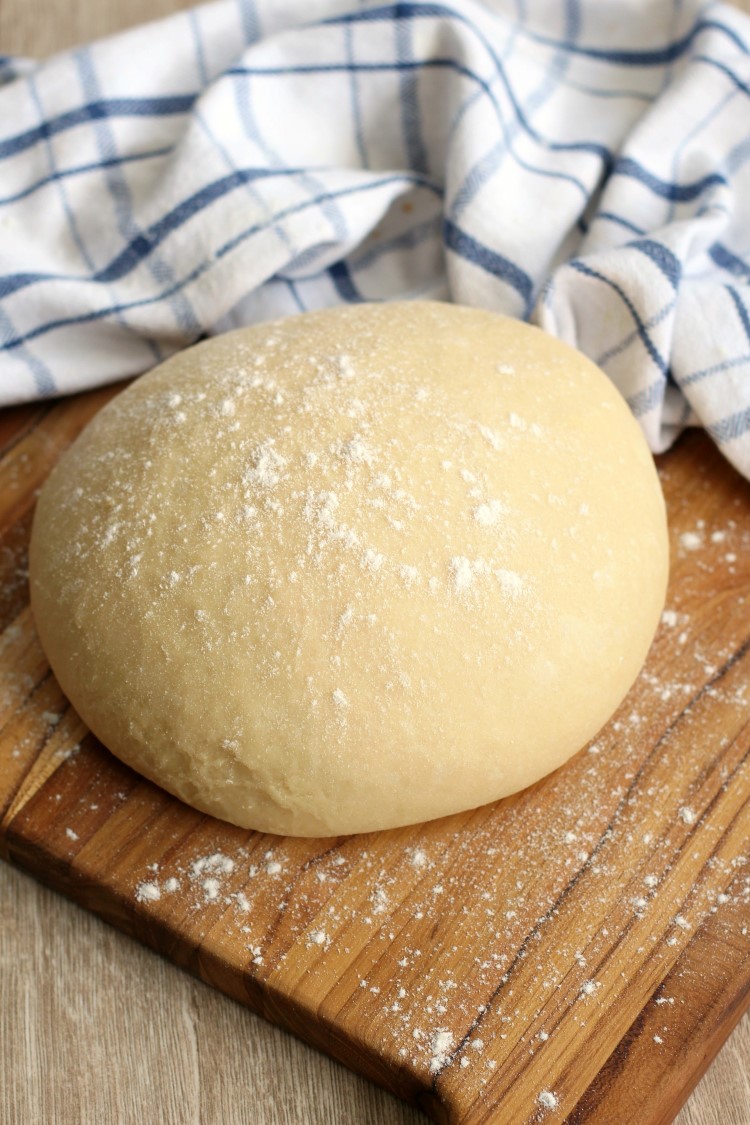 This post has been a long time in coming. One of my favorite things to make are sweet rolls and I already have several recipes on my site. They are fairly easy to make (detailed instructions below!) and everyone loves them and thinks you're a baking genius who spent hours in the kitchen. You may have that idea about sweet yeast breads as well, but I'm here to teach you how and show you it's a lot simpler than you think.
This recipe for a basic sweet yeast dough is one I have been using for years to make all kinds of sweet rolls. In the past year, I have started using the same dough to make other types of bread with great success. Thinking it would be great to do a blog series on how to make several different recipes with one basic dough recipes, I started testing, baking and photographing last fall.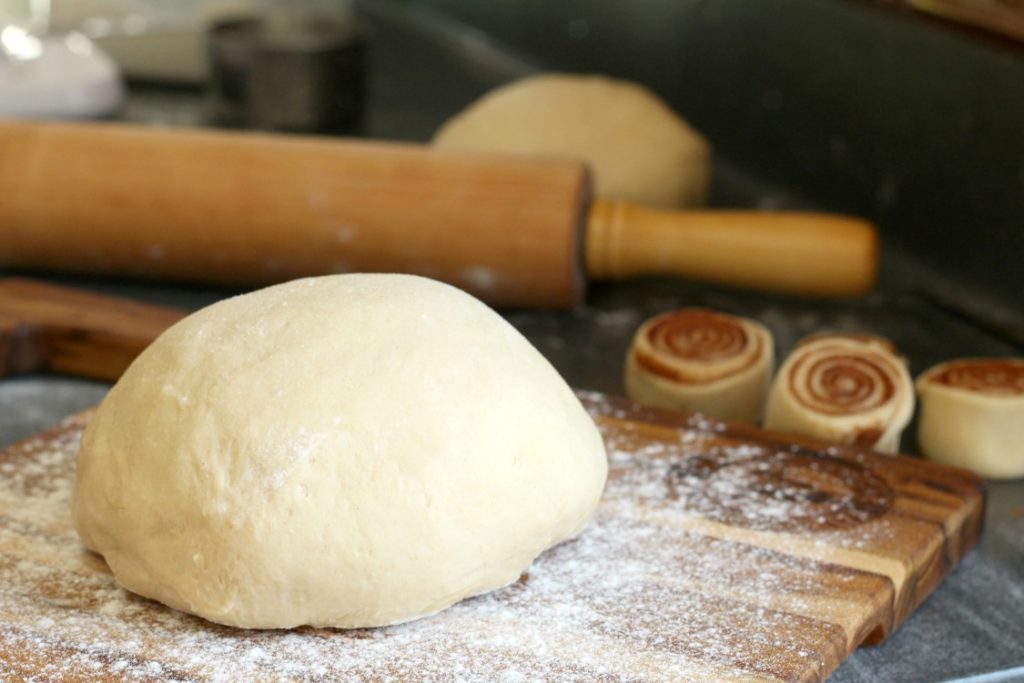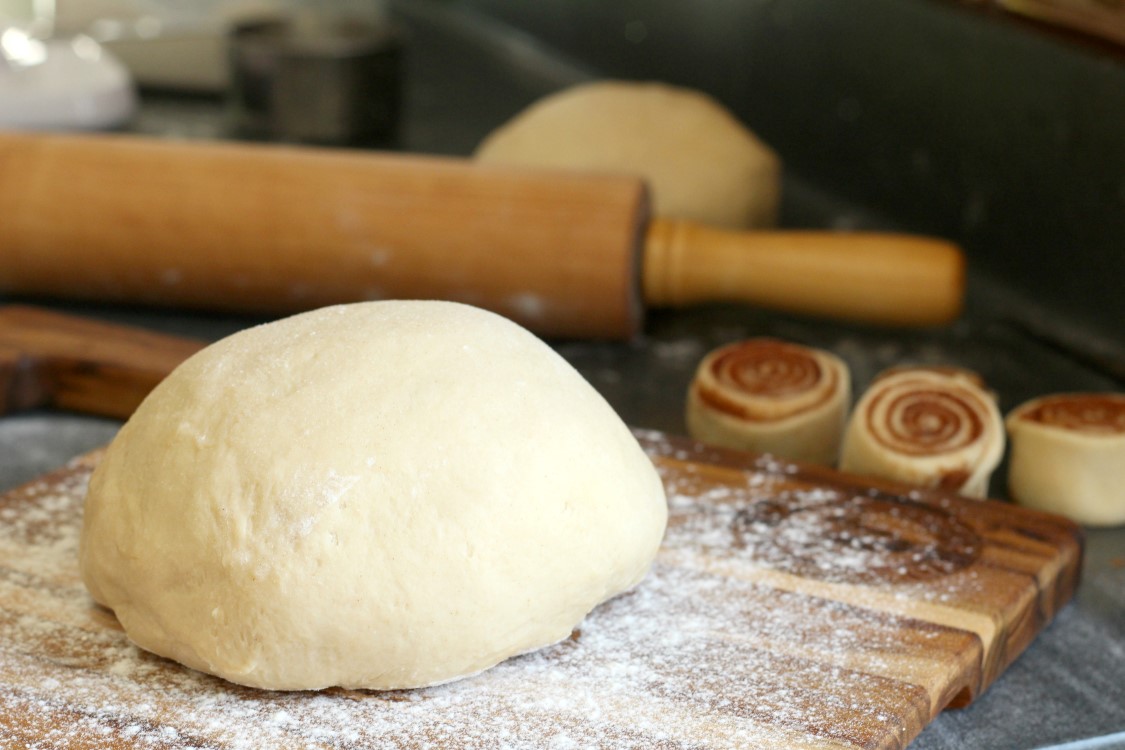 Then buying and remodeling our house got in the way and I had to set it aside. I'm finally finished testing, and I'm excited to bring you Sweet Roll Dough Week!
This week, starting today, I have 5 new posts for you. Today's post will give the the basic dough recipe and then over the next 4 days I have recipe each day that uses this dough recipe. Ready? I'm about to break down all the nitty gritty involved in sweet roll dough. If you're scared, consider this the ultimate guide to sweet yeast dough.
How to make Basic Sweet Yeast Dough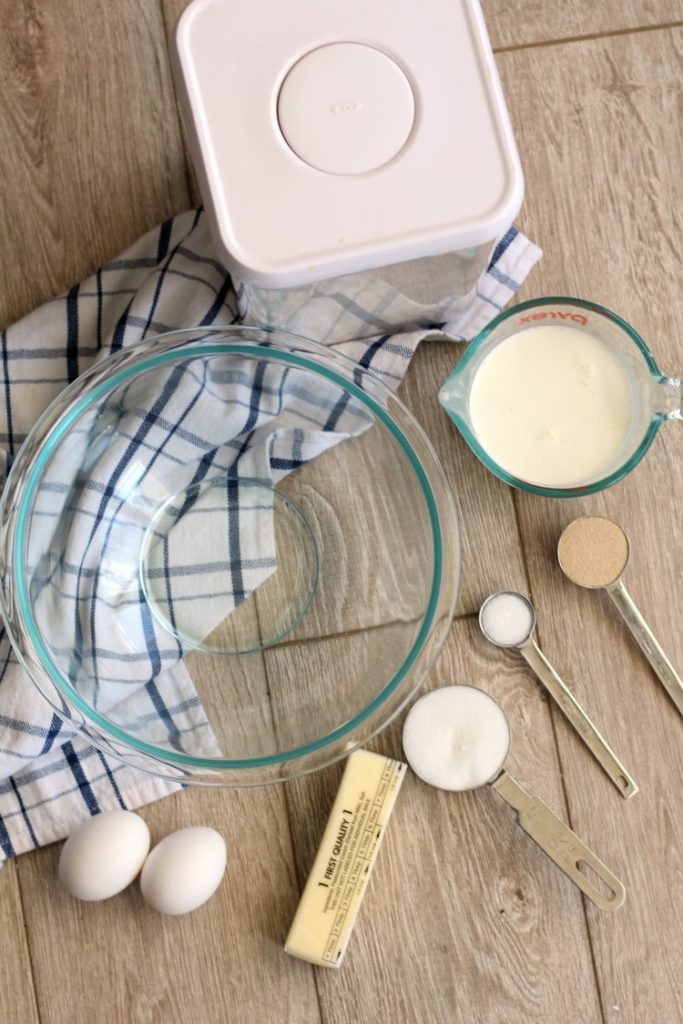 Begin by getting all ingredients ready. 7 simple ingredients is also you need. Let's run through each ingredient.
Yeast – I always use active dry instant yeast because I like how fast it rises and it's never failed me. I buy it in a big package and store it in the freezer so it lasts longer. You can use regular yeast too, it will just take longer to rise. If you store it in the freezer like me, there is no need to thaw it first, the warm milk will do the trick.
Milk – I use whole milk that I have microwaved just until it's warm enough that I can barely keep my finger submerged in it (115 F if you want to be precise). 2% Milk would work too.  I've never tried it with skim.
Sugar – I use regular white granulated sugar
Butter – This should be well softened, almost melted, but not quite. If it does start to melt a little bit, it's okay, you can still use it.
Salt – Don't forget it. It's one small ingredient, but it is the difference between a bad batch of sweet yeast dough and a successful one. Don't ask how many batches of bread I've ruined because I forgot the salt.
Eggs – Be sure they are room temperature, they will incorporate better into the dough.
Flour – Use regular all purpose flour. I'd stay away from whole wheat flours with this recipe, the dough will be heavy and dense. With yeast dough, the amount of flour needed can vary slightly depending on the humidity, protein content of the flour, etc. Add just enough so it will hold together. This dough should be slightly sticky. You can always add a bit more flour as you are kneading it if needed.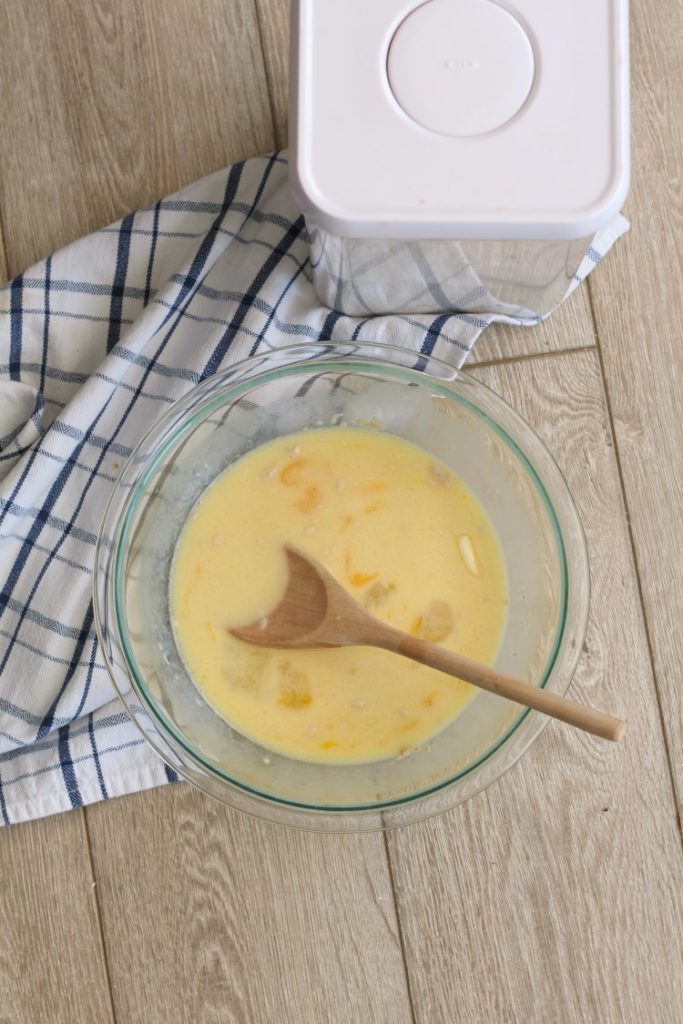 Once you have all the ingredients, it comes together very quick. Just stir the yeast and milk together, add the sugar, butter, salt and eggs. Stir in the flour and you have dough. No mixer is needed. I prefer kneading by hand, but you can use a mixer if you like.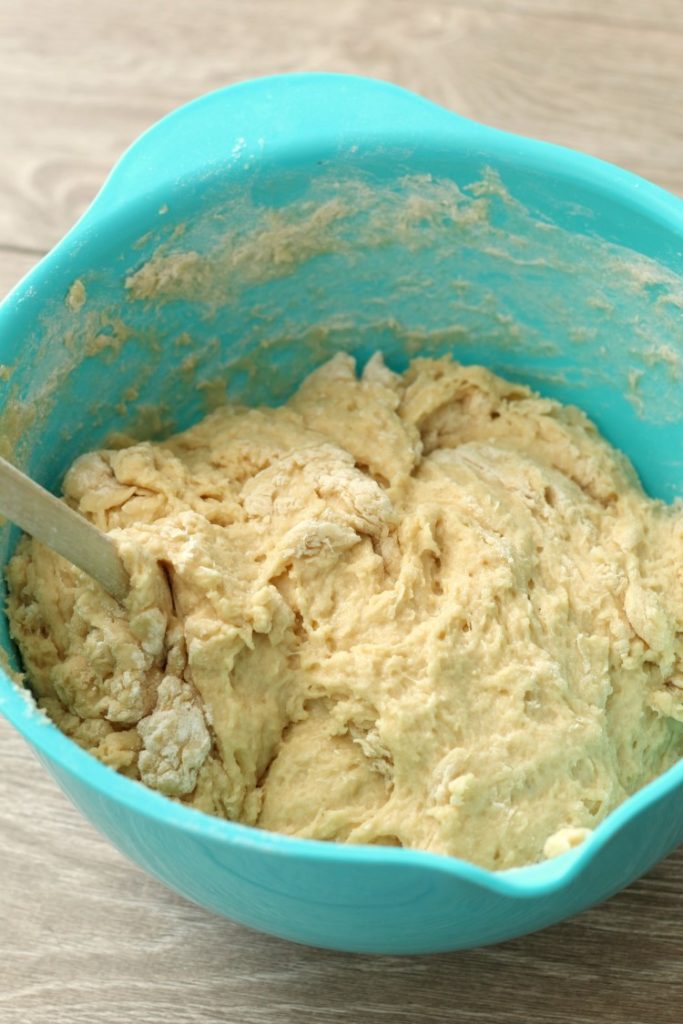 To me kneading is therapeutic. You'll want to knead for at least 5-6 minutes by hand to get that smooth elastic consistency. It will take less time if you use a mixer to knead. If you never done it, check this video on how to knead, it's very simple to learn.
After kneading the dough is ready to be frozen, refrigerated or allowed to rise if you want to use it immediately.
Can you freeze sweet yeast dough?
Yes, you should freeze it immediately after kneading in a gallon sized freezer safe bag. This is convenient if you want to have dough on hand to make rolls as you need them. Frozen dough is best used within one month of freezing, but I've used it after that with good results.
To use frozen sweet yeast dough, thaw on the counter and allow to rise until double. Use as directed in the rolls. It can also be thawed overnight in the refrigerator and used the next morning as directed in the recipe.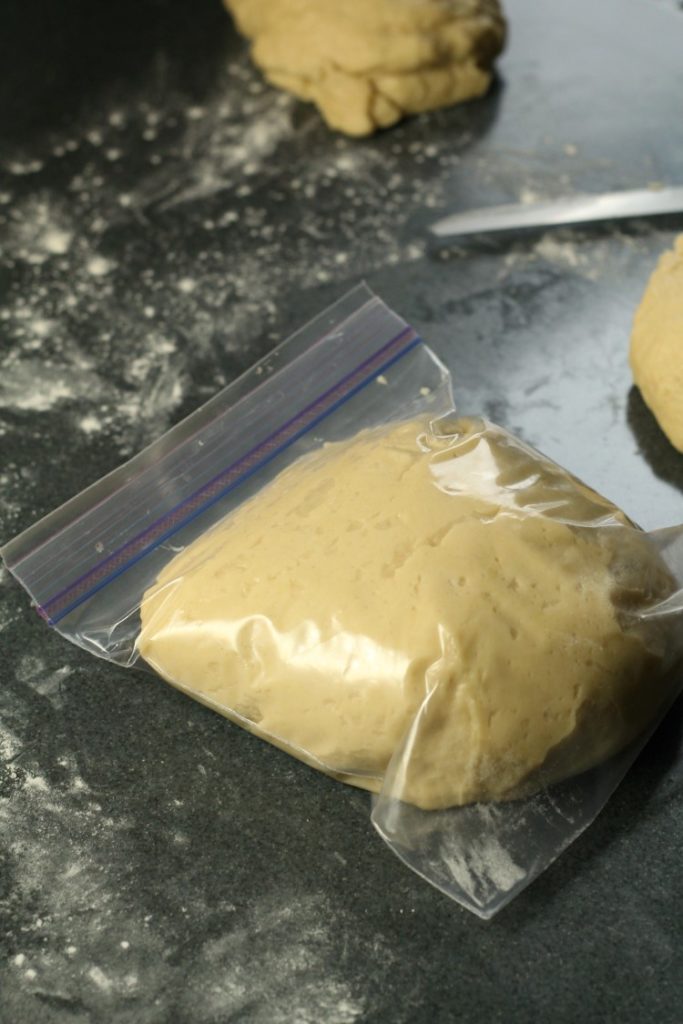 Can you make basic sweet yeast dough ahead of time (the night before)?
Yes, make as directed through the kneading. Place in a large bowl and cover tightly. The dough will still continue to rise slowly even in the refrigerator, so keep an eye on it so it doesn't outgrow the bowl. Use within 24 hours of refrigerating. Take the dough out of the fridge and let it come to room temperature and rise. Use as directed in the recipe.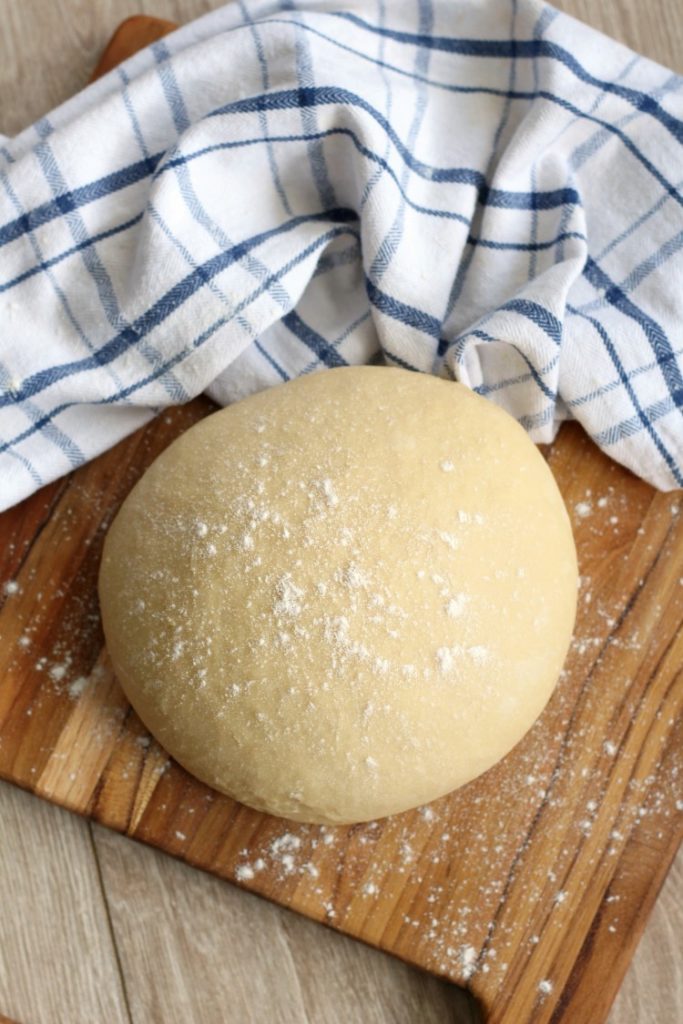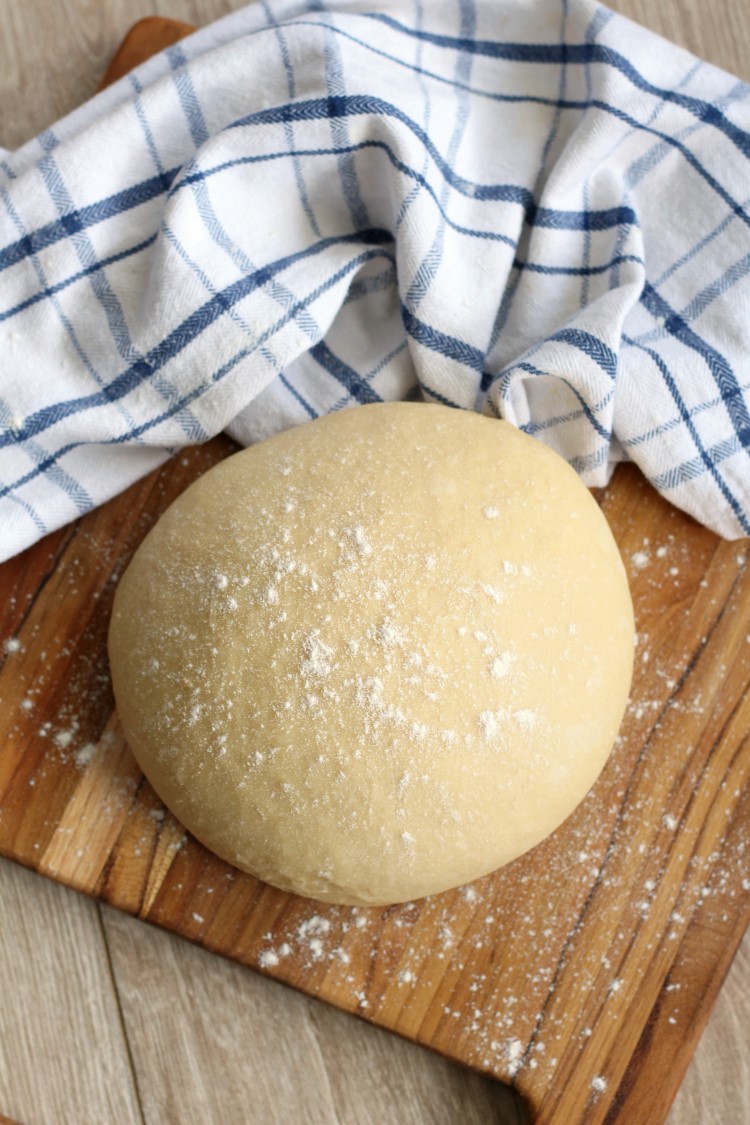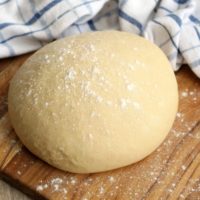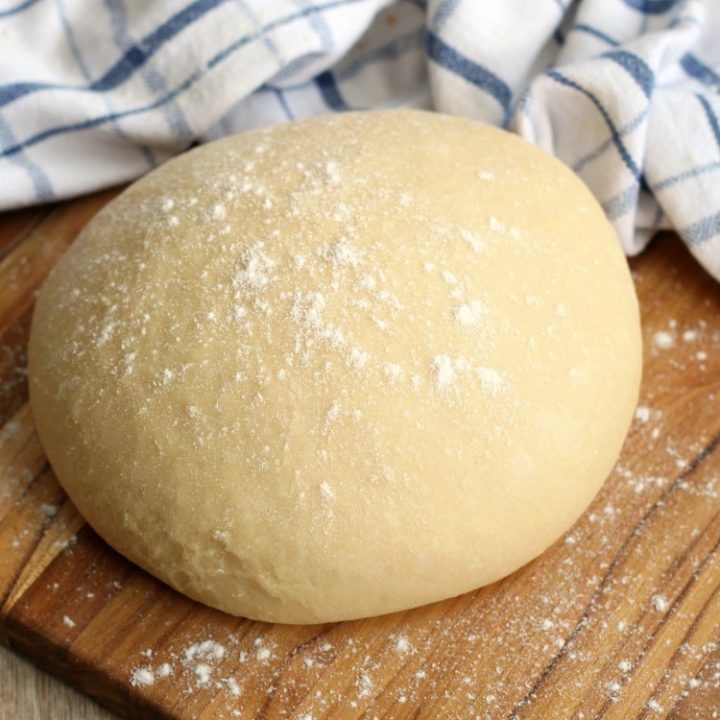 Basic Sweet Yeast Dough Recipe
Yield: 1 batch

Prep Time: 50 minutes

Additional Time: 2 hours

Total Time: 2 hours 50 minutes

My favorite go-to sweet roll dough for just about any kind of sweet roll or bread. It's a basic sweet yeast dough that can be used for just about any sweet bread your carb-loving heart desires. Its especially great for sweet rolls, dinner rolls, monkey bread and even homemade donuts.
Ingredients
For the Dough
1 tablespoon instant yeast
1 cup very warm milk (115 F), I use whole milk.
1/3 cup granulated sugar
1/2 cup butter, well softened almost melting.
1 teaspoon salt
2 large eggs, room temperature
4 cups all purpose flour
Instructions
In a large bowl, stir together the yeast and milk until dissolved. Beat in the sugar, butter, salt and eggs until well combined. Add the flour, one cup at a time, stirring until incorporated. The dough will be shaggy and still sticky.

Turn out the dough onto a floured surface and knead 5-6 minutes until smooth and elastic. Or if you use a mixer knead 4-5 minutes. Freeze or refrigerate at this point if desired. If not, continue by placing the kneaded dough into a greased bowl. Cover and let rise for 1 hour or until doubled in size. The length of time needed to rise will depend on how warm the room is. Ideal rising temperature is 72 F.

When dough is risen, punch dough down with a floured hand and shape and bake as desired.
Nutrition Information:
Yield: 24 Serving Size: 1/24

Amount Per Serving:

Calories: 139 Total Fat: 5g Saturated Fat: 3g Trans Fat: 0g Unsaturated Fat: 2g Cholesterol: 28mg Sodium: 135mg Carbohydrates: 20g Fiber: 1g Sugar: 3g Protein: 4g

Nutrition information may vary significantly based on ingredients used and portion sizes. We are not responsible the reliability of this data or your reliance on it. We are not responsible for the results of any recipe you try from this blog/website, Chocolatewithgrace.com. Your results may vary due to differences in ingredients, humidity, altitude, cooking temperatures, errors, or individual cooking abilities.


You can use this dough to make the best cinnamon rolls ever, dinner rolls, monkey bread and even homemade donuts. Throughout the week I'll be posting and linking to recipes for the dough, but meanwhile, you can get started with one of the recipes below. They will use this dough and have already been posted on my site.
How to make the best Cinnamon Rolls ever!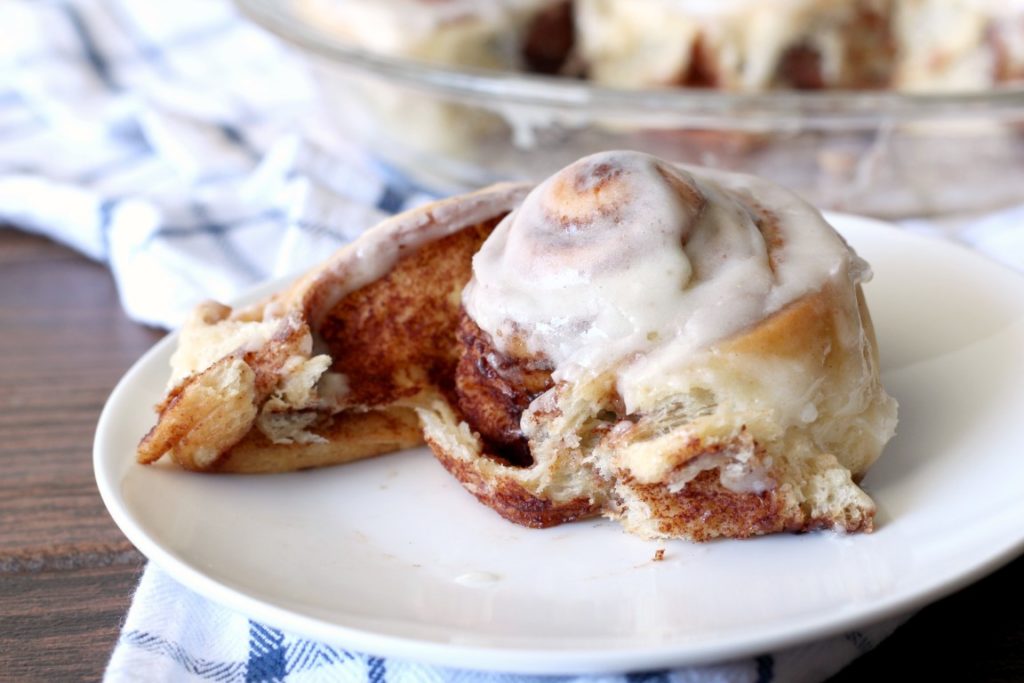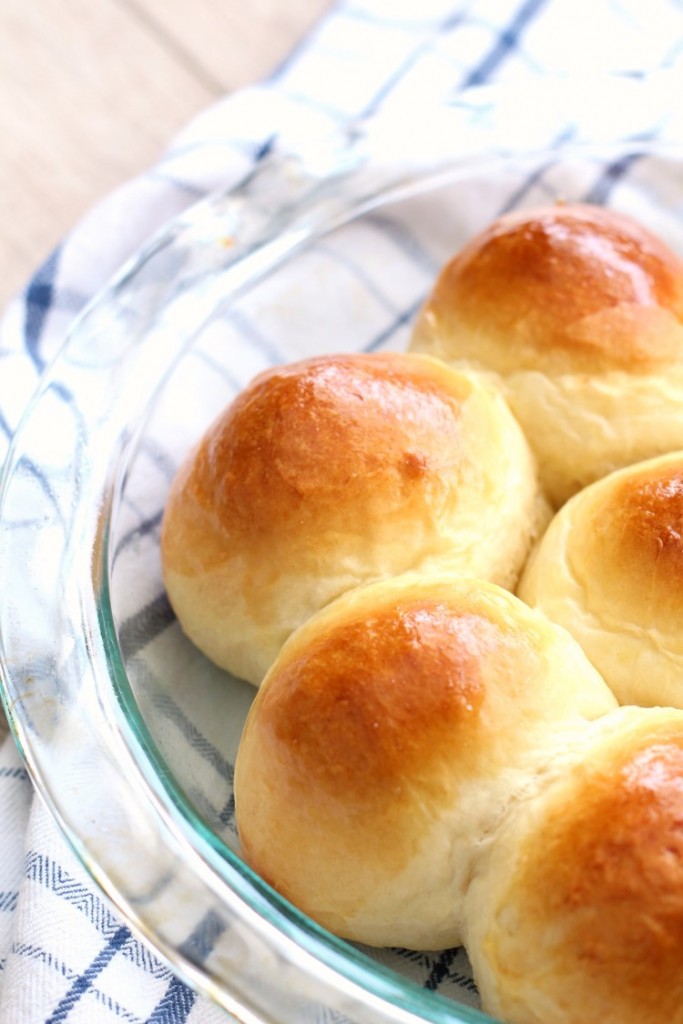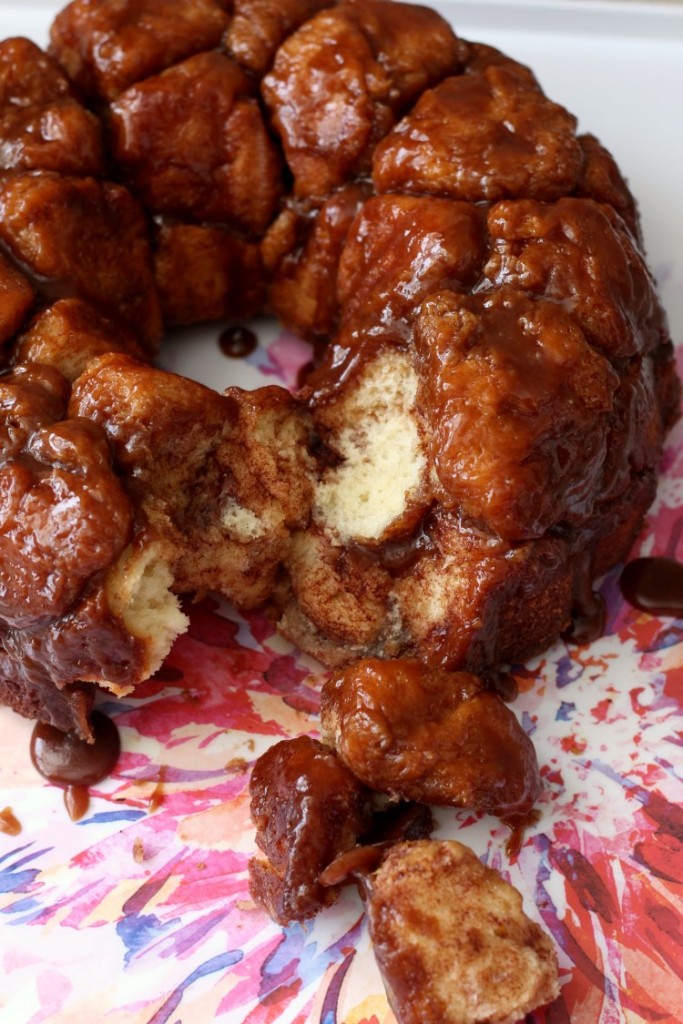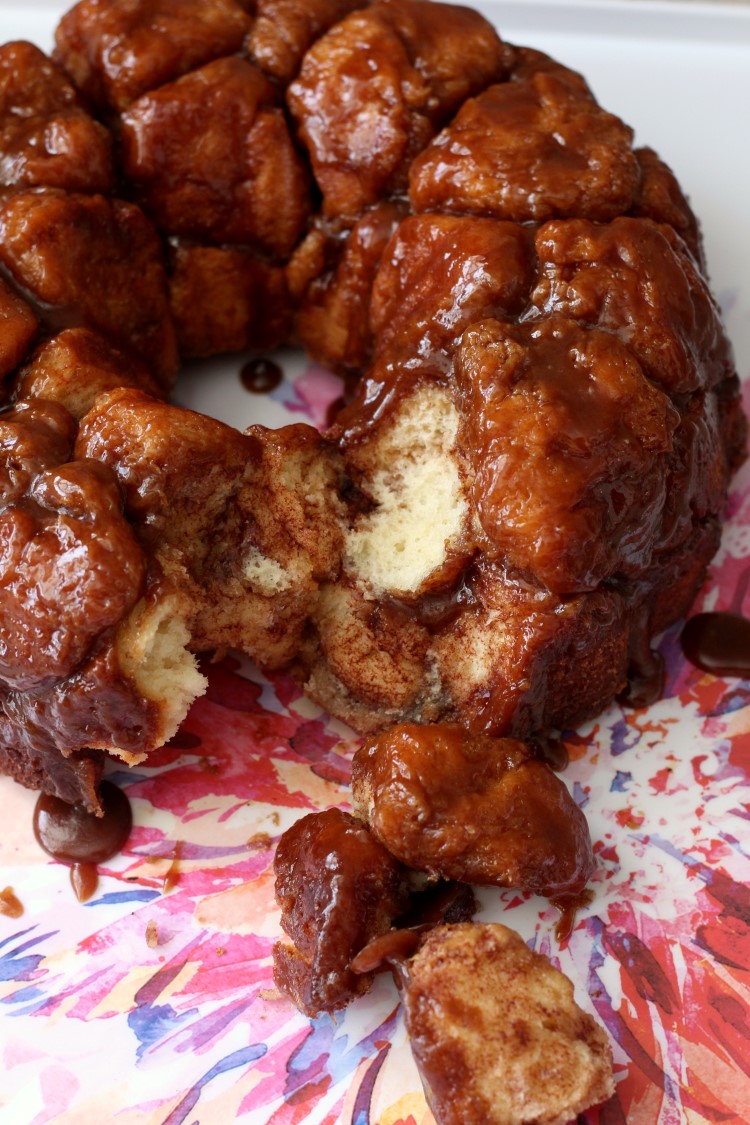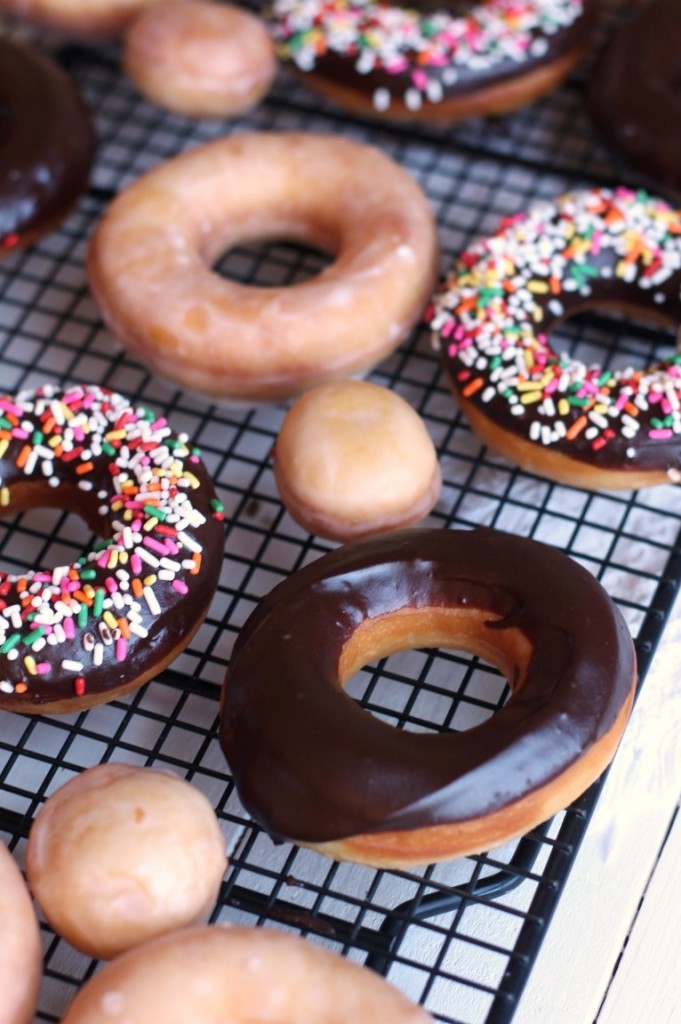 Caramel Pecan Sticky Buns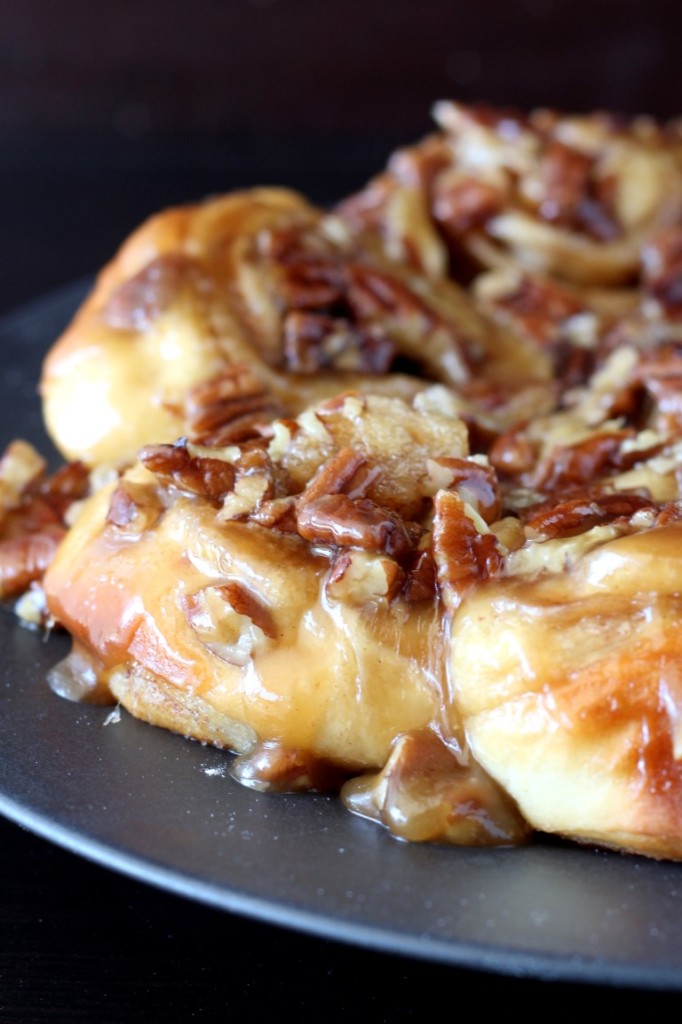 Raspberry Cream Cheese Sweet Rolls