This Apple, Pecan and Feta Lettuce salad is a perfect winter salad. Balsamic vinaigrette is the perfect contrast to the sweet apples and pecans.
This salad is a twist on my favorite Pear, Pecan and Blue Cheese Lettuce Salad which is a family favorite. I was in the mood for something different so I subbed apples for the pears and feta cheese for the blue cheese.
This is a twist on our traditional family salad we have at Christmas, but I find myself making it whenever someone asks me to bring a salad somewhere.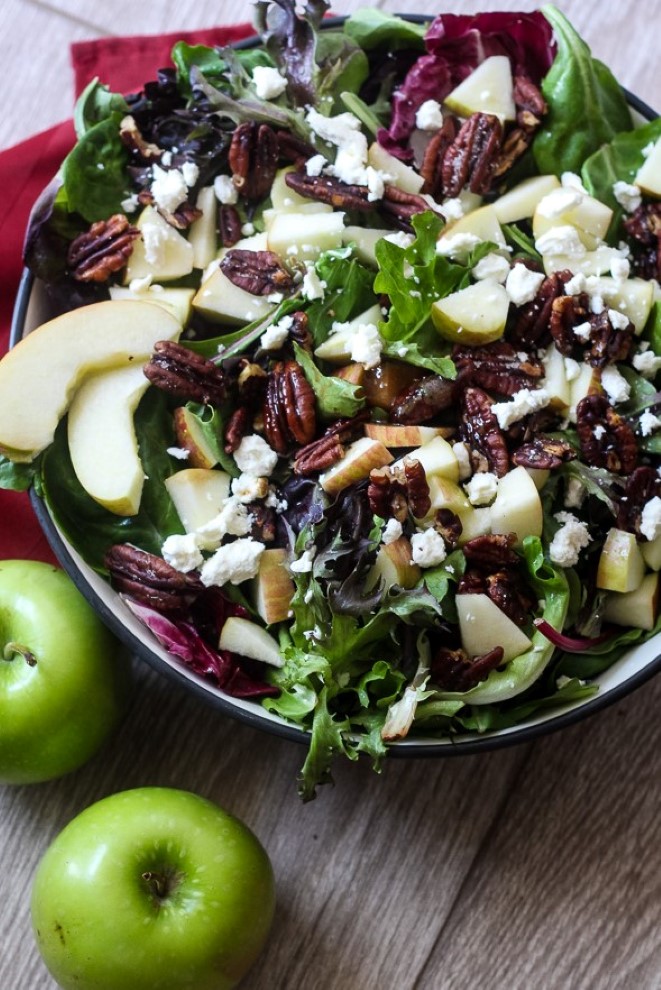 How to make Apple, Pecan and Feta Salad
This is a simple salad so the hardest part is candying the pecans. If you prefer you could just toast them, but they do taste extra delicious when they're candied.
Candy or toast the pecans
While you're doing that, make the dressing
Slice the apples
Toss all ingredients together
Dress right before serving
I love how easy salads are. They make a perfect last minute side dish. They're so flexible too. Don't have apples, substitute pears. Don't have pecans, use walnut. Don't have feta cheese, a good cheddar or blue cheese would be delicious.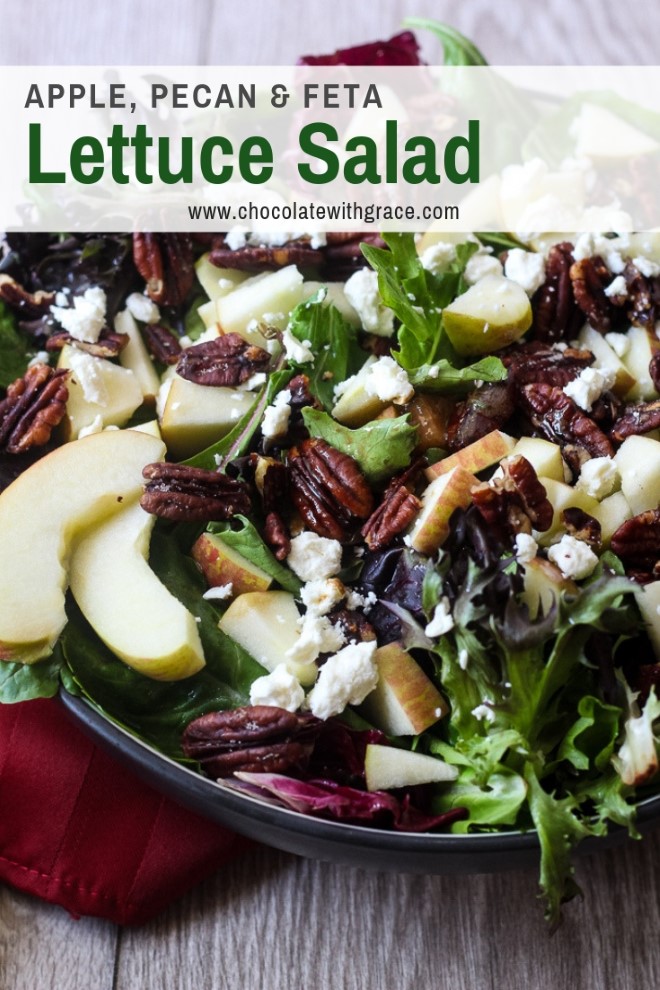 Do you have a favorite, go-to salad recipe. I'd love to hear about it. I'm always looking for more ideas as long as they don't involve cucumbers. I don't do cucumbers. 🙂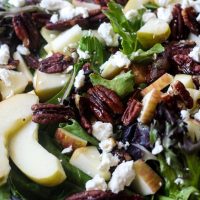 Apple, Pecan & Feta Salad
Yield: about 8 servings

Prep Time: 20 minutes

Total Time: 20 minutes

This Apple, Pecan and Feta Lettuce salad is a perfect winter salad. Balsamic vinaigrette is the perfect contrast to the sweet apples and pecans. 
Ingredients
2 Tablespoons butter
1 cup pecan halves
1 Tablespoon sugar
1/8 teaspoon salt
16 cups romaine or spinach or a blend of whatever lettuce you love
3 ripe apples, diced
1 cup feta cheese crumbles
Instructions
In a heavy skillet over medium heat, melt the butter. Toast the pecans for a few minutes and then sprinkle with the sugar and salt. Cook one more minute. Watch carefully so they don't burn. Allow them to cool on paper towels.

Place the torn lettuce in a salad bowl, top with cooled pecans, diced pears and blue cheese. Dress the salad immediately before serving.
Nutrition Information:
Yield: 8 Serving Size: 1 serving

Amount Per Serving:

Calories: 230 Total Fat: 17g Saturated Fat: 5g Trans Fat: 0g Unsaturated Fat: 10g Cholesterol: 24mg Sodium: 268mg Carbohydrates: 18g Fiber: 6g Sugar: 11g Protein: 6g

Nutrition information may vary significantly based on ingredients used and portion sizes. We are not responsible the reliability of this data or your reliance on it. We are not responsible for the results of any recipe you try from this blog/website, Chocolatewithgrace.com. Your results may vary due to differences in ingredients, humidity, altitude, cooking temperatures, errors, or individual cooking abilities.

There are lots of delicious variations of this salad around. Check out Roasted Brussels Sprout Salad with Apples Feta and Pecans from Crazy for Crust. Or a Cranberry Apple Pecan Salad sounds like a delicious variation. Or if you want to make a whole meal out of this salad, try a Quinoa Apple Spinach salad for more nutrition.
Pear, Pecan and Blue Cheese Salad